Amazon Product Targeting Beta – The Latest Amazon PPC Update
Amazon marketing is a competitive, ever-changing landscape that requires sellers to adapt fast. Amazon brings in new updates and changes quite a number of times around the year.
Around Q4, Amazon has been making major shifts in Sponsored Ads. After the introduction of the Headline Search Ads, Amazon has brought in Product Targeting as a new update to the PPC world.
As Amazon brings in more PPC updates to keep up with the shoppers' surge, we'll start to see major shifts in how we use Sponsored Ads hereafter.
In this article, we shall look into highlights of the new Amazon Product Targeting update, and also explore what this huge beta update could mean for you.
What's new with the Product Targeting  Beta Update on Amazon Ads?
The biggest highlight of this update is that sellers will be able to target products in their manual sponsored ads, based on ASINs, categories, and brands, somewhat similar to the Product Display Ads. Fine tuning the targeting can be done based on the brands, prices, and reviews.
This new update is different from the keyword targeting and cannot be used in automatic campaigns, however, you can use negative keywords within the campaign level.

An ad group under Product Targeting, can either target a group of ASINs (could be yours or your competitors), or a whole category of products.
1. Category Targeting
This is where you can target a category of products as a whole. The category can be chosen from the search bar and also by the brand name, price range and the review rating.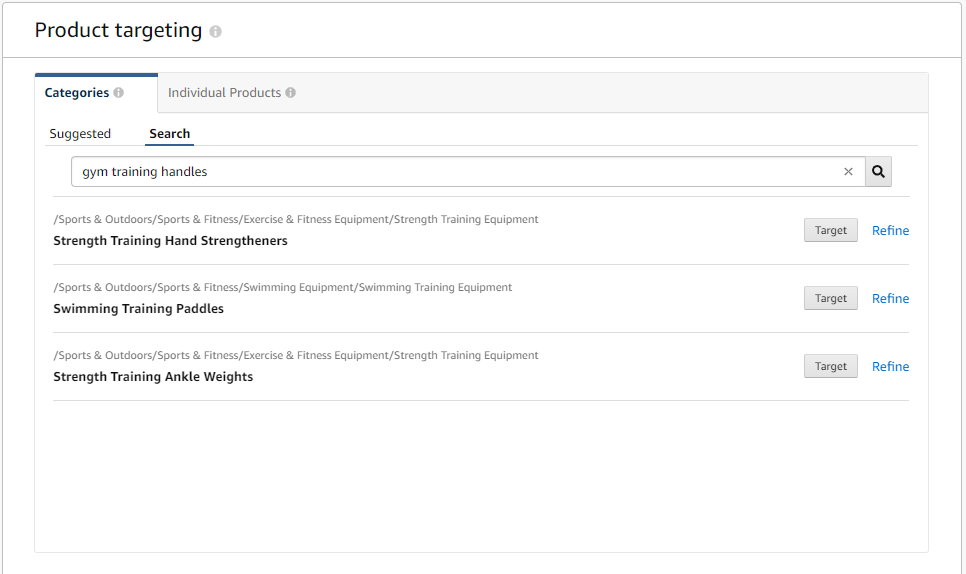 Since this option allows targetting the entire category of products that are of relevance to your product, it can be leveraged as advantage by-products that fall into the are frequently bought together and by brands trying to build brand awareness.
Brainstorm and carefully consider product categories that could be your best target audience. For each category that's selected, you can further refine the category to target products based on a particular brand, price range, and star rating.
2. Individual Product Targeting
In the products tab, you can target suggested individual products that are similar to your products or search/upload specific ASINs.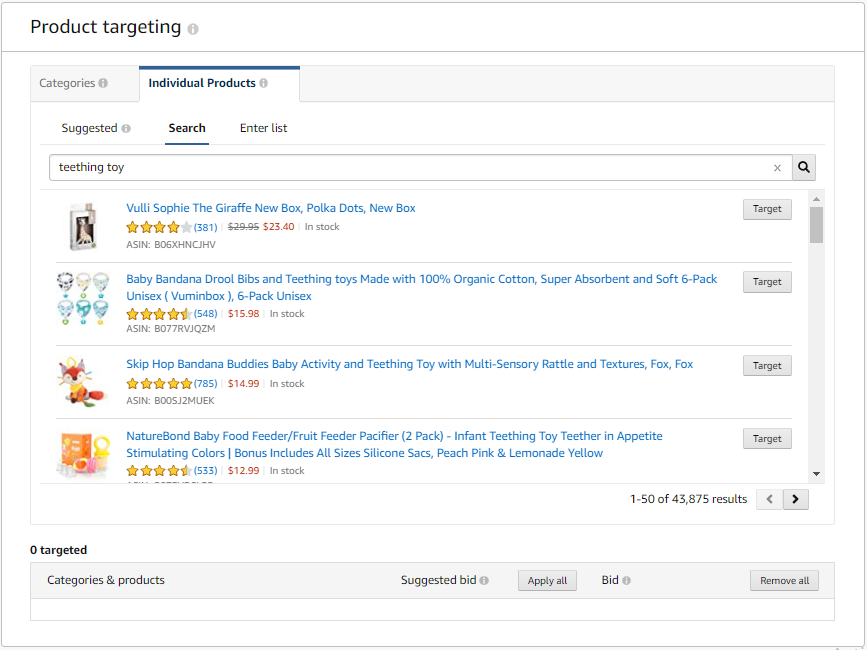 With this new update in place, you can now have multiple ad groups under a manual campaign, however, it is best recommended to separate category, product, and keyword targeting into their own campaigns for better control on the data and reporting.
When to use Category targeting and when to use Individual ASIN targeting?
The Category Targeting is a good way to get a lot of visibility, a benefit when you are trying to build brand awareness or a product launch. However, since you are eligible for a broad reach, the ad is likely to show up on a lot of searches, resulting in a lower conversion rate, with a high ACoS unless you have an impeccable brand with a very desirable product having chosen the right set of categories.
The Individual Product Targeting is a much narrow reach compared to the former, however, it is a more mature way of targeting products since you are likely to choose products wherein you stand an upper hand in winning the sale, or products that are trying to chew up your space in the marketplace.
How to set up Product Targetting Ads on Amazon?
Join Ankitha Nagaraj, Customer Success Head at SellerApp as she explores how to set up the new Amazon Product Targeting and the best benefits of the new update.
What is the difference between Keyword Targeting and Product Targeting?
Amazon Product Targeting vs Keyword Targeting
Keyword Targeting in manual campaigns allows you target product ads based on the keywords you choose to display your ads for, whereas, Product targeting allows you to target products, brands, and categories that are similar to yours.
Keyword Targeting is a very good strategy to use when you know what are the buyer search terms for a product similar to yours, while product targeting is a good strategy to use for a wide targeting strategy e.g. product launch, building brand awareness, etc.
Strategies to use with Amazon Product Targeting
1. Brand Awareness or Product Launch
A new product launch could do good with a lot of visibility. Especially since it's a new launch it's hard to predict what keywords could work the best. Since the main aim is to generate the maximum sales during this period, product targeting can be an advantage to target popular brands and similar products, while you benefit from their visibility. This strategy could be a great benefit for products with upgraded and reinvented features from the existing products. Eg. if you have invented a better sunscreen, it makes sense to target the top-selling sunscreen brand.  But make sure that you do your market research well and target the right set of products. You wouldn't want to target a luxury brand if yours is a mass-marketed common product.
2. Capturing Market Share
The most obvious use of Product Targeting is to attack your competitors and capture sales.
Do a thorough research before you target products. Look through your Automatic campaign Search Term report to discover ASINs you are converting the most. Think twice before targetting a better product that has better ratings or a lower price than yours. On the flip side, target products that have bad ratings or higher priced
3. Defending Market Position
Just like you, your competitors are also going to take advantage of the product targeting ads. Direct the most attention to products that have good ratings, reviews, are lower priced, which could be tough for your competitors to steal from.
While advertising your products against your other products, ensure that you pair products that are a good buy with the targetted product.
We'll be sure to update this blog post as we explore and test out the new Amazon Product Targetting feature in PPC ads.
What are your thoughts on the new update? How do you plan to use it? If you have tried it already, what were your results? 
Was this post helpful?
Let us know if you liked the post. That's the only way we can improve.
Customer Success At SellerApp
Enthusiastic Computer Science Graduate. Currently helping to solve problems faced by E-Commerce sellers around the world.