If you cannot attribute your sales to a particular part of your sales funnel, then you can't optimize your marketing channels.
If you have tried driving external traffic to your Amazon listings, you know how hard tracking the campaign's effectiveness is. You were left out to guess whether a customer followed through and purchased the product or not. Until recently, Amazon hadn't offered any solutions to advertisers to measure their off-Amazon marketing efforts. However, with Amazon Attribution, brands can measure the impact of their search, social media, display, video, and email-based campaigns. This will allow them to analyze how customers find, research, and buy their products on Amazon.
In this article, let's take a look at Amazon Attribution, how it works, and how can you use it to boost your conversions.
A Quick Peek into the Content:
What is Amazon Attribution?
Amazon Attribution beta is a measurement solution that allows brands to track their marketing and advertising metrics across diverse platforms. Now you can measure the impact of off-Amazon-to-Amazon marketing insights. Using this analytics console, you can maximize your return on investment (ROI) and sales effectively.
Note: If you want to learn about Amazon Seller Attribution benefits, then watch this short video.
Why do you need Amazon Attribution?
Once your ads are running, you can measure, optimize, and plan your strategies to increase conversions.
Measure
Let's say, you made 100 sales from a product on Amazon. You'll be able to attribute 30 sales to Amazon PPC campaigns. However, you weren't able to track if the other 70 sales came from organic, paid ads, or any other social media channels. This is a blind spot for sellers, until the latest release of Amazon Attribution.
Now, with Amazon Attribution, when a customer buys your product on Amazon, you can track the exact path they took to get to your product listing.
Optimize and Plan
Amazon Attribution makes a huge difference in optimizing your sales funnel as you can track your customers throughout the entire buying process. This gives you insights into buyers' shopping behavior. With these insights, you can improve the ad campaigns that are working for you, and eliminate the ones that aren't.
Also, Amazon Attribution is a great way to increase your brand engagement. In this video, Ankitha Nagaraj, Head of Customer Success at SellerApp, talks about Amazon Attribution, and 5 other ways to enhance your brand presence on Amazon.
Why do you need to drive traffic to listings?
Before you ask yourself this question, let's take stock of a few things:
More than 50% of the product searches start on Amazon (Source). How do you cash in on the sales coming from the other channels like Instagram, Facebook, and Google, etc?
In this digital age, understanding and optimizing for your customers is extremely important. How do you learn about the purchasing behavior of the buyers coming from off-Amazon to Amazon?
Amazon is an established platform with a large customer base and high visibility. Even if you have a website, chances are high people that customers are more inclined towards Amazon than your website.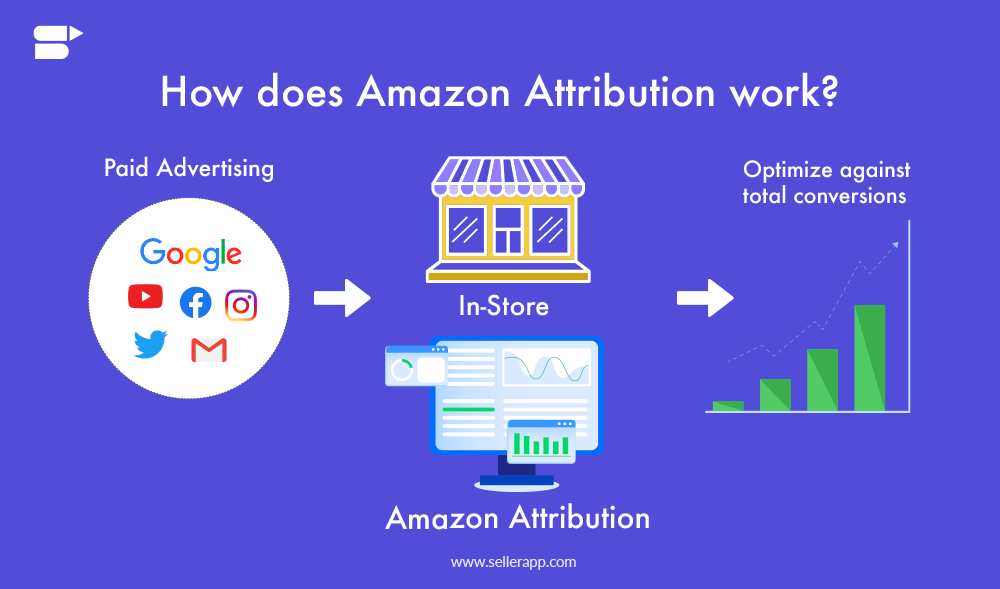 Amazon Attribution provides solutions to the above concerns. Besides, you can optimize other aspects like:
Improve sales velocity
Increase the pool of potential customers and re-engage them with Amazon DSP
Generate demand using prospective channels (like Facebook)
Create assets to differentiate your brand across these platforms and drive shoppers to your Amazon landing page or the Amazon store
Who can use it?
Amazon Attribution is currently available for brand-registered professional sellers, vendors, and agencies. It is available for the US and UK marketplaces.
What is an Attribution Tag?
Amazon Attribution tag is a tracking URL for a product listing you create under your Amazon Attribution account.
You can generate the URL and put this link in your ad, email, blog article, or any other digital medium from which you want to drive customers to your listing. When a shopper clicks on the link, Amazon tracks and tells you what action the user took.
How to create Attribution Tag?
If you are a brand-registered seller, you can log in to your Seller Central account, and register here, or log in here. Vendors can fill out the signup form.
Once you've set up your account, you can create the attribution tag very easily. Amazon gives you a set of instructions on how to create the tag.
Select the advertiser name you choose to create the tag for
Click on the 'New Order' Button
If you're planning to create a link for Google Ad, then select 'Upload a file' and follow the given instructions.
If you want to create a link anywhere else other than Google Ad, you can choose 'Set up an order.'
Pick an item of your choice from your product listings, and 'Add' it.
In the 'Order Settings' section, give a relevant name (or attribution tag) and ID, and click on 'Continue to line items.'
From the Publisher drop-down menu, you can choose where you want to post the link from a list of available options.
Under the Click-through URL, give your product listing page URL. Then hit the 'Create' button.
There you go! You've created your Amazon Attribution tag.
Track your metrics
Once you've created your attribution tag, Amazon allows you to track the following metrics.
Amazon Detail Page Views
Purchases
Total Sales
Add to Cart
You can track these metrics by campaign and by ASIN. With these metrics, you'll be able to figure out the listings that are driving you the most sales, and the ones that are losing you money. You can also understand at which point the customers are dropping out of the conversion funnel. You can test and optimize to get better results.
On a broader scale, you can figure out which platforms are winners for your products, and which aren't.
Final thoughts
Now that you've learned about Amazon Attribution, it's time to use this feature to your advantage. This is an excellent option for brands to understand how off-Amazon marketing techniques are driving sales on Amazon. It also allows advertisers to develop, optimize, and budget their strategies across various social media platforms. On the whole, this process will increase your business efficacy and ROI.
Did you try Amazon Attribution for your listings? How did it go? Let us know your thoughts in the comments section below.
Additional Resource:
Was this post helpful?
Let us know if you liked the post. That's the only way we can improve.