If you haven't used bulk sheets to optimize your Amazon PPC campaigns already, it is time to start. You can use them to streamline all your PPC campaigns with just a few clicks! The time you can save by using bulk operations is priceless.
So, what are these bulk sheets? How can you leverage them to optimize your Amazon PPC campaigns, and how do you even find them in the first place? We'll be covering this, and a lot more in this deep dive into the world of bulk operations.
Quick Guide:
What are Amazon PPC bulk operations?
It is a method by which you can make changes to your ad campaigns en masse. You can do this by downloading spreadsheets and templates directly from seller central. Just change the values where ever necessary and upload the document. 
That's all you need to do. So, what are some of the changes that you can make?
Add or create new campaigns, ad groups, keywords, or SKUs
Pause active campaigns, ad groups, or keywords
Enable inactive campaigns, ad groups, or keywords
Optimize bids and placement
Negative product and keyword targeting
All of this, and we are still barely scratching the surface.
In a nutshell, it is a great way to save time by making changes en masse.
How to download Amazon PPC bulk sheets
To get started, you need to know where to find the spreadsheets. Fortunately, it is not difficult to find or use.

Log in to your seller central account
Navigate to the Advertising console
Select the Bulk operations option
Click on Create spreadsheet for download
That is all it takes to download your bulk sheets.
Before you download the bulk sheets, you can choose the following 'exclude' options and select a date range. The maximum time frame for which you can download the bulk spreadsheet is 60 days.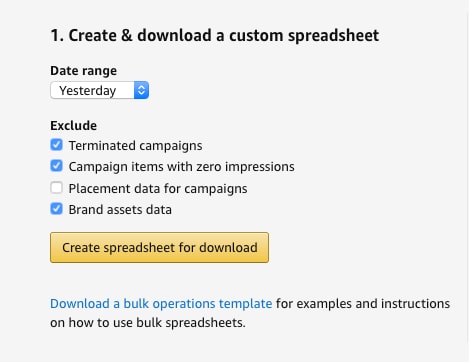 Terminated campaigns: All inactive campaigns will be excluded from the downloaded bulk sheet if this option is selected.
Campaign items with zero impressions: Campaigns with zero impressions will not be included in the downloaded bulk sheet. There is an exception for entities that will never have impressions like Sponsored Brands drafts.
Placement data for campaigns: Spreadsheets downloaded with this option active will not have placement type attributes such as all, top of shopping results, product detail page, etc.
Brand assets data: It is a read-only directory featuring all rich media that has been uploaded to your asset library. This includes the brand logo, images, and videos.
Check out this guide to improve Amazon Advertising Impressions.
Pro-tip: If you only want to manage Sponsored Product ads, exclude brand asset data. The data is not relevant to sponsored product ads and excluding it will reduce the time you take to download and upload the sheets.
Bulk sheet changes and adjustments are supported for every type of sponsored ads, and the data is also categorized by campaign type. This enables you to make changes easily.
Note: Do not make any changes to the Record ID tab. This ID is how Amazon tracks and identifies each record internally. If you change it, Amazon will not be able to track that entry.
How to create new campaigns
To create multiple campaigns at the same time, you can use the Bulk operations template. It is essentially the bulk operation's spreadsheet without any data. Additionally, the file contains various hints and other helpful information to help you get started.
Once you download the template (you can follow the link we've added above), you will need to enter the following information to create a campaign:
Record type: You need to set this as "Campaign"
Campaign: The same as your campaign
Campaign Daily Budget: Self-explanatory. How much money you want to spend on the campaign every day
Campaign Start Date: If you don't set a date, it will default to the date you upload the file
Campaign End Date: If you plan to end the campaign at a given date, go for it. Otherwise, leave it blank
Campaign Targeting Type: Auto or manual (for sponsored product campaigns).
Campaign Status: Make sure it is 'enabled'
Bidding Strategy: Pick between fixed bids or dynamic bidding. If you're picking dynamic bids, you can either type in Dynamic Bidding (Down Only) or Dynamic Bidding (Up and Down). Learn more about about amazon bidding strategy here.
Placement: This decides where you want your ads to appear. Your choices are All, Top of search (page 1), Product pages, or Rest of Search
Increase bids by placement: Pick a number between 0 and 900. If your Placement option is All or Rest of Search, you should leave this blank. Otherwise, Amazon will adjust your bids depending on the range you provide for page 1 or product page placements
Additional reading: Powerful Amazon PPC strategies, including dynamic bidding.
Once you fill in all the necessary details, you just need to upload the spreadsheet to start your campaigns. You'll find the upload option on the same page where you download the spreadsheets.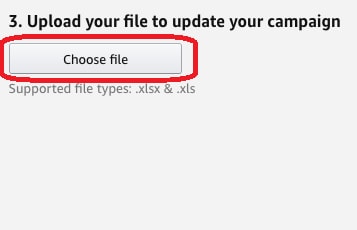 The changes won't be reflected instantly. The amount of time Amazon takes to process your changes depends on the number of rows in your sheet. You can check the status of the upload by looking at the "Status" column.
If you encounter any errors, make sure you download the error report and check it carefully. It should tell you where the problem occurred. Just make the necessary changes to your Amazon PPC bulk sheet and you are good to go!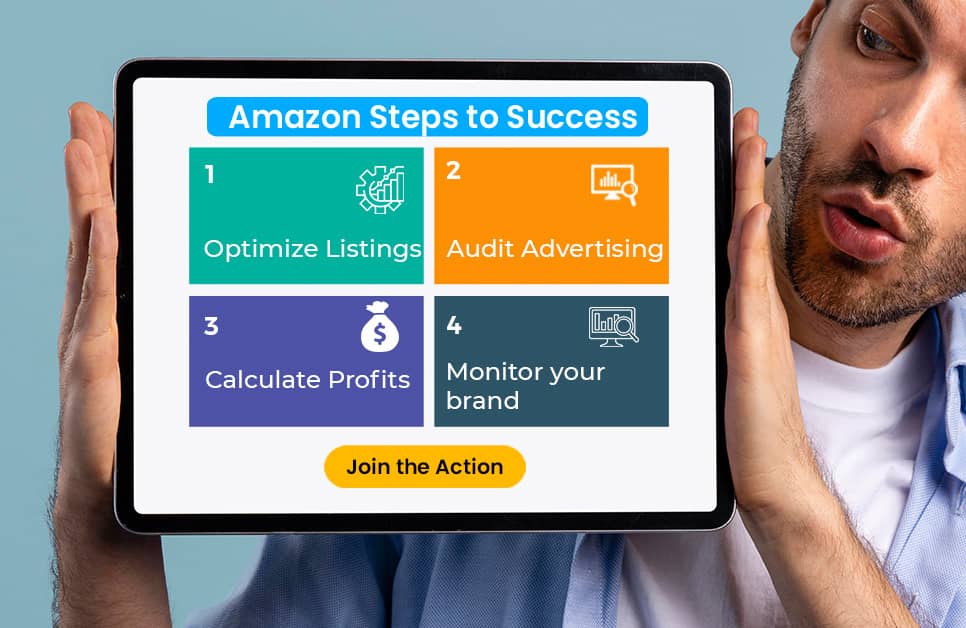 How to leverage Amazon PPC bulk operations
There are multiple ways in which you can use the bulk upload feature to your advantage. This is especially true for a seller with many campaigns. Managing all of them one at a time is next to impossible. That's where the bulk operations feature comes in handy.
You won't need to separately optimize your bids and keywords with the bulk upload feature. Just make all the necessary changes in the spreadsheet and upload it to Amazon.
The bulk operations file has multiple filter options which will help you find exactly what you are looking for.
Reliable data
The Bulk files can help you optimize your campaigns en masse, but there is one overlooked aspect of that massive spreadsheet. It is a treasure trove of data!
This file will have everything there is to know about your sponsored ad campaigns. Data on clicks, spend, orders, sales, ACoS – you name it, the file has it. Unfortunately, you can only get data for up to 60 days. You won't find anything before that magic number. We know how important all your data is. Historical sales trends can be vital when planning for the holiday season. That's why SellerApp will let you access your data in perpetuity. From the day you sign up, we safeguard all your vital Amazon PPC data and let you access it whenever you want.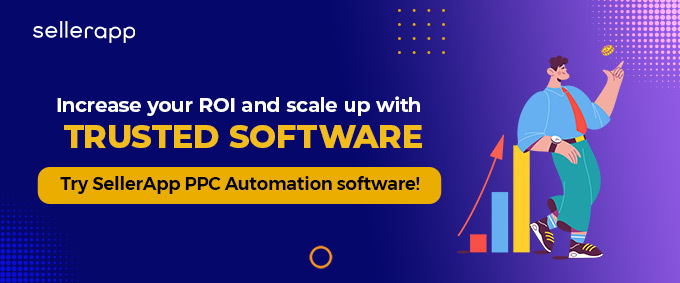 How can you save time with SellerApp's Bulk Actions?
SellerApp's Bulk Actions is a smart solution to help you create, edit, and optimize your campaigns. This feature is exactly what you need to save time and increase your operational efficiency.
To access this feature, you can go login to SellerApp dashboard > Advertising > Campaign Manager

If you are a seller with multiple ad campaigns and a large product portfolio, our Bulk Actions feature will help you edit your campaigns locally. All you need to do is download the bulk sheet, make the changes, and upload it to our feature. With the help of this feature:
You can create multiple campaigns, ad groups, and keywords
Add SKUs at the ad group level
Pause keywords, ad groups, and campaigns
Adjust bids across the campaigns, ad groups, and keywords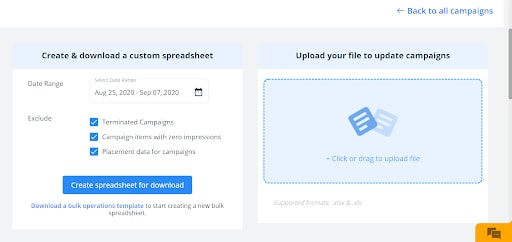 If you want to learn more about this feature, we suggest you check out this article. It helps you understand how SellerApp's Bulk Actions work and how you can effortlessly manage your campaigns.
In this video, we'll be discussing the SellerApp PPC Bulk Operation.
Final thoughts
The Amazon bulk sheet is a life-saver for many sellers. It saves them valuable time by allowing them to optimize their campaign on the go and in bulk. It is a great source of reliable data and gives you an overview of the health of your campaigns.
The filter options make it incredibly easy to make adjustments exactly where you want to. If you are managing your campaigns on your own, without using any third-party service, there isn't a better way to do it. You won't get suggested bids or any other advanced analytics, but if you are an Amazon marketing whiz, you can make informed choices based on the data.
However, there is another way to make sure your campaigns are super optimized. You can leave it to our experts. We combine the best of machine learning technology and decades of experience to deliver tangible results – all while you sit back and relax. Interested? Try our Amazon PPC management services!
Additional Read:
Sell More with Amazon Action Plan
Amazon Sponsored Display Product Targeting
Why You Should Outsource Your Amazon PPC Services.
Was this post helpful?
Let us know if you liked the post. That's the only way we can improve.