For the past 25 years, Amazon has thrived and earned an ample loyal customer base. Now, it has become one of the largest eCommerce retailers. Clearly, there is no slowing down. As popularity rises, more sellers are growing their businesses on Amazon. As 2022 emerged, it's time to increase your sales on Amazon, starting today. And, here we are to give you tips on how to boost your product sales on Amazon.
So, let's get started.
Quick Guide –
1. Have a Strong Foundation – Optimize Your Listings For SEO
You need to abide by the Amazon SEO algorithm and entice your customers with your product listings. Optimize your listings for keyword relevance. Make sure you specify the brand name, product features, material, color, size information aptly. Images play a major role in impressing a buyer. Professional photography entices your audience and motivates the buyers to purchase a product. Highlight the value points of your product using your image. Aim to provide at least 2-3 high-quality images and cover different angles of the product. Leave no room to imagine the product for your customers.
Do not forget about Google. Everything you do on your product listings can be indexed on Google. So, optimize them for Amazon as well as Google. This can make a big difference.
2. Multi-Channel Marketing – For New Opportunities and Insights
If you are doing it already, it's great! If not, start leveraging multiple channels to sell your products.
Promote and sell products anywhere your customers can buy. Find the right customer touchpoints such as a mobile application, a social media platform, or a website matters. Do not restrict yourself to Amazon. The cornerstone of multi-channel marketing is to invest in the right channel. You can approach these platforms independently.
A few of the popular marketing platforms in 2022 are:
Realted Post : Analysis of Amazon Affiliate Program and Amazon Selling
On the other hand, Amazon is making seller-buyer communication more stringent than ever. So, make sure you establish your own loyal clientele with your e-commerce store, social media accounts, or blogs. Attaching a coupon, flashing a deal, and free shipping during the holiday season or on certain occasions would definitely entice your customers.
Come up with a multi-channel strategy by analyzing consumer choice and purchase patterns. Find out your target audience and harness data to grow your business.
Recommended Guide: Amazon Posts.

3. Get Reviews and Increase Your Sales on Amazon
Customers trust online reviews as personal recommendations. Verified reviews improve trustworthiness. Buyers hardly leave reviews for the products they bought online. Using review programs like the Amazon vine program or Early reviewer program would help you boost your sales online.
Seller feedback and product reviews increase your product rankings and to a certain extent influence your BSR. Constructive feedback helps you improve your product performance. So, try to automate your review requests. You can use the SellerApp review request chrome extension to automate your reviews on Amazon.

4. Maximize Your Advertising Avenues
If you really want to increase sales on Amazon, Sponsored Ads are the way. 2022 is the year of Amazon Advertising. Look beyond keyword optimization and come up with a strong strategy to increase your presence on Amazon. A successful seller strongly balances automatic and manual campaigns by using different PPC strategies. When used properly, Amazon advertising helps you convert at various places in the sales funnel.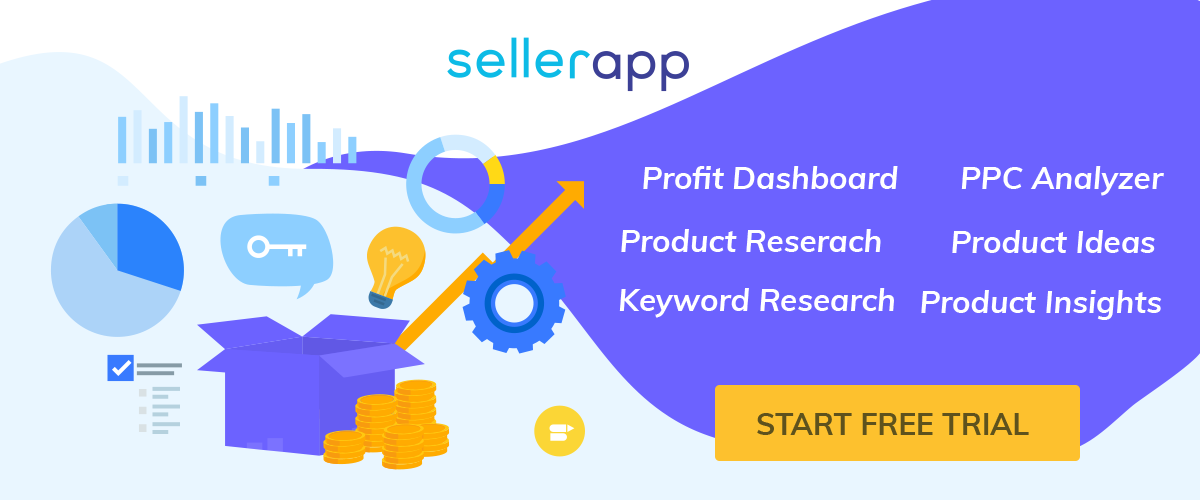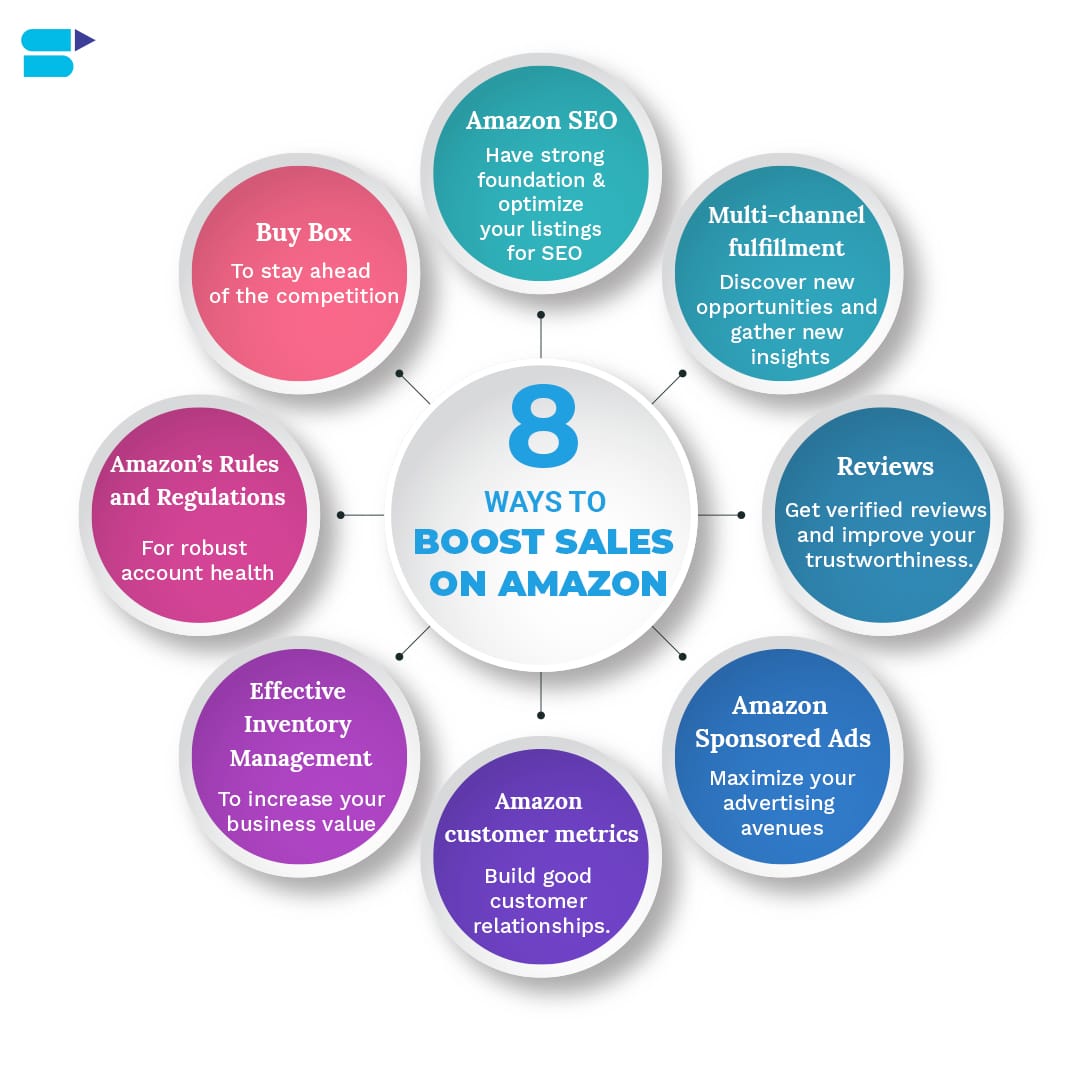 5. Amazon Customer Metrics –
Customer satisfaction is an essential metric that brings more value to your business. Amazon gives huge importance to customer communication and satisfaction metrics as it wants to create positive experiences for the customers. In the Amazon seller central account, the Account health section will give a brief overview of the customer satisfaction metrics that need your attention.
Order Defect Rate (ODR) –
In the specified duration, the Amazon order defect rate (ODR) gives the number of defect orders (by Amazon) by the total number of orders received. Precisely, it's based on the number of people who have negative experiences with your product.
According to Amazon, a guarantee claim, chargebacks, or negative comments are considered as a defect.
A high ODR can trigger a negative impact on your Amazon account health.
Pre-fulfillment Cancellation Rate –
The pre-fulfillment cancellation rate is initiated by the seller before shipment confirmation. This is the number of canceled orders by the total number of orders in a specific period of time. This usually happens if the seller doesn't have enough stock after a customer places the order. So, Amazon wants you to stock up your inventory to avoid the pre-fulfillment cancellation rate.
You need to aim for a cancellation-rate of < 2.5% to meet Amazon's pre-fulfillment cancellation rate target.
Policy Violations –
Policy violations on the seller central account page will notify you about your performance if Amazon policies are violated. This can be due to the way of your item listing or can be the nature of the item itself. The policy violation metric will give the details of unread performance notifications.
A green tick indicates – No unread performance notifications.
Yellow Exclamation indicates – You have unread performance notifications.
Red cross denotes – You need to read the performance notifications as your account health is at risk.
Late Shipment Rate –
This metric will give you the percentage of orders that have been dispatched late. An order is considered to be late if it is overdue by 3 or more days. Amazon suggests you set a target of < 5%.
Buyer-Seller Contact Response Time (CRT)
This is straightforward. The CRT will give you the number of customer messages you have responded to within 24 hours.
"Amazon suggests that a seller should respond to the buyer within 24 hours. Failure to do so will negatively impact CRT, thereby Account health."
6. Effective Inventory Management – To Increase Your Business Value
This is something we always talk about. Having your inventory stocked up will boost your organic ranking on Amazon. Warehouse and inventory management is increasing in its value and relevance for the past few years. In the US, the number of warehouses has increased by 6.8% in the past 5 years (U.S Bureau of Labor Statistics). Handling these tasks manually is time-consuming and invokes unwanted errors. So, you need to automate your tasks using appropriate Inventory management software. With an effective inventory management software, you can definitely boost your operations and inventory efficiency.
To know the best practices for Amazon inventory management, check this blog here.

7. Abide By Amazon's Rules and Terms of Service
Most of the time, Account suspension is one of the biggest challenges for Amazon sellers. Staying up to date with Amazon's terms of service and policies is the key to maintain good account health and stay out of suspensions.

8. Stay Ahead of the Curve and Win Buy Box
If you want to increase product sales on Amazon, you need to analyze your competitors' strategies and capitalize on their weaknesses. With the competition rising on Amazon, it's hard to stay ahead of the curve. Although Amazon never gives away the exact metrics that influence Buy Box eligibility, however, it considers:
Seller feedback and product reviews
An efficient and quick delivery system
Refunds and return rates
Inventory volume
And most importantly, competitive pricing
Besides, for an Amazon seller, sales history comes into the picture to influence the Buy Box chances.
Conclusion
On the whole, focusing on these aspects would not only increase your sales on Amazon but also help you achieve customer satisfaction. Small and medium businesses will gain maximum traction if they leverage technology for business growth. This is critical for Amazon sellers as the e-commerce industry is moving at a fast pace.
Additional Resources:
Amazon Holiday Selling Strategy 2022
Was this post helpful?
Let us know if you liked the post. That's the only way we can improve.