Am I spending too much on my campaigns? Are my campaigns running efficiently?
These are a few questions that brands and advertisers constantly get. Wasted ad spending is a potential problem Amazon sellers face while managing their campaigns. There are times when you spend your time bidding on specific keywords and optimizing campaigns but would end up getting zero-low clicks and conversions. What if we say you could bid only during the times when your customer exists and convert them?
Automated ad scheduling is the solution. Various tools in the market can help with the setup and automate your campaign management. Ad scheduling (or Amazon dayparting) is just the tool for your Amazon business.
Quick Guide
What is ad scheduling, and how does it work
Ad scheduling, also known as dayparting, is a functional feature to adjust your ad campaigns at certain times. By default, your Amazon campaigns run 24×7, but ad scheduling limits your campaigns to certain times. It allows you to fine-tune your campaigns for different days and different seasons.
The idea behind scheduling ads is to maximize the efficiency of your ad campaigns. Your campaigns perform differently during certain days or times of the day, depending on the customer purchasing patterns. Ad scheduling helps you automatically increase or decrease your budget and bids based on your requirement.
Why you should schedule ads for Amazon PPC campaigns
Well, the most obvious reason you should schedule ads is to improve the efficiency of your campaigns. Here are a few more reasons why you should schedule your Amazon ads
To show your ads when your business has a higher potential
Let's say you want to grow your sales on a Prime Day or a shopping event, which are peak shopping events, you need to use ad scheduling. If you want to be visible and optimize your spending during these holiday events, opting for dayparting is the best alternative.
E:g. You can increase bids by 10% for a few of your campaigns from Oct 21st to Nov 2nd with the help of ad scheduling.
You want to optimize spending during certain days of the week
On average, Amazon sellers sell higher on Sundays and Mondays, while their sales are lowest on Fridays or Thursdays. It could vary from business to business, though.
If your sales cycle follows a similar pattern, it means your turnover on those days is way higher than the rest of the days' turnover, isn't it? So it makes to optimize your spending during the days when the traffic is high and avoid spending more when you experience lower conversions.
To increase your visibility when the traffic and conversions are higher
Competition on Amazon is getting tougher by the day. As a seller, you need to ensure that you showcase products to an audience who has a genuine interest in buying the product.
You want to deliberately avoid the browsing traffic – when customers are only browsing but not buying anything. Due to the browsing traffic, your products may get many clicks, but you may not be able to convert. In such cases, you can consider scheduling ads.
To perfect your advertising efficiency
This is an extension of the previous point. If you reduce showing your ads when your customers are not converting, you can avoid unnecessary PPC costs and allocate that budget to other campaigns or products. That is all the more reason why you should consider scheduling ads.
Benefits of scheduling ads on Amazon
Here are a few advantages of scheduling your ads on Amazon.
1. Shopping events
For Amazon sellers, shopping events such as Prime Day, Black Friday, and the Q4 holiday season are crucial to scale their business. The demand, as well as the competition, is high these days. Therefore the bids are increased by 2x or 3x during these events.
During such times, ad scheduling helps you plan your time and campaign management effectively. Let's say you want to increase bids during the holiday season by 10% for a few of your campaigns from Oct 4th week to Dec 3rd week, you can schedule ads to optimize bids during that period.
Additional read: The Ultimate Guide to Amazon Dynamic Bidding Strategies.
2. Manage daily and weekly campaign budgets effectively
Your campaigns may not perform optimally throughout the day. You can schedule ads to optimize your campaigns depending on the off-peak business hours through which you can reduce your wasted ad spend.
Additional read: Spend the right amount at the right time with Amazon Budget Rules.
3. Maximize conversions
You may be experiencing a higher number of orders during certain times of the day. In those cases, you can use the dayparting feature to adjust your campaign bids and maximize conversions during peak shopping hours.
Do you know when your customers are most active? For instance, if you see increased purchases and traffic after 6 pm to 12 am, it is only natural to exploit these times. So you must ensure that you are visible to the customers and avoid spending high during the other hours of the day. Consequently, day parting is your best bet to make the best out of the situation.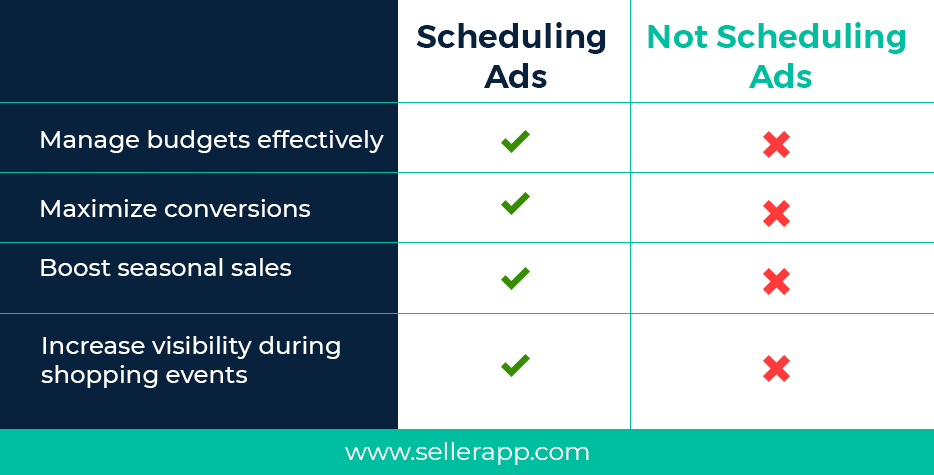 4. Seasonal purchases
If you sell seasonal items like gift cards or decorative items, the demand will see a spike, and competition is fierce during Valentine's and holiday seasons. Hence it makes sense to aggressively spend your budget to capitalize on the demand. Scheduling Amazon ads ahead during these events can make your work easier.
What kind of analysis you should do before and after scheduling ads
You need to examine your campaign data, customer behavior, and orders generated on Amazon before you proceed with dayparting.
Campaign data – Unfortunately, you cannot find campaign data by the hour on Amazon. But you can analyze campaign data available on the platform to find whether there is a pattern to it.
Overall Traffic – You can also go to your Seller Central, Reports section and find sales and traffic reports to see an overall purchasing trend. Look at your sales data to understand at what time of the day your orders are high.
Historical data – We cannot emphasize enough the importance of looking at historical data to make business decisions. You need enough traffic and conversion data before you make business decisions.
You cannot consider a week's or a specific day's data and decide if a certain option is working or not. Look at specific timelines to draw patterns. Consider ad campaign data, for 30-90 days to ensure the data you collected is statistically relevant.
Scheduling your ads during the right time of the day is important for both customers and marketers. If you reviewed segmented data between 1 am and 7 am and have not observed any sales during that period, there is no point in showing your ads to customers during that time. Therefore with dayparting, you can reduce unwanted clicks, which result in a low likelihood of conversion.
Limitations of ad scheduling
There are some limitations to the dayparting feature. Some professionals would not recommend scheduling ads saying that it doesn't hurt to generate a few impressions even when they do not convert. Here are a few limitations you should know before scheduling ads.
Check out this guide to improve Amazon Advertising Impressions.
No hourly data
Amazon Advertising console does not provide sellers with hourly data. Even though you check the numbers manually, it is very difficult to understand the campaign performance every hour.
Besides, if you check the platform to test different ad campaigns, you won't get day-wise data after 60-days. If you feel this is a constraint, you can check SellerApp's dashboard, where you can visualize data for as long as you are logged in to the platform.
Amazon data delay
Amazon's advertising console does not give you appropriate data every hour. That means your sales, conversions, and clicks data is updated with a 48-hour delay. Though Amazon is trying to reduce the attribution, the situation currently remains the same.
So you need to consider a good sample size before you analyze the data when you schedule ads.
Narrowing your targeting
It can remove vital touchpoints where you have the potential to turn browsers into buyers.
If your customers are active throughout the day, dayparting is not helpful.
How SellerApp automation rules can help you schedule your ads
SellerApp offers a set of automation templates to free up your time with campaigns. You can automate your bid and budgets depending on your campaign goals too. According to Business.com, automation can save up to 30% of advertisers' time and effort. So as an advertiser you should definitely consider automating some part of your campaign management.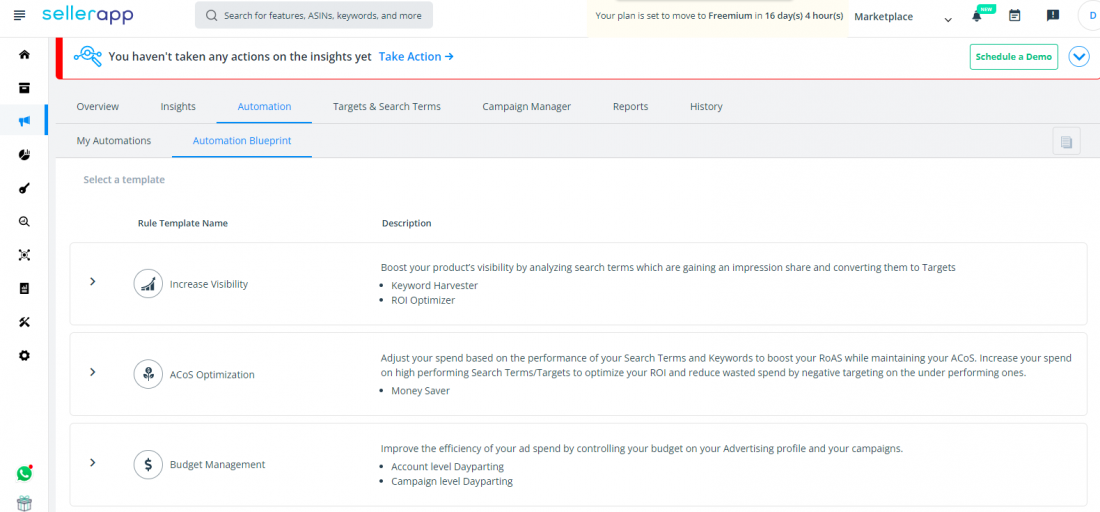 Amazon sales insights + SellerApp dayparting = Increased Sales
Let's take an example of how you can leverage sales insights with SellerApp's dayparting feature to generate maximum sales. You observed that your brand is generating a higher number of orders between 6 pm and 12 am.
Alternatively, you can use traffic and sales data for reference. To get maximum visibility during that period, you can use SellerApp's dayparting feature to optimize your bids hourly. Furthermore, you can allocate a budget distribution as per the need of the hour.
This is how you set different budgets for different hours of the day. Since, in our case, we considered that sales would increase after 6 pm to 12 am, we set the budget high during that period.
Want to give it a try? Log in and schedule your Amazon PPC campaigns with SellerApp dayparting feature.
A few important aspects of SellerApp's dayparting feature that you should know:
It supports all marketplaces
Automation rules are set based on your seller central time zone
Custom rules based on your campaign goals like low ACoS, high ROI, etc. can be created
At the campaign level, you can apply rules to Sponsored Products and Sponsored Brands. At the account level, rules can be applied to Sponsored Products
Automation rules are independent of the dayparting feature. So you can use the templates depending on your requirements
If you still have doubts about understanding the dayparting feature, have a look at this video.
Things to keep in mind before scheduling ads
Here are a few things to remember before you get started with Amazon ad scheduling
Make your campaign goals clear – If your campaign goal is to increase customer reach, restricting them by using dayparting is not the right approach. Therefore, you should be smart enough to understand which campaigns can be scheduled
Avoid CPC rush – Campaigns have a daily budget. Most advertising managers sleep in the night and cannot adjust their bids manually, so ad spend on Amazon is driven by the morning crowd who adjust their bids to win the keyword auction. If you are a beginner trying dayparting for the first time, you should avoid testing campaigns during this time.
Additional read: Navigating the Amazon CPC Increase: Tips and Tricks for Success.
Align with Amazon deals – Amazon lightning deals are effective if you are running them for a short period of time. Use dayparting along with these lightning deals to increase the visibility of your products. This technique is beneficial during sale events.
Conclusion
One-size-fits-all advertising is a thing of the past. Ad campaigns should have tailored advertising strategies based on customer interests, demographics, and browsing habits to yield clicks and conversions. Scheduling Amazon ads or using dayparting is one such method to make your ad spending efficient.
Additional Read:
10 CPG Trends to Watch in 2023.
Was this post helpful?
Let us know if you liked the post. That's the only way we can improve.