A piece of advice: Do you need a solid head start for your new launches? Market your product early on.
More than 28% of the total revenue can come from your new product launches with the right strategies. 
Customers today are inundated with countless brands and marketing messages across platforms.
Well, in such a cluttered environment, brands should get smarter and cut through the noise to deliver the message to their target audience.
The question is how?
This article helps you solve your new product launch puzzle and succeed on Amazon or any other e-commerce marketplace.
Quick peek into the article
Learn before you launch
In general, your new product launches go through a 'make or break' period once the product hits the digital shelves. You have a finite amount of time to succeed, or you lose customers' interest, as a matter of fact.
Identifying your target customer profile is a crucial step to success. Successful brands define their customer persona. It can be age, interests, location, lifestyle, etc. This helps you customize your marketing initiatives tailored to your audience.
Taking real-life customer behavior into consideration allows the product to appeal to the audience. If not, they fail like The Arch Deluxe Hamburger from McDonald's.
Here are the top three strategic questions you should ask before launching your products on Amazon.
What is the role of these new products in my portfolio?
What levers can I use to capture value from existing customers?
What is the competitive advantage of the products?

Listen to your customer data, analytical tools, and consumer communities to understand the nuances of customer behavior because behavioral insights matter more than demographic data.
Characteristics of launch champions – Here's what the consumer brands get right!
Businesses should understand the launch capabilities that place them as market leaders in their category and nail a perfect launch. We identified a specific set of capabilities that are crucial for rigorous product launches.
From SellerApp's experience working with major CPG and DTC brands, we have listed the major characteristics of the launch champions.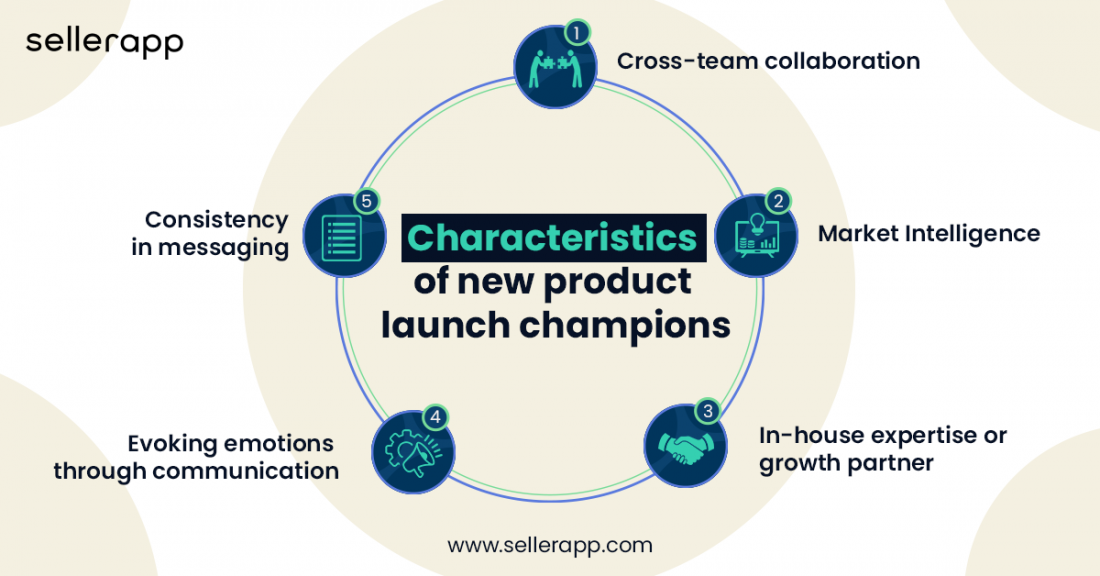 Cross-team collaboration
Getting a product in front of customers involves more people from the Amazon supply chain to advertising campaigns. This sounds hard, but you can make it possible when you have multiple cross-functional experts on the team.
Market Intelligence
As a brand, you must be armed with the right data and capabilities to nail a perfect launch. Get insights on the market, customer purchase behavior, and competitor strategies.
You can list basic demographic data and online purchase behavior to segment your target market.
Let's say you have a brand selling supplements products online. You should be able to answer strategic questions like:
Who are the customers willing to pay to protect their health (pricing)
How many times your target customer would like to take supplements in a day?
(How do they interact with your product?)
What are the key unique selling points (USP) of your competition, and how do they fare against yours
Alternatively, Amazon is a good place to start your market intelligence journey.
Go to the best sellers page and select the category that you're selling in.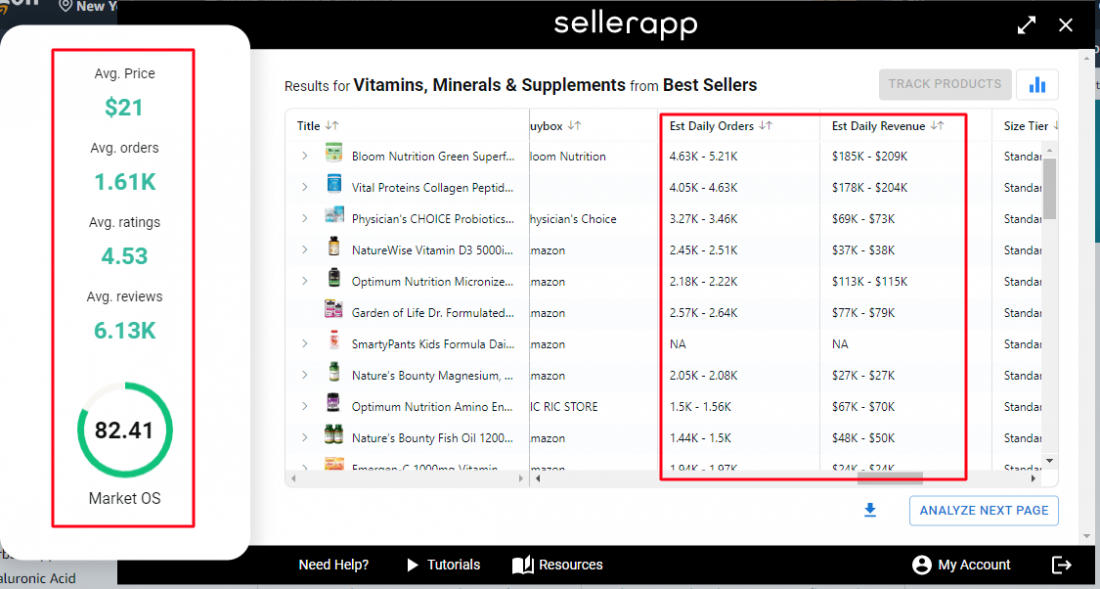 Click SellerApp Chrome Extension → Product Analyzer. You can find the average price, opportunity score, how many sellers are competing for the Buy Box, estimated orders, and more.
You can also calculate the market share of your products and competitors with the help of the SellerApp dashboard. Login to the dashboard and try it for yourself.
You can also talk to experts at SellerApp and get in-depth competitor reports for specific SKUs.
Right knowledge
Product launches can be complex and expensive. A firm launch strategy backed by data can deliver value to the brand. You should have an inbuilt team who is trained for these challenges or the right growth partner for a smooth product launch.
Consistency in messaging
If you're growing your brand on a marketplace other than your DTC website, messaging plays a critical role. Let's say you're selling in a marketplace dominated by gen Z customers, you want to tailor your listing and advertising messages for that audience.
On the other hand, if discounts drive your target audience, it only makes sense to have something like '20% off on new launches' to attract customers.
You should also ensure that your listings are capable enough to entice the audience and that the messaging is aligned with your brand.
Evoking emotions through authentic communication
What is the key difference between customers buying from a brick-and-mortar store vs. an online store?
The ability to touch and experience the product, isn't it?
It's not enough to handle your online store or Amazon store as a transactional venue. You need to look at it as an avenue to build your brand and communicate to the customer.
We know in-person experiences can't be replicated on Amazon or your digital store. However, your videos, images, and listing descriptions should trigger emotions in the customer, so you can uncover their desires, concerns, and motivations and make them purchase the product.
We'll discuss that in a bit.
Advertising strategies for the next normal – How you should crack the launch code
Around 75% of CEOs look at marketing to drive business growth.
Product launches, in most cases, are complex and expensive. With CPC rates spiraling through the roof, it's more important than ever to have a planned advertising budget and tailored strategies.
This applies to both on and off-Amazon marketing initiatives.
Advertising initiatives to nail a perfect launch on Amazon
At this point, you might have understood your target audience. It's time to focus on getting your products market-ready. That brings us to two important concepts of marketing – Discoverability, and Desirability.
Focus on Product Discoverability
As part of your full-funnel strategy, customers should be able to find your product on Amazon. We call this discoverability. Here are the key factors that you should look for when analyzing the discoverability of your product on Amazon.
ASIN indexing
Search visibility (SEO) of the product for the keywords
Shipping method
Factor in Customers' Desirability
As part of your bottom-funnel, you should factor in the desirability metrics of your Amazon listings and analyze if they are retail-ready. Here are a few desirability factors for you:
Product Title
Product images and videos
Reviews and ratings
Amazon advertising types that you should consider to fuel your marketing funnel
If your new product launch needs to succeed on Amazon, PPC ads should be a crucial part of your product launch strategy. Here is a peek into the advertising types and what you can do with them.
Amazon Sponsored Product Ads
These are targeted ads that appear in search results and on product detail pages. These ads can help increase the visibility and sales of your products on Amazon.
Amazon Sponsored Brand Ads
Formerly known as headline search ads, these are banner ads that appear at the top of search results pages. These ads can include a banner image and up to three products, and they can help increase brand awareness and sales on Amazon.
Amazon Sponsored Display Ads
These are display ads that appear on various websites and apps in the Amazon Advertising network. These ads can be targeted to specific audiences and can help increase visibility and sales for your products.
Targeting options that you need for your new product launches
There are many ways you can leverage these ads to control where your ads appear on Amazon. Refining targeting would help with just that.
Here's a peek into different targeting segments within Amazon PPC ads.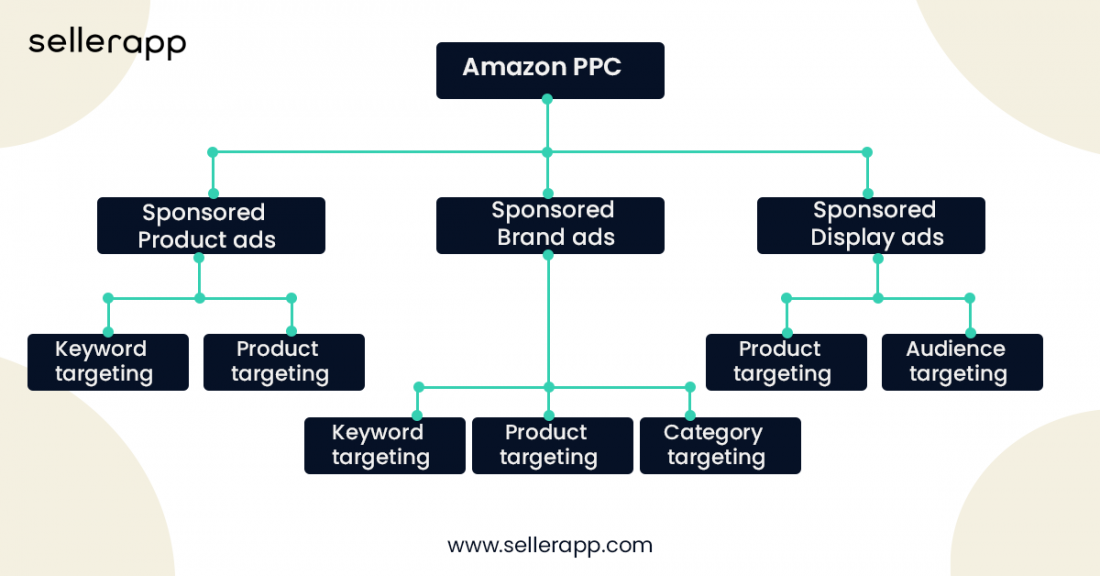 Targeting types in Sponsored Product ads
Keyword targeting
Product targeting
Sponsored Brand ads targeting types
Keyword targeting
Product targeting
Category targeting
Targeting types in Sponsored Display ads
Product targeting
Audience targeting
Let's look at the common targeting options – Keyword and Product Targeting
Keyword targeting
If you're familiar with SEO or have marketed your products outside of Amazon, then keyword targeting wouldn't be something new to you. It helps you rank your products for a specific keyword in the search results and product listing page.
So ensure you list the core keywords of your product, understand the search terms used by your buyers, and run keyword-targeted ads for optimal ACoS.
Product targeting
You can target specific ASINs under product targeting and make your ads appear on the listing page. Shoppers will find your products when they browse through the categories and find listings. You can target your own products, categories, or a group of competitor brands with the strategy.
Here's an example of a consumer brand leveraging its own ASINs with product targeting to cross-sell to its customers.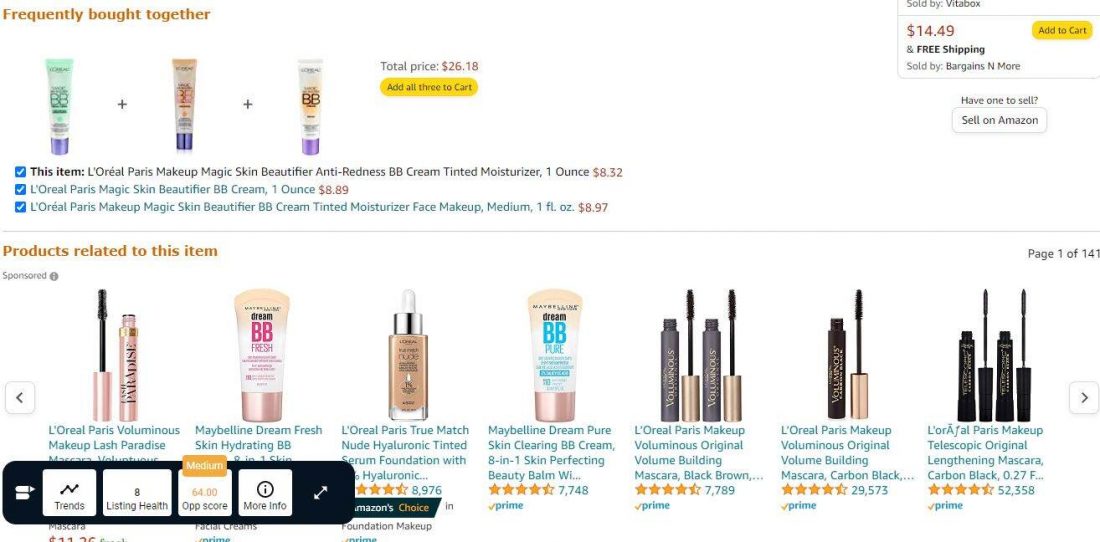 You can leverage the same strategy and drive traffic to your new catalog on Amazon.
If you want to learn how to leverage these ads to tailor your marketing strategies, you can check out this detailed guide on different advertising types on Amazon and when you can use them to get sales for your business.
Note: Audience targeting is a part of Sponsored Display ads that you can use to engage shoppers and retarget them as part of your existing Amazon PPC strategy. Unless you have an existing PPC strategy in place, we wouldn't suggest using audience targeting for your new launches.
Drive external traffic to Amazon
Let's expand the top-of-the-funnel marketing now. Driving external traffic to Amazon listings is a crucial step to expanding your brand reach. It can be a challenging task, especially if you're just starting out and don't have a lot of resources at your disposal. However, it is still possible to drive external traffic to your Amazon listings. Here are a few ways:
Invest in paid ads
One of the most effective ways to drive external traffic to your Amazon listings is through paid advertising. There are several platforms that you can use to advertise your products, including Google Ads, Facebook Ads, and Instagram Ads.
When setting up your campaigns, use relevant keywords and targeting options to ensure that the right audience sees your ads.
Utilize social media
Social media platforms like Facebook, Instagram, and Twitter can be powerful tools for driving external traffic to your Amazon listings. Create and share engaging content to build a following of potential customers who are interested in your products. Include your listings' URLs within the content.
Alternatively, you can also use social media to run paid ads and target specific demographics to increase the chances of your content being seen by the right people.
Collaborate with influencers
Influencer marketing is a strategy that involves partnering with social media influencers or content creators who have a large following in your target market. By working with influencers, you can expose your products to their followers and drive external traffic to your Amazon listings.
Optimize your website for search engines
If you have a DTC website, it's important to optimize it for search engines like Google. Include relevant keywords on your landing pages to improve your search engine ranking and make it easier for potential customers to find your Amazon listings.
You can also use tools like Google Analytics to track the traffic coming to your website and identify demographics and customer behavioral data to find opportunities to grow your business.
Use email marketing
Email marketing can be an effective way to drive external traffic to your Amazon listings. You can use email newsletters to share updates about your products, special offers, and other promotional content with your email subscribers. To build your email list, you can offer a free resource or incentivize people to sign up for your emails by offering a discount on their first purchase.
Participate in online communities
There are several online communities and forums like Reddit and Amazon FBA Warriors that are related to your niche, where you can engage with potential customers and share information about your products. By actively participating in these communities and providing valuable content, you can drive external traffic to your Amazon listings and build brand awareness.
Utilize referral marketing
Referral marketing is a strategy to encourage your customers to refer your products to their friends and family. You can incentivize referrals by offering a discount or other incentives to customers who refer your products. This can be an effective way to drive external traffic to your Amazon listings, as people are more likely to trust recommendations from friends and family.
Create videos
Video content is becoming increasingly popular. It can be an effective way to capture the gen Z audience and drive external traffic to your Amazon listings. You can create product demonstrations, tutorials, or other types of video content that showcase your products and provide value to potential customers. You can then share your videos on platforms like YouTube and link back to your Amazon listings.
Offer special promotions and coupons
Special promotions, such as discounts or limited-time deals, can be a great way to drive external traffic to your Amazon listings. You can use these promotions to create a sense of urgency and encourage people to purchase your products. You can also use them to generate buzz and build excitement around your products.
Use the power of word-of-mouth
Word-of-Mouth (WOM) marketing can be incredibly powerful, and it can be an effective way to drive external traffic to your Amazon listings.
Leveraging automation and business intelligence for seamless implementation
If you want to do granular targeting, you need to get smarter with consumer data by building advanced analytics that leverages machine learning. Having a 360-degree view of your campaigns, listings, and prices will help you stay updated with the product and competition.
A few ways you can implement automation in your business:
Automate your Amazon advertising activities:
There are several ways that automation can be used to support the launch of a new product on Amazon. You can automate your inventory management, review management, and advertising activities with automation. When it comes to advertising, you can:
Set up automated campaigns:
Use the Amazon advertising automation rules to create and schedule ad campaigns in advance. You can set up rules based on factors such as the time of day, the device being used, and the location of the customer. However, we'd suggest using this technique if you're well-versed with Amazon advertising strategies and have enough data to analyze.
Monitor and adjust your ad campaigns:
Keep an eye on the performance of your ad campaigns, and make adjustments as needed. This might include changing the targeting, adjusting the budget, or modifying the ad copy.
Use automation for bidding and budget management:
Automated bidding can help to optimize the performance of your ad campaigns by automatically adjusting the bid amount based on the likelihood of a conversion.
You can use advertising analytics platforms like SellerApp to automate all these tasks and save your time so you can effectively use your time in other parts of the business like inventory management and expanding your product portfolio.
Marketing has become a data-driven industry – You should capitalize on it too!
Data and analytics are no longer optional. Brands can't compete without harnessing the power of business intelligence. So scaling them works like magic and contributes to the success of the organization.
According to a study at McKinsey, data-driven organizations are 23 times more likely to gain new customers, six times more likely to retain existing ones, and 19 times as likely to gain profits.
If your brand needs a deeper understanding of your product's performance and makes informed decisions, you'd need business intelligence to monitor metrics.
As a consumer brand, you should leverage data intelligence to
Stay on top of the marketing metrics
Determine the budget for your marketing and advertising initiatives
Derive actionable items for your brand and new launches
Campaign planning and insights
Budget allotment and analysis
If you need help with these insights, you can always turn to SellerApp for expert guidance and insights on your brand. We are a team of certified experts to customize your strategies based on your target audience, budget, and business goals. We don't want to boast, but we're also one of the top three finalists in Amazon Advertising Partners in 2022.
Our experts can audit your brand and provide business reports and tailored growth strategies that help you scale your business on Amazon as well as on other e-commerce marketplaces.
Additional Guide:
The Power of Digital Shelf Analytics for E-Commerce Success
Was this post helpful?
Let us know if you liked the post. That's the only way we can improve.