When it comes to e-commerce, the key to conversion is discoverability.
The easier it is for customers to find your product, the more you generate sales.
In a physical store, product placement significantly influences your consumer's decision.
Similarly, in the digital world, optimizing your online presence is very crucial if you want to get ahead of your competitors to gain customers' attention.
But how do shoppers discover your products online? That's where the digital shelf comes in!
Think about the digital shelf as a metaphor, emulating the in-person shopping journey into digital shopping to make the customer experience as seamless as possible.
This article explores how digital shelf analytics can help you get your products noticed online and set yourself apart from the competition.
Here is a quick peek at the article:
Difference between brick-and-mortar vs. digital e-commerce shelf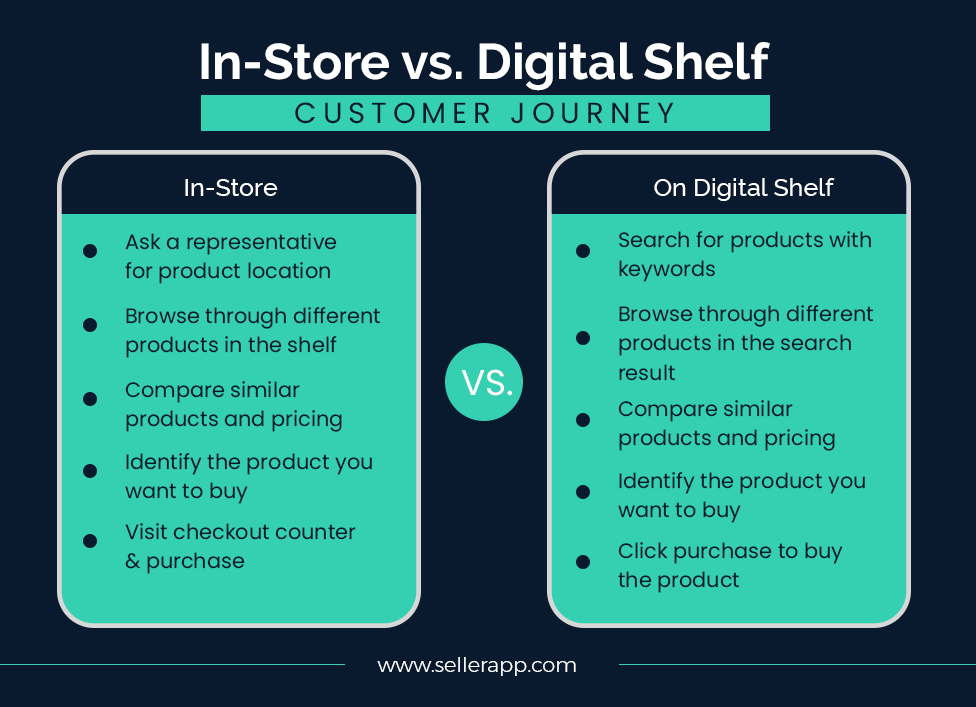 Before jumping onto digital shelf analytics, ask yourself a question!
How does shelf planning within a brick-and-mortar vs. digital commerce differ?
In a brick-and-mortar store, the shelf is a physical space where sellers display the products for customers to check out and purchase.
Whereas, in the world of e-commerce, the "shelf" takes on a different meaning. It refers to the online space where customers interact with a product, whether it's on a marketplace like Amazon, a brand's e-commerce website, social media, or digital ads.
Aside from that, there are other differences between brick-and-mortar vs. digital e-commerce shelves.
| Category | Brick and Mortar | Digital Shelf |
| --- | --- | --- |
| Location | Physical storefronts, where customers can look and feel the products in person. | Online, either on a marketplace or a brand's D2C website. |
| Transactions | Physical stores only allow customers to pay with debit, credit, gift cards, and cash. | Accept several forms of payment, including credit cards, cash-on-delivery, coupons, etc. |
| Communication | Utilize digital channels and in-store interaction to build a genuine connection with shoppers. | Can only communicate with shoppers through digital channels. |
| Marketing | Digital advertising, along with traditional advertising like print and broadcast, to reach a targeted regional audience. | Digital advertising on marketplaces and social media can reach a global audience. |
| Product Presentation | Physical display of products. | Virtual display of product. |
| Operational Cost | It includes store rent, storage, marketing, employees, and more. | It includes marketplace fees, shipping costs, storage fees, advertising, and more. It's usually lower than a brick-and-mortar business. |
You can notice that both brick-and-mortar and digital shelf have their benefits and drawbacks.
Yet, in recent years, shoppers have become more inclined towards online shopping experiences.
So, what are the factors pushing people toward online shopping? And perhaps more interesting, What digital shelves have to do with it!
Let's learn below!
Why are shoppers more interested in online shopping?
The answer is simple! Convenience.
Online shopping allows consumers to access a wider range of products and brands from the comfort of their own homes.
E-commerce also offers competitive prices, thanks to the reduced overhead costs of operating a digital store compared to a physical one. In addition, many online retailers offer free shipping, further adding to the convenience and cost savings for consumers.
These factors have contributed to the increasing popularity of e-commerce and the shift toward digital shopping in recent years.
Around 40% of Internet users in the United States say that they frequently purchase items online. Besides, 20% of them reported they shop online on a weekly basis (source).
Note: An interesting point to note is that, nowadays, the customers' journey is non-linear. There are cases where shoppers see a product in store, research it online, and purchase it. On the other hand, in some cases, shoppers may discover a product online, research it, and purchase from a physical store.
Either way, your product must have a digital shelf for shoppers to discover and buy.
What is Digital Shelf Analytics?
In simple language, a digital shelf is the collection of digital assets shoppers use to find, learn about, compare, and purchase products online.
And Digital Shelf Analytics (DSA) is the process of analyzing different data points, from search engine ranking to how customers find your products and interact with them online, and optimizing them to maximize search visibility and conversion.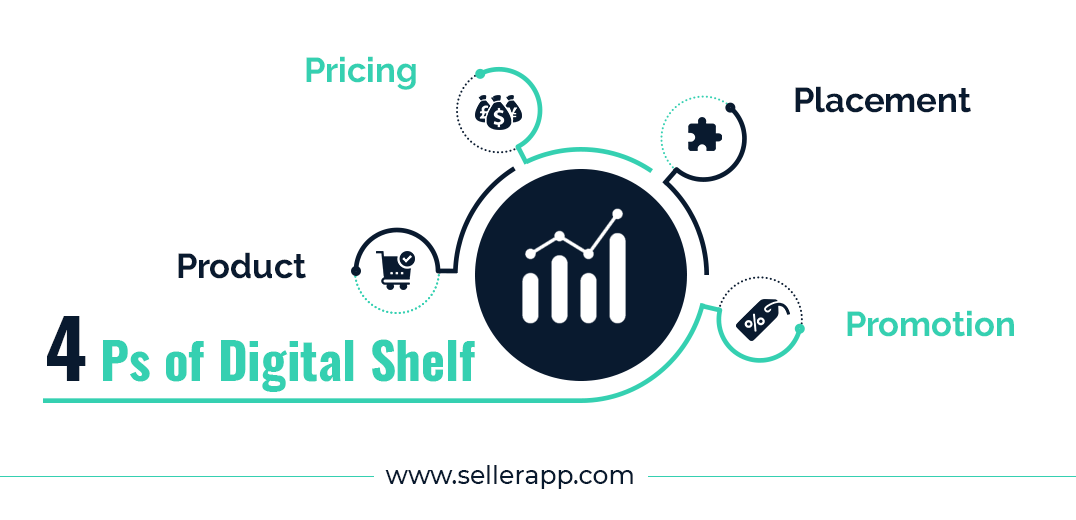 Like brick-and-mortar stores, pay attention to the four Ps on the digital shelf.
Product: Ensure you present the product to shoppers in the best possible way.
Pricing: Keep the pricing competitive.
Placement: Spend time to put the product in the best rank for high-performing search queries
Promotion: Invest in strategic advertising to improve the product's customer experience and search visibility.
Digital shelf analytics is your "eyes and ears" in e-commerce. But the trick is to identify what factors you should consider optimizing to win the digital shelf. Let's dive into it!
How to optimize the digital shelf and improve conversions?
Multiple factors affect a product's digital shelf performance like
Is your product visible on the top search page?
Is enough stock available in your inventory?
Do you have enough reviews and ratings in your product listing?
Does your product listing include high-quality product images?
Is your product content accurate?
Is your product price competitive enough?
Optimizing these factors can improve your online visibility and directly increase sales.
Now, let's see how you can do that!
Optimize the product for search ranking
When it comes to e-commerce, where do shoppers find your product?
On the search result page!
Almost 80% of shoppers research online before buying a product. And 70% of them don't go to the second page.
So, if your products do not rank on the first page of search results, you're losing out on sales.
Optimizing the product listing with relevant high-performing keywords, combined with running paid advertising, will help your product move up the visibility ladder faster. It also drives more sales, translating into better organic ranking and sales!
Apart from that, use Amazon's demand-side platform (DSP) to programmatically bid on and purchase ad space from various websites and apps off Amazon. It'll also increase the visibility of your product on the digital shelf and generate more sales.
Now, you need adequate data to identify what keywords work for your product and the gaps you need to fill!
That's where SellerApp comes in!
SellerApp's powerful Amazon Keyword Research tool helps you identify relevant high-performing keywords for your product from a seed keyword.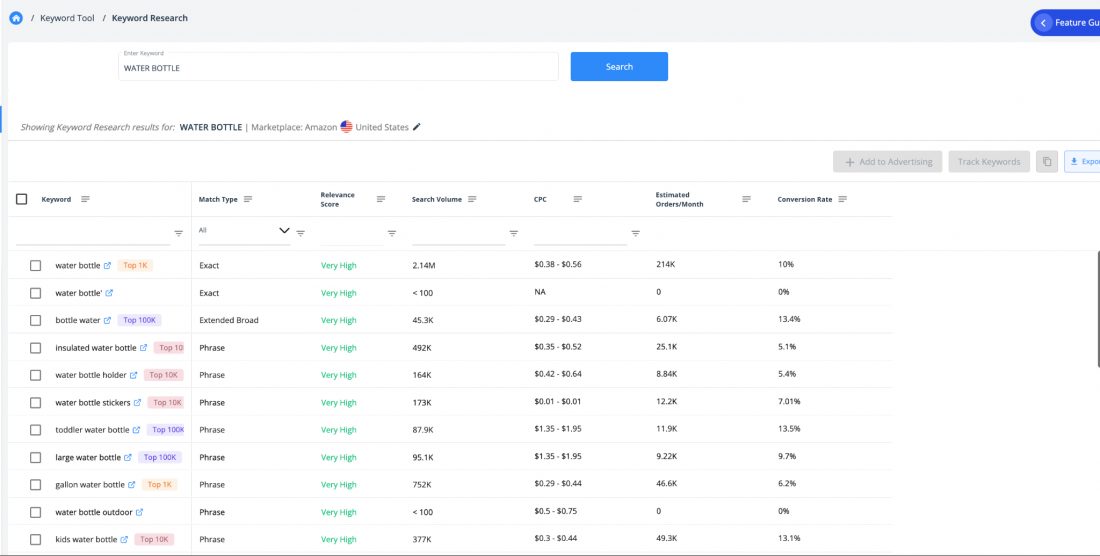 Similarly, the SellerApp Reverse ASIN tool helps you spy on your competitor's keywords and fill keyword gaps in your listing.
You can also run ads on these high-converting keywords to get more conversions.
Improve the share of search
Share of search is the online version of a brand's presence within the in-store aisle. It measures the percentage of how discoverable your products are on the search result compared to the competition.
For example, if your company sell organic cotton t-shirt on Amazon, and for the search term "organic cotton t-shirts," five of your products and 10 of a competitor's product come on the search term. It means your share of search is ((5/76)* 100) = 6.6%, and your competitor's share of search is ((10/76)* 100) = 13.2%
Tracking share of search allows you to gain more insights into opportunities to grow visibility into the digital shelf. For example:
Track product ranking for which keywords are rising and falling. Using this insight, you can find untapped opportunities to boost organic ranking and grow incremental sales.
Track the search term trends to grab new customers and ensure the ad spends remain as efficient as possible.
Ensure accurate product content
Improving digital shelf visibility requires more than just optimizing keywords in the listing.
Studies have shown that an average shopper takes just a few seconds to create the first impression. So, even a slight shift in the product content can drastically impact the engagement in the product listing and the product's visibility.
Customers often look at specific details in the product content to decide if the product meets their needs. In fact, 80% of US smartphone users say product descriptions are the most influential factor in purchasing decisions.
Poorly written product content can be a red flag for shoppers as well. They might think the product is low-quality. Not to mention, inaccurate information in product content can lead to more returns and negative reviews in the listing, signaling a decline in the organic ranking of the product.
So, optimizing the product content for conversion becomes more critical.
Here's a basic hygiene checklist for your product:
Is the product title descriptive?
Does the product include all the relevant keywords?
Is your product listing have all the sections, including bullet points, A+ Content, Videos, Q&As, and reviews?
Optimizing the product content manually can be a tedious task. Is there any way to simplify it?
SellerApp Listing Optimization Service is the perfect solution.
Our experts will coordinate with you to understand your product, conduct a thorough analysis of the market, competitors, and keywords, and create high-performing product listings to maximize sales.
Get more positive reviews for the product.
Customer reviews are social proof and decide how customers perceive a product. It's also an essential driving factor for sales and organic ranking on your digital shelf.
Around 94% of customers read reviews before purchasing (source). Besides that, products with reviews see a 270% growth in conversion rate.
If your product ranking or reviews take a nosedive, it might indicate your product may have some issues. Investigate the reason and rectify the problems to protect your ranking and sales.
The opposite is true as well! Consistent good reviews on your product indicate your product is working well. Here you need to identify the aspects working well and double down on them to get more sales.
Bare in mind you should also keep track of your competitors' ratings and reviews to identify their weaknesses. Addressing these weaknesses in your own product can significantly increase conversion and organic visibility.
Note:
Customers use the Q&A section of your Amazon listing to ask questions about the product. Answer all the questions properly to satisfy customer intent. Use relevant keywords in the answers to make the listing SEO friendly. Address some commonly asked questions in the A+ content upfront to increase conversion.
Add high-quality product images to the listing.
Product images are an essential part of the online shopping experience. High-quality images in the product listing can make all the difference in a customer's decision to purchase.
In fact, around 75% of online shoppers rely on product photos when making a purchasing decision.
Keep in mind that if a customer receives a product that looks different from what was shown in the listing, it can lead to dissatisfaction and even returns. Around 49% of shoppers return products because it's different from what's shown in the listing (source).
So, ensure the product images in your listing are high-quality, accurate, with a clear background, and highlight how the product is used in real life.
This improves your product's conversion rate and visibility on the digital shelf.
Read about the Amazon product photography guide to learn more!
Use Enhanced Brand Content (EBC) to stand out on the digital shelf
Even if your product is visible in the search result; it needs to stand out from the other tens — hundreds — or thousands of competing products on Amazon.
From comparison charts to image spin, Amazon EBC helps brands better connect with shoppers and tell an engaging brand story across different channels.
Now, the question is, how do you present the A+ content in your product listing?
There are primarily three formats you can use to present your messaging in the A+ content.
Brand focus: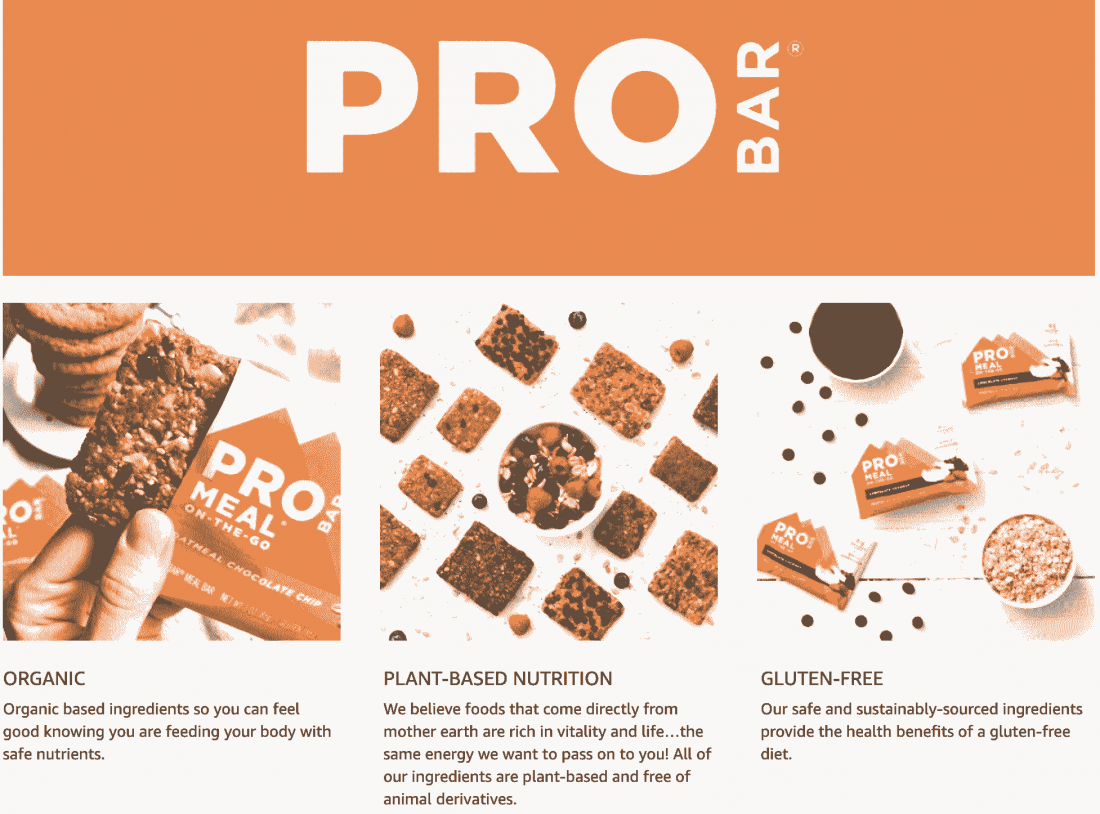 A CPG brand, for example, can highlight its focus on sustainability and the use of organic ingredients in the A+ content. It gives them an edge over the competitors and helps them attract new customers.
Product focus: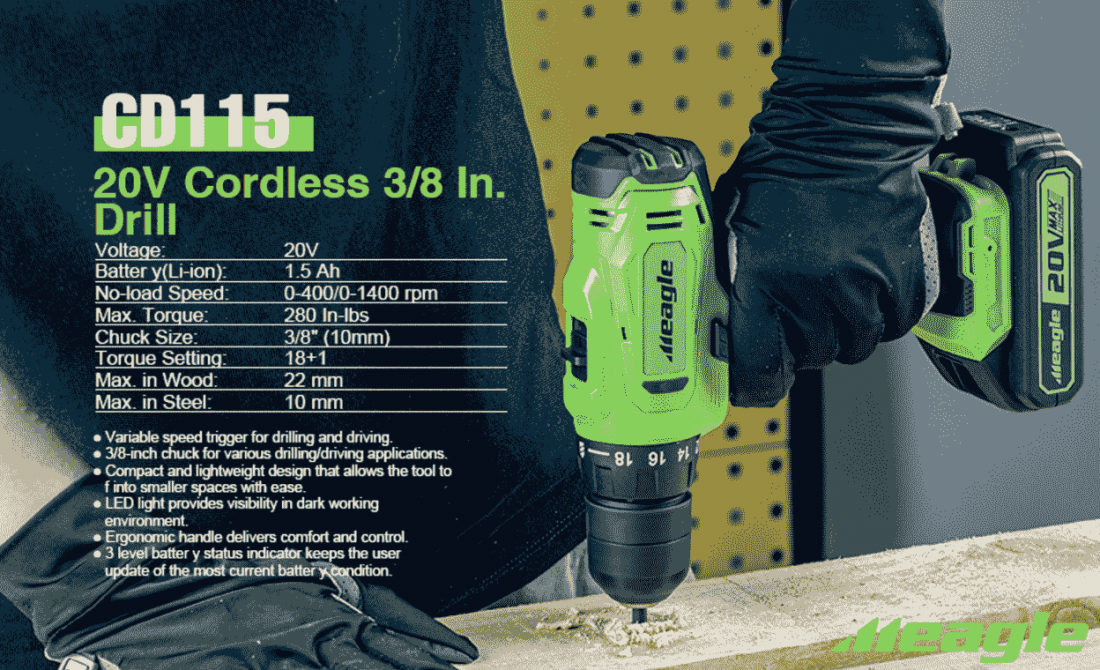 A manufacturing brand can include a small video highlighting different ways the tool can be used to solve the customers' pain points. This information can help shoppers make the final purchasing decision when comparing your product against the competition.
Product category focus: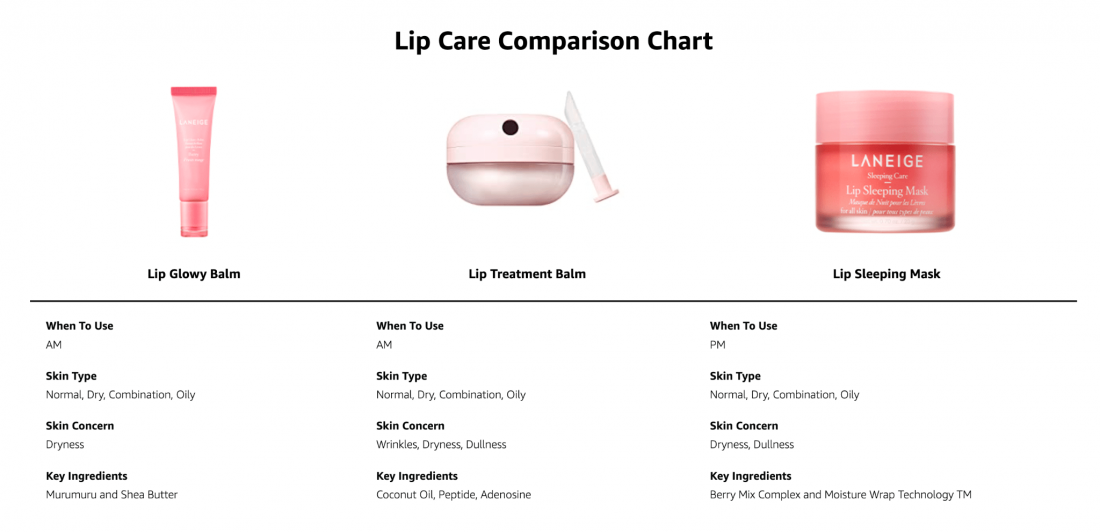 A beauty product brand, on the other hand, can include a comparison chart between their different product lines, highlighting each product's benefits. It enhances product visibility by directing customers toward new product launches.
If you're brand registered on Amazon, A+ content must be on top of your priority list to convey your brand identity on the digital shelf.
Ensure sufficient stock availability at all times
You optimized the product listing well, and customers were impressed by your product.
They open your listing to buy. And all of a sudden, the "Out of Stock" message pops up. What would they do?
They may feel you've wasted their time and may switch to your competitor's product, who is probably running an ad on your listing's page.
Prevent this from happening by monitoring your inventory. It ensures that you don't run out of stock and your customers get a positive shopping experience every time they buy your products.
Note: Don't just monitor your own inventory. Keep track of the competitor's stock inventory too.
Target your competitors' brand keywords with Sponsored Product ads when they go out of stock to snatch up their high-converting audience and increase your overall organic visibility and sales.
Maintain competitive pricing
The digital shelf is enormous in the current competitive e-commerce space. Your customer has every resource to shop around and look for a better product at a lower cost.
If they see an unnecessarily high price of your product, it can throw them off. Similarly, an extremely low price might signal a low-quality product.
You must strike a perfect balance in your product price to win shoppers' trust on the digital shelf and get the most sales.
That's where competitor price monitoring comes in.
By keeping an eye on what your competitors are charging, you can take advantage of the pricing or assortment gaps left by competitors.
Fortunately, SellerApp can help you track your competitor's pricing trends.
Log in to SellerApp Dashboard, and go to Product Intelligence → Select a competitor's product→ Overview.
Here, you can see the competitor product's pricing trend over time.
With this information, create a pricing strategy that protects your margin and keeps the shoppers happy.

Final Thoughts
Optimizing your product for a digital shelf often depends on how well you track different metrics and act on them.
Work on the following factors to improve the visibility of your product on the digital shelf:
Optimize your products for better search ranking
Ensure the listing content is accurate and matches the product
Increase positive reviews for your product
Include high-quality product images in the listing
Utilize A+ content to stand out on the digital shelf
Ensure stock availability at all times
Use competitive pricing on your listing
Big brands are already using data to excel in the retail industry. To join ranks with them, invest in marketing intelligence platforms like SellerApp, which provides accurate product data and helps you make strategic decisions quickly!
Ready to learn more about SellerApp's offerings? Schedule a demo with us today!
Are you optimizing your products for the digital shelf? Let us know in the comments below what has worked for you!👇
Was this post helpful?
Let us know if you liked the post. That's the only way we can improve.