We're thrilled to announce the launch of the Amazon Business Product Opportunity Reports on the SellerApp dashboard. Now you can find the collection of B2B reports under our 'Report Central' feature.
Now you can improve your reach and sales with the product recommendations from the Amazon Business reports. We're excited to tell you about these Amazon B2B reports and how you can use them to your advantage.
What's all the fuss about?
It is a special moment because we are launching a unique feature that can open up new opportunities for B2B sellers, wholesalers, and merchants who are exploring the B2B world.
At SellerApp, we have one goal – to make our customers' business better and more profitable. As part of it, we released some cool features this year including our Advertising automation rules, Product sourcing feature, and more.
Now it is time to advance our reporting features. We wanted you to know about it.
Our new Business Product Opportunity (BPO) reports can help you find potential business opportunities to expand your business on Amazon.
How can I benefit from these B2B product opportunity reports?
One of the biggest challenges that new B2B sellers face is that they don't have enough data to estimate the product demand on the marketplace. Besides, B2B buyers tend to prefer sellers who offer them personalization and choice.
With the help of our reports, you get recommendations that use Amazon customers' demand signals. So you get insights into the product and category demand and see what your B2B customers are likely to buy on Amazon.
Who can use these reports?
Your business needs our BPO reports if:
You are a business trying to expand internationally
You want to understand a specific category or product demand on Amazon
You can fulfill high-volume orders that businesses want
You want to offer custom pricing to your customers who purchase in high volume from your business
You are willing to include Amazon as a major part of your omnichannel strategy
With our B2B product opportunity reports, you can find potential categories and products that have a huge demand potential on Amazon. They help you identify and capitalize on the demand for certain products in your niche, that are popular among Amazon Business customers.
It is a great way to improve your sales and expand your market share on Amazon. Let's dive deep into the details.
How to find B2B Product Opportunity Reports on SellerApp dashboard
Log in to SellerApp dashboard
Go to Report Central
Download the BPO (B2B Product Opportunity) reports
B2B product opportunities: Recommended for you
With the help of B2B customer demand signals (of Amazon Business) and your current listings, Amazon Business creates a set of recommendations that might be a good fit for your business on Amazon.

You can download the report to view all the recommendations.
Note: Amazon refreshes the data every week.
B2B product opportunities: Products not yet on Amazon
For this report, Amazon not only uses customer demand signals, but also uses search data, requests for quotes, and product lists submitted by their B2B customers.
All the above parameters are used to compile a list of product recommendations that are in demand but are not yet on Amazon.
This report is refreshed weekly as well.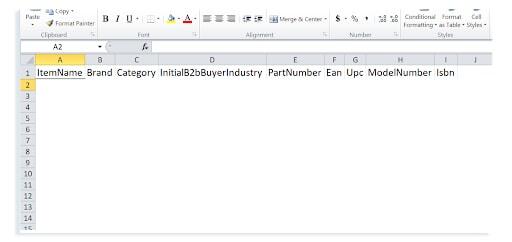 Note: The reports may take up to 10 minutes to generate. Report data and real-time data might vary due to reporting lag. Sometimes Amazon does not have enough data about a specific product to determine if the product already exists on Amazon.
You can see all the reports you downloaded on the 'All downloads' tab.

What is Amazon Business?
Amazon Business
is one of the largest growing units of Amazon. It helps millions of business buyers and sellers by streamlining the purchasing process. This unit was launched in 2015. Manufacturers, sellers, and distributors across multiple product categories are supported by Amazon Business.
Businesses such as schools, governments, large enterprises, and sole proprietorships have different needs than the average customer or an individual buyer. This is the reason why Amazon Business is different from the Amazon B2C marketplace. Categories such as healthcare, lab and science, industrial, MRO, IT, hospitality and food-service, office supplies, break room, and others are quite popular among Amazon Business customers.
With Amazon Business, you get cutting-edge tools and features like Business pricing, enhanced seller logo, tax exemption, and more.
Amazon Business is currently available in the US, Canada, UK, France, Japan, Italy, Spain, Germany, and India.
Recommended Guide: Selling on Amazon UK.
Why should you consider Amazon Business?
If you are a professional seller on Amazon, you have access to tools and features that can help you scale your business and distinguish your company from the competition.
Currently, Amazon Business:
Buyers include over 55 of the Fortune 100 companies
Over 40% of the top 100 populous local governments
Estimated to reach $52B in sales by 2023
So if you are an existing B2B seller or a merchant on Amazon Seller Central, you will benefit from knowing what products B2B buyers are likely to buy. You also get insights into products that you can list to grow your B2B sales.
What are you waiting for? Download your B2B product opportunity reports to see if you can optimize your portfolio and grow your business on Amazon.
Related Posts:
The 5 Pillars of Successful Amazon Advertising Strategy
New Product Launch Pro Tips For Amazon Sellers
What can I do with SellerApp Freemium
Was this post helpful?
Let us know if you liked the post. That's the only way we can improve.