While it's no secret that Amazon reviews are important, new sellers always seem to be caught off guard at how much value they truly hold. Reviews impact much more than sales; they also affect your product visibility, bestseller ranking, and inventory planning, just to name a few. Plus, in such a crowded marketplace, their social proof is priceless.
For better or worse, reviews matter on this marketplace. It's virtually impossible to have a winning product without them.
That being said, it's one thing to realize you need reviews and a whole other thing to actually go out and get them. Keep reading to learn some top Amazon review strategy methods (expert tips included!) and what to do when negative reviews inevitably show up.
5 Ways to Increase Your Amazon Reviews
Getting more Amazon reviews can be a tall order, but there are things you can do to facilitate it. Amazon does allow review solicitation (read that again — yes, it is still allowed). Like most things in life, you just have to follow the rules. When you don't, that's when you get into trouble.
With that important reminder out of the way, here are a handful of ways that you can get more Amazon reviews.
Amazon's Request a Review Button
The Amazon Request a Review button inside Seller Central sends a combined seller feedback and product review request to buyers on your behalf. The marketplace automatically translates these messages into the buyer's preferred language, something that is now a requirement. That key benefit, along with the knowledge that these requests will always be compliant with the policy because they come straight from Amazon, make it an attractive option for sellers.
Amazon's Buyer-Seller Messaging System
Another option is Amazon's Buyer-Seller Messaging system. This review method also requires you to log into Seller Central, find the order in question, and send out a request in a buyer's preferred language. However, since these messages do allow for some customization, it's easy to inadvertently violate Amazon's guidelines. Always be sure that you're following the marketplace's policies before sending.
Automated Review Requests
Manually sending review requests through Seller Central isn't always going to be the best use of your time. Thankfully, third-party software like eComEngine's FeedbackFive exists to take this tedious task off your plate. With FeedbackFive, you can easily create template email campaigns and automate your requests through Amazon's Buyer-Seller Messaging or Request Review systems. Not only will you be able to send the right message at the right time (more on that later!), you'll be able to monitor feedback and reviews received and view detailed analytics about your emails to structure more efficient campaigns.
Product Inserts
Simple and often surprisingly effective, this method entails asking a buyer for a review on an insert card included with their item. However, this is another area where you have to be very careful. While plenty of sellers abide by the rules for this type of communication with customers, others don't. You may think Amazon won't find out, but they often do. The penalty won't be pleasant.
Amazon Vine Program
The Amazon Vine program is Amazon's own way of soliciting reviews for new products. The program invites trusted Amazon reviewers, or Vine Voices, to give an honest assessment of your item. Vine is a popular review method for increasing reviews on newly launched products, but you must meet certain eligibility criteria and offer your products to reviewers for free. It's not the best choice for everyone, but it can be effective for kick-starting reviews.
When to Send a Review Request
As you can see, you have several options for getting more Amazon reviews. But part of your Amazon review strategy should also center around when to ask for reviews, not just how — it's not a one-size-fits-all situation.
Feedback and review requests must be sent within 30 days of order completion. But, if you send a review request too early, the customer may not have used the product yet, or maybe it's something that takes more time to fully appreciate and form an opinion about. This could lead to a negative review that falsely claims the product doesn't work. On the other hand, if you send a request too late, the customer may have already forgotten about the item.
You want the benefits to be top of mind, so ask yourself this question before sending any review request: when will the customer see the most value in my product?
We typically recommend the following:
5-7 days after delivery for small, consumable products.
8-10 days after delivery for products that need more free time (like a weekend) to enjoy, such as for sports and outdoor items.
14-21 days after delivery for larger, longer-lasting items or those that take more time to become familiar with. Examples include furniture, electronics, shoes, etc.
30 days after delivery for products that require an extended period of time to see the true benefits. This is almost always the case with products like vitamins or supplements that usually suggest 30 days of use.
You also need to factor in seasonality as things like Halloween costumes and other seasonal decor are used during specific times.
The Q4 gift-giving season also throws you a curve ball. Since many shoppers are ordering gifts online to be delivered directly to the recipient or gifted to them at the end of December, you'll want to account for that unique buyer intent. Therefore, once it's mid-November, we highly recommend adjusting the timing of your review requests to 30 days after delivery. As Christmas approaches, you can re-adjust your timing once again to just a few days after delivery to capture those last-minute holiday orders.
Timing is everything, which is why FeedbackFive allows you to implement different timing rules for your requests. These little adjustments can go a long way toward increasing not only your number of reviews but their quality as well.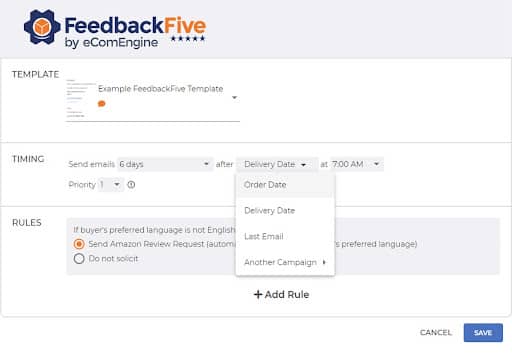 How to Manage Negative Reviews
Now, here's the hard truth — even with an excellent review strategy, you can still receive negative ratings. But this isn't all bad news. Occasional negative reviews are normal and expected and actually help add authenticity to your offering. A 5-star product that doesn't have a single bad review is going to look awfully suspicious to buyers — and to Amazon.
So while a few bad reviews are generally fine, you don't want this to become the norm. It's still worth investigating what's going on and taking action when you can. Here are a couple of things that you can do.
Conduct an Amazon Review Analysis
It sounds fancy, but it simply means to put your detective hat on and do some digging as to the root cause of the problem. Carefully analyze what was said and look for common themes. Then, consider taking these actions:
Improving your Products: If you're seeing something that signals a design flaw or an issue with material quality, it may be time to chat with your supplier. If it's widespread enough, a new supplier or product redesign may be in the cards.
Updating Your amazon Product Detail Page: Does your product listing set the wrong buyer expectations? If the product details/instructions are too confusing or the images are misleading, buyers might be using the item incorrectly and leaving bad reviews. Make updates accordingly.
Learn more about the Amazon product detail page, here.
Refining Your Shipping Practices: If the wrong item is regularly shipped or your packaging is poor, buyers will often voice their displeasure in a product review. This is typically more of a problem for sellers that fulfill their own orders. Talk with your team and come up with a solution, stat.
You also might be able to identify new product ideas from your own review comments or those of your competitors. Also, don't forget to analyze the review's legitimacy. Fake Amazon reviews are still a big problem, so don't rule out this possibility. Report it right away.
Contact Buyers Following Negative Reviews
Amazon unveiled this feature in June 2021 with an announcement on the Brand Dashboard in Seller Central. One of the many benefits for brand registered sellers, this new feature allows you to contact buyers who left critical (1-3 star) reviews with templated, uneditable emails through Buyer-Seller Messaging.
You can send messages for two reasons:
To offer a full courtesy refund or replacement item
To clarify a product issue based on the review

While it would be nice if more customization was available, this is definitely a step in the right direction after sellers were stripped of their ability to comment on reviews back in December 2020. You can find this feature on the Brands menu under "Customer Reviews."
Fine-tune Your Amazon Review Strategy Today
As an Amazon seller, you should always do your best to get recent and relevant reviews from satisfied buyers — it's what Amazon wants to see and is really the most effective way to lessen the effects of negative ratings. But it doesn't stop there — you should also continually monitor your reviews to make any product or listing improvements that might prevent lower ratings in the future.
Clearly, having the right Amazon review strategy in place is crucial. This is the exact reason why thousands of Amazon sellers have turned to FeedbackFive for help. The software's powerful feedback and review automation can help you reach more buyers, while the flexible product review management plans make it super easy to monitor your ASINs (or even those of your competitors!) for new reviews. Text and/or email alerts also let you know when a rating was received, so you can contact the buyer or start your own analysis.
If your review strategy isn't up to par, it's time to make it happen — your business depends on it.
Additional Read :
Amazon sales strategy for brand owners
The Amazon Wish List – Everything You Need To Know
Firefighting Negative Reviews on Amazon
Top 5 Problems Encountered by Newbie Amazon Sellers
How to Set Up EDI with Amazon Vendor Central
Was this post helpful?
Let us know if you liked the post. That's the only way we can improve.