Want to boost your sales on Amazon? Use Amazon advertising solutions at different levels of your marketing funnel.
Amazon has changed the way we shop. Its advertising solutions are taking over the digital landscape.
Google has your search data and Facebook knows your interests, but Amazon is more powerful because it knows what you want and how you get it.
There are 150 million Amazon Prime users and more than 112 million are Americans.
So, for any e-commerce business, Amazon advertising is a no-brainer!
If you or your team aren't utilizing Amazon advertising services to the fullest, you should consider doing it.
In this post, I'll walk you through the different types of Amazon advertising solutions available. And let's see how they can help in different parts of your marketing funnel and reach your shoppers.
A quick peek into the content –
What are Amazon Ad types?

Amazon PPC

Amazon Sponsored Products
Sponsored Brands
Amazon Sponsored Display Ads

Amazon DSP

Video Ads
Custom Ads
Amazon Audio Ads (Beta)
Amazon Posts
Amazon Live

Amazon Additional Advertising Solutions

Lockscreen Ads
Amazon Attribution

Advertising Next Steps

Optimize your campaigns for maximum efficiency
Use Effective Ad Copy

Final Thoughts
What are Amazon Ad types?
There are ample Amazon advertising types that help you find, attract, engage, and retain your customers at every part of your sales journey. These include self-service solutions and managed services on and off Amazon.
Let's break them down further.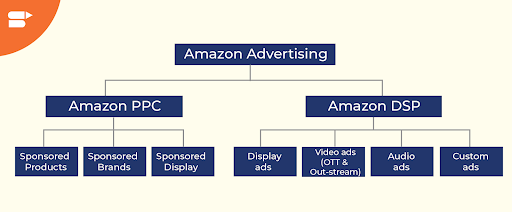 1. Amazon PPC
Amazon Pay-Per-Click (PPC) solutions are offered to advertisers, agencies, and self-service portals on Amazon. Under Amazon PPC ad types, we have:
Sponsored Products
Sponsored Brands
Sponsored Display
a. Amazon Sponsored Products
Sponsored products are similar to Google ads. You can choose the products you want to advertise, and add relevant keywords or product attributes to target with a CPC (Cost-Per-Click) amount. Your ad is eligible to display when shoppers search for one or more of the keywords or products that you're targeting.
Why do you need Amazon Sponsored Products?
You can use Sponsored products to:
Increase sales momentum for newly launched products.
Secure top position in the search results for specific keywords.
Capture your competitors' customer base.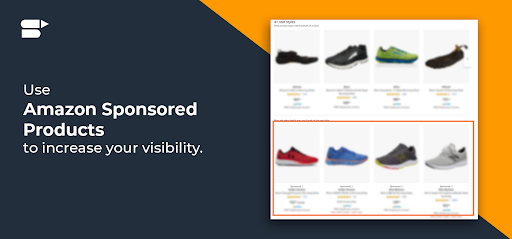 An increase in sales will improve your organic ranking of the products. Higher search visibility of your products will further increase your conversions, clicks, and impressions. This creates a flywheel effect in which your PPC sales strengthen your organic product ranking, which in turn, boosts your product sales.
b. Amazon Sponsored Brands
Promoting your products on Amazon is essential. However, creating brand awareness is a great deal too. This is where Sponsored Brand ads come into the picture.
Sponsored Brand ads will help you showcase your brand personality. Previously known as Headline ads, they appear as a banner ad on the top, left, and below the search results page.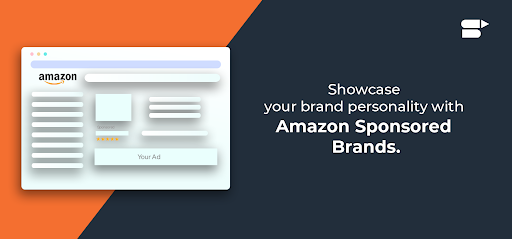 You can redirect these ads to your Amazon store or a customized landing page. These ads include a headline, logo, and up to three featured products linked to their listings.
Benefits of Amazon Sponsored Brands
One of the unique advantages of using Amazon brand ads is that you have a great degree of control over the appearance of an ad.
Add video ads to increase conversions.
Create trust and authority among existing and prospective customers.
Offer a unique shopping experience to your customers.
Can be used to target the loyal customer base of your competitors in the search results which consist of their brand name.
Note: You need to have an active professional seller account under the Amazon brand registry or a vendor central account to use Amazon Sponsored Brands.
c. Amazon Sponsored Display Ads
Sponsored Display is a self-service platform used to target relevant customers on and off Amazon. Sponsored display ads increase your campaign efficiency, and they are extremely useful for both sellers and vendors.
If you are eager to improve your brand awareness on Amazon, check out this video.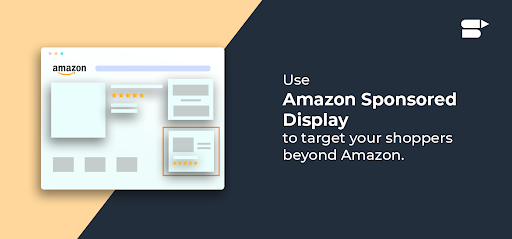 Advantages of Amazon Sponsored Display
They help you promote your products with auto-generated campaigns. These campaigns are optimized for maximum conversions.
Retargeting is made easy with Sponsored Display ads. While you can achieve this with Amazon DSP, the process is easier and faster with Sponsored display ads.
With Sponsored display campaigns, you can easily access your display inventory without the strict regulations of Amazon DSP.
Click here to learn more about amazon retargeting ads.
2. Amazon DSP
Amazon DSP (demand-side platform) is used to buy a video, audio, and display ads across the internet. Instead of purchasing an ad placement, you can use Amazon's data intelligence to reach your audience outside of Amazon using Amazon DSP.
You can purchase a variety of display, video, and audio (beta) ads and provide powerful experiences, and services to your shoppers.
a. Video Ads
Amazon OTT (over-the-top) and out-stream ads allow you to target customers with a video on Amazon's websites, mobile apps, the Fire tablet wake screen, and. They offer alluring branding experiences to customers allowing brands to tell their stories in a more captivating way.
Why do you need Amazon video ads?
Video ads are positioned for success as they become more reliable for advertisers to feature multi-language ads and content on Amazon.
They also have high conversion rates if they succeed to capture the right audience.
Understanding the ads' performance can be challenging in traditional marketing. So use Amazon video ads to gain insights into customer interests.
Share your brand message with your customers where they are willing to consume content.
The best part? Brands can track their performance and gather insights into their converting customers.
Additional Read: How To Improve Your Amazon Mobile Conversion Rates.
b. Custom Ads
Finally, Amazon customized ads consist of a comprehensive Amazon advertising service. Custom ads can include any and all the ad formats available on Amazon.
Brands can use this holistic approach as part of their full-funnel strategy that can be incorporated into their Amazon business.
Additional Read: A Step-by-Step Guide to Full Funnel Amazon Advertising.
c. Amazon Audio Ads (Beta)
Amazon audio ads help brands to target niche audiences during screen-free moments. This is Amazon's first move toward paid product placements within the Alexa voice-activated ecosystem.
Brands can't choose the songs accompanying their ads. There aren't any targeting options available as of now.
d. Amazon Posts
Currently, in beta, Amazon posts allow you to tell your brand story to relevant shoppers who browse different categories on Amazon. Customers will find Amazon posts in the brand's feed and click on your product pages. These posts appear on iOS, Android, and mobile web.
Any brand can create Amazon posts for free. This is an opportunity to create inspiring content and share your brand story with your audience. As of now, the Amazon posts option is available only on Amazon.com.
e. Amazon Live
You can create Amazon Livestream using the Amazon Live Creator app or collaborate with Amazon for a live stream produced by them. Amazon live enables shoppers to discover your brand and demonstrate your product features. This feature will definitely help you boost your reach during special shopping events such as Prime Day, Black Friday, Cyber Monday, or other seasonal events.
3. Amazon Additional Advertising Solutions
a. Lockscreen Ads
Lockscreen ads belong to the cost-per-click (CPC) model available to KDP (Kindle Direct Publishing) authors and amazon book vendors to promote ebooks directly to the customers. You can engage your readers with interest-targeted ads (by genre) while they are on Fire Tablets and Kindle.
With Amazon Lockscreen ads, you can:
Set your own bids and budgets. You'll only pay when customers click on your ad.
Reach potential shoppers interested in e-books like yours.
Use custom text to give a peek into your e-book and win higher sales.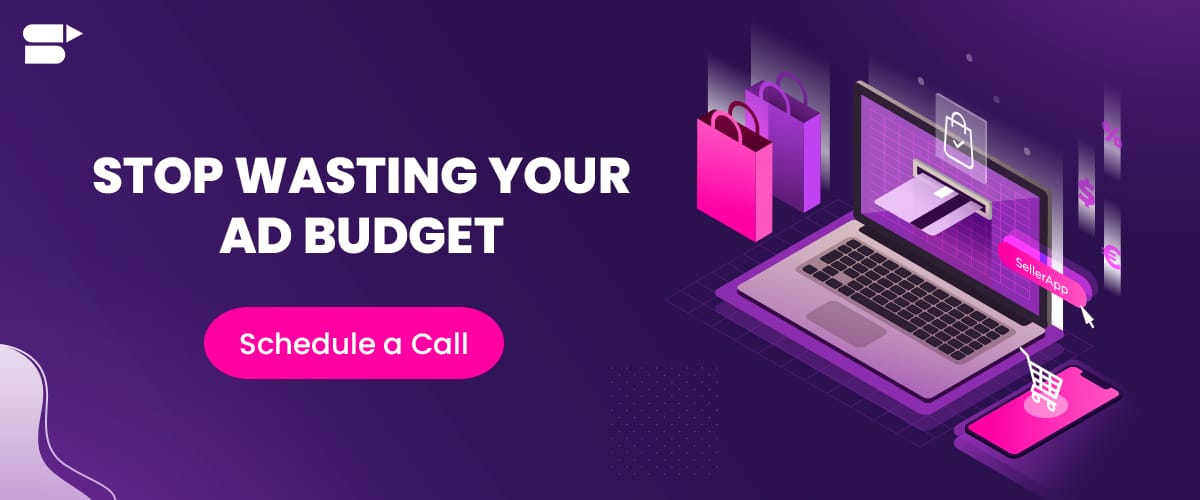 b. Amazon Attribution to evaluate your performance
Though not an advertising solution, Amazon Attribution is an analytics platform, which enables brands to evaluate key metrics across multiple channels. With Amazon Attribution, you can track the impact of paid ads, social media, and email campaigns. This is currently available for brand-registered professional sellers, vendors, and agencies across the US, and the UK marketplaces.
Advertising Next Steps
Each of the aforementioned solutions is effective at different levels of your sales funnel. However, they have certain challenges that SellerApp can solve.
Optimize your campaigns for maximum efficiency
If increasing your campaign effectiveness is one of your primary goals, SellerApp's data-driven advertising feature will help you in multiple ways. With this feature, you can find new keyword opportunities and capitalize on the results. Our dashboard crunches thousands of keywords, products, campaigns, and evaluates the best ACoS, Amazon CPC, and CTR. With SellerApp's advertising feature, you can take control over your ad spend by setting a target ACoS for each keyword within your campaign. This way, you can automate your campaign management process around new targets.
While optimizing the campaign, you may have certain goals in mind. Be it a self-optimized PPC solution or expert managed service, SellerApp can be your best bet. Why? Our tailor-made optimization solutions will automate your Sponsored products, and help you strategize your display ads.
Our data-driven platform is aggregated in a way to refine your advertising campaigns to achieve the best results. Our goal is always to perfect the PPC optimization process through diligent analytics and insights that generate the most profitable ROI for your business.
Use Effective Ad Copy
Customers want easily digestible information, so you need to optimize your listings in a way to capture your audience. On the other hand, you need to rank high for Amazon SEO to generate more sales. Therefore, craft a perfect listing for your customers as well as for Amazon SEO.
Not sure about how to create a perfect listing?
SellerApp can help you strike the balance between these two essential elements of your listings. You can check out this free Listing Quality Checker to analyze your Amazon listing or take help from our industry experts to craft the perfect listing for your product on Amazon.
If you'd like to know more about how SellerApp can help you connect the dots between Amazon and your targets, you can get in touch with us.
Final Thoughts
Amazon is not only expanding the campaign types, but also the beta options available within the campaigns. You may find it hard to keep up with the changes, but you need to understand all your options. This is essential to building a robust Amazon advertising strategy.
Need help with Amazon ads? Drop us an email at support@sellerapp.com. SellerApp is happy to help!
Additional Resource:
Amazon Vendor Central Advertising.
Secrets on How to sell on Amazon Prime 2020
Was this post helpful?
Let us know if you liked the post. That's the only way we can improve.