As Direct-to-Consumer (DTC) e-commerce continues to grow in popularity, many companies are weighing the pros and cons of transitioning from traditional B2C or B2B models to DTC.
With DTC e-commerce sales projected to reach $213 billion in the US alone in 2023, it's clear that the potential for success is there (source).
While the prospect of having maximum control over branding, messaging, and profits can be enticing, it's essential to understand that the DTC paradigm involves a significant amount of heavy lifting. It is not meant for the faint of heart.
The ubiquity of failure is a reality for any e-commerce business. However, understanding the challenges that DTC brands face can help to safeguard business and ensure long-term success.
This article aims to shed light on DTC brands' challenges and provide insights into how to address and overcome them.
Whether you're considering transitioning to DTC or already using the model, this guide is essential for anyone looking to build a successful and sustainable DTC brand.
Here's a quick peek at the article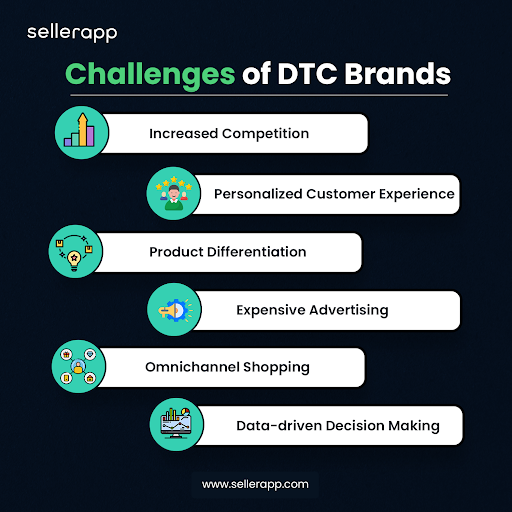 Increased Competitive Landscape
As the COVID-19 pandemic has put significant pressure on the supply chains of retail giants, it has presented DTC brands with the opportunity to step in and offer low-cost, high-quality products to customers.
With the current pace of new DTC players entering the game, the competition in the e-commerce space has grown further. Furthermore, it presented new challenges for established players and new entrants alike.
Major retailers such as Amazon and Walmart also ramped up their DTC strategies to strengthen their presence in e-commerce, further increasing the competition.
In this highly competitive landscape, DTC brands must differentiate themselves by identifying gaps and positioning their products as solutions to meet customer needs. So they can drive brand awareness, customer engagement, and retention.
A successful example of this is the DTC brand Misfit Market.
The brand identified an opportunity in the market by selling products that are not typically sold in retail stores due to their appearance. These include products that would have otherwise been discarded for being oddly shaped.
By offering these products, Misfit Market helped customers save 20-30% on groceries and reduce food waste.
Not only that, despite entering a market dominated by major players like Whole Foods, Costco, Imperfect Foods, and Hungry Harvest, Misfit Market has managed to establish a strong brand presence, serving over 400,000 customers in 37 US states in 2021.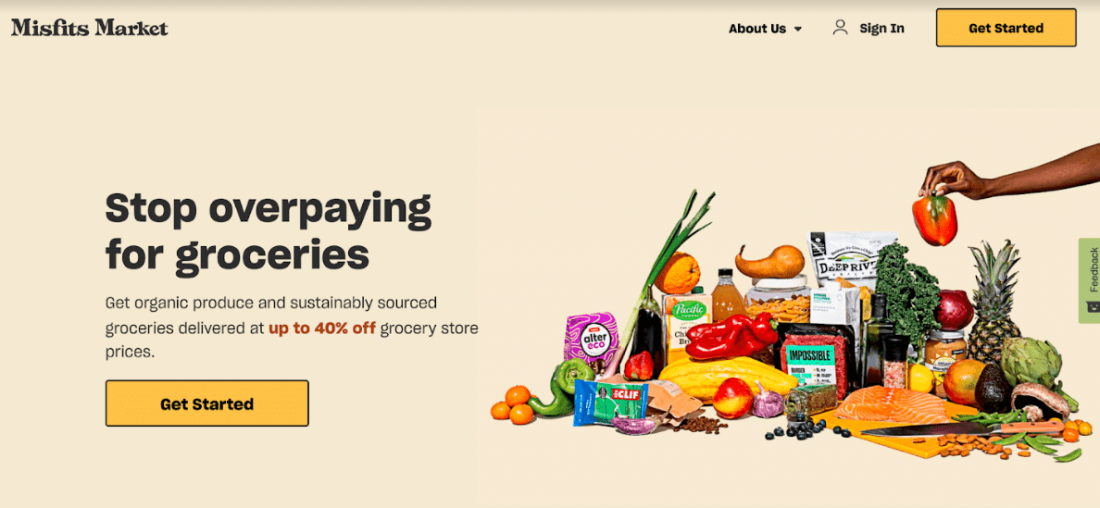 Personalized Customer Experience.
The one-size-fits-all approach simply doesn't work in DTC.
Today, personalization is not just about one-upping the competition but about shoppers' interaction with the brand. In fact, 60% of consumers say they become repeat customers after they experience a personalized shopping journey.
As personalization becomes non-negotiable for consumers, brands need to reimagine their marketing activities and provide customers with the right product at the right time.
Here are some personalization ideas for DTC brands:
Send Personalized Offers At The Right Time
Shoppers most likely won't respond if your marketing and audience engagement activities are ill-timed!
For example, if you send offers relevant to mittens and earmuffs in summer, it won't work.
Similarly, if a customer abandons their cart, a well-timed personalized reminder email can bring them back to the listing and guide them to make a purchase.
Use Quizzes to Personalize Shopping
Personalizing customer communication doesn't just end with inserting the customer's name on an ad. You need to provide personalization throughout the entire customer journey. From AR and VR to providing an in-store-like experience – these measures will guide customers to choose the right products and convert easily.
For example, Honey Pot, a female care brand, uses quizzes to understand customer preferences and provide suitable products for their customers.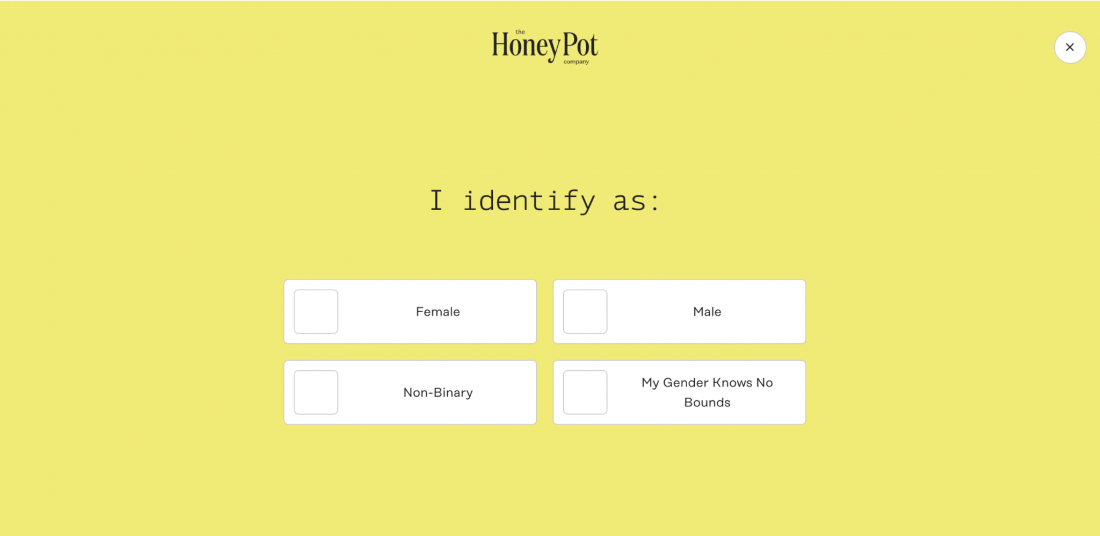 Product Differentiation
With more competition in the picture, DTC companies fight for customers' attention as well as customer's dollar with similar packaging, brand voice, and target market. However, differentiating the products and offerings is imperative.
For instance, a DTC fitness brand Clmbr might face competition from a similar brand like Peloton, as both promote a healthier lifestyle and have a similar target audience.
How do you counter this competition?
DTC brands can utilize data to understand customers' habits and buying behavior to differentiate and personalize their offerings.
For example, Stitch Fix, an online styling subscription service, uses customer data and machine learning to segment customers into different categories. This understanding of customer data helped them generate $581.2 million in net revenue in Q1 2022.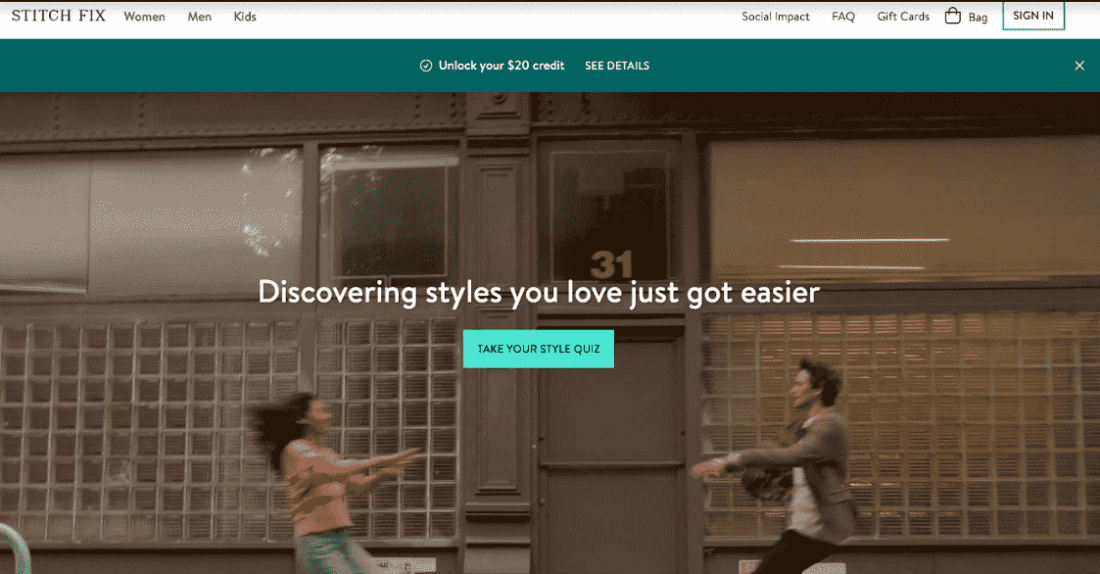 DTC brands can also use product configurators. This allows customers to personalize their products based on unique needs and preferences, going beyond the traditional product offerings with similar features.
An example of this is KILO, a furniture company that allows shoppers to modify the dimensions of the furniture they are interested in. The customers can align the product to their specific requirements and lifestyles.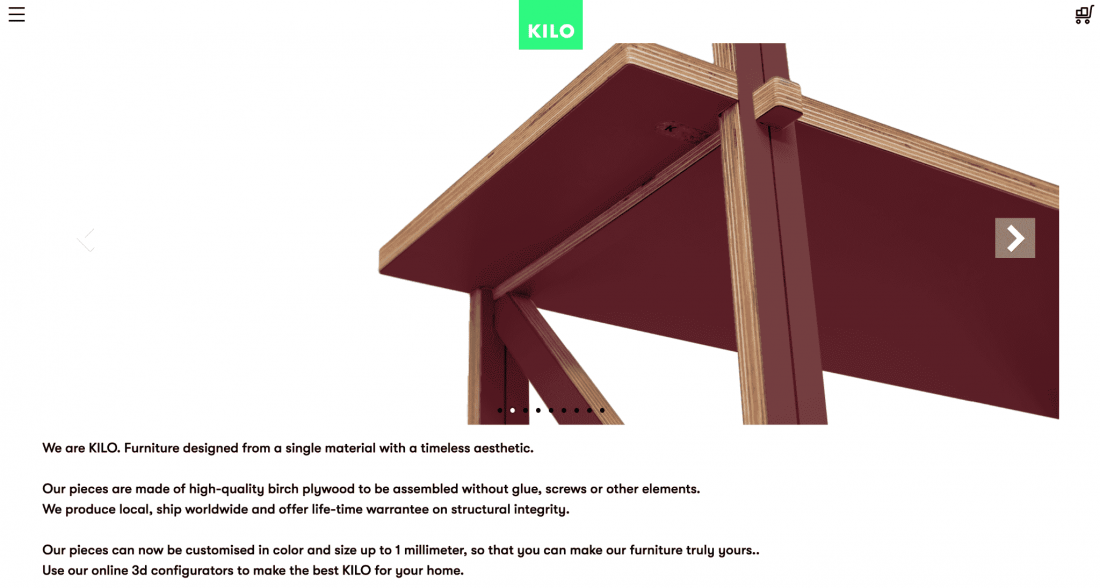 This approach sets the brand apart from competitors and enhances the customer experience by providing tailored solutions.
Another way DTC brands can counter competition is by having a unique brand story.
Quip, an oral care company, tells the story of its founders, how they discovered that cheap electric toothbrushes could result in overbrushing, and how they improved the products for better dental health.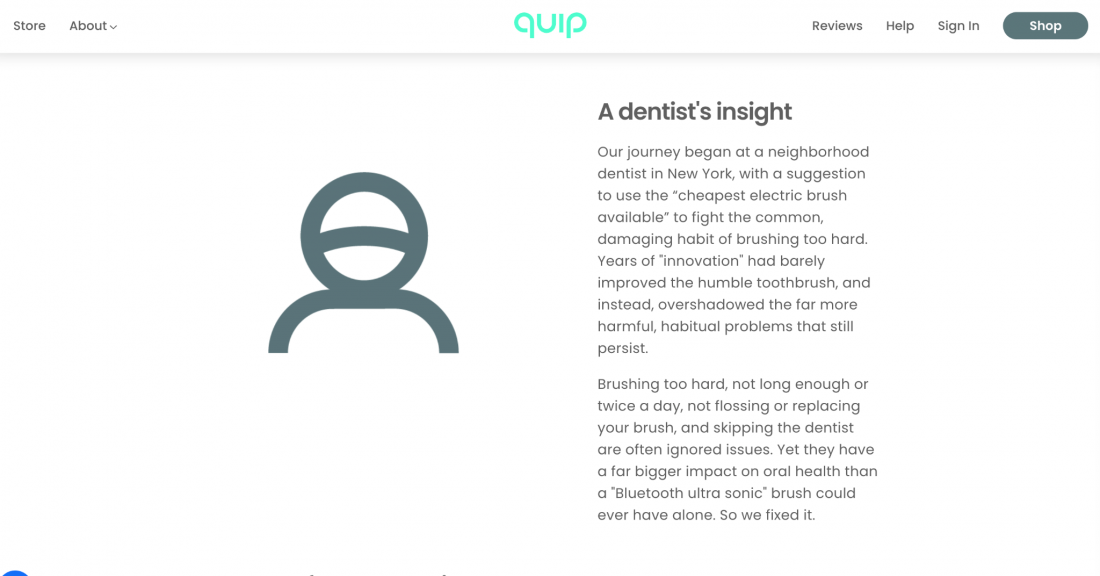 Expensive Advertising
As e-commerce grew, so did the practice of running ads to acquire more customers.
Over the years, this has resulted in a significant increase in the cost of advertising on popular e-commerce platforms like Amazon.
The average cost of advertising on Amazon has risen from $0.78 in 2020 to $1.21 in 2021, a nearly 50% year-over-year increase, with a continued upward trend in Q3 of 2022.
Meanwhile, the average cost-per-click of Facebook ads has increased from $0.38 in 2020 to $0.974 in 2022.
This presents a challenge for DTC brands, particularly smaller ones, who may struggle to keep pace with competitors with larger advertising budgets.
DTC brands can counter these challenges by considering alternative strategies to drive brand awareness and acquisition, like investing in content marketing and user-generated content (UGC).
For example:
Sleep-mattress maker Eve saw an 11% increase in revenue from 2020 to 2022, despite a 40% reduction in marketing spending, because they focused on educating customers through blogs and building a community around their brands.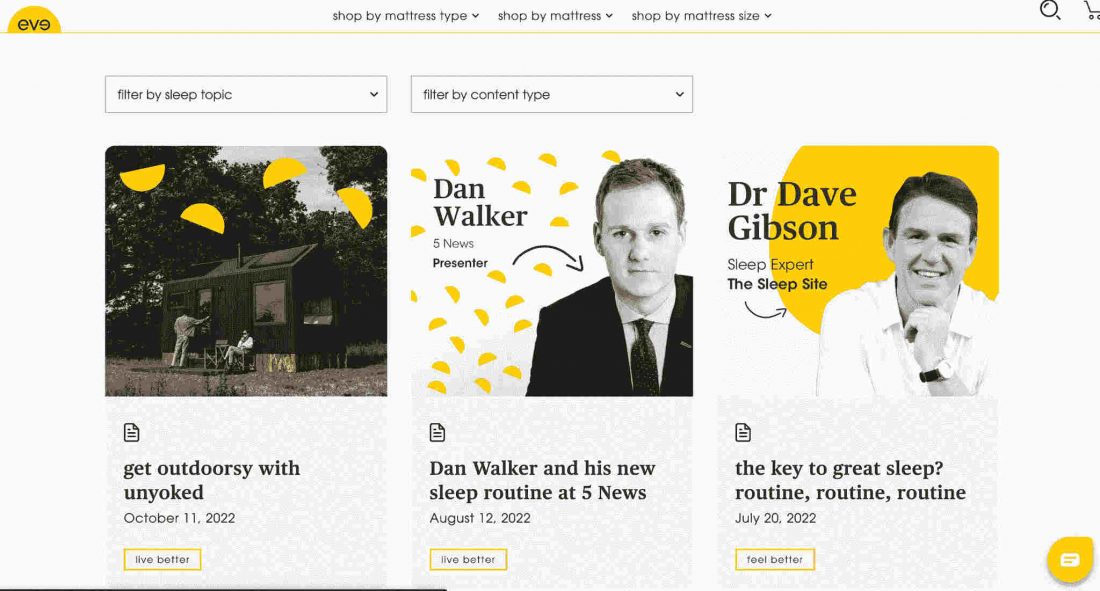 Additionally, UGC can be an effective way for DTC brands to promote authenticity and build trust with consumers. In fact, people are 2.4x more likely to trust UGC content than brand content.
An example of this is the beauty brand Glossier. They give away products to "superfans" who purchase the most products or engage the most with the brand and encourage them to share posts online.
It makes them look authentic and increases trust among shoppers.
In addition, DTC brands can also explore collaborating with micro-influencers as a cost-effective way to market their products.
Micro-influencers boast an impressive average engagement rate of 6%, the highest among all types of creators.
A noteworthy example of this approach is demonstrated by Birchbox, a beauty brand that launched a three-month campaign called "Love, you." in collaboration with micro-influencers from diverse backgrounds.
This campaign emphasized the influencers' personal stories of vulnerabilities and insecurities as they shared their skin-care routines with their audience rather than solely promoting the product.
The outcome of this campaign was impressive, with a 60% conversion rate and 86% positive brand sentiment.
Omnichannel Shopping
With the retail landscape shifting significantly in recent years, customers are embracing omnichannel shopping and seeking a seamless, integrated experience across all platforms.
This trend is particularly evident among younger customers. Studies indicate that Gen Z customers use platforms such as TikTok more to discover products than Google or Amazon.
Besides, brands that offer robust omnichannel experiences see a 19% boost in total revenue. Those that use at least three channels in their retail strategy have a 287% higher purchase rate than single-channel brands.
This is a significant challenge for DTC brands, as they must adapt to the omnichannel mentality to remain competitive. This requires investment in social commerce and providing a platform-independent shopping experience that allows customers to shop from anywhere.
One example of a brand that has effectively navigated this challenge is Spoilt, an Australian gift and homeware store.
With brick-and-mortar stores and an e-commerce site, Spoilt also uses Instagram shop to showcase its products and enable customers to view and buy items without having to navigate out of the app.
This improves their customer experience and conversion rate.
Another brand nailing the omnichannel experience is Sephora.
Whenever shoppers open the mobile app, it captures the geolocation and shows nearby Sephora outlets in the area. The app also curates the best in-store deals and coupons based on the shopper's interests.
If shoppers visit the store, it's packed with augmented reality devices where they can virtually try out different products without messing up the samples.
Furthermore, Sephora also offers unique point systems to provide shoppers with customized offers, discounts, and product suggestions, further increasing customer engagement and loyalty.
Data-driven Decision-Making
Omnichannel shopping presents several challenges for DTC brands, particularly regarding data.
As the importance of a personalized shopping experience becomes increasingly evident, DTC brands must find effective ways to gather and analyze customer data to differentiate themselves and increase engagement and conversion rates.
One potential source of data is social media platforms, where companies can engage with customers directly in communities.
For example, businesses like Thrive Market and fitness manufacturer Peloton have active private Facebook groups for shoppers where they ask questions and engage with customers to collect data.
DTC brands also have the unique advantage of accessing more granular customer data through their websites.
For example, DTC brand Care/offers an in-depth survey on its home page to collect valuable data about its customers' bodies and health.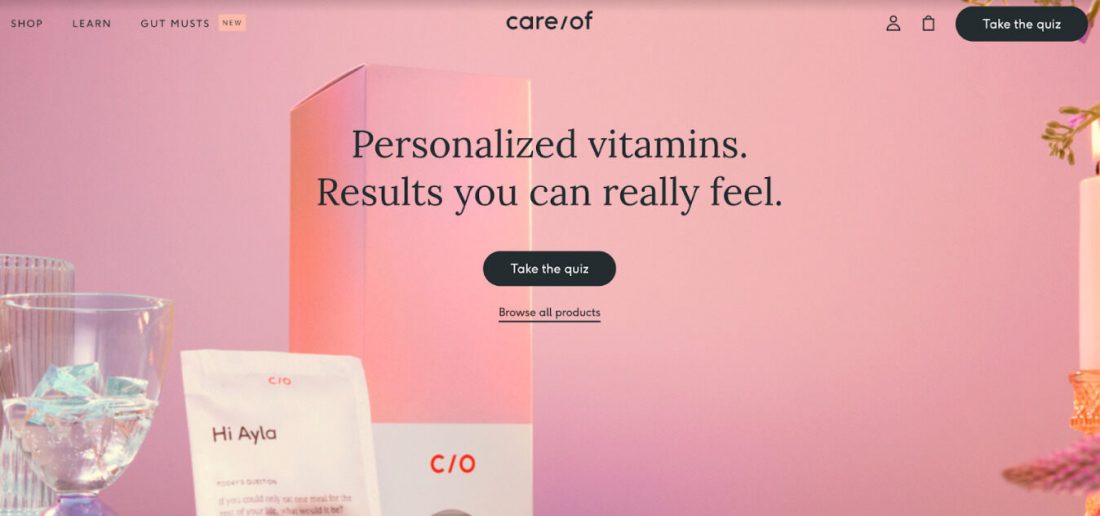 It allows them to hyper-personalize the product offerings to meet the shoppers' needs based on the data.
Another example is Timberland, which uses cutting-edge technology to gather customer data.
They track customers' behavior and touch-point using mobile apps and in-store gadgets. Using that, they create visual cues and "TouchWalls" to showcase customized online inventory to shoppers.
This allows them to fine-tune the customer journey and leads to endless product suggestions and repeat purchases.
Final Thoughts
For any D2C brand, the challenges of increased competition, delivering a personalized customer experience, and adapting to ever-evolving customer habits can be overwhelming. But there is a solution.
You can partner with SellerApp to overcome these challenges and reach new heights of business growth.
Our experts have already helped large DTC brands like Samsung and PepsiCo harness the power of market intelligence and automation to make informed business decisions and grow multifold.
Don't get left behind. Take control of your D2C brand's future now.
Schedule a call with us and discover how we can help you drive growth, outpace the competition, and stay ahead of the curve. The time to act is now – let's make it happen!
Was this post helpful?
Let us know if you liked the post. That's the only way we can improve.