When it comes to growing your Amazon business, you should use all the help you can get.
Automation is just the way to amp up your business operations. With the right strategies, you can save time and money, increase efficiency, and scale your operations.
However, there is more than one way to automate your Amazon business. This guide helps you make the most of automation and set your Amazon FBA business for success.
Quick Guide
What is Amazon automation?
It is automating your Amazon business by using a set of tools that improves the efficiency of your business. By automating certain processes, you can free up time to focus on more important tasks like marketing and product development.
As part of automation, you can streamline tasks, such as Amazon product listing, inventory management, order fulfillment, customer service, reporting, and more.
Automation can also help you analyze customer data and gain insights into customer behavior.
Some Amazon sellers often confuse automation with hiring an expert(s) to automate businesses. However, it doesn't necessarily mean that. You can automate parts of your Amazon business by using a set of tools that can reduce your time spent on business activities or you can outsource to a team of experts who can seamlessly carry out the tasks.
Why should you automate your FBA store?
Automation allows you to improve the efficiency of specific operations, enhance sales performance and effectively use your time.
Here are a few benefits of leveraging automation for your business.
Get more profits:
Automation simplifies the process of listing and selling products, making it easier to increase your sales. It can also help you optimize your pricing, helping you to maximize your profits.
Save you money:
It eliminates the need for manual processes and manual labor, which can be expensive. Also, automation helps you reduce costs related to inventory and shipping, allowing you to save money on those costs.
Reduces the risk of error:
You can automate repetitive tasks, such as product listing and order fulfillment, which can help you reduce the risks. It also helps you streamline your processes, making it easier to ensure accuracy and reduce errors.
Grow your business faster:
It helps you increase your scalability and efficiency, allowing you to reach more customers and increase your sales. Automation can also help you focus on customer service and other essential aspects of your business, helping you to grow faster.
Is Amazon automation legit?
Yes, Amazon automation is legit. Automation of various processes is an integral part of any successful business today, and Amazon is no exception. As we mentioned earlier, automated systems allow you to focus on many moving parts of your business.
Many legitimate automation providers offer services for Amazon, ranging from automated order processing to automated customer service. These services are designed to help Amazon sellers save time and resources, and make their operations more efficient. Additionally, some automation providers offer services that can help Amazon sellers optimize their operations and increase their profits.
When considering an automation provider, you should do your research. Make sure to read reviews from other customers on third-party review sites. This will help you determine which providers are legitimate and which ones to avoid. Furthermore, read the terms and conditions of any provider you are considering to make sure you are getting the services you need at a reasonable price.
How to automate your Amazon FBA business
Automating the below eight areas of your business, maximizes your profits and reduces the amount of time you spend managing your Amazon FBA business.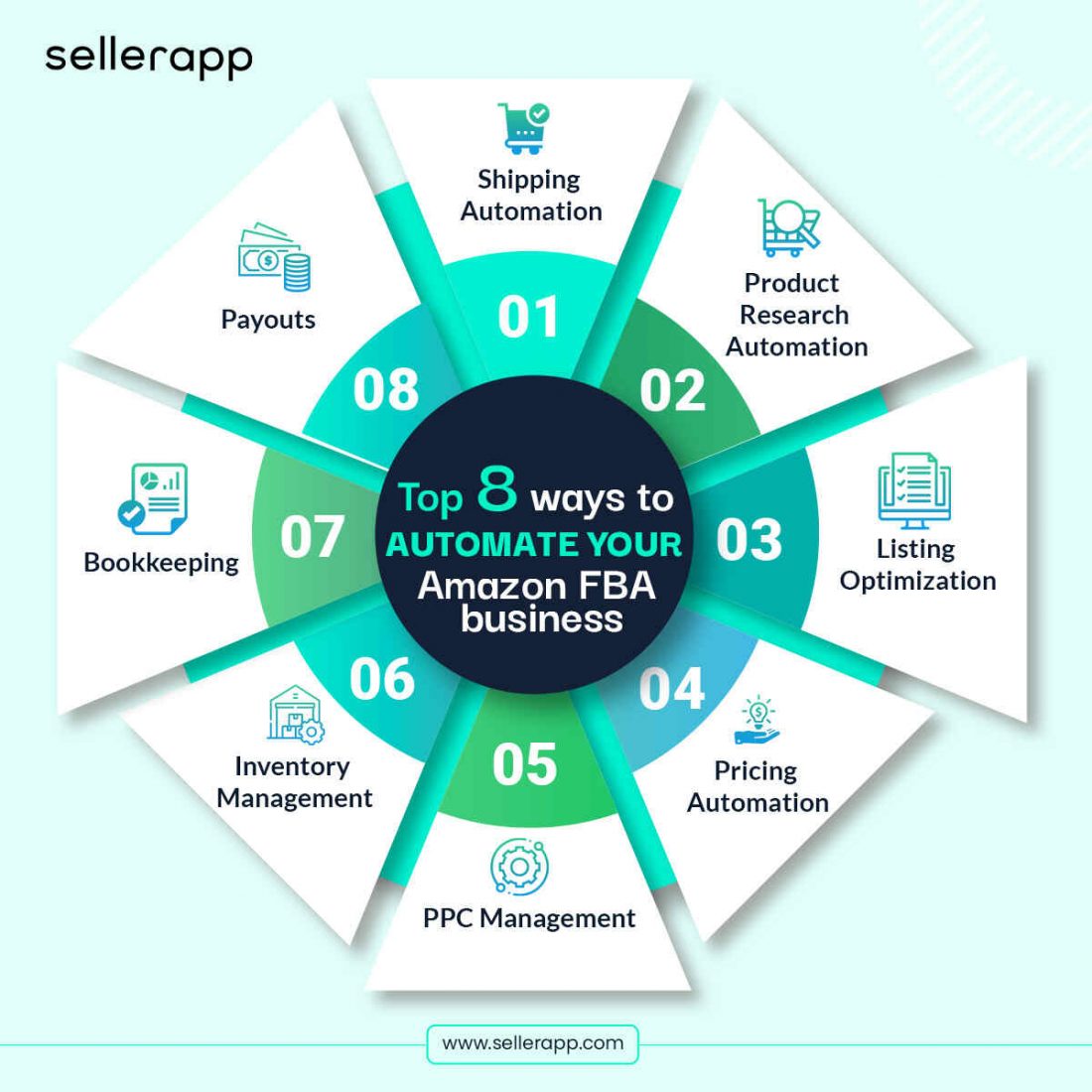 Shipping Automation
Shipping automation involves automating the shipping process, from order fulfillment to delivery. You can automate gathering order information, printing shipping labels, selecting the most cost-effective shipping carriers, tracking orders, and customer communication. You can do this through the use of software and services that help to streamline the shipping process, such as Amazon's FBA, third-party fulfillment companies, and e-commerce platforms like Shopify.
Automating the shipping process helps to reduce the amount of time spent on manually packaging and shipping products. It reduces manual labor, shipping errors, and delays, and allows you to minimize fulfillment costs and provide better customer service. It also helps to ensure that orders are fulfilled quickly and accurately.
The use of automated shipping systems helps to reduce shipping costs and ensure that products arrive on time.
Product Research Automation
Identifying and researching potential products for selling on Amazon is part of Product research automation.
Automated product research can help to identify profitable products, and competitors, and determine the best-selling ones. Automated product research can also help to identify trends and emerging markets, as well as help to increase sales by identifying untapped markets.
This way you can stay ahead of the competition and ensure that you are always offering the best products to your customers.
Listing Optimization
Listing optimization is the process of optimizing your product listing on Amazon to improve visibility, increase sales, and maintain customer satisfaction.
Optimizing your listing can include:
Optimizing product titles and descriptions
Pricing optimization
Improving reviews.
With automation tools, you can identify profitable keyword opportunities, track competition, and optimize listings for the Amazon A9 algorithm.
Listing optimization can help to ensure that customers can find the product quickly and that it stands out from the competition. Optimizing your listing can also help to increase sales and make sure that customers keep coming back.
One such tool that can help you optimize your listing is SellerApp's Amazon Listing Optimization tool. The feature provides an overall rate of their Amazon product listing page.
Track your ASIN under Product Intelligence and let SellerApp give you a score based on the quality of your listing page. The score is based on two categories desirability and discoverability factors.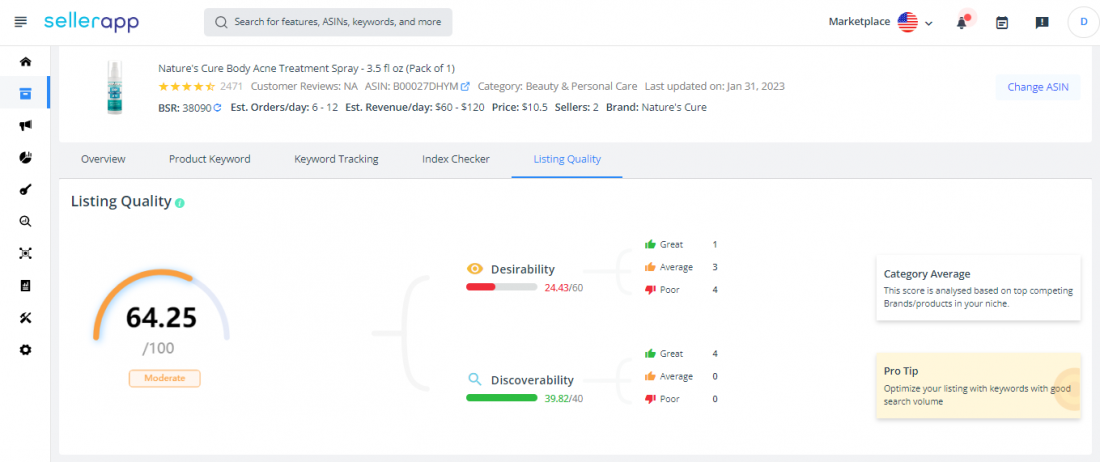 A score of 80 or above indicates a well-optimized product listing page. Based on this score, you can optimize your Amazon product listing page.
Pricing Automation
Pricing automation is the process of setting up your Amazon FBA business so that your product prices are automatically adjusted based on market data or competitor pricing.
You can use pricing automation software to compare your prices to your competitors and adjust yours accordingly. To do this, you can set up a pricing algorithm to automatically adjust prices based on various factors such as competitor prices, market trends, and other data. This way, you can ensure that the prices are always competitive and your Amazon business remains profitable.
This helps to ensure that you remain competitive in the marketplace and maximize your profits. Additionally, pricing automation software can also help you to track and analyze pricing trends and make quick decisions about your pricing strategy. This is especially useful if you're selling multiple products as you can easily adjust prices to reflect changes in the market.
Amazon PPC Management
Managing PPC is one of the most time-consuming tasks for Amazon sellers.
Within PPC (pay-per-click) management, you can automate the bids, keywords, campaigns, and budget management processes. You can use certain tools and rules to save hours of manual work and convert your efforts to other parts of the business.
Besides, effective PPC automation and optimization is a smart way to grow your business exponentially. You can use a set of rules that can help you:
Reduce ACoS,
Harvest profitable keywords,
If this sounds interesting, you can log in to SellerApp and try it yourself!
Inventory Management
Inventory management is a process of automatically tracking and managing the inventory of Amazon FBA products. You can ensure that you are not overstocking or understocking products with Amazon inventory automation.
To do this, use inventory management automation software that tracks the inventory levels of FBA products in real time. It makes sure that you always have the right amount of stock. The software can also help you forecast demand and reduce missed sales opportunities.
Bookkeeping
Bookkeeping is an essential part of any business, and Amazon FBA is no different. Keeping accurate records of your transactions, expenses, and profits is critical to know how your business is doing and planning for the future.
Automating your bookkeeping can save you time and ensure accuracy. You can do this through software available online. These tools will automatically track your transactions and provide you with detailed reports and financial statements.
Payouts
Payouts are the payments you make to Amazon for the products sold on their platform. They can include fees for FBA services, taxes, and other related costs. Automating your payouts can save you time and money, as well as reduce the risk of errors.
To automate your payouts, you will need to link your Amazon account with a payment processor such as PayPal or Stripe. Once your account is linked, you will be able to set up automatic payments for your Amazon FBA expenses. You can also set up payment schedules so that your payments are made on time and accurately. Additionally, you will be able to track your payments, so you can always be sure that your Amazon FBA business is running smoothly.
Conclusion
Amazon is an e-commerce giant today, but just selling on it is not the entire game!
You'd need the help of automation tools to stay competitive and give you the edge you need to succeed.
Furthermore, you need automation to maximize your profits and streamline your operations, making it easier for you to grow your business and maximize your success.
With the many benefits that Amazon FBA automation offers, it is a great option for those looking to take their business to the next level.
Which part of your Amazon business are you planning to automate? Let us know in the comments below. We'd love to hear your thoughts!
Additional Read:
Buy Now, Pay Later [BNPL]: How E-commerce Brands are Revolutionizing Payments.
Was this post helpful?
Let us know if you liked the post. That's the only way we can improve.