Amazon A+ content is one of the most effective and important ways to increase customer trust, boost conversion rates, and acquire higher ranking on Amazon SERPs (Search Engine Results Pages).
Ever wondered how to create A+ content?
It is fairly simple. You will learn that soon through this article. But it is more about making the most out of your A+ pages.
How?
Well, by proper "planning." Let's understand this in detail.
Quick Guide:
But before we get started, here's something important for you to read.
Amazon says that A+ content helps increase the overall sales of a product by 3 – 10% on average.
If you don't believe this number, then here's a study performed by MediaMind, where they analyzed at 24,000 websites, which experienced about 12 billion impressions during July & December and discovered that multimedia content helped boost impressions by 3x.
Even though this study was performed back in the year 2011, even today, media-rich content is turning to be a status quo. Now, if your Amazon product listings don't have what it takes to generate a sale, you are losing to your competitors. So, take this seriously.
What Is Amazon A+ Content?
Amazon A+ content refers to a listing's product description, which has multimedia content in it. This so-called "multimedia content" can be:
Comparison charts of competitors
High quality images
HD videos
A+ content is a premium content feature, which allows sellers to change the product description of their branded ASINs by using rich texts and images.
The idea behind using an enriched multimedia content is to enhance the user experience and create a more attractive product whoever is viewing it.
In short, it is going a step beyond the usual content that sellers usually create, just to ensure that a potential buyer gets a sophisticated online shopping experience.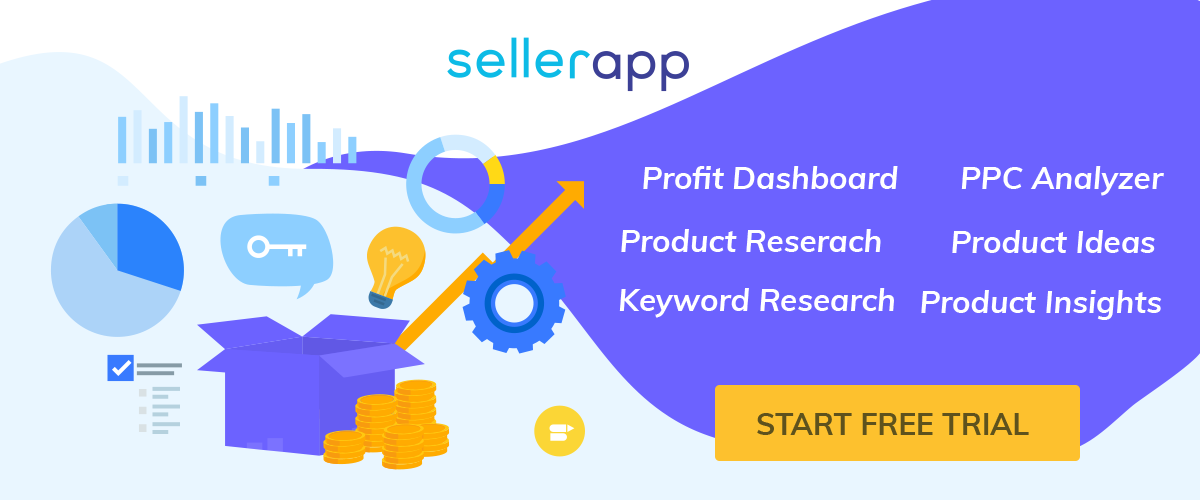 What Is Premium Amazon A+ Content?
Amazon Premium A+ content is one step ahead of the basic A+ content and is a great way to create an impactful shopping experience. It includes all the details that a shopper would want to want to know about a product before making a purchase.
A premium A+ content page will include:
Integrated videos of high quality (720p) and 3 minutes in length.
Attractive product images & visuals, including 7 modules, which feature HD images.
Enriched FAQs listing to clear confusions and increase trust with an engaging layout.
Interactive experience like hotspot modules, which responds to a customer when they hover over the product's features or carousel modules to help customers to easily scroll through.
Mobile-friendly & voice-friendly product pages that integrate with Alexa System.
Here is an example of how Amazon's Premium A+ content looks like: fsg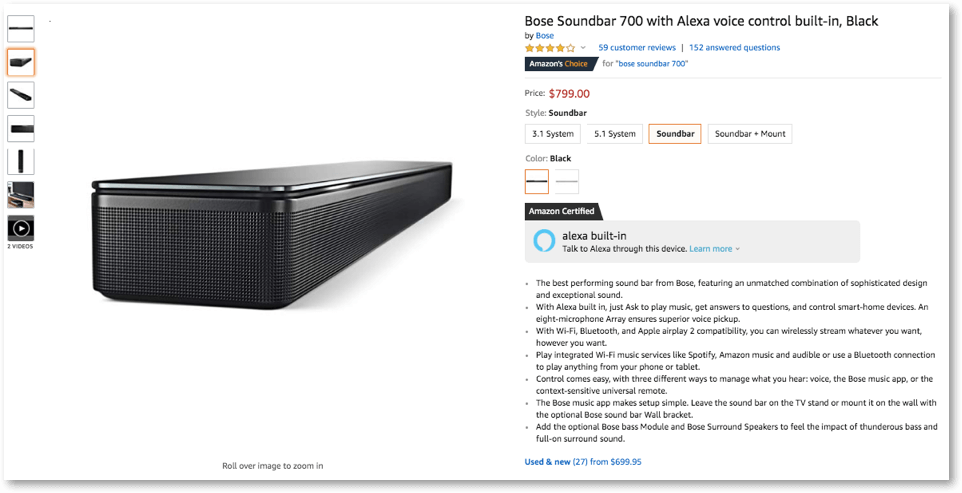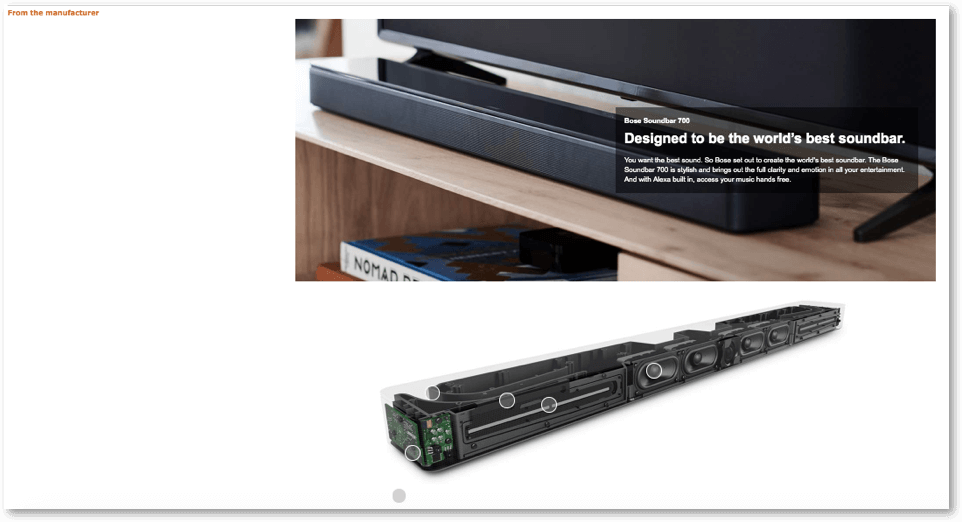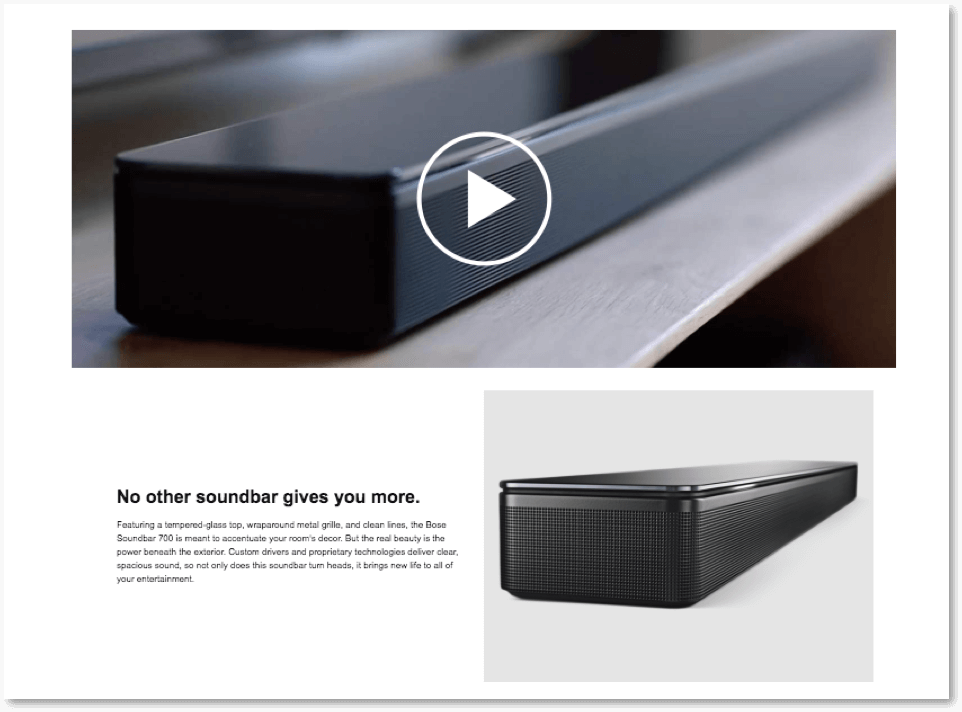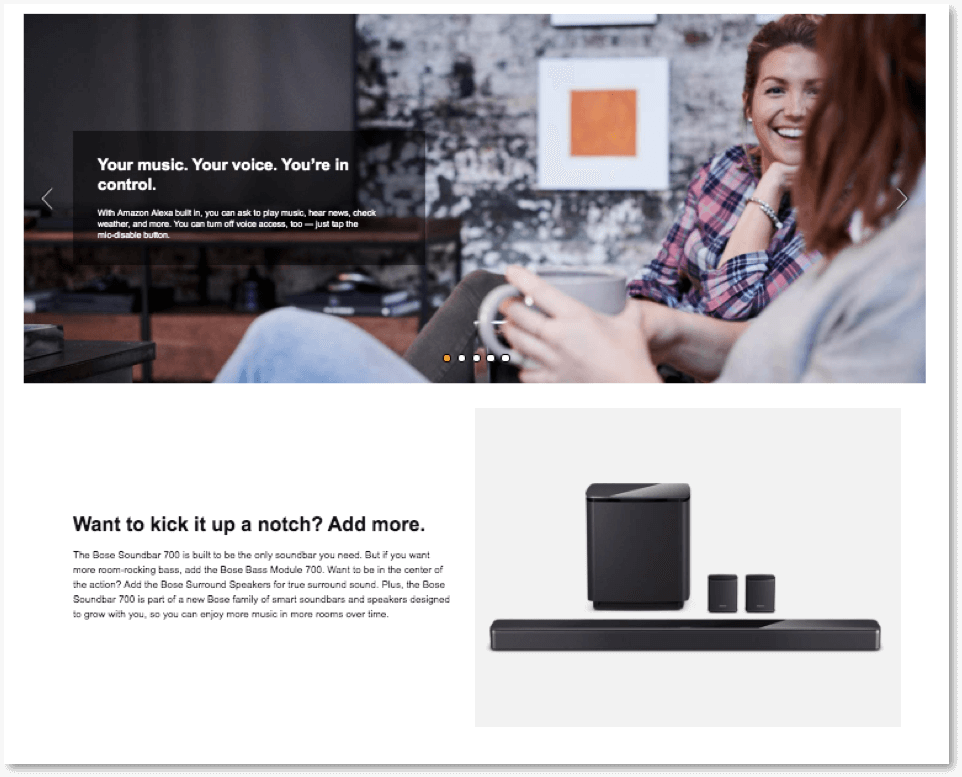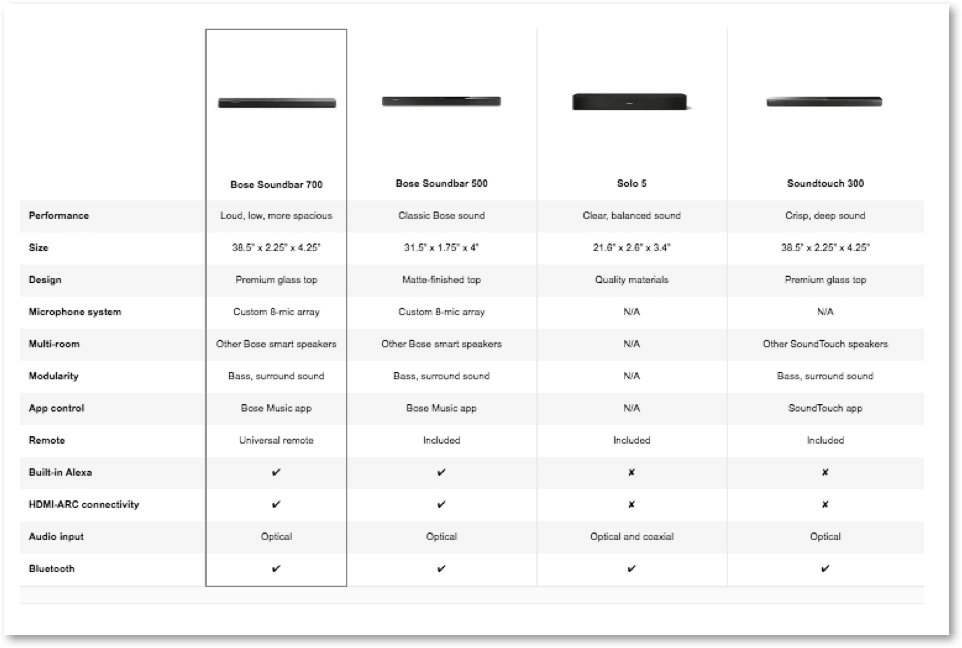 What Does Amazon A+ Content Consist Of?
An A+ content page will contain:
Varied, multiple images of a product, which includes product photos shot in close-ups, different angles, and other lifestyle shots.
Precise, informative, and yet short introduction of the product. This could be within 100 words or less.
Clear and attractive list of bullet points, where every line makes an impact on the buyer and explains the benefits.
Concise paragraphs with clear, scannable headers, which explains more about the product features, specifications, and benefits.
A section called "What's in the box," which lists all the product's components so that a buyer is aware of what he or she is buying.
Apart from the above, other elements include 360° product views, matrix (comparison chart), and videos for cross-selling the items within the product family.
Here is an example page to make you comprehend how an A+ page looks like: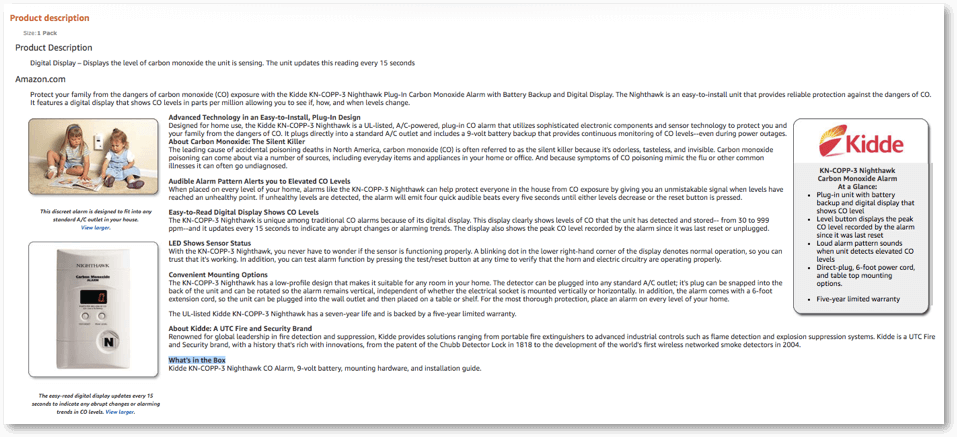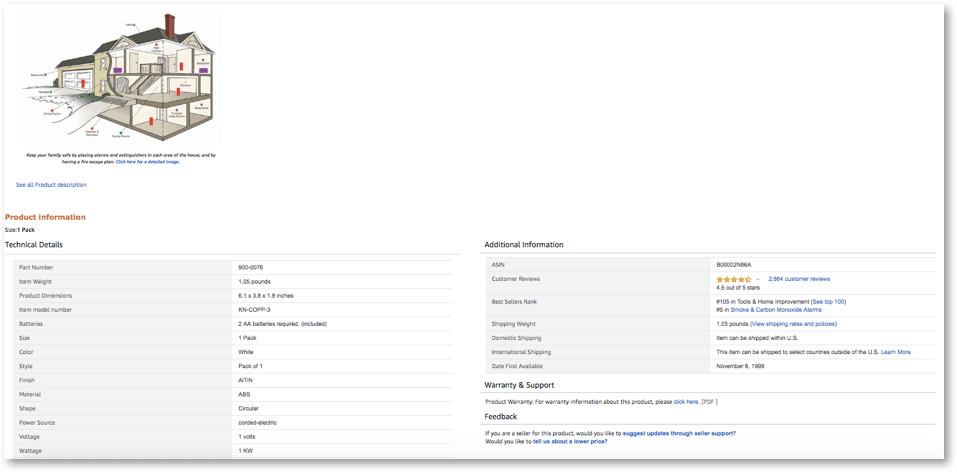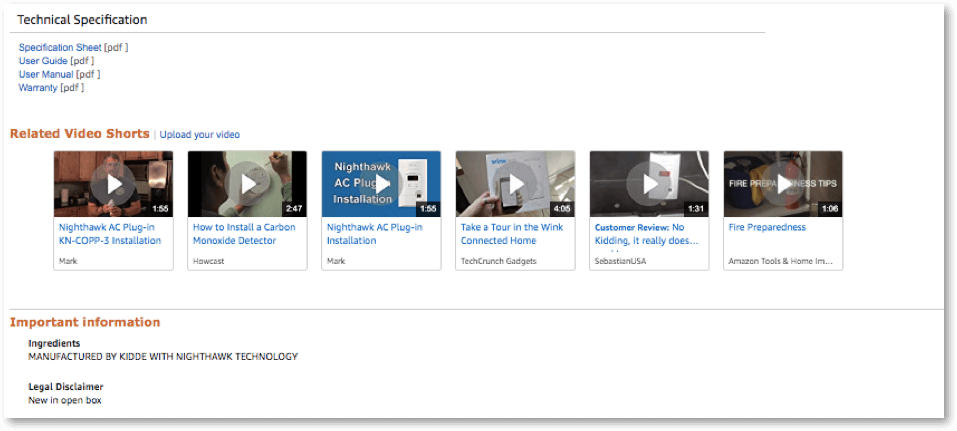 Who Can Create Amazon A+ Content?
Sadly, Amazon A+ isn't accessible for all sellers. The feature is available only for:
Brand Owners, and
Professional Sellers who are approved as Brand Owners via the ABR (Amazon Brand Registry) program.
Note: Once you are approved, you can add EBC only to items that are a part of your approved brand catalog.
A+ content is a Vendor Central Program, which is invite-only. As said earlier, the feature allows the brand to create pages with additional multimedia modules such as comparison charts, videos, testimonials, formatted text, etc.
There are two types of content you can create with your Amazon listings, as a seller:
Basic A+ content, where Amazon allows you to use 5 standard modules (free and available for every seller)
Premium A+ content, whereyou get access to 7 modules with a few other cool features (only for brand owners & professional sellers who are approved as brand owners).
From here, you choose between the Self Service Modules (includes Basic, Silver, Gold, and Platinum), each with a fee).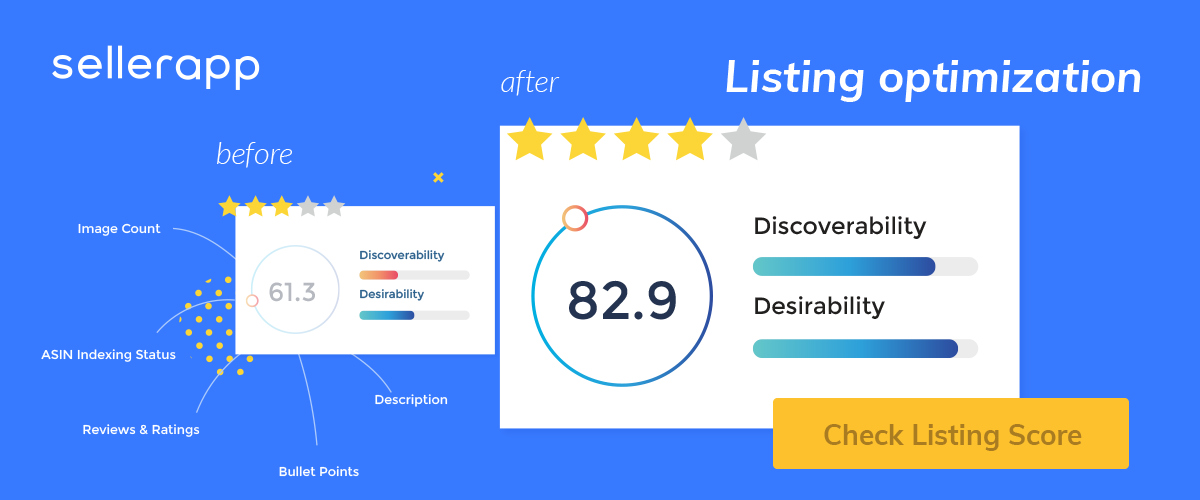 Benefits Of A+ Content
In order to succeed in the Amazon selling business, you have to take a competitive edge. This is where A+ content plays a huge role.
It gives sellers an extraordinary chance to distinguish their items from related versions sold by their competitors. Earlier, sellers experienced a big challenge for differentiation because the guidelines from Amazon were limited.
Just a single, small paragraph did not afford an opportunity to grab the buyers' attention or converting them. Additionally, there were formatting restrictions, making it extremely hard for sellers to actually show that they have gone an extra mile with their product presentation – a factor that most potential shoppers regard it as a high value.
So, here are some advantages to help you understand why A+ content is important.
1. Grabs a shopper's attention
Amazon's A+ content grabs the attention of potential buyers simply because they are most of the time used to looking at product listings that are cluttered or filled with chunks of paragraphs or text blocks that they no longer have the intention to buy.
However, with A+ content, the case is different. Since it features large HD images, video explaining the product's usage, and other formatted text that the listing appears enticing enough to grab his/her attention to buy.
2. Pleases the eye and easier to skim
With messier and cluttered look, there is a risk of losing a potential buyer and that's exactly what happens with most of the listings. They are informative or the elements aren't rightly placed. Since a seller is no longer restricted to bulky, big text blocks, it is easier for a buyer to skim he information that he or she is searching for.
Also Read: How can you create impactful product listings that convert?
3. Brings your product to limelight
One of the best benefits of A+ content is that you can display big, eye-catching images of your product. This gives a huge opportunity to highlight every benefit and feature of the product that you sell.
A shopper can get a comprehensive look of your product prior making a purchase, and thus, enabling them to click the "buy" button with trust as well as confidence.
4. Helps convert better
Amazon itself states that product listings with A+ content tend to have 10% more sales. With the A+ feature, the content converts better, the product branding is higher, and the customer buying experience is phenomenal.
5. Uses proven marketing strategy
You might notice that most aspects of Amazon A+ content look like a conventional brochure. Well, this isn't a coincidence. Without textual confines, which Amazon used to enforce on listings, the platform can now explore new color schemes, formats, and other strategies that marketers have utilized for decades.
Know that these features can't be overemphasized in their potential. A seller who understands and knows the right way to leverage them correctly will enjoy its advantages than others.
How To Create An A+ Content?
Here is a step-by-step process that explains how to create an Amazon A+ content:
Step 1: Login to your Vendor Central account with the correct credentials.
Step 2: Go to the menu called Merchandising and click A+ Details Pages.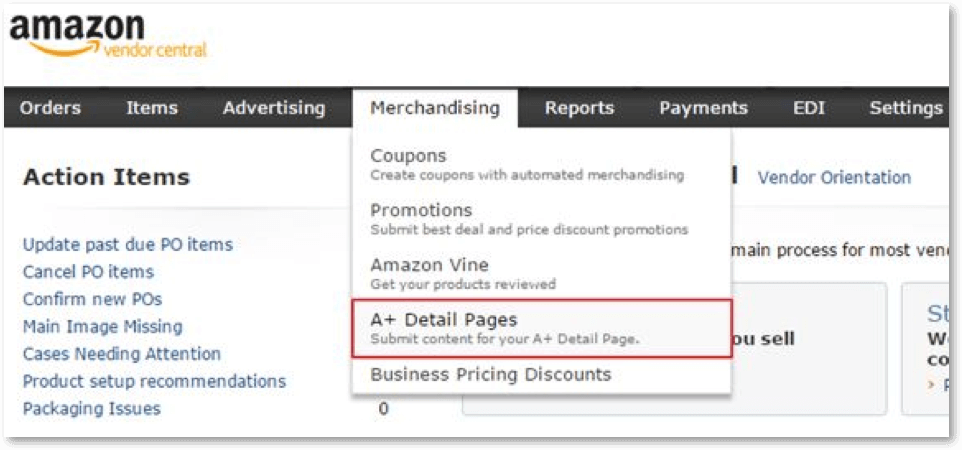 Step 3: Upon doing step #2, you will see two options:
Self-service modules
Amazon builds for you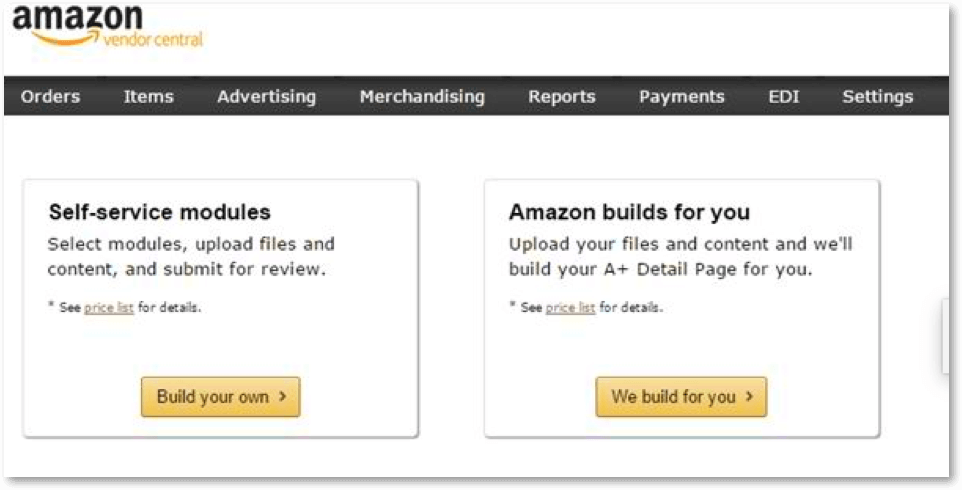 Step 4: Choose any one. If you click "Self-service modules," it redirects you to a page where you will have to enter the ASIN that you want to create the content for. Then, you will see a list of options to build the modules and layouts.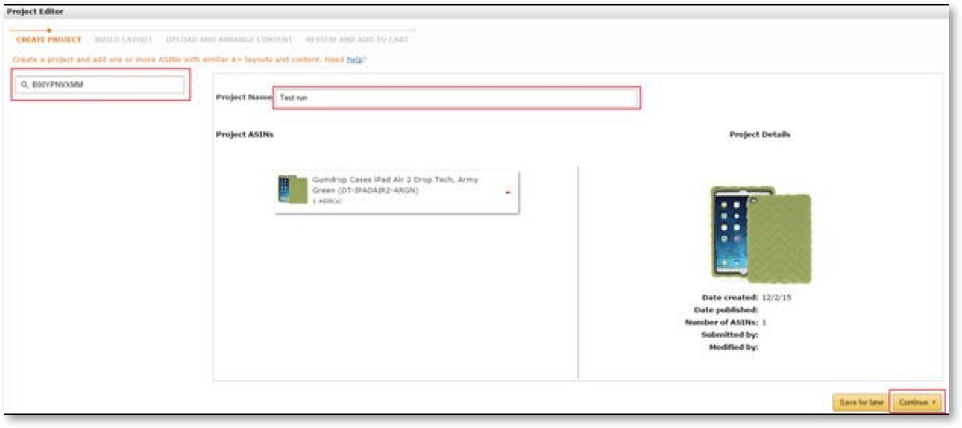 Once you choose the ASIN, you will be asked to choose a BUILD LAYOUT. Note that Amazon offers 12 types of modules, which are categorized into:
Standard (10 options)
Advanced (2 options)
Note: Of these 12 modules, a vendor can use up to 5 on his/her product page.
As a vendor, you can either use same modules or mix the modules as many times as you want. The fee for every package varies, depending on the time of the year. On the other hand, the cart price depends on the module type a vendor picks.
Once done, select the continue button. Upload the image and content. Click on the preview option to see how your page looks like.
Click on the "add to cart" button to see the pricing details. Finally, buy your A+ content.
Step 5: If you choose "Amazon builds for you," it redirects you to a page where you will have to just upload your text & images, and Amazon will do the rest of the job for you.
Step 6: Enter the project name. Make sure that it is descriptive and meaningful enough for you to understand as well as remember.
Step 7: Design the layout and upload your content (make sure to zip file for the images). Preview it so that you will know how it looks like before you publish.
Step 8: If everything is good, click the finish button.
Once you fill all the details correctly, Amazon will do a review and make your A+ page live in 7 business days.
But if you failed to stick to their guidelines or have done any mistake while creating the A+ content, it will lead to a "rejection."
How Much Does Amazon A+ Content Cost?
Based on how you want to leverage your A+ content for your listing, the cost completely varies.
1. Self-service Modules (costs about $400 per listing)
The "self-service" option gives you complete control over the listing's layout and design. This includes full freedom on the way your content and images will look.
Note: This will work great for a seller who has good experience in branding/marketing the products to the consumers.
2. Amazon Builds (costs about $1500 per listing)
A seller who isn't confident about his or her branding/marketing skills can go for "Amazon Builds" feature to have the entire job done while you sit back and relax. Once you choose this option, all you have to do is to send Amazon your product's content and images. They will select a suitable design and layout for your product listing.
Note: Though this option comes with a big price tag, it is great for sellers who do not have much knowledge on how to market/brand their products to consumers effectively.
Amazon A+ Content Guidelines
Here are a few things to make a note of when it comes to A+ content:
A+ content doesn't do anything with your page ranking.
A+ content shows up only on the desktop for now. The mobile version is yet to be updated.
You will have to pay more for creating an A+ enhanced content for items, which are already listed by other vendors.
You should submit your A+ content within 1 month after confirming your purchase to qualify for the promotion.
Note that the promotion is restricted only to 5 pages per vendor.
Once the page goes live, any change or modification is allowed only in the first 2 business days of publishing.
You are not allowed to mention about your competitors or the products that they sell on your pages.
The content that you submit (both text and images) should be unique.
Amazon has all the rights to take down your A+ page any time. But this most of the time, happens only when a vendor chooses to close his or her account, fails to fulfill the orders on time, or violates the Amazon's terms & conditions.
Amazon A+ Content Best Practices
The guidelines for using A+ content are straightforward and simple. Therefore, you shouldn't have much issues in meeting the eligibility requirements. Having said that, going one step ahead the requirements and then, optimizing your A+ content is exactly where you will feel that pressure of staying above other Amazon sellers.
So, here's what you need to so:
1. Emphasize your USP
Start by asking yourself a very simple question – what is my product's USP (Unique Selling Point)?
Once you get the answer, write this down on a paper and ask yourself two more questions – what are the major benefits of using my product? And How can my product help customers in their day-to-day lives?
Keep in mind that "benefits" and "features" aren't the same. Though "features" are important, "benefits" is something that will drive emotions. And when emotions evoke, they drive purchases.
2. Keep the content precise and short
Even a non-skimmer will not want to struggle by reading through that whole lot of text just to figure out if your product is right for his or her needs. So, stick to a short and yet precise content, which will tell shoppers quickly about the product and make a proper buying decision.
Also, make sure that you start by adding the A+ content to the top-selling products first. Use this feature where the chance of getting a profit is higher.
3. Combine images and texts
Of course, high-quality images are useful in conversions, but you can actually do a lot more by adding some interesting texts, which highlights your product's benefits or features. Adding this a great approach, especially skimmers who are searching for specific information than your content pieces.
4. Leverage your product reviews
Reviews written by your customers possess a great value and you shouldn't underestimate them. Before creating an A+ content, read through your customer reviews and even the ones posted on your competitors' listings offering a much similar product like yours. Doing this will give you a clear picture of the type of content your consumers want the most.
5. Avoid content errors
Use of some special characters and symbols are forbidden wile creating A+ content – this includes the copyright, registered trademark, and registered brand symbols. In addition, you cannot include a hyperlink to any other website (however, you can include a link to any ASIN within the module type).
6. Pay attention to the image size and resolution
To avoid "rejection" from Amazon, make sure that your images are uploaded with the right resolution and size. Note that the image requirements are different, based on the module type you choose. So, read through their requirements thoroughly.
7. Use banners wisely
Banners are one of the best ways to split your product's detail page. In fact, it shows it as a new segment to the buyer, attracts the buyer with HD images, and gives further information about the brand & product.
8. Proofread your content before submitting
As said above, Amazon takes up to 7 days to approve your content. However, usually, they do it much quicker than that. So, ensure that proofread your content before submitting. For some reasons, if your A+ page is published and later, you find that there is a grammar mistake, you will to submit the page again. Now, this means that your error runs live for a week.
9. Keep it more visual and less textual
A+ content should be more attractive and this means, that you should add a lot of visuals and less textual. Text should be in simple terms and must convey the message directly to a shopper. Also, maintain a proper balance of a lifestyle product photo vs. a real product photo, a feature that highlights the ASIN.
10. Keep your designs uniform
Now, here's something important for you to note down. The biggest takeaway is that you do not want to design only for one landing page. Instead, it is for the entire product catalog and this is something you should never fail to overlook.
Your A+ content must be consistent throughout the layout. It should symbolize your brand's extension as well as your website. Think of it as a big picture and the way you want to picture your brand as a whole.
What Not To Do When Creating A+ Content?
Do not use symbols or special characters like ™ or ®.
Make sure to check the module's requirements like image resolution and size.
Do not give any contact information about the company.
Do not refer your business as a distributor or seller.
Do not mention any shipping information.
Do not use quotes from third-parties (example: references, reviews, etc.).
Do not include any low-quality image.
Never use the same product photo twice.
Do not link to any other website.
Do not violate the Amazon policies or category requirements.
Do not mention guarantees or warranties.
Do not use debatable claims or opinions (example: "The Best" or "The Top").
Avoid using capitalization or bold in excess.
Do not use buzzwords like cutting-edge, green, or eco-friendly.
Do not submit the content with grammatical errors or spelling mistakes in it. Always proofread before submitting the content.
Note: Amazon rejects a product listing that does not adhere to its guidelines.
Conclusion
Undeniably, creating A+ content for your product listings is one of the ideal ways to grab more attention from customers and drive the sales up. This is, in fact, the perfect way to distinguish yourself from your competitors and convert more buyers. All it takes is the right knowledge and skill.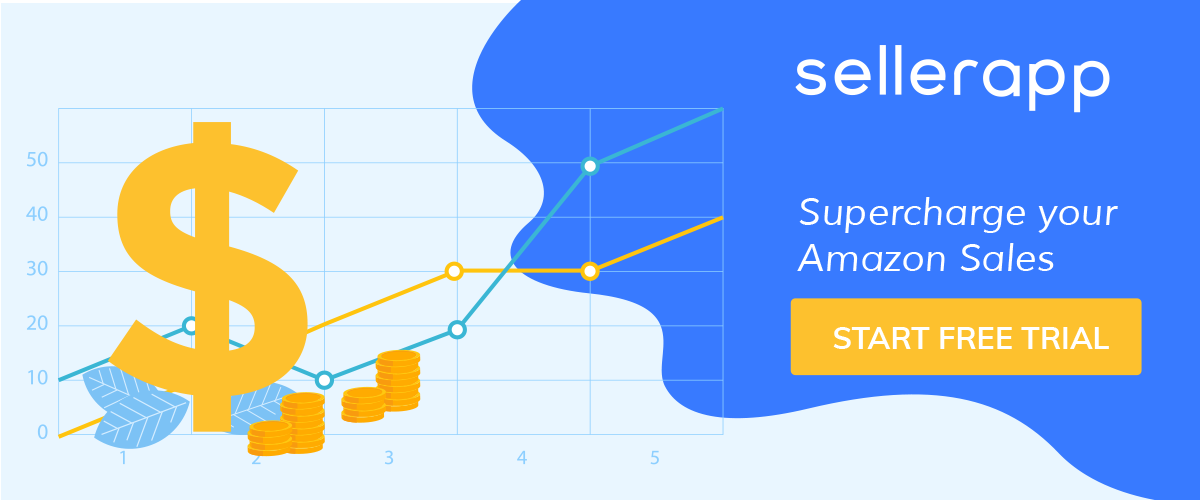 Customer Success Head at SellerApp
Customer success leader with expertise in coordinating between cross-functional teams in product development and strategy, professional services, sales, marketing and content to deliver excellent customer experience and accelerate growth within the company by ensuring clients' success.