We all know about the days in 1995 when Amazon used to be just a modest bookseller online. But today, that same bookstore of Jeff Bezos has become the biggest e-Commerce business that generates annual revenue of 386 billion globally. One can't even search the most basic thing online without potentially hitting something that Amazon sells.
To build this position, Amazon has taken an active stance by acquiring social media influencers who can bring external traffic to their website organically. Wondering how? It's the Amazon Influencer's Program that has been ruling the industry since 1996.
That being said, whether you're a Seller Central Seller, Vendor Central Seller, or Amazon B2B, you must be aware by now that selling on Amazon isn't as easy as it used to be.
Screening the right keywords, adding high-resolution images and dozens of positive reviews may not enable you to outwit your competitors anymore.
The Amazon a10 algorithm is so advanced that it has begun to prioritize brands on several other parameters too – one of them is when they are able to send External Amazon traffic.
Hold on, there's more! Amazon Influencers can earn up to 10% on commission rates, as well.
So, whether you are an aspiring Amazon Influencer or a beginner in this field, you must definitely read this guide to know the ins and outs of this program. Our detailed blog covers the following topics –
What are Amazon Influencers?
Amazon Influencers are Bloggers, YouTubers & Social Media Influencers who promote Amazon third-party brands before their viewers and earn a commission as an Amazon Affiliate. In order to do so, they have to be a part of the Amazon Associates Program.
In simple words, Amazon Influencers earn profits by recommending items to buy on Amazon to their audience on various platforms like-
YouTube
Twitch
Facebook
Via Blogs
Medium
Instagram
Amazon Live
Podcasts
Pinterest
Amazon Influencer Marketing is nothing but driving sales on Amazon's website through off-page promotion, hence, pushing organic traffic on Amazon from other platforms.
Who Can Become an Amazon Influencer?
Amazon's Influencer site criteria are not very clear. However, people who want to be a part of this program need to meet the below-mentioned standards:
They need to have an active YouTube, Instagram, or Facebook account
They need to have a good amount of follower base (around 20 thousand followers)
They need to engage with their viewers
They need to post content that is relevant to products being sold on Amazon.
Amazon once included Twitter on this list, but they removed it recently.
What's The Difference Between Amazon Influencers and Amazon Affiliates?
Amazon Influencers ARE Amazon Affiliates.
The Amazon Influencer Program is nothing but an extension of the Amazon Associates Program. The Amazon Affiliates Program has been here since 1996 which has been rebranded and named the Amazon Influencers Program.
The ONLY difference is how they recommend the enforced items to their customers. The members of the Affiliates Program can only share affiliate links for particular items on their own blogs or social media accounts, while the Influencer Program members need to build their own custom storefronts on Amazon.
Amazon Influencers or Amazon Affiliates are known for their smart and quirky way of driving sales. They use various modes like blogs and social media to link the products they are advertising for, directly in their YouTube video description or Twitch videos, or social media posts, etc. that redirect to Amazon's website. This allows viewers to click on the product links and analyze or purchase the item they were just recommended by the Amazon Influencer.
Amazon Affiliates are generally more effective at selling products on Amazon as they are seasoned in creating compelling copy and appealing videos that can convert their viewers into buyers.
How does the Amazon Influencer Program work?
Amazon Influencers are those who have qualified after meeting the criteria of the Amazon Influencer Program. They usually have an active YouTube, Instagram, Twitter, or Facebook account, with a huge following base.
The moment these influencers are accepted for the program, they build a custom storefront on Amazon with all product recommendations they are endorsing. Now, they post these links on their social media or blogs where their audience can directly interact with that product with a single click.
If the customer makes a purchase, the Amazon Influencer gets a commission from Amazon for referring the sale. Let's break it into steps for a better understanding –
The Amazon Influencer first builds a viewers base on Facebook, YouTube, or Instagram.
They then apply to the Amazon Influencer Program
The Amazon Influencer registers in their Amazon Influencer field of the Amazon Associates Program
The Amazon Influencer then creates an Amazon Store and adds products they or brands they're working with, in that store
The Amazon Influencer shares a link on YouTube, Instagram, or Facebook recommending items.
The audience clicks on the link posted on social media or YouTube and gets redirected to the shop.
The audience member becomes a customer by purchasing the item recommended to them.
The Amazon Influencer gets a commission from Amazon, NOT the brand, for whatever the customer just purchased AND everything else they purchased within the next 24 hours.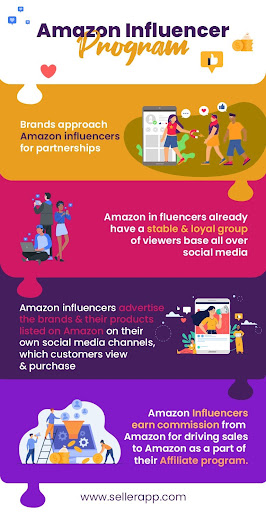 How to apply for the Amazon Influencers Program?
The market for influencers is growing more than ever: 6% of third-party Amazon sellers are collaborating with influencers to promote their listings, and nearly one-third of them plan to grow their brand through social media, influencer marketing, and other off-page Amazon marketing campaigns.
If you have a strong follower base on social media, now is the best time to join the Amazon Influencer Program and start earning money on product and brand recommendations. Let's begin the process-
Step 1: Registration
To apply, go to the Amazon Influencer Program homepage and click "Get started."
Now, you will be asked to create a new Amazon account or choose an existing customer account/ Amazon Associates account. If you are creating a new account, you will need the following details for registration –
Name
Email
Password
Address
Amazon's customer account is fundamental to creating the Influencer program. After filling out customer data, most of it gets transferred to the influencer program account.
The registration process for the influencer program will require you to fill up the following information:
Access to your most prominent social media account – username or URL. Add the account that has the largest follower base.
A profile picture
An optional header image
Your name
A 350-character bio
The address you would like all reports to be sent to
Step 2 : Applying to the Influencer Program
Now, you have to choose between three different social media platforms: YouTube, Instagram, or Facebook.
Selecting YouTube or Facebook will require you to link your account to Amazon. In case you select Instagram, you need to input the number of followers you have, the number of posts you have made, and your Instagram handle.
It's advised that you select the site where your social media presence is highest. The more followers you have, the higher chance you have for your application to be accepted.
Step 3 : Create Your Storefront
In the following section, you have to add your Storefront name and tagline.
Members of the Amazon Brand Registry can build custom storefronts to enhance their marketing. Amazon Influencers can also avail a special Amazon Storefront. This store is what differentiates Amazon Influencers from Amazon Associates.
Ideally, it would be best if you were promoting the products you have already used or are still using. The most successful members of the Amazon Influencer Program usually talk about their experience with the product.
If you want to make your storefront interesting, make sure you add both a profile image and header image.
Step 4: Create your Account
Lastly, add your account information. Once done, click on "Save and Finish" and you'll be redirected to the Amazon Associates dashboard.
Once you're in the dashboard, follow the Amazon Influencer Program on Instagram with the account you have used to register for the program. Your application will not be approved until you do so.
While your application is still waiting to be approved, you can start building out your storefront!
How much do Influencers get paid?
This is a very common query most aspiring Amazon Influencers have.
Each catalog on Amazon has a fixed commission percentage for influencers. For instance, the Luxury Beauty, Luxury Stores Beauty, and Amazon Coins categories have a 10% commission rate, while the Video Game Consoles, Grocery, Health & Personal Care categories have only a 1% commission rate for influencers.
Make sure you analyze Amazon's Commission Income Statement well before choosing the category you want to promote. For your comfort, we have created a table below with the commission rates for all the Amazon product categories –
| Product Category | Commission Rate |
| --- | --- |
| Video games and game consoles: | 1% |
| Televisions & digital download games: | 2% |
| Computers, computer accessories, DVD & Blu-Ray: | 2.5% |
| Toys: | 3% |
| Amazon Tablets & Kindle devices: | 4% |
| Paper Books, Health & Personal Care, Sports, Kitchen, Auto & Baby: | 4.5% |
| Digital Music, Video Downloads, Grocery, Handmade, Musical Instruments: | 5% |
| Business & Industrial Supplies: | 6% |
| Clothes & Accessories, Amazon TV's, Echo's & Jewelry: | 7% |
| Furniture, Lawn & Garden, Home Improvement, Prime Pantry & Pet Products: | 8% |
| Amazon Fashion Items & Amazon Coins: | 10% |
Well, you may feel that the commission rate is too low for certain categories, the ROI will really add up over time! And the best part is, it costs nothing to add your storefront link on your Instagram bio or YouTube description — hence, it's worth every effort.
Let's say you promote this popular video game brand — which will earn you a 1% commission — to your 10,000 followers. It's listed for $10,000 on Amazon.
Even if just 1% of your followers decided to purchase that product, you'd make $10,000 just by linking to it in your YouTube video description! Isn't that amazing?
How to promote your Influencer Store?
Congratulations on getting approved for the Amazon Influencers Program. You have already come half the way—now you have to promote it!
Let your audience know that you've selected a list of items that you are satisfied with and recommend for your specific audience. If you have a loyal viewer base that responds to your content, many will trust your product recommendations too.
Amazon has some great tips on how you can promote your store to increase your commissions. Check them out.
Instagram:
Insert a link to your influencer page in your bio. When you post your captions, redirect your followers to your influencer link present in the bio so they know where to find your recommendations
Motivate your audience to shop the items in your posts by clicking the link in your bio with compelling content.
Leverage Instagram Stories to portray the products, engage with your followers organically, and broaden your audience.
Facebook:
Insert the link to your influencer page in your "About" field
Endorse recommended items in your Facebook Stories
Add a "Shop Now" button to your Facebook profile that redirects to your Amazon influencer page
In every product-related post, add a link to both your storefront page and the corresponding product detail page on Amazon.
YouTube:
Add the link of your influencer page in your channel's "About" section
Include your link in video descriptions, along with links to any items that you are promoting in the video. Inform your audience they can "shop" your video by clicking on the link in the description box or in your "About" section
Twitter:
Link to your influencer page in your Twitter bio
Talk about product recommendations often in your tweets and insert your influencer link when possible or direct followers to your bio
Website & Blog
Decide on the product and content niche your audience is interested in and write blog posts to support it
Create new content consistently to keep your readers engaged. Add hyperlinks to recommended products when relevant, and direct readers to your influencer page to let them view all your recommended products in one place.
Snapchat:
Leverage Snapchat Stories to provide followers with a detailed idea about your influencer page and recommended products.
Amazon Live
Amazon Live is Amazons' live streaming platform for Amazon Live Influencers to stream live for promoting brands and items.
If you're not sure how Amazon Live works, here's a detailed walkthrough of its functioning –
How Amazon Live Works:
Viewers get to know about upcoming or ongoing live streams that their favorite social media influencers are hosting, through Instagram, Facebook, or any other social media network.
The viewer then heads over to Amazon Live to watch their influencers' live stream.
On the live stream, the Amazon Influencer talks about their favorite items and communicates their experience with the products they are endorsing.
Viewers learn about the best products to purchase, their value and can quickly & easily purchase by clicking on the links provided right under the live stream.
Viewers can also chat with one another right on the platform in a convenient chat room available right next to the live stream.
This is very powerful because Amazon Live Influencers' audiences are customers who are in the buyers' mindset. Amazon Live Influencers are members of the Amazon Influencer Program.
Promoting Services
Along with recommending on-sale items on Amazon, you can also endorse Amazon services — also known as "Bounties" in the Affiliate program. Amazon services include:
Prime Video Channels Free Trial
Amazon Baby Registry
Amazon Business
Amazon Home Services
Amazon Music Unlimited Free Trial
The Amazon Bounty Program offers fixed commissions — or bounties — for every service advertised by an affiliate or influencer. For example, if you can yield a visitor to your influencer page for creating an Amazon Prime Video channel with Amazon, you will receive a commission from Amazon.
What Is The Best Type of Amazon Influencer?
The Best Type of Amazon Influencers is the ones who leverage the following platforms for influencer marketing:
Blogs
YouTube
Twitch
Amazon Live Influencers
Medium
Facebook
Pinterest
Twitter
Instagram
In my experience, you must ask yourself the following questions and find out the answers with respect to your domain and marketplace –
On which platforms is it most comfortable to share and click on links?
What platforms have the best content that shows up frequently when shoppers are searching for a product?
What platforms have evergreen content and your content will last forever?
Once you have answered these questions, you will be easily able to decipher the type of influencer marketing you wish to do.
Additional Read: How to Answer Customer Questions on Amazon.
How to reach out to Amazon Influencers?
If you are an Amazon seller and want to collaborate with Amazon Influencers, it's recommended to leverage emails instead of DMs for better response and credibility.
You have three goals.
Get your Email opened.
Get your Email read.
Get a positive response.
To achieve these goals you need to:
Make sure you keep your message short, crisp, and to the point.
Make sure the Influencer can view your brand name and do a quick research on your brand.
Use effective email subject lines for better open rates.
Add personalization – include the influencer's name in the body and the subject line
Amazon Influencer Outreach Subject Lines:
Hey [Influencer Name], We'd Love To Sponsor Your Content!
Hey [Influencer Name], We'd Like To Pay You For Blog/Video/Content!
Hey [Influencer Name], Are you available for a Brand Sponsorship?
Amazon Influencer Outreach Email Template example –
Hey [Influencer Name],
We'd love to sponsor the content that you are posting.
We recently checked out you are [ Name of the influencers Blogs/ YouTube Videos/ Live Streams or Social Media Content] and we think it completely resonates with our brand.
We sell [What You Sell] and we are proud to say that it's bringing in great sales on Amazon right now, but with an Influencer like you, we believe it would fetch us even more sales than now.
I'd love to know your quotes and further processes on how we can work together.
Looking forward to hearing from you.
PS: If you don't have a fixed quote, that's okay, we can talk about it.
Here is a link to our Amazon store:
[Link to Product or Amazon Store]
Best,
[Your Details]
How do I track Amazon Influencer Conversions?
Amazon has had the Amazon Influencers' Program since 1996, and it has still not released any metric to track the results.
So what do you do?
You focus on monitoring the results from the content you were featured on, as well as promo code usage.
What to track?
Estimated monthly clicks on the blog post you were featured on
Monthly views, likes, and comments of the YouTube and Twitch video you were featured on
Impressions, likes and Comments of the social media post you were featured on
Promo Codes usage
Final Thoughts
As an Amazon Influencer, you can earn by endorsing your favorite products through your own custom Amazon storefront.
If you have a huge follower base on Instagram, Facebook, or YouTube, then what are you waiting for? Apply for the Amazon Influencer Program and get paid for product recommendations your followers will enjoy.
When it comes to earning from your social media skills, joining this program is the best bet.
Are you a part of the Amazon Influencers Program? Let us know about your experience in the comments below.
Additional Read:
Is Amazon Pay Good For Sellers?
15 Practical Ways to Make Money on Amazon
Amazon Scams: How Sellers Can Stay Protected?
Going crazy over your Amazon product research?
Was this post helpful?
Let us know if you liked the post. That's the only way we can improve.