Inventory Management is one of the most crucial factors behind an FBA seller's success. It can make or break their Amazon business. By learning effective inventory management techniques, one can reduce storage fees, inventory costs and improve their overall profit margin.
To help sellers measure the health of their inventory, Amazon has developed a metric known as Amazon Inventory Performance Index(IPI) – it is based on how well you can generate sales by stocking trending products and optimizing on-hand inventory at the same time.
So, before we jump right into the ideal Amazon IPI score 2022 and its threshold, let us first understand what exactly the IPI score is, how it is calculated, and what affects your IPI Score performance. So, let's get started-
Topics to be covered:
What is the Inventory Performance Index?
IPI was introduced in 2018 to gauge inventory levels and set stock limits to help novice Amazon sellers improve their business trajectory by identifying the areas of improvement in
inventory management
.
According to Amazon, the Inventory Performance Index measures your inventory health and profits, it also takes into consideration how well you fix your product listing problems such as keeping popular products in stock and removing unavailable products from your listings.
Inventory health is determined by the number of units present your inventory has – having very low units of inventory leads to out-of-stock items and lost sales. On the other hand, having excess units of inventory leads to higher holding and storage costs.
The first step in setting a standard on Amazon sellers' Inventory Performance is to analyze the IPI score. It ranges from 1 to 1000 – the more, the better.
Amazon's IPI Score is beneficial to both sellers and Amazon. Effective management of inventory will reduce lost sales and inventory holding costs for sellers. This further allows Amazon to optimize its vast warehouse network as sellers stock the inventories with the right products in the right quantities.
How to check Amazon IPI Score?
You can view your current score in your Inventory Dashboard within Seller Central. Make sure you have an active Seller Central account to access your IPI Score.
Your IPI consists of its own dashboard. To view it-
Log in to Seller Central.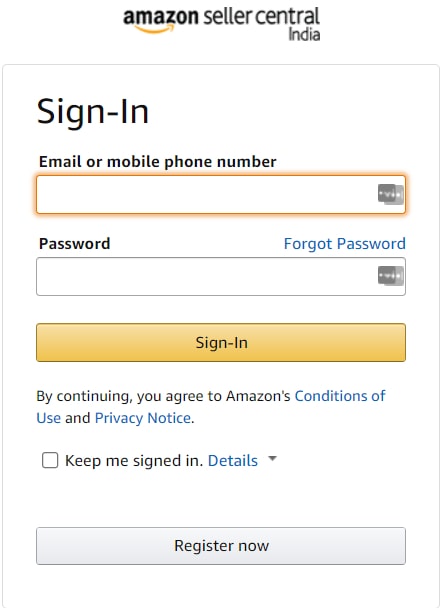 Click on Inventory and select Inventory Planning from the drop-down menu.

Click on the Performance tab to view your IPI score.

Click on EXPAND STORAGE MONITOR tab at the bottom of the page.
On the Inventory Performance Dashboard, Amazon facilitates sellers to increase their IPI score with the help of these three steps –
Excess Inventory recommendations for optimizing holding, storage, and carrying costs.
Restock suggestions for improving in-stock rate.
Provide actionable insights on stranded inventory items to ensure the availability of product listings.
Your IPI score is updated weekly – every Monday, based on your latest 3-months performance stats.
How is Amazon's IPI Calculated?
The formula for calculating IPI scores is still a secret. When Amazon was asked how they calculate the IPI score, they responded "The calculation is proprietary and will not be published, just as we do not publish the Buy Box algorithm."
Amazon clearly mentions that "IPI points are not deducted for running out of stock". Therefore, out-of-stock items will not negatively impact your IPI score.
Stranded inventory may impact your IPI score, but sellers can fix this problem easily. Therefore, simply put, the key factors that increase your IPI Scores are –
According to Amazon, "The best way to increase your IPI score and minimize your FBA storage fees is to reduce unproductive inventory and keep your product inventory at lean levels while ensuring you have enough on hand to minimize lost sales."
Amazon IPI Score Threshold 2022
Amazon sets a minimum IPI score threshold that all sellers must have to avoid high storage costs. If your score drops below that threshold, Amazon will apply storage limits on your seller central account until any further improvement on your inventory levels.
In 2020, Amazon modified the Inventory Performance Index ("IPI") minimum threshold to 500 and introduced ASIN-level quantity limits on product listings of FBA sellers. This minimum threshold requirement was further changed in 2021.
Now sellers below 450 IPI score will be subject to storage limits effective. This means anything above 450 IPI score is considered a good score, and FBA sellers with this score will have to pay fewer storage costs and get more storage space.
Amazon computes your IPI every Monday based on your three months performance data. The best part about your IPI score calculation is that Amazon will inform you if you still have time to increase your IPI score before they set storage limits.
If you score above the threshold of 450 during two consecutive score check weeks, you will have access to unlimited storage space for each storage type (footwear, apparel, aerosol, oversize, standard-size, flammable).
Factors affecting IPI Score
Even though Amazon does not declare the formula for commuting IPI score, it does tell us what are the factors that influence your IPI score and what you can do about it.
Currently, there are four factors that influence your IPI score –
Excess inventory % provides you insights into your excess stock unit proportion.
Stranded inventory % refers to the number of units that are not actively listed on Amazon, this further leads to excess storage costs.
FBA sell-through rate refers to the number of units sold that are in stock.
FBA in-stock rate indicates how well you manage your in-stock replenishable items.
Excess Inventory %
Stranded Inventory %
Sell-through Rate
In-Stock Rate
Excess units X 100 / Total units
Inactive listing units X 100 / Total units
Units sold / Shipped over 90 days/ Total units in stock available from the past 90 days
ST1 = Stock Time for SKU 1
ST2 = Stock Time for SKU 2
SV1 = Sales Velocity for SKU 1
SV = Sales Velocity for SKU 2

[(ST1 * SV1) + (ST2 * SV2)] / (SV1 + SV2)

Excess Inventory
One of the biggest aspects that influences your IPI score is your excess inventory. As it is already known that Amazon prefers to be the fulfillment center for sellers and not the storage space facilitator. Therefore, its first priority is to move inventory items from warehouses to customers' doorsteps quickly.
Amazon declares an item to be "excess" or "overstock" when the proportion of FBA inventory units exceeds a 90-days supply, depending on its demand prediction.
A smart step would be to maintain an inventory of approximately 30-60 days' worth of supply to prevent overstocking. Amazon provides sellers with actionable insights into product demand and restocks on their Inventory Dashboard.
For example, if your inventory stock is way more than what it should be, Amazon will tell you the number of excess units your inventory has and what you must do with that excess inventory.
Amazon also provides you a detailed insight on three other metrics to further understand your excess inventory condition:
Excess Units: The number of units that incur excessive storage fees and yield no profits. It is determined by the customer demand for that product and its cost of production.
Estimated Total Storage Cost: Total storage cost to be incurred by you over 3 years if you do not balance your inventory levels now and let it stay idle in the fulfillment center.
Reduce Excess Inventory: This displays how many of your SKUs have excess inventory units.
Related Post: The 2022 Guide to Removing Inventory From Amazon FBA
FBA Sell-Through Rate
Your sell-through rate is based on the number of units sold and shipped over the past 90 days from your total inventory stocks available at the fulfillment center from the past 90 days.
Amazon's inventory dashboard also helps sellers by providing actionable insights into how you can improve your sell-through rate and reduce long-term storage fees.
Click on "Improve sell-through" to land on the "FBA Inventory Age" page.
Here, you can find each of your products with a low sell-through rate, sales rank, sales over 90 days, available inventory, inventory storage duration, and approximate long-term storage costs.
You will also find proper recommendations on how to improve your low sell-through rate and reduce long-term storage costs.
Stranded Inventory
Stranded inventory refers to the number of units stored in your inventory with no active offer for that item due to listing problems. This means that customers will not be able to buy that item, causing the seller to incur higher storage fees and lost sales.
The good news is this is not a very grave issue and sellers can resolve it easily, as Amazon will provide a detailed overview of your stranded inventory units and recommendations on how to fix them.
If you have stranded inventory, you can view a Warning button that says "Fix listings" in your inventory performance dashboard.
If you select "Fix listings," it will navigate you to the "Fix stranded inventory" page. Here, Amazon will display all the stranded inventories, indicate the number of units stranded and if they have an auto-removal date, it will show the cause of the stranded inventory, and an option to relist them.
In-Stock Inventory
Amazon monitors your performance depending on how effectively you stock popular ASINs. While this metric does not impact your IPI score negatively, it can surely bring about some improvements to your score.
Amazon takes into account the amount of time your listings have been in stock during the past 30 days, with additional importance given to products that have been purchased more over the past 60 days. If you ensure a high in-stock inventory is maintained, you can reduce your lost sales opportunities too.
What happens when your IPI score goes below the threshold?
If your Amazon IPI score drops below the minimum threshold of 450, you will be subject to inventory storage limits. You will be able to find your store and new restock limits by navigating to "Inventory performance" or "Manage FBA shipments."
If your Inventory Performance Index is below 350, 6 weeks before or during the end of the quarter, then Amazon restricts you to stock more inventory and imposes a $10/cu ft fine on any excess units stored in your inventory.
The penalties are usually severe and may incur hefty storage fees and lead to lost Amazon sales, hence, it is crucial for you to monitor your inventory performance index (IPI) frequently.
How to improve your IPI Score?
There are a few general recommendations on improving your IPI Score. They are:
Improve your sell-through rate
If you are an Amazon seller, you must maintain a 90-day sell-through rate that gives you a heads-up in the IPI graph with the "green" color mark.
You can improve your sell-through rate by running sponsored ad campaigns, enhancing your listing strategy, improving your keyword targeting, and conducting detailed product research to find the most trending products that resemble your listing category.
Reduce excess inventory
Remove items that are no longer in demand or yield you any profits. Go to the "Manage Inventory Page" in your inventory dashboard to find recommendations on how you can tackle excess inventory.
Avoid long-term storage fees
Remove any inventory within 365 days of its sitting in Amazon's fulfillment center. If your inventory sitting duration has reached beyond 365 days, you will be subjected to hefty long-term storage fees. You can make a removal order or even allow Amazon to get rid of your inventory.
Stay on Top of Listing Issues
If you have stranded inventory or any other listing problems that hinder your sale, it's time to get proactive with your listings. You must:
Monitor your stranded inventory percentage
Optimize inventory levels
Reduce excess inventory over a 90-days supply period
Prioritize your popular inventory items – keep them between 30-60 days supply period.
Track your inventory dashboard frequently.
Related Post: How to Leverage Amazon Inventory Reports – Step-By-Step Guide
Conclusion
If you can optimize your inventory levels well, nobody can stop you from increasing your profit margins. If you are a new seller and cannot predict the demand properly, send in a small proportion of FBA inventory to analyze your listing's sales velocity on Amazon.
It takes a good amount of time and experience to finally understand the right amount of inventory units essential for each of your ASINs. Pay attention to the actionable insights that Amazon provides to prevent overstocks and reduce hefty storage costs.
Additional Read :
The Amazon Wish List – Everything You Need To Know
Amazon Sponsored Products vs. Sponsored Display Ads
Top 5 Problems Encountered by Newbie Amazon Sellers
Amazon Sponsored Display Product Targeting
Was this post helpful?
Let us know if you liked the post. That's the only way we can improve.