Instagram is an ever-so-popular platform that serves a multitude of purposes. So here's an important message for all Amazon sellers on Instagram – did you know that you can leverage Instagram ads for Amazon products and boost the traffic to your listings?
It is one of the most efficient ways to go about advertising, especially while trying to attract the millennials and Gen Z audience. With the availability of options to post videos and pictures to promote and sell your products, you can get as creative as you want. Also, it's probably one of the few times you don't have to worry about SEO and using keywords as part of your advertising strategy.
Quick guide
How to advertise Amazon products on Instagram?
Instagram is one of the most innovative ways to boost awareness for your brand and increase your sales in today's social media savvy world. So how do you promote Amazon products on Instagram? 
First, you will need to create an account for your brand and make sure your account depicts your brand image and your products well. Only then will you be able to adequately engage in promotions. 
Your Instagram profile picture should be the logo of your company. Your bio, which is the section just below your profile picture should have a short and sweet description of your brand. It should also contain links to your Amazon storefront or to your popular product pages. 
Once your account is created and ready, start posting your products on Instagram stories and sharing images of them on regular posts. Instagram is all about fancy, high-quality, captivating images. With the option to use filters and innovative captions, sellers can unleash their creativity to the fullest while promoting their products. Posting reels and stories can work wonders in keeping your audience engaged. Consider the best time to post on Instagram to get more attention from followers.
Whichever product you're promoting in your story, you can provide a link to its product detail page to enable potential buyers and others to visit your listing with ease. Thus, giving a powerful boost to your amazon product listing. You can ask witty questions on your story or have a poll or ask people what they know about your products. This kind of content will get them to visit your product detail page.
Stories and reels are a great way to host contests and giveaways as well. You can post pictures/videos of your products and ask questions that can be answered only if customers visit your product detail page. You can announce that you will be picking winners from amongst those who answer the questions correctly and rewarding them with discounts or freebies. Asking questions that can be answered only by actually looking at what the product is about will get people interested, and they will definitely go to your listing. This way your traffic from Instagram to Amazon automatically increases.
Don't forget that hashtags are very important to the platform. A lot of people do use hashtags when they're searching for something specific. So every time you're posting something, make sure you use all relevant hashtags. They work like keywords do for a listing.
Instagram is also a smart way to collaborate with other brands and even celebrities and influencers. You can ask similar brands to promote your products in exchange for you doing the same for them. This way you can effectively reach a wider audience and enhance the visibility of your brand.
Pictures aren't the only way to go while promoting your products. You must make use of videos as well. This is where Instagram Reels come into play with their compelling new feature known as Shopping in Reels. It makes things very convenient for sellers and viewers alike by allowing sellers to tag their Amazon products in their reels. Potential customers can view the product, click on it to learn more about it, save it to buy later, or purchase it right away.
Influencer marketing is another relatively new tactic. When sellers want to give their listings a powerful boost in terms of traffic and sales, influencer marketing can prove to be highly beneficial. Sellers reach out to influencers on Instagram who have a huge follower base and ask them to promote their products.
When influencers post about products on Instagram, their followers are guaranteed to check out what the products are about and buy them. If a product is endorsed by an influencer, people trust it and want to buy it thus they will visit your listing. This will give your listings that much-needed boost.
Tips on how to sell Amazon products on Instagram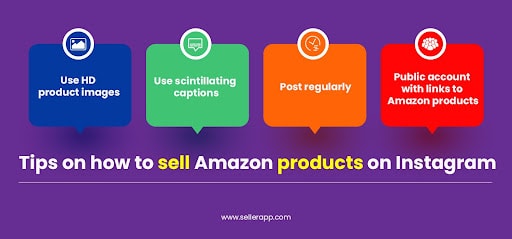 Here are some addon tips by digital marketing experts to remember when advertising your products on Instagram:
Hire a professional photographer to take product images as they will know how to get the lighting, angles, and aesthetics right.
Use catchy, witty, or sometimes even funny captions for your posts. A good sense of humor can go a long way in capturing the attention of your audience. 
Whatever posts you're putting up on Instagram, be as consistent as you can and post regularly. This will help you gain traction. Posting irregularly will lead to your audience losing interest so keep them engaged with regular posts.
When you're a brand with a profile on Instagram, keep your account open to the public. Having a private account is only going to cut down your audience reach. Not everyone is willing to send a request and wait for you to accept. It's just easier for the audience to be able to follow, view and like your posts when your account is open. Your posts may even be displayed for people who don't follow you, thus enabling you to spread your brand message more effectively.
Do not forget to provide links in your Instagram posts to your Amazon products so that interested buyers can easily visit your listing and make a purchase.
FAQs
How to put an Amazon link on instagram?
Whether it is the link to your Amazon Store, a particular product, or any particular set of listings that you want to promote, you can include the respective URLs in your Instagram bio, in captions, and in stories especially with the "Swipe up" feature.
How to use amazon affiliate links on Instagram?
When it comes to Amazon affiliate marketing on Instagram, once the affiliate link is created, you can share it on IGTV, in your bio, or even your story. These links are used by the affiliates to earn from all the traffic they drive to any given listing.
Why choose Instagram, not other social media platforms?
Instagram is a prime choice for most sellers to advertise their products because Instagram has the highest engagement rate compared to any other social media platform. Instagram's growth hasn't plateaued at all till now, and it continues to grow. With creative ways to advertise and access a large audience base, it is necessary to use the platform for driving traffic and awareness for your brand.
Final thoughts
Social media is a powerful tool to advertise your Amazon products. Sellers should leverage Instagram's large audience base to spread brand awareness as widely as they can. Don't be afraid to let your creative juices flow while coming up with interesting designs for your posts on Instagram. Impressive, captivating content is key while leveraging Instagram to boost your Amazon traffic.
Was this post helpful?
Let us know if you liked the post. That's the only way we can improve.