Do you know 64% of shoppers use more than one retail channel to purchase?
With so many options out there, it's crucial to have a comprehensive e-commerce advertising strategy that covers all your bases.
And when it comes to that, banner ads are an absolute must-have.
Not only do they retarget customers and drive traffic back to your listings, but they can also appear across various platforms such as Twitch, social media channels, third-party websites, and apps.
So, whether you're a Brand registered seller or a vendor, leveraging the full potential of banner ads can take your business to the next level both on and off Amazon. 
This guide will show you everything you need to know about Amazon banner ads and how it works to grow your business.
Ready to dive in? Let's get started!
Here's a quick peek into the article:
What are Amazon Banner ads?
Have you ever noticed those ads at the top or side of Amazon's product details page or on other third-party websites and apps? Those are banner ads!
These static or video-based ads are strategically placed on Amazon or third-party websites or apps to drive traffic to the brand's Amazon storefront.
Despite being new, banner ads have quickly emerged as a valuable asset for brands to expand their customer base and increase sales.
Even studies have shown that using banner ads can drive up sales by 82% by attracting new-to-brand customers.
Five elements of effective Banner ads
A high-performing banner ad has five crucial elements. You need to create each element strategically to align it with your brand voice and entice your audience to click on your product.
Here are the five elements:
Images
Visuals are essential elements to captivate your audience's attention with banner ads. And choosing the right type of image can make or break your advertising campaign.
For instance, If your goal is to enhance the product's appeal, a product image is the way to go. On the other hand, if you want to create brand awareness, a lifestyle image might be more effective in showcasing how people can use your product.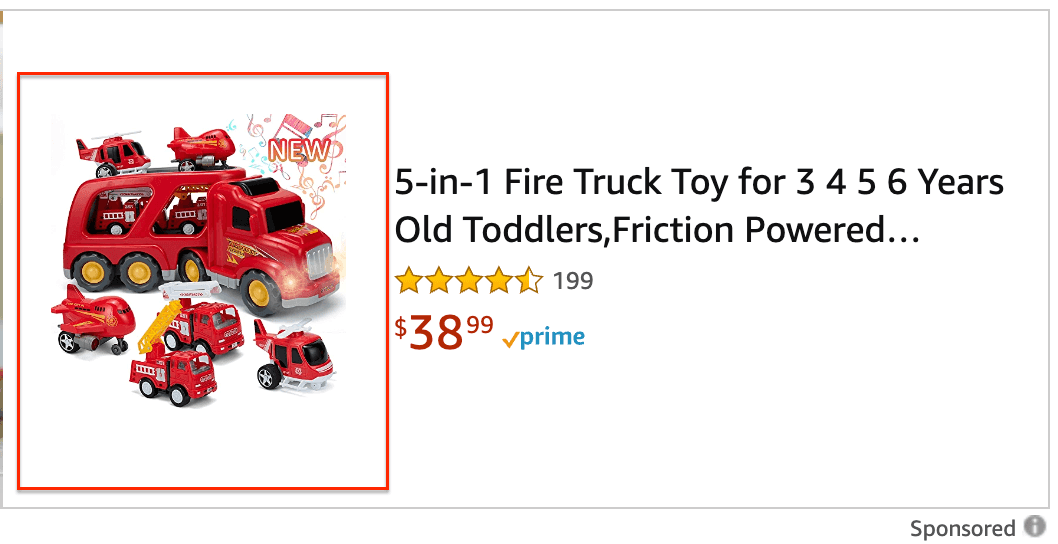 Clear call to action (CTA)
You can direct your customers along their journey by implementing a clear and concise CTA. For example, use "Learn more" to tell customers that they can get more information about the product. On the other hand, the "Buy Now" CTA is suitable for customers with a strong buying intent. Choose the most appropriate CTAs that align with your overall campaign objective.
These are six types of display ad CTAs:
Shop now: Encourages customers to immediately purchase the advertised item.
Learn more: Provide a link to additional information for interested customers who are not yet ready to buy.
Pre-order now: Allow customers to take action on products that are not yet available for purchase.
See details: Direct customers to further information about the advertised product or offer.
Watch now: Generate interest with a call to action that prompts customers to view your video content.
Subscribe & Save: Include a link to Subscribe & Save details, enabling customers to set up recurring deliveries for frequently used products.
Brand logo
Incorporating a recognizable brand logo can significantly enhance brand awareness, establish trust with your audience, and help customers associate your products with your brand.
Headline
Make an impact with clear and simple headlines that engages your target audience. Start with an active verb and project product benefits to customers. For example, "Revitalize your skin with our nourishing facial serum."
Ad copy
Use simple language to highlight unique product features on the banner ad. Read customer reviews and the Q&A sections and answer customers' concerns and frequently asked questions on the body.
What's the difference between Amazon Sponsored Display ads and banner ads?
Most sellers use the term "banner ads' and "display ads" interchangeably. But ideally, banner ads are a type of display ad on Amazon.
Banner ads can come in different shapes and sizes based on a brand's goal and ad format. The most used banner ad sizes are
Medium rectangle: 300 x 250 px
Leaderboard: 728 x 90 px
Skyscraper: 160 x 600 px
Different-sized banner ads are used in different places on the web page. For example,
Leaderboard ads are shown at the top of Amazon and the partner websites. And it's one of the high-performing banner ads due to its placement.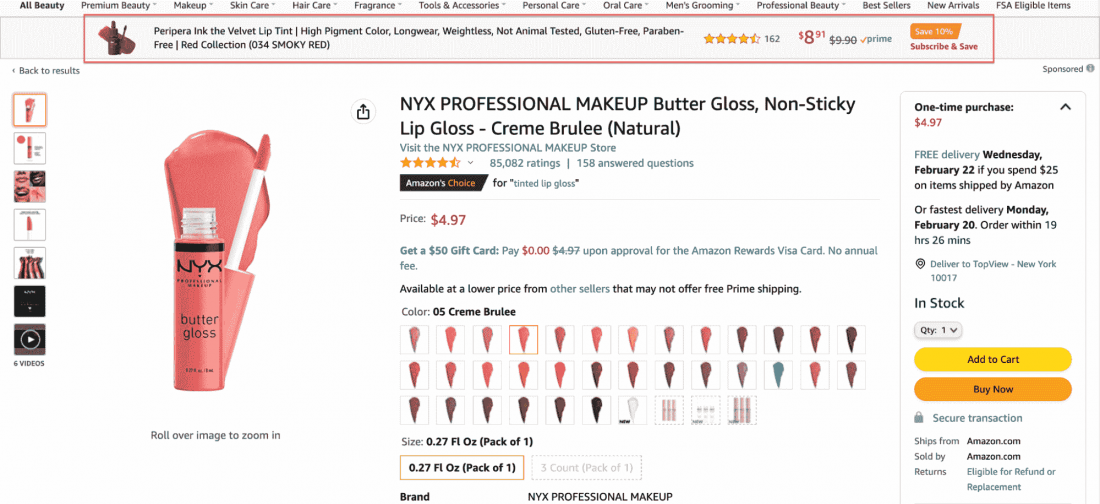 Medium rectangle ads appear below the buy box. These are great for acquiring customers from competitors' listings.

On the other hand, skyscraper ads show up on the side of a webpage, stretching from top to bottom. It helps you build brand awareness and improves reach.
What are the benefits of Sponsored Display Banner ads?
Sponsored Display Banner ads help sellers reach new audiences, increase product visibility across the entire catalog, and drive incremental sales on best-performing products on Amazon.
Unlike other Amazon-sponsored ad types, banner ads do not target keywords. Instead, it targets customers based on their interests and shopping behaviors. It also retargets customers who had previously viewed your product's detail page but left it for some reason.
Here are some other benefits of Sponsored Display Banner ads:
Accelerate product sales with longer sales cycles or higher prices by showing the product to shoppers at every stage of the customer's journey.
Promote seasonal sales by targeting audience segments who have purchased similar products in the past.
Improves basket size by cross-selling complementary products. For example, if you're selling shoes, you can also show socks, shorts, bags, etc., on the product details page. This will increase the basket size for the customer.
How to set up a Sponsored Display Banner ad campaign on Amazon
Setting up Sponsored Display ads is really easy. All you need is a seller central account and brand registration, and you'll be well on your way to creating your first successful campaign.
Here, we've broken down the process of creating a Sponsored Display ad campaign from start to end:
Define your goal
Even before you create your first campaign, identify the goal you want to achieve. Your advertising KPI, budget, and strategy will change depending on your goals.
Here are some goals you can target based on what stage your product is in:
Build awareness
Increase consideration
Drive purchase
Build loyalty
Identify your audience
Understand your target audience based on demographics and shopping behaviors and create targeted ad copy to engage with the audience.
Apart from that, use remarketing to serve ads to the audience who viewed your product before, so you can re-engage them to consideration and sales.
Create a campaign
Now that you've defined your audience and goals, it's time to create the campaign.
Log in to your seller central account, then click "Campaign Manager" from the "Advertising" option in the left sidebar.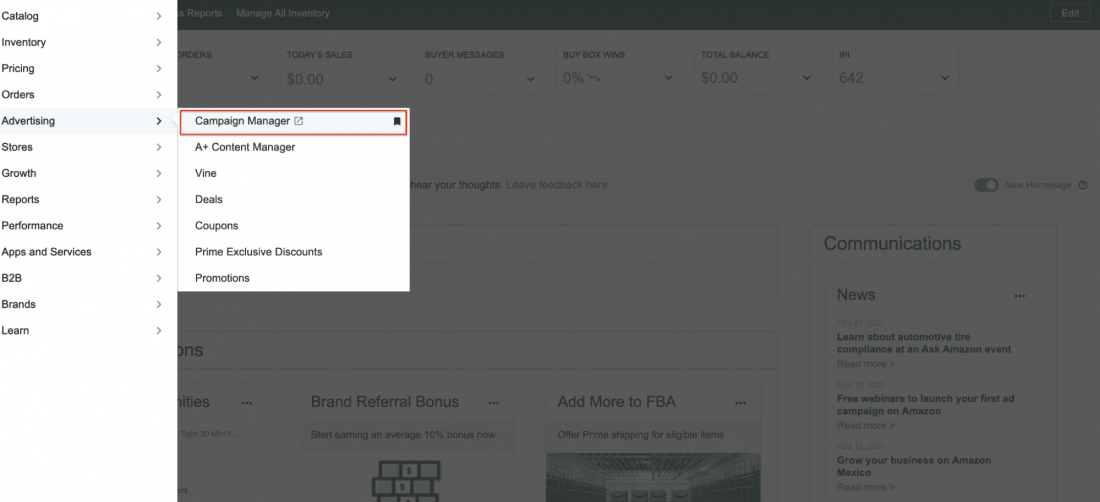 In the "Campaign Manager," click on "create a campaign," and then select the "Sponsored Display" option.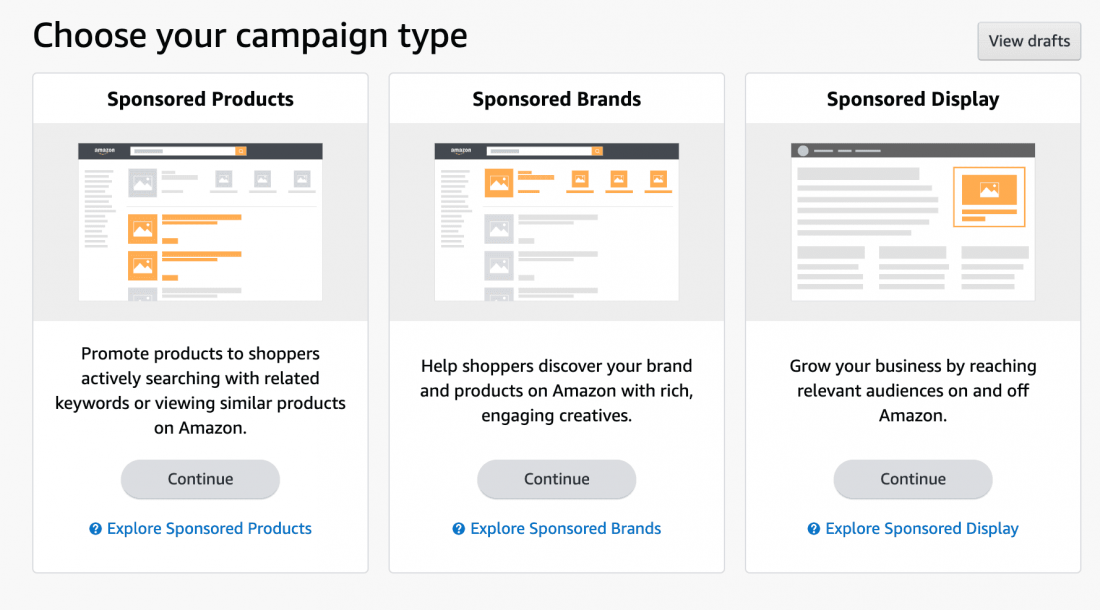 Give a campaign name
Next, give the campaign a detailed name, that includes targeting and product name. It helps you quickly recognize the campaign.
For example, if you're setting up a campaign with purchases remarketing for sports socks, the campaign name can be like this:
"Sponsored Display | Purchases remarketing | Sports Socks | [ASIN]"
This will help you quickly identify the campaign with a glance.
Give a start and end date.
After the name, give a start and end date. We recommend running your campaigns with no end date to ensure it doesn't stop abruptly.
It takes two to three weeks to see results from the display campaigns. So, keep the ads running for a few weeks, and revisit them to see the results – tweak them again to improve them.
Choose a daily budget.
The daily budget is the amount you spend daily for the advertising campaign over a calendar month.
Choose a daily budget that works for your business. Ensure to keep the budget high enough to keep it running throughout the day.
If the campaign is out of budget in the middle of the day, Amazon will stop showing ads to the shoppers, and you'll lose out on more sales.
Once the daily budget is set, the spending on a given day may exceed the daily budget, but the monthly budget won't exceed your limit.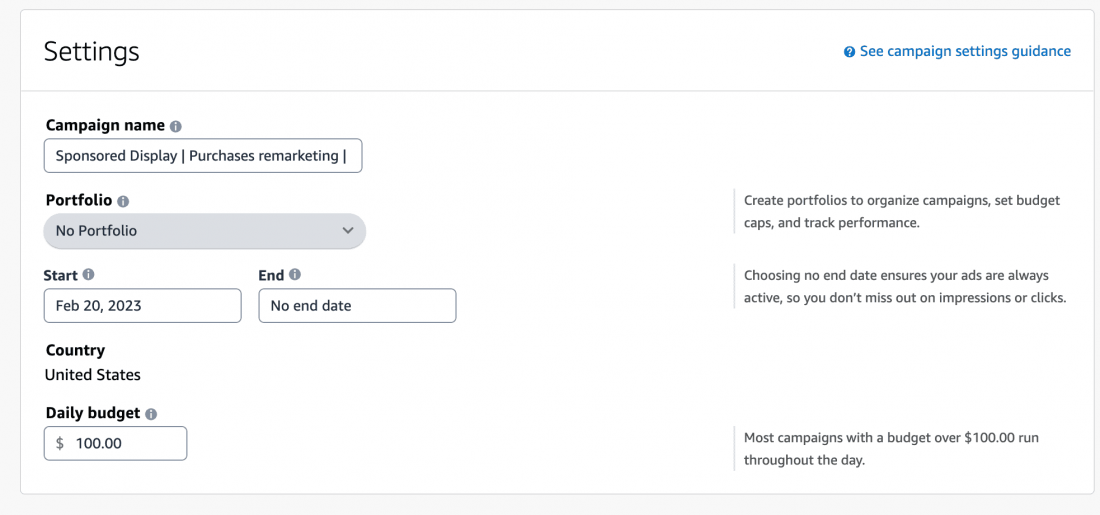 Create an ad group
Ad groups within a campaign share the same targeting strategies and bids. We recommend adding one ad group under a campaign and giving a detailed name.
For example: "Running shoes – Audiences Remarketing – 05/10/22"

Select a bid optimization strategy
At this point, choose a bidding strategy based on your campaign goal.
The bidding strategies are:
Optimize for reach
Here, Amazon optimizes your campaign to reach more people and generate more impressions.
The cost for this strategy is measured by VCPM (Cost per 1000 viewable impressions).
Optimize for page visits.
In this strategy, Amazon optimizes your bids for high CTR. Your ads will be shown to shoppers, who have a higher chance of clicking on your ads.
Optimize for conversion
Here, Amazon only shows the ads to high-buying-intent shoppers. The clicks might be faster, but the conversion rate will be higher.
Note: If you're just starting with Sponsored Display ads, use the "optimize for conversions" option on your first product. Review your first campaign performance after some time, and then tailor your strategies based on future goals.
Choose ad format
Amazon Sponsored Display offers two ad formats. And you can choose the ad format based on your needs.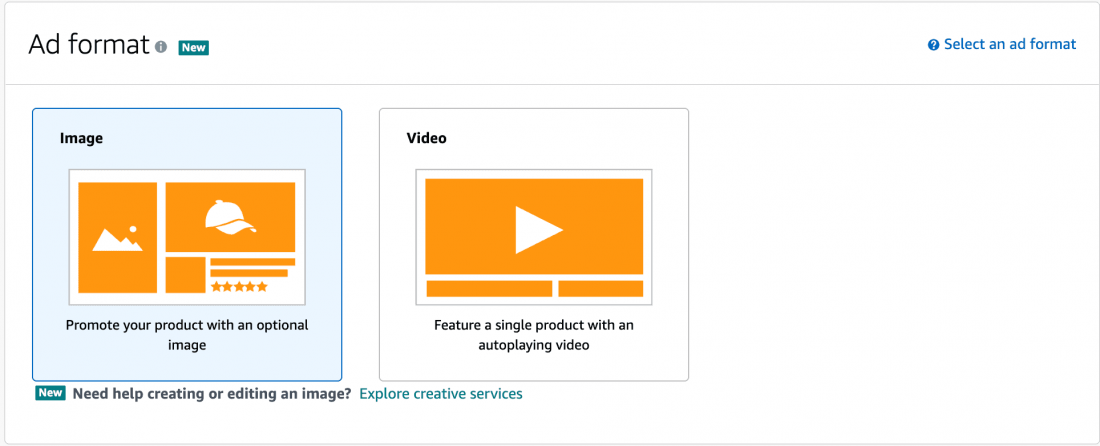 Images
Image ad formats are great for driving conversion and consideration.
The campaign banners are automatically generated by default.
However, you can also personalize them by incorporating a custom brand logo, headline, and lifestyle images that better communicate your brand or product experience.
Note: If your goal is to increase the conversion rate, adding a custom brand logo with an enticing headline can increase the purchase rate on-site by 24%.
And, if you want to increase your product's detailed page-view rate, custom image creatives can get you more views over autogenerated creatives.
So, try creating a custom banner ad creatives and content to maximize ad performance.
Videos
Video ads are more engaging and showcase your product in action. In the video ads, you can also add a custom headline and logo to convey your brand story.
Note: Head to the "Creatives" section to add an image, headline, and logo to your ad copy.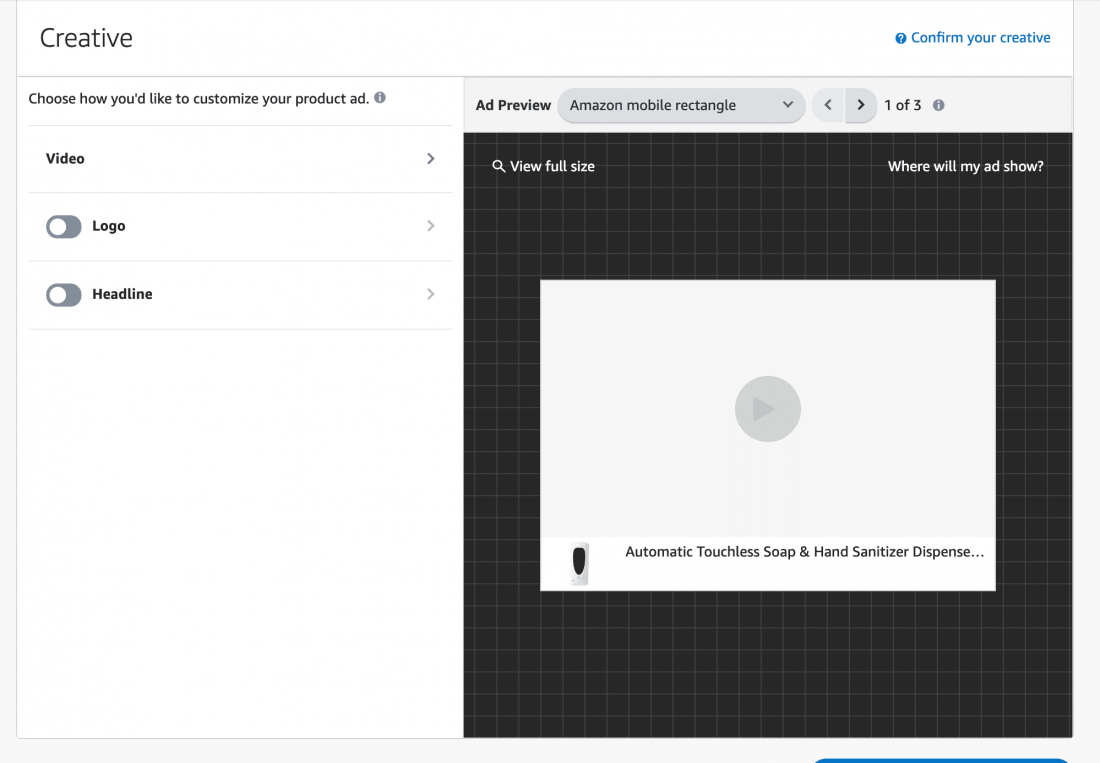 Choose the targeting strategy
The next step is to choose a targeting strategy based on your campaign goals.
Sponsored Displays have two major targeting strategies.
Contextual Targeting
Amazon Audiences

Contextual targeting
This targeting type allows you to show display ads to potential customers who previously visited your product and the category.
You can show these ads in different places, including Amazon's search results, product detail pages, Facebook, Twitch, and other third-party websites.
Amazon Audiences
Audience targeting is a powerful tool that can help you connect with new and existing customers at every stage of their journey.
With Amazon Audiences, you have three different ways to achieve this.
Views Remarketing
It enables you to show ads to people who visited your product listing or similar product listing in a specific lookback time.
You can choose the lookback time from 7 to 90 days based on your budget and advertising strategy.
This targeting is ideal for sellers looking to re-engage shoppers in your products. It can also be used to guide potential customers through the consideration stage and encourage them to make a purchase.
Purchases Remarketing
It enables you to display ads to people based on their previous purchase history. The lookback window is longer for purchase remarketing, from 7 to 365 days.
With purchase remarketing, sellers can reengage with loyal customers, reminds them of other products they might like, and encourage repeat purchases.
Amazon Audiences
It helps you reach shoppers who are likely to be interested in your products, even if they've never heard of your brand before.
You have the option to choose from four distinct audience types:
In-market: It allows sellers to target shoppers who have recently shopped for a product in your category.
Lifestyle: It targets shoppers with a wide range of shopping behavior who browses products on Amazon, Twitch, IMBD, etc.
Interests: It allows you to target shoppers based on their previous shopping and browsing history.
Life events: It allows you to show shoppers relevant products based on their life events.
Select the product to advertise.
Select the best-performing products from Sponsored Product and Sponsored Brand campaigns for maximum results.
We also recommend you add 8-10 products in your campaign which are closely related and fall within similar categories.
This way, Amazon can show relevant ads to different audiences, increasing the campaign's overall performance.
Select your bids
For contextual targeting, set bids for individual products or a product category.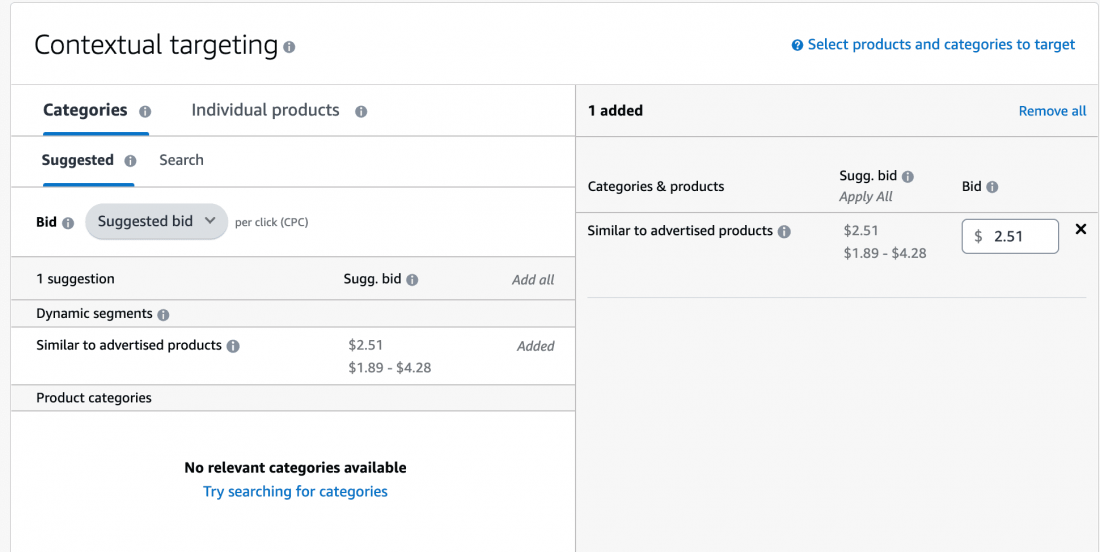 Set bids for different targeting options in the audience targeting.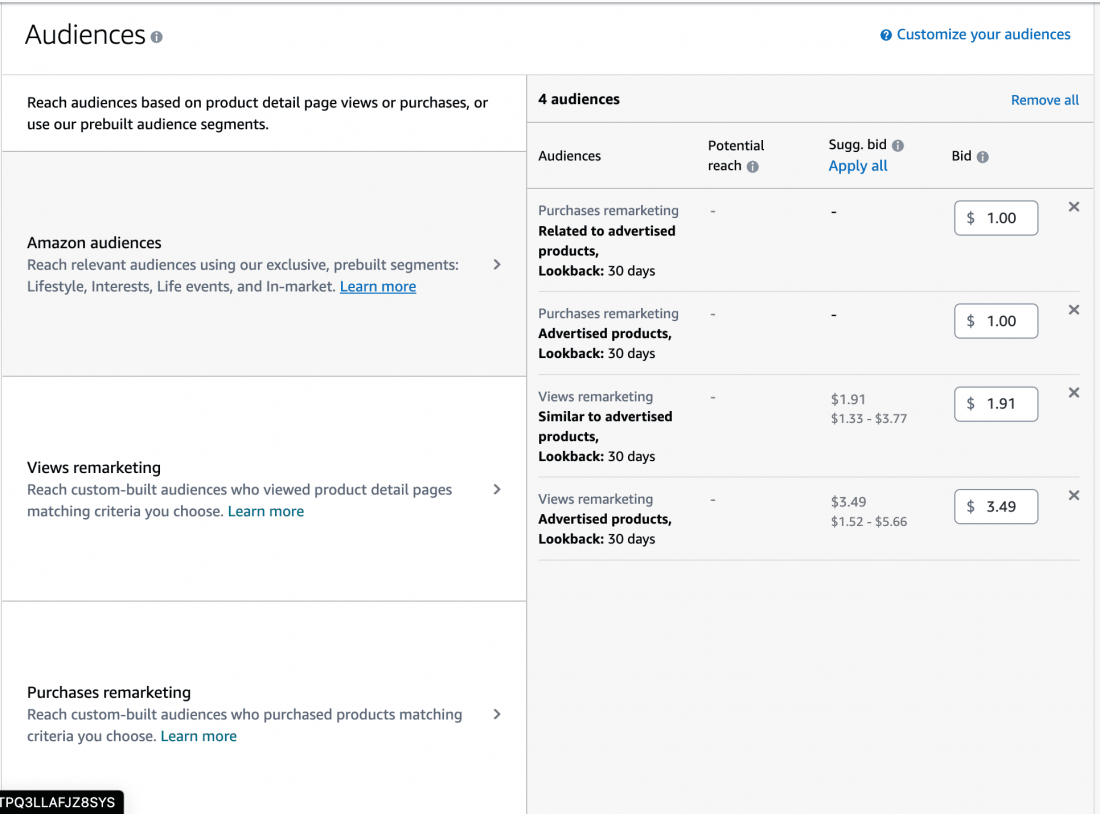 Launch the Campaign
After you fill up all the options, revisit them to confirm, and then click "Launch campaign" to activate the campaign.
What's the difference between Sponsored Displays and Amazon DSP Banner ads?
While retargeting via banner ads is also available through DSP, Sponsored Display ads and DSP serve two different purposes.
Here are some differences between them:
| Criteria | Sponsored Display Ads | DSP (Demand-Side Platform) |
| --- | --- | --- |
| Ad Placement | Amazon-owned properties and platforms | Various ad exchanges and websites |
| Ad Formats | Display ads, Video ads, Custom ads | Display ads, Video ads, Audio ads, Custom ads, Native ads, and more |
| Targeting Options | Contextual targeting, audience targeting, retargeting | Behavioural targeting, Lifestyle targeting, Demographic targeting, Device targeting, In-Market targeting, Contextual targeting and more |
| Eligibility | Seller need to be brand-registered on Amazon | Can be used for brands that do not sell on Amazon |
| Creatives | Fewer options to customize ad creatives | DSP ads are highly customizable |
| Budget | With a minimum spend of $1, it's easy to get started | It requires heavier investment to get insights from advanced reporting and audience insights |
| Pricing Model | CPC (Cost-Per-Click), VCPM (Viewable Cost-Per-Thousand Impressions) | CPC (Cost-Per-Click), CPM (Cost-Per-Thousand Impressions), CPA (Cost-Per-Action), and more |
| Audience Size | Limited users, and visitors | Access to a larger audience across multiple ad exchanges and websites |
Final thoughts
In conclusion, Amazon Sponsored Display banner ads can be a powerful tool to retarget customers and drive conversions.
Even though there are restrictions for ad creatives, testing different advertising strategies can help you determine what works best for your products.
With the right approach and guidance, you can make the most of Sponsored Displays banner ads and take your Amazon PPC campaigns to the next level.
If you want to create a successful Sponsored Display campaign, look no further than SellerApp.
Our team of dedicated experts has helped thousands of brands create and manage ad campaigns worth $1.8 billion.
We can also provide you with the support and guidance you need to succeed on Amazon.
Don't hesitate to schedule a call with our experts to learn more about Amazon PPC and how we can help you achieve your business goals.
Was this post helpful?
Let us know if you liked the post. That's the only way we can improve.