Amazon has set the bar high for online shopping with two-day shipping and near-endless products, sellers, and vendors.
If you have been selling on Amazon for quite some time, you may know that being competitive isn't sufficient. One way to entice your audience is using Amazon Lightning Deals. They are promotional offers running on Amazon for a limited time span. Usually, they run for 4-6 hours on the Amazon Deals page. If you're running a Lightning Deal for your product, you have the opportunity to grow your sales quickly.
In this article, we'll tell you everything you need to know about Amazon Lightning Deals if they're worth your investment, and more.
Quick guide:
What are Amazon Lightning Deals?
Discounts and
promotions on Amazon
are a great way to improve your rankings and sales. Amazon Lightning Deals are your best allies in that arena. They are also an easy way to reduce your inventory. These are limited-time promotions run by sellers to capture customers' interest and sales. Besides, Amazon Lightning Deals are a great deal for customers.
The items under these promotions are usually featured on 'Today's deals page.' During Amazon Prime Day deals, these offers are exclusive to Prime members.
Customers can find offers and lightning deals under most categories, including electronics, clothing, home appliances, beauty products, and more.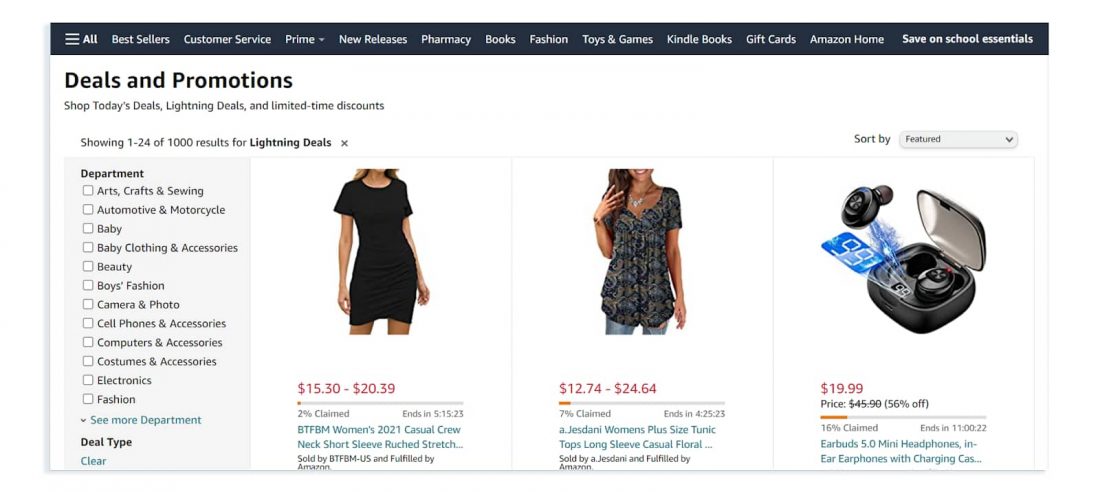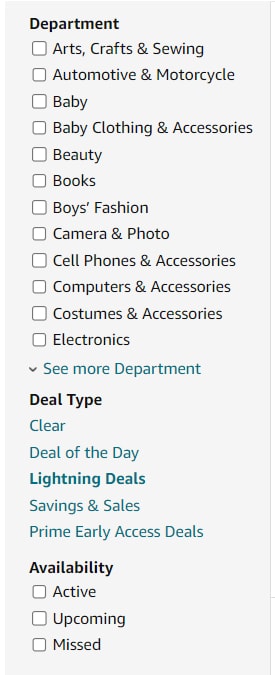 How to create an Amazon Lightning Deal
The first step to creating a Lightning Deal is to check the eligible items by clicking on the 'Create Deals' button. You can find it in the Amazon Seller Central dashboard. Once you click, you can find the available promotions at hand.
Here are the simple steps to create a Lightning Deal:
Select an eligible item from your inventory
Select the date range for your Lighting Deal based on the options
Give a discount or a deal price per unit and quantity
Review the details and click 'Submit Deal'
Amazon will set a maximum price, minimum discount, and minimum quantity for the deal.
If you can't find products for Lightning Deals, you need to check if you meet the eligibility criteria.
Are you eligible to create a Lightning Deal on Amazon?
In general, Amazon Lightning Deals are available for most sellers. Categories such as alcohols may not be eligible for Lightning Deals. Besides, used products are not included in the deals.
There are some criteria that need to be met to be eligible. Sellers must:
Have an overall seller rating of at least 3.5 stars
Generate five seller feedback per month
Be a Professional seller, not an individual seller
Along with the above conditions, you need to ensure that the campaigns you create for the same product are not overlapping.
If you do not meet the criteria, you cannot apply for the deals. Also, if Amazon rejects your Lightning Deal, one reason could be your inventory threshold. Sometimes, Amazon raises the minimum quantity of the product, so you need to adjust the quantities accordingly.
Amazon Prime Day Lightning Deals
When it comes to the Prime Day Lightning Deals, additional conditions are applied. For instance, the offer you give must be the lowest selling price since the beginning of the year. In general, Amazon allows Prime Day deal submissions in March-April. You can submit them under 'Prime Day Window' within the Lightning Deals section.
Shopping events such as Prime Day and Black Friday are highly competitive for sellers. So you'll want to run a steeper discount to improve the placement and product visibility and attract buyers on Amazon.
Lightning Deals vs. 7-day deals
Amazon Lightning Deals are usually more effective than the 7-day deals because of their visibility on the deals page. Besides, from shoppers' perspective, Lightning Deals create a sense of urgency compared to the 7-day deals. To see what works the best for your product, you can run both types of deals on the same product at different times and dates to see their performance.
Does Amazon charge for the Lightning Deals?
Yes, Amazon charges a certain fee once you successfully submit a Lightning Deal. 'Date range' is one of the common factors influencing the fee of your Deal.
To view your fee details, you can go to Seller Central > Reports > Payments > Transaction View > Service Fees
For more detailed information, check out this link on Amazon Seller Central.
Remember that featuring a product on Lightning Deal does not necessarily guarantee that the listing performs well. Even if your deal performs well or not, you are charged by Amazon. However, Amazon will not charge you if you or Amazon cancels the deal before its scheduled start time.
Benefits of creating Amazon Lightning Deals
Lightning Deals page is one of the most popular pages on Amazon. The idea behind the Lightning Deals is to create micro windows for shoppers to find steal deals on the products they want to buy.
Using Lightning Deals can:
Reduce inventory quickly
Boost brand awareness
Grow your listing's traffic
Besides, if you're selling a new product, Amazon Lightning Deals can be used as part of your SEO and launch strategy to improve your organic ranking and sales.
When can you skip the Lightning Deals?
When eligible, you can definitely try Amazon Lightning Deals for all the reasons mentioned above. However, the main reason for skipping these deals is the cost involved. Since you need to pay an additional fee to feature your products under deals, it may or may not be sustainable for your margins. Depending on the product selling price and the cost involved in creating deals, you need to determine if Amazon Lightning Deals are worth your investment.
Another potential reason is inventory. By creating a Lightning Deal for your product, you need to be prepared to increase sales volume. If you have a hard time fulfilling your orders, it may hurt your Amazon seller rating and inventory. If you're not prepared to handle the spike in sales, Amazon Lightning Deal may not be your best option.
Are Lightning Deals worth it?
Creating a Lightning Deal on Amazon increases the visibility of the product you advertised.
Few reasons why the Lightning Deals increase visibility are:
The deals are placed under a separate page
The Lightning Deal label enhances the visibility of the product under the deal
The Lightning Deals promote your sales. However, it comes at the expense of your profit margins. These deals are also influenced by the time and day you create the Lightning Deal. On the other hand, you only have limited influence on the success of the campaigns.
You also need to cleverly pick the products that can be used for such campaigns. Not all products are suitable for the Lightning Deals. In general, the 80/20 rule would be a better way to pick the products – choose 20% products in your portfolio that bring 80% of your sales.
Lastly, you can check the performance under the 'Manage Deals' section within the Seller Central.

Final thoughts
One can be successful on Amazon without using the Lightning Deals. However, it's a great way to improve your sales velocity. For some brands, Lightning Deals can gain new customers, but for some, it can be a costly mistake. So time your deals effectively and leverage these promotions carefully. We hope you find this article insightful.
As always, happy selling!
Additional Resource:
Amazon Vendor Central Advertising.
Amazon Vendor Central: What's New
Merch by Amazon: How to Get Started
How to Set Up EDI with Amazon Vendor Central
The 5 Pillars of Successful Amazon Advertising Strategy
11 Amazon Black Friday Selling Tips to Boost Sales in 2022
Was this post helpful?
Let us know if you liked the post. That's the only way we can improve.