Price your product too low, say goodbye to your sales, price too high, and leave money on the table.
Superior pricing decisions increase market share, while ineffective pricing strategies come at the cost of long-term growth.
With costs rising, finding the right pricing strategy for your Amazon business is more important than ever.
A quick peek into the article
Why is pricing important for your e-commerce business?
We all love a good deal, don't we? Your customers are no exception. Today they take time to look at different sites, research brands, and compare prices before they purchase the product.
Price algorithms and apps enabled transparency and made it easy for consumers to compare products and prices.
On the other hand, inflation and supply chain disruptions drive higher costs for sellers.
As a business owner, you would be faced with a set of pricing and promotions-related questions that makes you revisit your pricing strategies for your Amazon business. You want to consider the following:
How can you maintain or improve customers' price perception?
Are you underinvesting or overspending on promotions and deals?
How pricing plays a role in the customer value proposition
What tools and techniques can you use to stay updated with pricing strategies?
Most importantly, how do you find the right price and promotions to maximize your ROI?
Why should you have a tailored pricing strategy?
The pricing strategy helps a business select optimal prices to generate profits while considering customer perception, market demand, and stakeholder value. However, there is no one-size-fits-all when it comes to pricing a product or service. So Amazon sellers should experiment with various pricing strategies and find what works best for them.
Let's get practical with pricing your products
Determining the right price for your product isn't an easy task because your product price decides the profits.
Reducing prices can boost sales
Minor optimization in prices can result in higher conversion rates and an increase in sales
An increase in conversion rates can result in the following:
Rising prices when a competitor runs out of stock
Well, this may not always give an optimal result. However, increasing prices when a potential competitor product goes out of stock results in:
An increase in daily profits and sales
Slight improvement in conversion rates
Increasing prices can reduce AOV but boost profits
If you increase the average selling price (ASP) of your products, your average order value (AOV) may take a hit. However, you can yield better profits.
Here's an example: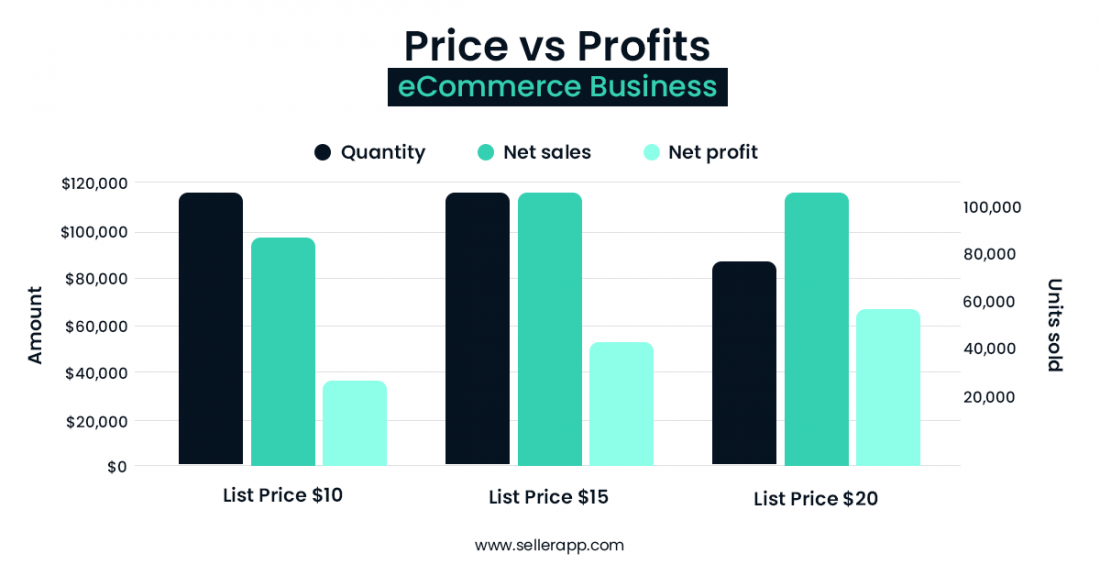 1: The listing price is $10; you sold more units and got a low net profit
2: The listing price is $15; you sold a similar number of units and got an average net profit
3: The listing price is $20; you sold lesser units compared to the previous two cases but generated higher profits
That's the impact of pricing on profits.
Increasing prices when inventory is limited
A few sellers increase prices when inventory is limited to avoid the risk of losing organic rankings on Amazon. This can further boost your profits marginally.
How to get your pricing strategies right
Customer, channel dynamics, competition, and business model are the core aspects while defining your pricing strategy.
Why these metrics, you ask?
These metrics help you prioritize your revenue goals that are not solely driven by competition or customers.
Along with that, here are a few strategies to consider when developing pricing strategies for your Amazon business.
Define goals
Your pricing strategy varies depending on your business goals. Your goal could be to increase profit margins, expand to new geographies, or something else. Learn how these can influence your pricing strategy.
Costs associated with the product
To stay profitable, you must consider costs like shipping, manufacturing, and marketing. Ensure your price covers all these costs and helps you get the margins you want.
Competition
Discounting and price play a major role in customer purchasing decisions. So studying competitors' pricing strategies and dynamically monitoring prices play an important role in increasing your product sales and conversions.
Consumer insights
Understanding customer perception towards your product is critical. Track how they interact with your products and their sentiment towards them and similar competitors' products on Amazon and any other e-commerce marketplace.
Define your buyer persona that describes your ideal customer and their interests, prices,
Unique Value Proposition
What is the gap that you're trying to fill in the market?
Take time to look at your competitors' buyer personas to determine the attributes that are missing from their strategies. Use these gaps to enhance your marketing strategies and elevate your brand.
Channel dynamics
Are you selling on a marketplace driven by discounts? Is the category that you are selling dominated by low-priced products? These are a few questions that you should consider when deciding your pricing strategy. Remember that Amazon matches the price of your product on any other e-commerce platform.
How to create pricing strategies on Amazon
It's important to price your product effectively and still make profits. Let's look at different pricing strategies that you can use to scale your business on Amazon.
Automatic Rule-based pricing
Automatic or Dynamic pricing is used to adjust prices that align with competition and seasonal trends. You set up different pricing rules and track the sales. It's a streamlined way of pricing your products, eliminating the manual process. This method helps you configure rules like the maximum and minimum prices you want to set.
The amazon repricing tool automatically updates your product prices and helps you maximize your return on investments.
When you should use
Opt for automatic rule-based pricing when you want control over the price ranges within your SKU. Furthermore, you can decide what SKUs to include for repricing.
You can leverage rule-based pricing tools that are mostly free in the market.
Algorithmic repricing
These tools leverage built-in algorithms that enable strategic repricing for price changes. These algorithms are self-learning, so the more you use them, the better they get at pricing your products.
Most algorithmic repricing tools leverage metrics like historical sales data and sales velocity to analyze prices that work. These tools analyze the best prices at which maximum sales are generated and capitalize on them to help you hit your sales goals faster.
When you should use
Algorithmic pricing is mainly used in competitive scenarios. It helps you avoid human bias and use market insights to make strategic pricing decisions.
The algorithms work in real-time, so they dynamically shift based on your business goals and profitability.
Manual repricing
It is one of the common pricing strategies used by most e-commerce businesses. You manually adjust prices on your listings to compete with other sellers.
When you should use
If your portfolio has a limited number of ASINs, this technique will give you control over the price changes. Having said that, sellers with more products may find it hard to constantly optimize the prices of listings. Moreover, it could result in pricing errors, which can be costly mistakes for the business.
This table helps you understand different pricing strategies for your Amazon business.
| Pricing Strategy | Explanation |
| --- | --- |
| Dynamic pricing | This is measured by having a flexible approach based on market demands |
| Cost-plus pricing | You can enable this strategy by taking the costs of products and marking up a fixed percentage |
| Competition-based pricing | Set the prices based on your competitors' strategies. |
| Value-based pricing | You can calculate this pricing based on the perceived value of a product or service. |
| Price skimming | This is calculated by enabling a high price during product launch and drops later as consumers learn more about the product. |
| Penetration pricing | Set an initial low price to enter a competitive market, and prices are raised thereafter. |
If you want to learn more about the additional e-commerce pricing strategies, you can refer to this link.
Mastering the Buy Box algorithm to increase sales
You might be wondering what Buy Box has to deal with pricing strategy. Along with pricing, several other factors influence your sales and chances of winning Buy Box on Amazon.
They are
Order defect rate (ODR): Measures the customer service standards
Fulfillment method: Sellers using Amazon FBA have a higher chance to win Buy Box as they offer quick delivery options.
The return rate on Amazon
Availability of stock
Seller response time
Shipping time
Reviews and ratings
The short story is…
Pricing decisions are crucial for your Amazon business growth. Don't just follow the crowd or your gut to price your products, as you may end up paying a hefty sum. Find a balance between selling as many units as possible and making better ROI. Therefore, make data-driven decisions to beat market fluctuations and competition.
Additional Read;
Profit & Loss Statement for Amazon Sellers.
Was this post helpful?
Let us know if you liked the post. That's the only way we can improve.