Amazon Canada is a lesser-known marketplace, but it offers plenty of opportunities. There are 15.9 million monthly unique visitors, and they are growing fast!
While Amazon Canada isn't as big a market as Amazon U.S., its growth has been impressive with an average annualized sales volume of over $3 billion USD. Not only that, according to eMarketer data, there were nearly 16 million unique Canadian visitors browsing or buying items through Amazon Canada sites – these numbers are music to any seller's ears!
If you're an existing Amazon seller outside of Canada, or a Canadian resident looking for a marketplace for your products to thrive, then Amazon Canada might just be what you've been waiting for.
Let's get started!
Why should you sell on Amazon.ca? 
Canada is a hotbed of potential for any Amazon seller as it is estimated that revenue generated from e-Commerce sales will surpass 33 billion U.S. dollars by 2024 (Source). This means that if you sell an item to Canada, you can expect a 10%-20% boost in sales as compared to amazon.com 
As Amazon.ca becomes more popular with Canadians, the competition will continue to increase, however, if you decide to expand your Amazon business into Canada, now is the best time to solidify your ratings and reviews in amazon.ca while the competition is weak.
One benefit of selling on Amazon.ca is that they allow multichannel fulfillment which means your Canadian customers can get orders from your website shipped directly from within Canada; avoiding duties or long transit times.
Canada has one of the simplest taxation systems when it comes to purchases because everything falls under their "harmonized" system of collecting just one type of tax for anything you buy there.
Recommended Post : Amazon Statistics (Seller, FBA, and Product) That'll Surprise You
How to Sell on Amazon Canada
When it comes to business, you can never implement the one-size-fits-all approach. Before starting your own, make sure it's the right one for you.
Find the right product to sell
Pick a business model and do some research on how profitable other companies in this industry were last year. Also look at what they offer as services, whether those goods/services are popular enough to sustain them financially (especially if there is an up-front cost associated with purchasing them), and so forth.
The best-selling products vary from one marketplace to the other. To find out which ones are hot in Canada, use SellerApp's product research feature to explore what is trending locally and across various global markets.
How to sign up for the Amazon.ca seller account
This guide will walk you through everything you need to know about signing up for an Amazon seller account in Canada. Based on your needs, you may qualify for either the Individual or Professional plan.
Individual:
If you're just starting out and don't have a lot of capital to invest in inventory, then Amazon's awesome Individual Account is perfect for you! With no monthly fee, it's a great way to get down to the e-Commerce business without committing. For just $1.49 CDN per sale, you can give this model a try and see if selling online is for you!
Select the individual plan if:
you're a seller that sells fewer than 20 items per month. Note: if you sell more than 20 items, your total per-sale fees will exceed way beyond the professional selling plan.
You don't require the advanced selling tools or add-on programs that come with the professional selling plan.
You haven't decided yet on what to sell.
Related Post : How to Sell on Amazon as an Individual Seller – Step-by-Step Guide
Professional:
If you're selling more than 20 items a month, the professional account will be your best bet. You'll get advanced tools and advertising capabilities that come with it for just $29.99 CDN per month! The professional selling option also includes advanced selling tools and advertising facilities.
The professional seller plan also comprises three advanced selling programs – handmade, launchpad, and amazon business.
Handmade – supports local makers, allows selling handmade items, suitable for selling home decor items, beauty products, and jewelry.
Launchpad – supports innovation as they allow small brands to sell unique products, get gift ideas and increase brand visibility.
Amazon Business – allows big brands like Fortune 500 companies to sell from 9 countries – Canada, United Kingdom, Germany, France, Italy, Spain, Japan, India, and the U.S.
Now, let's begin with the registration process:
How to register on Amazon.ca
Things required to sign for Amazon.ca seller account:
Bank account details, including your account and routing numbers
Credit card details
National identification proof
Tax information
Phone number
Visit the website – Sell on Amazon and click on "start selling".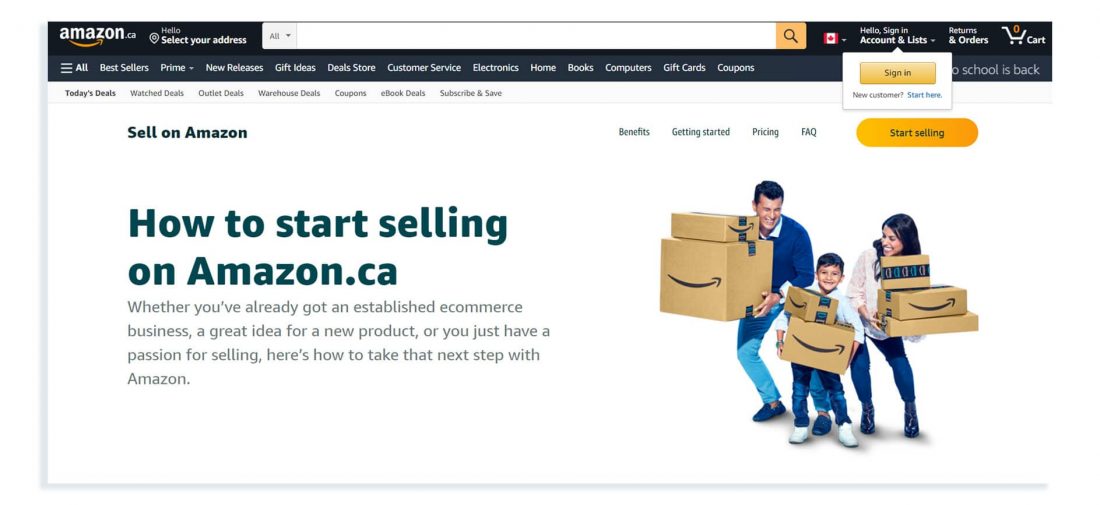 Now, create a new Amazon account with your email and password.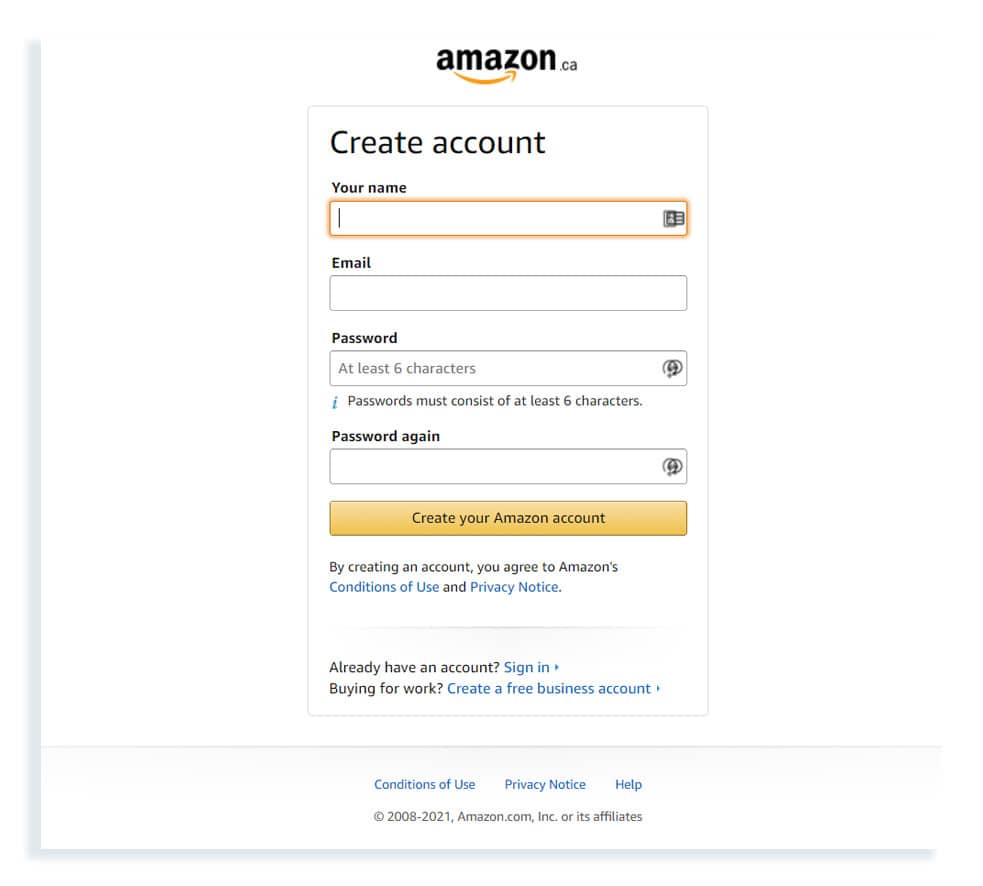 Enter your business details and location. Note: Even if you don't reside in Canada, you can sell on the Canadian marketplace, how? We will get there shortly!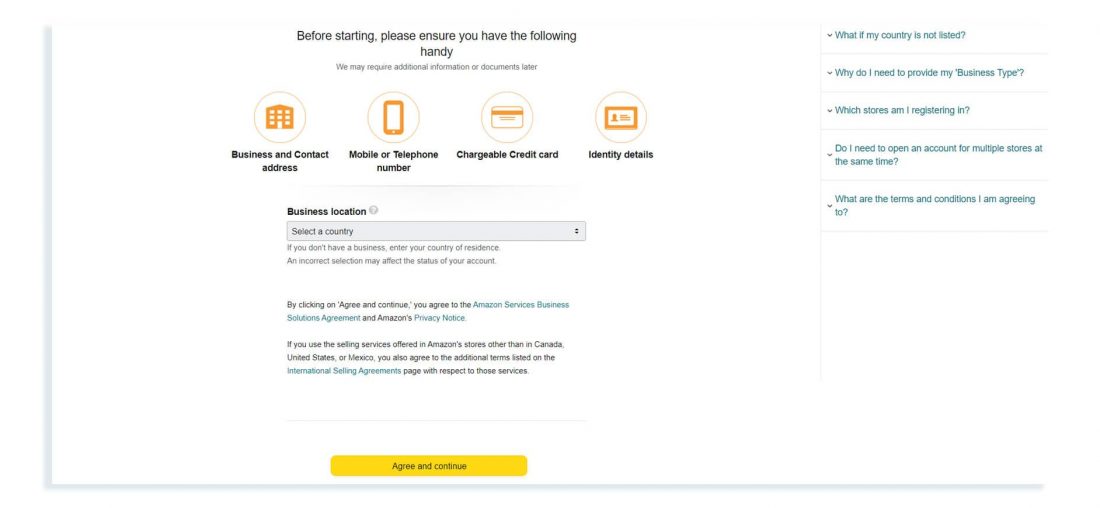 Next, for Business Type, you will have to choose from the following options:
State-owned business
Publicly-listed business
Privately-listed business
Charity
None, I am an individual
Choose the "None" if you do not have a registered business. Or else, choose the option that describes your business appropriately.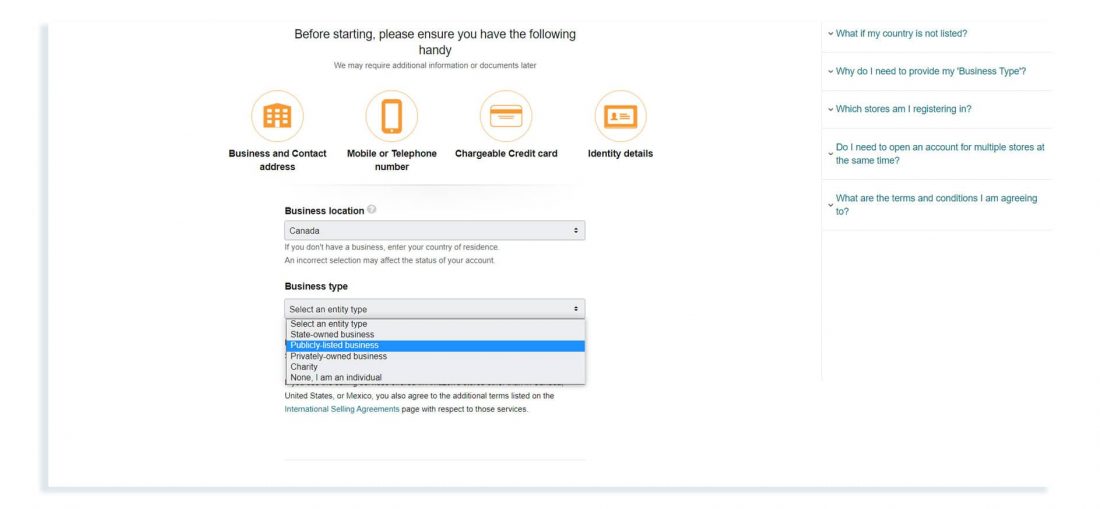 In the next step, you have to fill in the following details:
Your physical address
Phone number
DOB
Billing and bank account information
Store name and selling plan
When you sign up for an Amazon account, Amazon will need to verify your account before approving it. Once the verification is complete and approved, you can start listing your products on sale!
Fulfillment Methods to sell in Canada
Sellers have 2 options when it comes to shipping their products: Fulfillment by Amazon or fulfilling orders themselves.
Sellers in the Canadian marketplace can take advantage of Fulfillment by Amazon (FBA), but they also have a choice of handling packing and shipping on their own through Fulfilment by Merchant (FBM). Some sellers prefer this option because it could offer them more control over their inventory, and it also reduces shipping inbound fees.
FBA – Fulfillment by Amazon
FBA has many advantages that make it more appealing to most sellers. Sellers use FBA because they save time and add convenience in comparison with handling an order manually themselves, or through third-party shipping services. With Amazon's fulfillment program for retailers, you can store your products at one of their warehouses and the Amazon staff will pick, pack and ship the orders for you once a customer makes a purchase.
Another crucial benefit of selling through FBA is that all purchases are automatically eligible for prime shipping which ensures fast delivery within 1-2 days.
A new study from Sellbrite proves just how effective these programs can be on your business when done right. They studied a seller who was operating an FBA business with 20 active items at any given time, acquired around $21K per month gross sales revenue over 10 months of selling their goods through Amazon's fulfillment program via Seller Central. This proves that Amazon algorithms are in place to help you. They make FBA products more visible on searches, as compared to FBM items.
FBM – Fulfillment by Merchant
FBM means that the seller will manage their own storage, fulfillment, and customer service. Some sellers prefer to use FMB because they can save money by avoiding Amazon's fees and inbound shipping costs. Most FMB sellers now outsource fulfillment services using third-party providers.
Amazon Canada Seller Fees
One of the most important things you need to do before selling on Amazon Canada is estimate how much it will cost. Selling via FBA or FBM means you'll be responsible for some seller fees, which vary depending on if your inventory goes through an agent (FBA) or directly from a supplier (FBM).
You may have to incur transport costs due to importation and customs duties charges; however, sales taxes are not very complex when it comes to Canada. For more information about tariffs as they apply specifically to items coming into Canada, please visit https://www.cbsa-asfc.gc.ca/menu-eng.html
Referral Fees
If you're looking to sell your items on Amazon, the referral fee is a commission that you have to pay to Amazon for selling on its platform. It typically amounts to 15% or less of the product's sale price
Amazon automatically deducts its referral fees after each sale is made. You will earn your profit minus their 15% commission (and any shipping costs if selling via FBM). Amazon deducts whichever of these two amounts are larger: either the percentage for that item or a per-item minimum fee, which varies depending on what you're selling and its price.
Fees paid by FBA Sellers
If you decide to use the FBA fulfillment method, Amazon charges additional fees for handling your storage, packing, shipping, and customer services. The number of fees that FBA sellers pay is determined by the size and weight of the items sold.
FBA Storage Fees
On top of the costs associated with fulfilling an order, sellers are also responsible for storage fees if they sell on FBA and use Amazon's warehouse space. There are two types of long-term storage: monthly or yearly.
Monthly Inventory Storage Fees
Amazon's monthly storage fees are charged within 7-15 days for any given month. For example, to see your inventory storage fee for January refer to February's payments report (which includes transactions from 7th -15th Feb).
Standard size products may be cheaper but require more complex shelving than oversized ones and so can actually end up costing you more in terms of long-term costs if not considering these factors carefully at the planning stage.
Long-Term Inventory Storage Fees
Amazon long-term storage fees are calculated on the 15th of each month and items that have been stored there for over 365 days will be charged $150 per cubic meter.
Canadian Tax System and Regulations
Canada has a GST/HST, i.e. federal sales tax system that has been simplified by being applied to each province. There are only 13 provinces and territories, making it easy for Canadians who live outside their home region to remit what they owe in one simple form.
The table below describes which type of taxes are applicable in each province and territory:
Sales Tax Type
Provinces
GST
Alberta = 5% GST
Nunavut = 5% GST
Northwest Territories = 5% GST
Yukon = 5% GST

GST and PST/RST/QST
British Columbia = 5% GST + 7% PST
Manitoba = 5% GST + 7% RST
Quebec = 5% GST + 9.975% QST
Saskatchewan = 5% GST + 6% PST

HST Only
Ontario = 13%
New Brunswick = 15%
Newfoundland = 15%
Nova Scotia = 15%
Prince Edward Island = 15%

How to sell in Canada from the U.S?
Amazon now allows sellers to sell on Amazon.com, Seller Central Canada, and Mexico with just one account! This means that you can conveniently switch between U.S., Canadian or Mexican tools in seller central without needing separate accounts for each marketplace.
Amazon makes it easy to sell in Canada from the United States. You don't need a registered Canadian business or bank account anymore – all you have to do is connect your US-based account with your Canadian seller account and use Amazon's Currency Converter for Sellers, which will automatically convert earnings into your local currency.
Product Listing on Amazon.ca
You can easily transfer your US listings over to the Canadian marketplace in just a few steps. In your unified account, switch over to Canada from the drop-down menu and enter an ASIN number for your products that are already available on Amazon.com.
Once you've done this, all the information from your U.S. listing will automatically load for your new Amazon.ca listing. From there, click "Sell This Product" and go to the next page.
The best thing about this is that all of your Amazon.com reviews will automatically get transferred to your Amazon.ca listing.
Now, simply enter your price, SKU, condition, and fulfillment method on the offer page, and you are ready to sell your products to Canadian customers.
Note: Your prices will be higher in Canada due to FBA fees and exchange rates. You can use a currency conversion calculator to get an idea of the current exchange rate for USD to CAD.
Sending Inventory to Canada
Sending merchandise to Canada can be a little tricky. If you are shipping FBA inventory into the country, we suggest sending less than what is sent to an Amazon US warehouse (at least until you figure out how much product will sell per month). The Canadian market is smaller and may not need as many goods on hand as the US.
Before you begin with the shipment process in Canada, make sure you read the Canada Border Services Agency's Importing commercial goods guide.
You can use SellerApp's Product Ideas feature to get accurate insights on the Canadian sales volume of your niche of products.
Things you need to know when selling on Amazon.ca
Amazon FBA fees may be higher in Canada
Canadian Exchange rate is not stable
Canadian duty rates tend to be higher than the U.S.
Amazon has no partnered Carriers that goes to Canada
You need a Business Number to import items to Canada
While you are sending UPS/FedEx etc. to Canada, make sure you have cleared the DDP (Delivered Duty Paid) process, otherwise, Amazon will reject your shipment.
Canada has a GST System.
What is North America Remote Fulfillment and is it beneficial?
For sellers on Amazon's US marketplaces who want to sell products outside their home country there are two solutions: build your own warehouse/fulfillment center in another locale, so you can ship your goods from one place while maintaining inventory across different markets, OR enroll yourself in the NARF program.
In 2019, Amazon introduced North America Remote Fulfillment or NARF. This program allows your Amazon products in the United States to be shipped into Canada and all aspects of taxes/duties, shipping will be handled by Amazon once they are ordered on Canadian soil.
While this is great for those who don't want to go through sorting international orders themselves, it can be seen that sales volume when using this service can often drop by 90% or more as compared to physically shipping your products to Canada.
Conclusion
If you're just starting out as an Amazon Seller, or if your business is expanding to the Canadian market for the first time, we hope this guide helps.
If you need more information on product ideas that will resonate with your customers or identify top-notch keywords and product listing optimization, make sure you follow our Youtube Channel.
Additional Read:
Is Amazon Pay Good For Sellers?
The Amazon Wish List – Everything You Need To Know
Top 5 Problems Encountered by Newbie Amazon Sellers
Merch by Amazon: How to Get Started
Was this post helpful?
Let us know if you liked the post. That's the only way we can improve.