At SellerApp, we always monitor the latest PPC trends and updates on Amazon. It allows us to make informed decisions about PPC (pay-per-click) campaign optimization and do what it takes to supercharge your business. In this post, let's see what's new with Amazon advertising and learn how you can capitalize on the changes.
What's new with Amazon advertising?
It's been a whirlwind year for Amazon and everybody else. From logistics to seller storefronts, Amazon made significant changes in various aspects of the marketplace. Along with that, Amazon had introduced new features in the advertising platform to enable more engagement among the customers.
Let's deep dive into the latest updates of Amazon advertising one by one.
Amazon sponsored brands store
Within the sponsored brands, you can now feature store pages. This will help customers discover different product categories available within your store. As a seller, you can showcase up to three store pages in sponsored brand ads and also customize the page image, headline, and label.
It's exciting to see that Amazon is adding a lot of potential features and formats to Sponsored brands. Sponsored brand ads are a great way to cut through the noise and showcase your brand personality on Amazon. We can expect a lot of changes on the platform.
What's new with Amazon-sponsored display?
Sellers can now use product targeting within sponsored display ads. This means you will have more control over your campaign and reporting metrics. Furthermore, it will help you plan your advertising strategy more effectively.
For those of you who don't know, sponsored display product targeting ads may appear alongside customer reviews, search result pages, product descriptions, etc.
Note: This feature is currently available for sellers and vendors across the US and Amazon Canada.
P.S: Did you check out our most anticipated event of the fourth quadrant – Amazon Q4 Mastery?
Amazon experts from all over the world participated in this Q4 event and spoke about what it takes to be successful on Amazon.
Related Post : Amazon Sponsored Products vs. Amazon Sponsored Brands
Billing dashboard on advertising console
Amazon updated the billing dashboard feature on the advertising console. Agencies and marketers can see a consolidated view of billing actions on the payments page. This can be seen for all linked accounts within the manager account. With this, you can get access to billing metrics such as payment status, unpaid invoices, the amount due, etc. On the other hand, you can also download all unpaid invoice details, account name, the amount outstanding, invoice due date, etc. in a CSV format.
Kindle Edition Normalized Pages Read Metric
Amazon has added Kindle Edition Normalised Pages (KENP) Read to the advertising performance dashboard. This update is for book sellers on Amazon. It is something that the authors have been wanting for quite a while. This new addition is only applicable to authors with their ebooks enrolled under Kindle Unlimited.
How does this metric help?
This metric helps you understand the page volume read by a customer after clicking your ad.
The estimated number of pages read attributed to a campaign is tracked up to 14 days after the customer clicks on an ad. This metric operates when a sponsored product ad featuring a Kindle ebook is clicked and borrowed by the customer through Kindle Unlimited (KU) or Kindle Owner's Lending Library (KOLL). Also, if a customer reads when the reading device is offline, Amazon will update the KENP Read metric for a specific date when the device comes online. Therefore, the updates may slightly vary for certain dates.
Note: Amazon says that KENP Read is automatically enabled for accounts and requires no action from the seller, with data reported as of July 15, 2020.
How to make the best use of Amazon marketing services?
With millions of people buying and selling on Amazon, it's easy to get lost. You don't want to waste your time and money selling on Amazon while your products get buried on the platform. So the key is to have a competitive advantage that maximizes your ROI. That means you often have to pay to play in the Amazon Marketplace.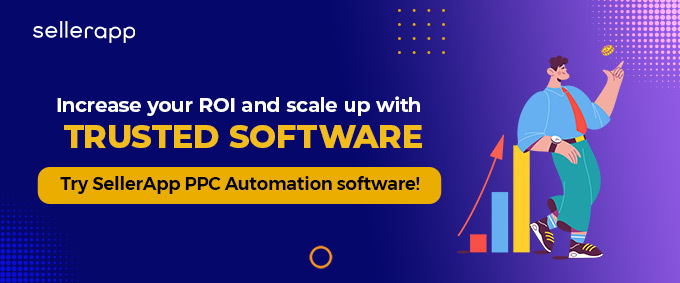 Next steps – Do you need an expert?
I would say unless you're an expert at Amazon PPC optimization, hiring an Amazon marketing agency is the best way to grow your business. Of course, you can choose to learn the strategies one by one and implement them yourself. It consumes lots of time and money. Wouldn't you rather leave it to the experts in the field?
How to choose an Amazon marketing service?
At this point, you might already know that Amazon PPC campaigns are constantly evolving. Having a solid foundation on Amazon PPC management is good, but with the options frequently changing, you need to pick up the pace and stay ahead of the game. Having an entire team of PPC experts will ensure your ad campaigns adapt to the changes and remain effective. Regardless of the package you choose, your Amazon PPC agency should be able to give a sense of direction to your Amazon ad accounts.
Recommended Guide: Amazon Marketing Services(AMS).
A transparent marketing strategy is all you need
At SellerApp, we value integrity. You're always in the know about the PPC strategies we use in order to enhance your sales. You get to know every aspect of the AMS account through weekly, bi-monthly, and monthly reports from our AMS team. With this upfront approach, you'll know how our efforts increase your revenue on Amazon.
Steps to scale your revenue – How do we get started?
To date, SellerApp has worked with more than 35 7-figure sellers on Amazon. With our experience and expertise, we streamlined a dynamic process to scale an Amazon business.
For instance, if you are a new brand or a mature business trying to enter into a new market or capture a potential audience, we analyze the following steps before we do the actual PPC optimization.
Product or brand audit
Discoverability and desirability analysis
Optimize for Amazon SEO
Promotional strategies (based on client's goals)
Advertising plan
Once we analyze these metrics, we suggest a customized plan for each individual account based on what they try to achieve.
Note: As I mentioned, we customize the process and plan based on your end goals.
Want to see the real results?
If you want to see the real results, get in touch with our consultant, and learn what it takes to succeed on Amazon. You can also sign up for SellerApp 7-day free trial and try our in-house data intelligence tools that can supercharge your Amazon business.
Additional Resource:
9 Amazon Advertising Trends and Predictions for 2021
Ultimate Guide to Amazon Kindle Direct Publishing
How Voice Search Will Affect eCommerce SEO
Amazon Q4 Mastery is Back! Here are all the deets!
Amazon Lending vs. Inventory Financing: Which Option is Right for you?
Was this post helpful?
Let us know if you liked the post. That's the only way we can improve.