The moment you walk into a grocery store or supermarket, you are immediately bombarded with an array of brightly colored goods. There's no mistaking the red and white of a Coca-Cola. You can notice that bright-red bottle of Heinz ketchup from a mile away. The identities of these iconic brands are crystal clear for everybody who has come across them. Just the colors are enough to evoke an emotive response from a customer.
Online retail plays by the same rules. But how can you build a visual identity for your brand that evokes the same response? Well, we start with the packaging.
Importance Of Amazon product packaging
The purchasing experience does not end once the order is placed. Remember the excitement that you feel when unwrapping a present? Most people feel the same sense of excitement when opening their Amazon package. So, your packaging is the first impression that your product is going to make. Sellers need to make sure that it is the best impression.
The first thing sellers need to do is make sure the packaging is sturdy enough to protect the product in transit. That is the primary function of Amazon product packaging in the first place. No seller wants their products to be returned because of damage during shipping.
Sturdy packaging is the bare minimum and doesn't help a product stand out. To create a lasting impression and enhance the customer experience, the packaging needs to be appealing and informative. Let's take a look at this product packaging by Teeccino.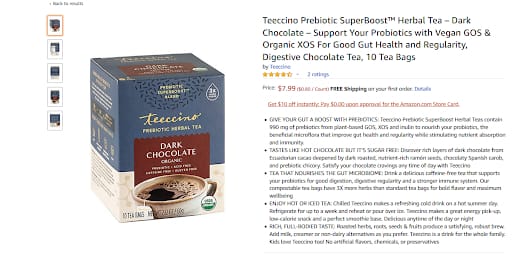 The moment you open the product listing, your eyes are entranced by the contrasting colors used by the brand. The brand name is prominently displayed, and the design is minimalist. The packaging by itself gives you a whiff of freshly-brewed coffee.
How does this help sellers boost their sales?
A well-designed package can help sellers in the following ways:
Brand recall
If you create packaging that stands out, you can be sure that customers remember. Brands like Coca-Cola and Apple have unmistakable packaging. The moment you see the part-eaten apple in a minimalistic design, you can be sure that the product was made by apple. Well-crafted packaging can have the same impact on your brand.
Customer retention
Customers care about every part of the purchasing cycle. From the product listing on a retail platform to the final unwrapping of the product, a customer expects a great experience. If you pay special attention to each part of the buying process, your customers are always going to come back!
Perceived value
Your product packaging sets the tone for the product. What does that mean? In short, a customer assumes the quality and value of the product based on its packaging. This perceived value of your product sets the tone for consumer expectations.
Before you start designing your packages, there are a few Amazon guidelines you have to follow.
Amazon product packaging requirements
Amazon lays a heavy emphasis on what you can and cannot do while packaging your products. Whether the order is Fulfilled by Merchant (FBM) or Fulfilled by Amazon (FBA), these guidelines are non-negotiable. This includes some vital information that needs to be prominently displayed on each package.
If you are an FBA seller, there are a few more requirements you have to meet to ship products to the online retail giant. If you fail to comply with Amazon's requirements, the e-commerce giant has the right to refuse, return, or repackage any product. So, what are some of these additional requirements?
Fulfillment Network Stock Keeping Unit (FNSKU)
FNSKU is the scannable label that is designed to help Amazon sort its inventory. It is the engine that keeps Amazon fulfillment centers running, helping employees and machines sort, find, pack, and ship your products. Each product should have a unique FNSKU code. If the product has a barcode, you need to paste the FNSKU over the barcode.
A unique FNSKU is created every time you create a product listing. You can follow these steps to obtain an FNSKU for your products:
Create a product listing with FBA (this will generate the FNSKU of your products)
Go to 'Manage FBA Inventory' and find your product
Click on the drop-down menu next to the product and select 'Print Item Labels'
Click 'Print Labels' and confirm the selection
Affix your FNSKU to your products
Country of origin and other legal information
All products that are imported into the US are required to have the country of origin prominently displayed on the Amazon product packaging.
Many products also have specific legal information that needs to be mentioned on the packaging. This varies from product to product. Toys, for instance, need to include the recommended ages and choking hazard labels if necessary.
No matter what product you're looking to sell, you need to thoroughly scan Amazon's requirements to understand the various legal requirements for packaging. A useful way to obtain this information is by analyzing the packaging for a similar product.
The safest way to ensure that you have updated and relevant information about the packaging is to get in touch with a customs expert or use a logistics service.
Amazon product packaging design tips
The design on your packaging is what will help your product and brand stand out. Once you make sure you follow Amazon's guidelines for packaging, it is time to enhance the customer experience with creative designs that highlight your brand and products. The main question here is, how?
Every brand, at the end of the day, wants to create a unique shopping experience for its customers. Whether it is a supermarket or online retail, product packaging can play a large part in how people perceive the brand or product. While there are no fixed rules on how to create effective Amazon packaging, there are a few key factors to consider when creating a design.
Keep it clear and simple
Consumers love it when information about a product is easily and readily available. This is true for your product listing and your Amazon product packaging. The key to great packaging design is simplicity. Do not clutter your packaging with irrelevant information about the product. Ensure a minimalist design where the key information is prominently available.
There should be no room for confusion. Do not mislead your customers with inadequate information.
Pay attention to aesthetics
In e-commerce packaging, aesthetics is everything. Over 120 million products are being sold on Amazon. You need to make sure your product and its packaging pop out. The best way to illustrate the importance of aesthetics in packaging is by taking a look at these different listings for 'color paper.'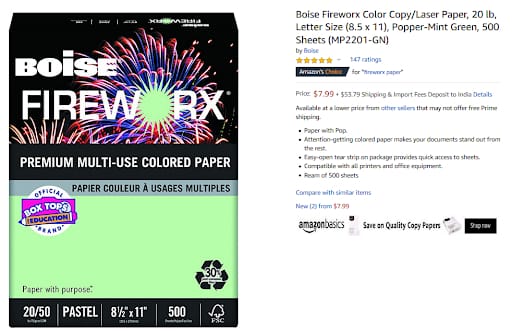 This listing for 'Boise Fireworx' only comes with one image. While the packaging is tidy, the colors are uninspiring and hardly stand out. This, in my opinion, is very average packaging.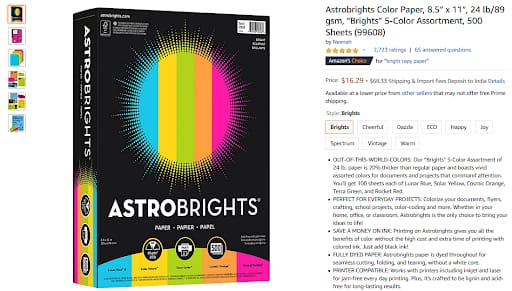 This 'Astrobrights' packaging on the other hand is minimalistic, vibrant, and colorful at the same time. The packaging pops out the moment you open the listing.
Just from first glance, I am more inclined to buy the 'Astrobrights' product. The aesthetics of the package will lead more customers to believe that the product is of higher quality. In short, better packaging improves the perceived quality of the brand and the product.
Target the ideal demographic
Everyone has a different taste when it comes to design and aesthetics. While creating your packages, it is important to understand what your ideal customer is looking for. Understanding your key customer base can go a long way when creating a design that will appeal to them.
Consistency is key when you're building a brand. Even simple features like fonts and colors can have a massive impact on brand recognition. Take McDonald's as an example. A bright yellow arching 'M' is now the brand identity of the fast-food giant.
The typography, design, and color palette illustrate your brand identity. Your ideal design will vary depending on your product and your ideal customer. If you're selling kids' toys, brighter colors might be perfect. For high-end electronic goods, bright colors might make the product look cheap and unappealing. No matter who your ideal customer is, brand cohesion is crucial.
Add company contact information
While this is no longer a requirement for brands registered with Amazon, there is no harm in giving customers your company's contact details. Key contact information being readily available is a strong indication that a company is open to feedback from its customers.
Enhance customer convenience
No customer likes unpacking layers and layers of product packaging. This problem will only be exacerbated if the person is environmentally conscious! This is why you should always ensure that your packaging is designed for consumer convenience. Ergonomic designs that make it easier for consumers to open and repackage the product can exponentially enhance the unwrapping experience.
For instance, when Heinz (a food processing company) flipped the packaging for its ketchup products, sales skyrocketed. The design had made it simpler for consumers to use the product. The upside-down bottle enhanced customer convenience.
Add product inserts
Personalized product inserts are a great way for brands to get in touch with consumers and request reviews and seller feedback. This tiny card or pamphlet can have other uses too.
If you want to highlight some key features and benefits of the product, inserts can come in handy. You can also use inserts to direct customers to your website or social media handles. This is also a great opportunity to thank your customers with a personalized message and introduce them to similar products sold by the brand.

Amazon product packaging – what not to do
While there are quite a lot of things you need to do to create an appealing package for your product, Amazon has strict guidelines about what you shouldn't do. Your account could be suspended if you are in breach of the company guidelines.
Avoid marketing materials
Amazon has a strict policy against direct marketing materials. They will not accept marketing materials such as pre-priced labels, pamphlets, price tags, or other non-Amazon labels.
Do not incentivize feedback
While it is alright to ask for feedback with a product insert, you have to be very careful about the language you use to request feedback. Always be neutral when asking for feedback and reviews – whether it is negative or positive. Do not ask for positive feedback.
You cannot incentivize feedback with discounts or coupons either. While you can offer coupons or discounts, it cannot be instead of a positive review or positive seller feedback.
Choose the right packaging for your product
While there are no rules on the type of packaging you choose for your product, it is important to understand your options when deciding on the product packaging for Amazon.
Bag packaging: This is the simplest and cheapest form of packaging which is great for loose items. You can also add brand elements to your bags, but they will never have the perceived value of a well-designed package. Bags can be created from a variety of materials and come in different shapes and sizes. The most common bags you will come across are poly or plastic bags.
Sleeve packaging: This is often just a simple fold of cardboard that allows for a fair bit of branding elements. While they are sturdy, products are often exposed to the elements due to the package design. We recommend using poly bags to cover the products to prevent damage.
Box packaging: This is the most common type of package used by Amazon sellers. It is sturdy and protects the product. Moreover, box packaging gives sellers plenty of space for effective branding.
No matter what type of packaging you choose, we recommend hiring professionals to design and create packaging.
Final thoughts
Amazon Product packaging is easy to ignore, but it can eventually make a massive difference when it comes to customer retention and satisfaction. This is all the more important if you are launching a private label and creating a brand with a vision for long-term profitability. Everyone loves an unboxing experience, and it cannot be ignored if you're looking to make millions on Amazon.
While aesthetics are subjective, you should always look to design packaging that will appeal to a large segment of your consumer base. Make sure the packaging is convenient to open and reuse if necessary. Even the smallest design change can make a massive difference in how people perceive and use your products.
While most designers swear by pastel colors, the final design choices need to reflect your product and your brand values.
Was this post helpful?
Let us know if you liked the post. That's the only way we can improve.