Brand positioning helps you find the place you wish to occupy in consumers' minds amid the noise out there.
To earn this place, you have to send your customers a clear message about who you are, what your brand is about, and what your reputation is.
The online retail model allows customers to differentiate products and services with the comfort of their desktop or mobile phone. There are social media platforms, word-of-mouth recommendations, and marketplaces like Amazon and Etsy that influence a shopper's purchase. The interesting thing is that many customers rely on Amazon for product reviews more than they rely on Google.
If you are selling on Amazon, you might have a question – Am I uplifting my brand value and positioning by associating my brand with a major marketplace like Amazon?
To answer that, I would say that brands need to leverage all the factors to accelerate their positioning and online presence. What are these determinants that influence your brand on and off Amazon? Considering the dynamic nature of consumer behavior, how would you create a strong position to distinguish your brand from the competition? Let's learn how.
Quick Guide
1. Brand Positioning on and off Amazon
I am going to share the strategies that will help your brand flourish both on and off Amazon.
But before that, what is brand positioning? Why is it important?
Brand positioning involves creating brand associations in customers' minds making them perceive your brand the way you want. By positioning your brand according to customer preferences, you will promote customer loyalty, willingness to purchase, and credibility among the consumers' minds.
Let's start by learning from the retail giant – Amazon.
Why is Amazon so successful?
The straightforward answer is its relentless commitment to customer service.

Its mission is clear – to make its customers happy. Every strategic move, every new feature, and everything the company does is to enhance its customers' experience.
The company's original tagline was 'Earth's biggest bookstore.' As the organization grew exponentially and increased its product line, it is now known as the world's largest e-commerce business retailer. Today, customers can find anything they'd like to buy on Amazon, making product choice one of its biggest strengths.
Second, price is yet another differentiating factor that led to the successful brand positioning of Amazon. The company is very dedicated to offering lower prices than its competitors. Then we have Amazon Prime, two-day expedited shipping, and other features that align with its goal to be the most customer-centric company. This shows that the company's innovations are customer-centric, and the important part is that the customers are always informed about these updates.
To know how to Hypercharge Your E-commerce Brand With Revenue-Based Financing, click here.
Speak your customer's language
If you want to attract customers, you must communicate in a language that they understand, or should I say in a language they 'talk.'
Let me give you an example.
Netflix has a consistent track record of customer interaction and services. As an entertainment brand, they know how to stay away from the typical corporate tone and keep it casual with their customers. Clearly, they speak their customer's language.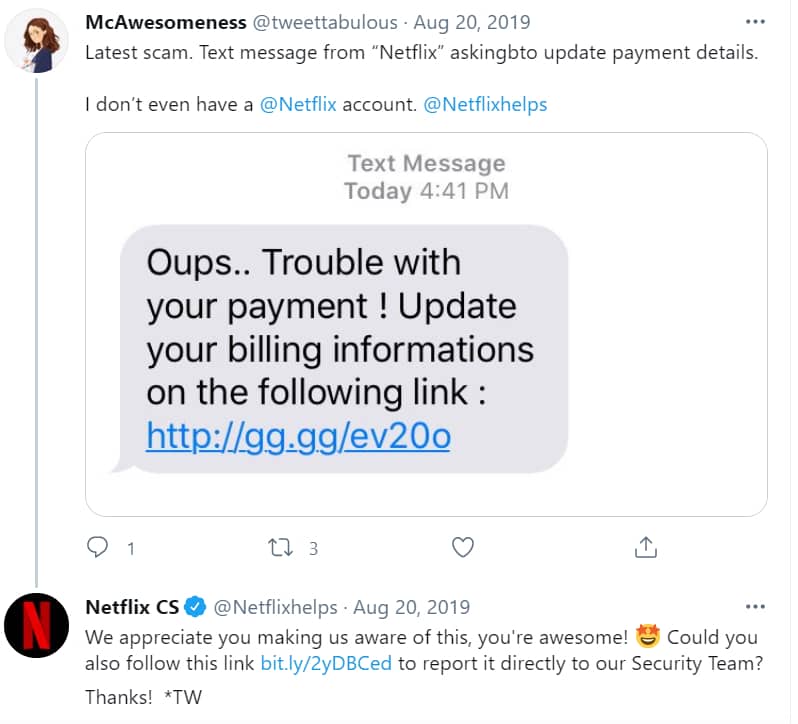 (Source: Twitter)
How do you do it too?
First, understand what your customers are looking for in your product or service? Are they concerned about the price, convenience, or quality?
In online marketing, relevance is always a tipping point between what you want to deliver and what the customer expects.
See what truly motivates them to buy your product and highlight those points in your Amazon product listings, images, press releases, or advertising campaigns wherever appropriate.
In the age of digital marketing, relevance and value are the only things that work. I think this is also a reason why behavioral economists have become popular sales gurus today.
Craft a unique brand story
Every brand has a story to tell, but most won't share, thinking it isn't perfect. That's not completely true!
A well-honed brand story can connect your customers with your product and bring your brand to life. A powerful slogan or an empathetic narrative with real people will definitely appeal to your customers. Develop a brand story by revisiting the reasons that led to your product or business launch in the first place.
To quote Simon Sinek, 'People don't buy what you do, they buy 'why' you do it.'
Make your customers feel that they're a part of your brand's journey. They will stick with you through it all.
Consistency is the key
One fatal mistake that companies make when trying to position their brand is inconsistency. You have come up with a core message or a story that resonates with your brand and customers. All you have to do is stick with the message and make it consistent on your website, blogs, advertising, social media platforms, videos, etc.
The key to successful branding is unshakable brand positioning along with consistency.
A large part of being consistent is having a good way to track and record everything that makes your brand your brand. From your KM's to your core principles. Whether you're going solo, or you have a team behind you, this will play a pivotal role in helping you with interactions with customers, leveraging our social media accounts and staying on top of your KM's.
An average person spends around an hour and 40 minutes browsing social media every day. So you have a huge opportunity to get your products in front of your target customers using social media channels like YouTube, Facebook, Instagram, and Pinterest.
The reputation of your brand can live or die based on its social media presence unless you are a well-established brand and your target audience doesn't use social media at all. Simply put, take advantage of the power of social media to stay on the top of your selling journey.
When I say staying active on social media, it doesn't mean that you have to set thousands of ad dollars aside for social media campaigns. It means you need to be able to stand out from the crowd by engaging your audience:
By offering exclusive promotions and discounts on social media channels.
Sharing a peek into your company, processes, products, or anything that will make your audience feel involved in the activities or causes you're a part of.
Ask your customer. Set up polls about products or features that your audience wants to add to your current portfolio.
Collaborating with social media influencers. Find influencers who you think will have a similar audience like you. Work with them to gain their audience's trust, thereby building a strong reputation.
2. Branding on Amazon
While the points mentioned above are the brand positioning strategies you need to include in your e-commerce business, you should consider a few more things to position yourself for branding on Amazon.
Amazon accounted for nearly a third of all e-commerce sales in the US despite the pandemic. This dominance means that customers overwhelmingly prefer Amazon. Therefore, brands must balance their approach to boost their revenue and brand equity using Amazon.
What are the most effective ways to grow sales and keep your brand position intact? Can you leverage Amazon's audience to build brand loyalty?
Additional Read: The Amazon Wish List – Everything You Need To Know
Own your brand on Amazon
Follow these steps to enhance your brand presence and position on Amazon.
Leverage Amazon to enhance your customer's brand experience.
Conduct competitive analysis and identify gaps and opportunities to scale.
Create a strong brand identity using product details page, A+ content, and Amazon Store to enrich customer experience. Amazon Stores and A+ content have always shown phenomenal results to our clients at SellerApp.
With Amazon FBA, handling inventory, shipping, returns, and refunds, having a brand storefront and customized landing pages will make it easier to capture customer's eyes.
Create comprehensive listing and keyword optimization strategies and consistently improve them. Reprice your products when necessary.
Amazon as part of your omnichannel strategy
Think of Amazon as another channel to reach your customers. Use your brand message, brand equity, and Amazon's marketplace to strengthen customer's trust.
Use Amazon reporting capabilities to understand how the market works. In fact, metrics like new-to-brand will help you discover how many new customers bought your product for the first time. Ensure you get a holistic view of your advertising and product performance using Amazon.
Test Amazon DSP
You don't have to sell on Amazon to leverage its rich data capabilities. Amazon DSP is a programmatic display advertising solution offered by the organization. These ads target customers who buy your products or similar ones on Amazon. Customers are targeted based on their behavior, context, lifestyle, and more.
Our clients who have used both search and display ads have seen more than a 107% rise in their revenue. If you are a growing brand, it's definitely worth including these amazon advertising types in your overall marketing strategy.
Keep up with the latest trends on Amazon
Amazon offers several features and programs to help brands scale on and off Amazon. You have Amazon Moments, Amazon Attribution, Amazon Influencer Program, and many more ways to build trust with your customers. Try the beta options and see how your brand can capitalize on the changing Amazon landscape.
3. The bottom line
If you are creating a new product or updating your product line, or improving how your customers perceive your brand, you should definitely reposition your brand. A well-positioned brand can influence every aspect of your business, right from the employees to the customers.
Embrace every opportunity you get, learn about your customer's interests, showcase your brand and differentiate from the competition. Perform A/B tests, delight your customers, and include Amazon as part of your overall marketing mix.
Additional Read:
eCommerce Help Desk: What Is It and Do You Need One?
10 Best Amazon Marketing Strategies Proven to Boost Sales
Sell More with Amazon Action Plan
Was this post helpful?
Let us know if you liked the post. That's the only way we can improve.