There are good reasons your business should be using the best Amazon Repricer tool. As a seller, to be successful in a competitive marketplace like Amazon, you need to focus on 4 key processes, which include:
Good reviews
FBA inclusion
SKU tactics
Repricing
Let's exclude the first three. Now, talking about "repricing" in specific, the right tool can do a big deal in boosting your product rankings and amplifying your revenue to the next level.
Did You Know?
On average, 60% of high-profit-making Amazon sellers (a revenue of about $3 to $10 million) always use a good Repricer tool. Now, this is a certain sign, why it plays a significant role in terms of the selling point.
When your online business expands or turns out to be successful, the question is not about whether to invest in a Repricer tool.
The question is which Amazon repricer tool will suit you the best for you? and Which is the fastest amazon repricer tool?
But, why not manual repricing instead?
Understand that the concept of "manual repricing" works best only for small inventories.
It isn't a repricer because you all be modifying and adjusting the product prices all by yourself – as in "manually." Hence, it is good for small sellers with a limited budget.
Additional read: Spend the right amount at the right time with Amazon Budget Rules.
But if you are someone who is building a multimillion-dollar business, you should be utilizing a best repricer tool rather than having that job done manually.
What's rule-based repricing then?
Rule-based repricing is something you probably might have heard of. It is one of the common repricing tools Amazon sellers tend to use.
With rule-based repricing, you get to set your prices — say, for instance, to be in the lowermost 10% of other marketplace sellers. Once you decide this, the software will reprice according to the competition.
It all sounds good but there is a drawback to using it. This type of repricer feeds on price wars, eventually eroding your profits. Moreover, it is short-sighted for Amazon sellers looking for higher customer ratings.
So, algorithmic repricing tool it is!
Algorithmic repricing is also a tool, which automates your whole repricing process. However, there is a huge difference between what a rule-based repricer and an automated repricer tool do.
Unlike rule-based, an algorithmic repricing tool will evaluate a multitude of metrics that help in winning the Buy Box with the help of Big Data.
This calls for extremely precise and profit-amplifying results. Yes, of course, a good algorithmic repricer tool comes with a bigger upfront cost but in the end, it will help you accomplish higher business goals.
With this, you definitely want to know which repricer tools are the best in the market right?
Here is a well-researched list that compiles five great tools that are not only dominating the market now but also their features are so advanced that you cannot ask for more.
Best Amazon Repricer Tool Featured in This Roundup:
So, let's get started.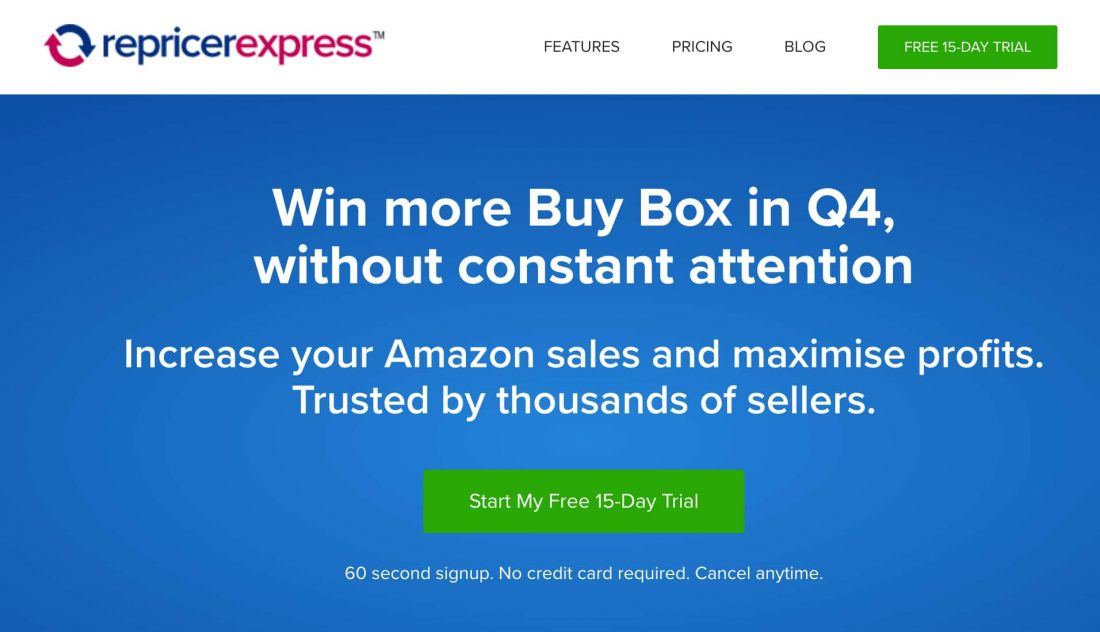 Repricer Express works incredibly on 11 different Amazon marketplaces. It provides a plethora of tools to help Amazon sellers to come up with customized pricing plans by setting up their own guidelines and allocating minimum and maximum prices for every listing.
The best part about Repricer Express is that it gives complete freedom to sellers to play with their listings. They can create generate as many instructions as they want and then, have them applied to either individual or groups of products.
From currency conversion rates to shipping charges, Repricer Express includes all the factors required to help sellers make high profits. No wonder, it tops our list.
Free Trial Period: 15 days
Features:
It helps in repricing the products as often as required.
It helps in minimizing the error margins.
It increases the chances of winning the Buy Box.
You can access the recent exports, imports, and even re-download files.
You can perform bulk exports/imports.
You can update currency rates automatically on a daily basis.
You can click on your products to check if its position and price against other sellers.
Price:
£39 per month for 2,500 Listings
£49 per month for 5,000 Listings
£69 per month for 10,000 Listings
£99 per month for 25,000 Listings
£169 per month for 50,000 Listings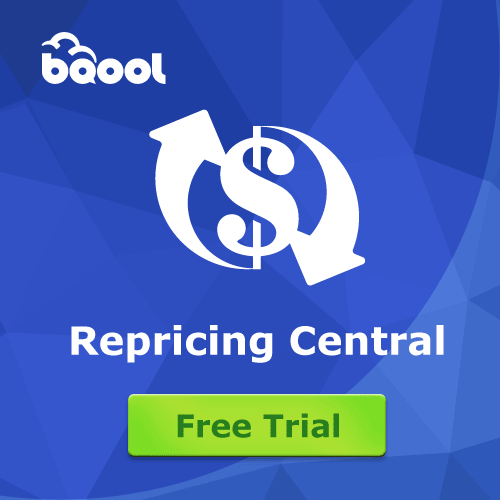 Bqool is yet another great Amazon repricer tool that is accessible for Amazon sellers in the US, UK, CA, FR, DE, ES, IT, MX, and JP. Users can build their exclusive repricing tactics by defining which rivals to reprice against.
This will depend on the competitors' ratings, fulfillment method, and item condition or status. With their expensive plan, you will be able to reprice the prices at a top speed of 5 minutes for 10,000 listings.
Trial Period: 14 days
Features:
You can win the Buy Box quite frequently by competing against the price directly.
With its comprehensive reports and an enhanced dashboard, you will be able to make wise decisions by exploring the sales and repricing data dynamically.
You can visualize the key performances.

You can monitor even the slightest price change for the past 5 days.
You can even upload Excel files with reconfigured settings.
You can migrate all your product rates from the inventory lab reports.
You can easily sort all your listings using filters and organize them the way you want.
Price:
Monthly Billing:
$25 per month for 1000 listings at a 15-minute repricing speed
$50 per month for 5000 listings at a 15-minute repricing speed
$75 per month for 7500 listings at a 15-minute repricing speed
$100 per month for 10000 listings at a 5-minute repricing speed
Annual Billing:
$22.5 per month for 1000 listings at a 15-minute repricing speed
$45 per month for 5000 listings at a 15-minute repricing speed
$67.5 per month for 7500 listings at a 15-minute repricing speed
$90 per month for 10000 listings at a 5-minute repricing speed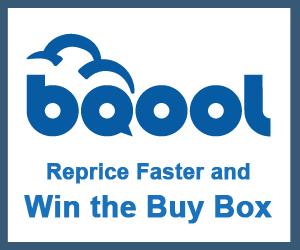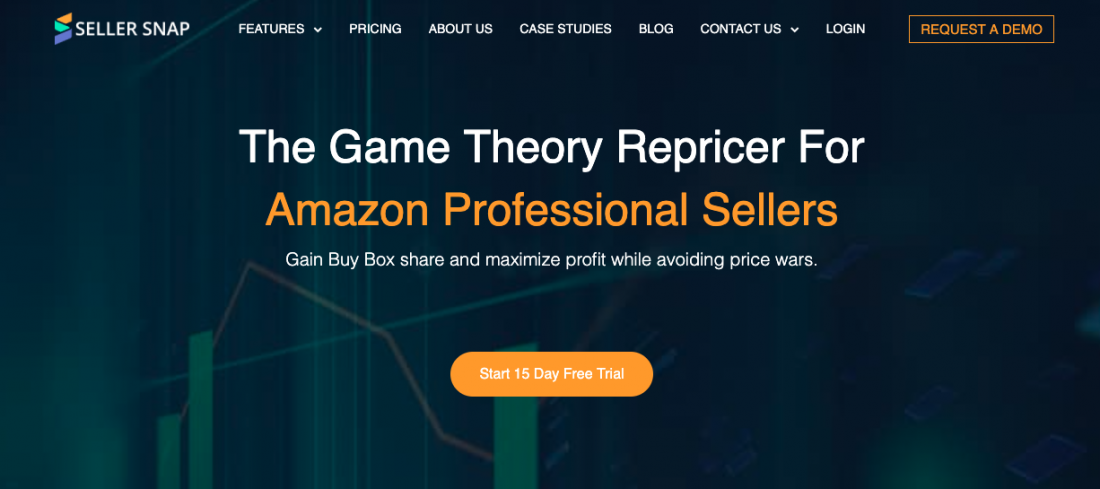 Seller Snap offers a Premium Solution for Amazon sellers by combining fully automated Repricing with Business Intelligence.
Developed using Game Theory, Seller Snap's Repricer automatically maximizes profits while retaining a fair share of the Buy Box, and avoiding price wars.
Advanced analytics and business intelligence allow you to make data-driven decisions and focus on issues that need your immediate attention.
Trial: 15 days
Features:
*AI-Powered Repricing inspired by Game Theory tactics.
*Easy setup – The system pulls all necessary data from Amazon.
*Customizable repricing settings allow you to adjust repricing behavior by time of day, inventory, sales velocity, and more.
*You can set your min & max prices based on the desired ROI and have the system automatically adjust them whenever there is a change in cost or Amazon fees.
*You can view relevant metrics, e.g. buy box share, average selling price, revenue change, etc. at the listing level, or for the whole store.
*You can create your own filters and customizable insights, saving you time and helping you gain quick access to the KPIs that are important to your specific business goals.
*With Seller Snap's open API, you can programmatically view and update all editable fields of your listings, for example, costs, repricing settings, and much more.
*24/7 phone and email support.
Price:
Monthly Subscriptions:Accelerator Program- $250
Standard Plan – $500
Premium Plan – $800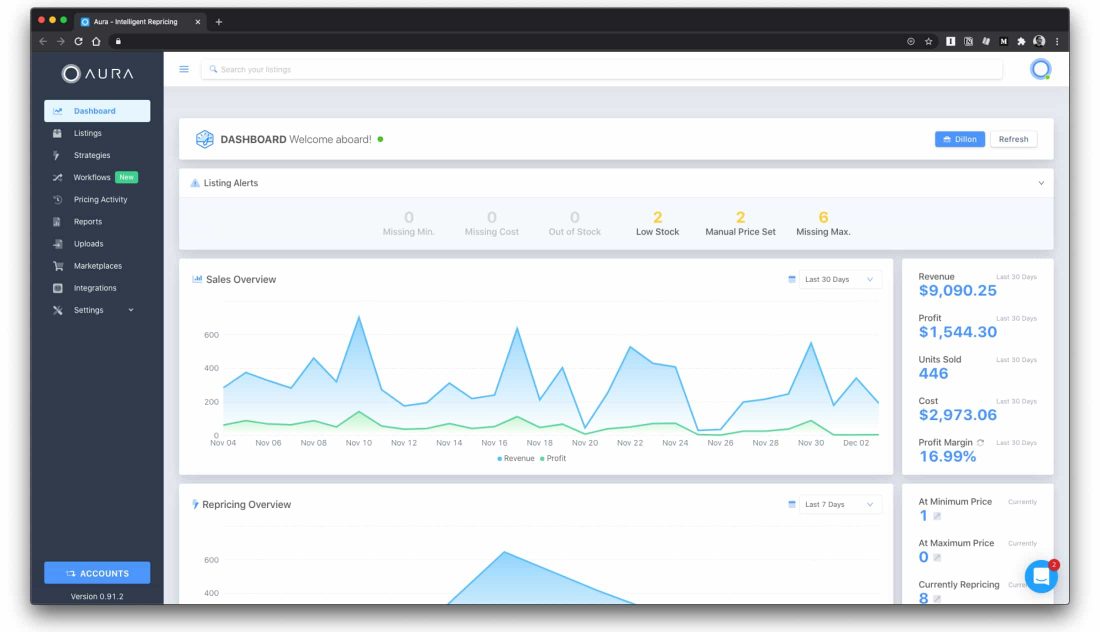 Aura offers advanced functionality without charging an arm and a leg to sellers. With advanced features like instant algorithmic repricing and Workflow, which allow you to completely automate your listings, it's a can't miss tool.
Aura allows you to have complete control over your listings. You decide which strategy is used and which listings are enabled.
Aura has quickly become one of the major repricing tools.
Free Trial Period: 14 days
Features:
* Instant repricing
* Automatically set your Minimum and Maximum prices
* Import costs directly from Inventory
* Automated Workflows to tell Aura how to manage your listings for you
* Bulk import/export
* Reprice differently depending on the type of offer in the Buy Box
* Automatically handle Suppressed Buy Boxes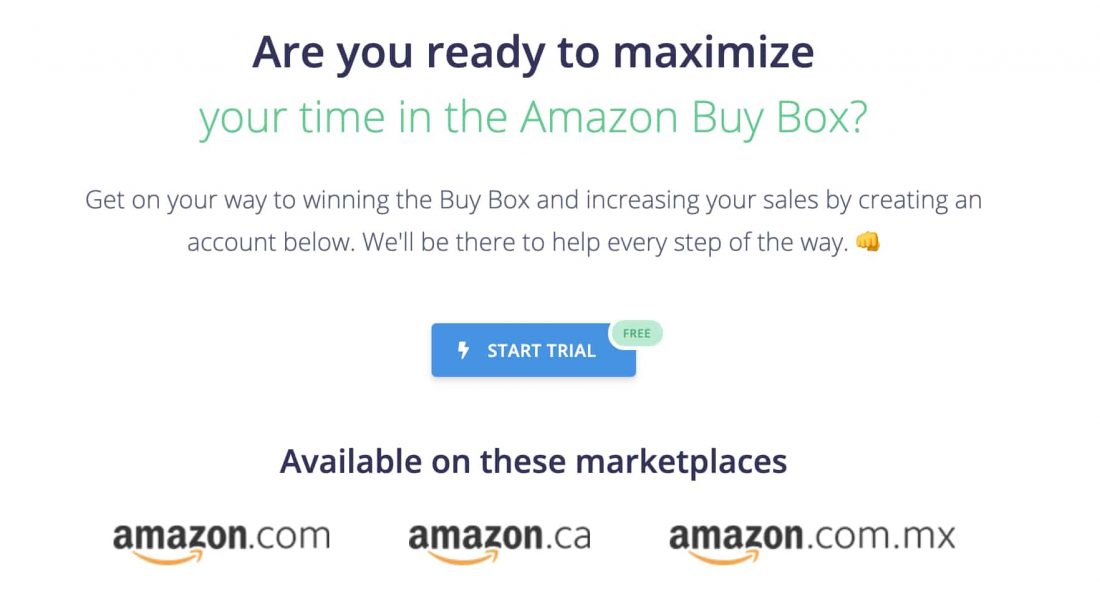 Price:
$97 per month for 50,000 listings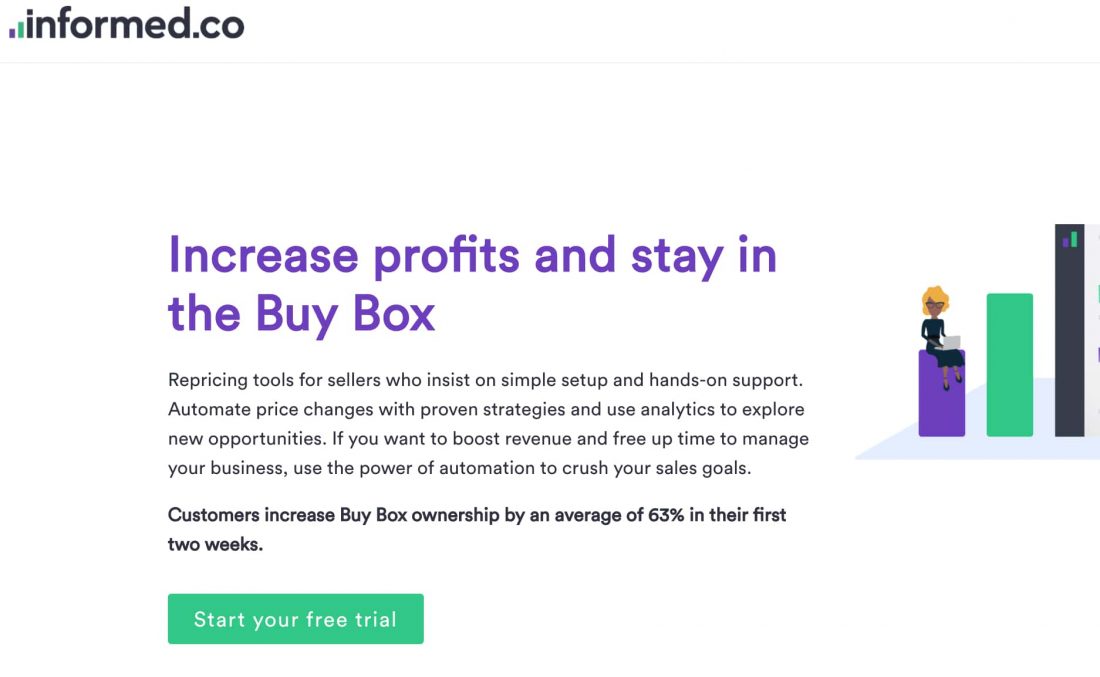 Formerly known as Appeagle, Informed.co is a multichannel software package that includes an unceasing repricing tool and other advanced algorithms exclusively designed to not only help Amazon sellers to win the Buy Box but also to ensure that they stay there.
A seller can define which competitors they desire to compete with and set their repricing rules to match and outrank them. It has simplified the automation so much that it makes it easy for sellers to keep track of everything they want to in terms of selling.
Free Trial Period: 14 days
Features:
You can set up things faster and sync costs as well as marketplaces with ease.
You can set your desired profit margins, and see how and where the maximum income is coming from.
It features advanced algorithms to help you win the Buy Box by optimizing the prices of private-label listings automatically.
You can integrate with other e-commerce tools (if you have) and pull some actionable reports in order to figure out growth opportunities.
You can raise your prices incrementally to maximize your profits.
You can analyze the competition constantly as long as you want.
With the help of the right strategies, you can adjust your product prices whenever you don't have competition.
You can manage your inventory by setting time-sensitive sales objectives
You can compete for the lowest price and choose the reprice based on what your competitors do.
Price:
Monthly Billing:
Starter plan: $79 per month
Growth plan: $149 per month
Professional plan: $299 per month
Annual Billing:
Starter plan: $59 per month
Growth plan: $119 per month
Professional plan: $239 per month
Read Next: Best Amazon Inventory Management Tools for Your eCommerce Business

Was this post helpful?
Let us know if you liked the post. That's the only way we can improve.