It's a new year. There's a whole bunch of new upgrades, new features, and new strategies for Amazon sellers to look forward to creating a profitable business in 2021.
In 2020, we crossed quite a few milestones, like getting into a strategic partnership with the sourcing giant, Alibaba.com, automating advertising optimization, and more.
To make things easier for all our sellers, we have summarized our biggest achievements and how you can benefit from the latest updates in this post below.
What we'll be looking at in this post:
1. Invent and stay nimble is what we believe in
At SellerApp, every one of us has only one thing in mind – What our customer needs the most. How can we create a better experience for our customers? These questions have been the driving force for our innovation at SellerApp. With that in mind, we came up with new features, functionalities, and changes that can ease your job and help you create a successful e-commerce business on Amazon.
2. Amazon authorized SellerApp advertising agency
Yes. We're excited to say that the SellerApp agency is now authorized by Amazon. It's another step towards creating a successful platform that helps sellers and brands to scale new heights.
3. Partnership with Alibaba.com
This is big! We're delighted that Alibaba.com entered into a partnership with SellerApp. With this strategic alliance, we want to bring cutting-edge tools, and high-quality data that help Amazon sellers and Alibaba.com users scale better opportunities. The powerful combination of SellerApp data analytics tools and Alibaba.com's product sourcing database will save hours of your valuable time and scale higher profits than ever before.
Recommended Guide: Amazon data analytics.
4. SellerApp celebrates innovation
To build a successful Amazon business, you need to have three things in place – A great product, a robust advertising strategy, and a defined process. With that in mind, we have been working to create a strong platform for Amazon sellers.
Here are the details.
Product Sourcing Tool
To find a killer product, going back and forth between Alibaba.com and Amazon is time-consuming and daunting. So we wanted to make this process simpler and better, which led to the launch of our Product Sourcing Tool. With SellerApp's product sourcing tool, you can find reliable suppliers from all over the world. Our smart filters will help you refine the results by country, minimum order quantity, price, product type, and more.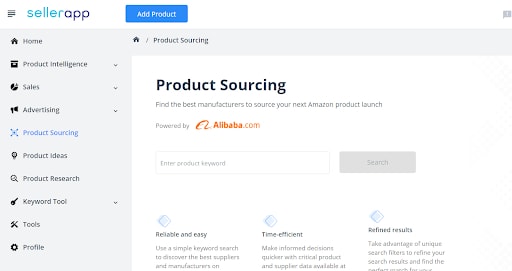 Where to find the tool:
Log in to your SellerApp dashboard.
Go to Product Sourcing, and enter a keyword related to your product.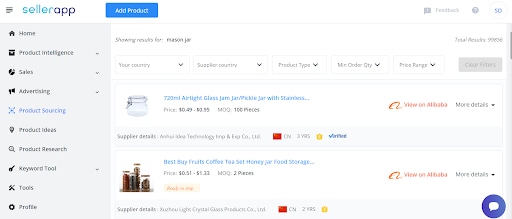 Keyword research – Multi-geo functionality
Understand the local landscape, hone in on your keywords, and find more opportunities to boost your sales.
Typically, your Amazon keyword research helps you to get data on the following questions:
What are shoppers searching for?
How many people are searching for an item/using a specific keyword to search?
What exact words do they use to search for the item?
Are there seasonal trends associated with the item?
With SellerApp's keyword research, you can identify geo-specific keyword data across 19 different marketplaces of North America, Europe, and Asia.
How does it help?
Geo-specific keyword data will help you use keywords or search terms that are more relevant to your target audience based on the country they live in. This enables you to increase your conversions by speaking your customer's language.
For example, you can find the keywords for the UK audience by selecting the marketplace United Kingdom.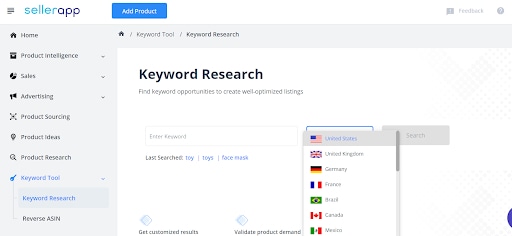 Here's how you can do it.
Log in to your SellerApp dashboard.
Go to Amazon Keyword Research and select your marketplace.
Enter the keyword of your choice.
Start finding the keywords relevant to the audience in your marketplace.
Automation for Advertising – Let AI simplify your complex challenges.
SellerApp's Advertising feature is now armed with automation. Our data-driven algorithms learn from your campaign and business goals and suggest the changes to your bids, campaigns, and ad groups. Now you can eliminate repetitive PPC tasks and focus on the critical aspects of your Amazon business.
What you can achieve with our automation
Optimize your bids based on your profitability goals
Harvest keywords
This means you achieve:
Better ad positions,
Lower ACoS,
Customized targeting,
And an increase in sales volume.
Here's how one of our clients used SellerApp's automation to accelerate their sales growth.
Our client, Ecosafety was one of the early adopters of SellerApp's automation. Not only did they benefit from the rule-based bidding, but they were also able to diversify their efforts into other aspects of their marketing and operations. This helped them boost their total sales by 107%.
Wait, there's more!
The much-awaited upgrade is finally here! We have launched multi-geo functionality for our Advertising feature. Now you can seamlessly manage all your Amazon PPC profiles from across marketplaces using SellerApp. You can also switch between your profiles to get granular campaign, product, and keyword-level data.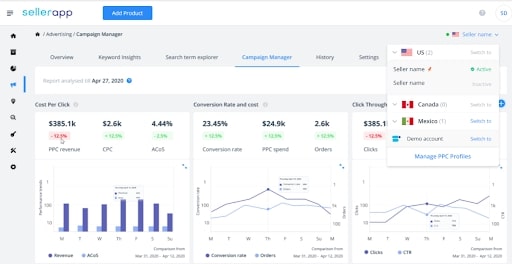 Now sellers can track their advertising performance across marketplaces of Europe, North America, and Asia.
Amazon API
Arm yourself with actionable insights and strategize your inventory and marketing decisions.
Amazon holds loads of data for sellers to scale. With SellerApp's APIs, get in-depth and best-in-class insights and real-time competitive intelligence that you need to scale your market share on Amazon. With our API service, you can get high-level data on:
Bestseller trends,
Product profitability,
Estimated profit margin,
Product segmentation,
PPC strategies,
Replacement and aftermarket items,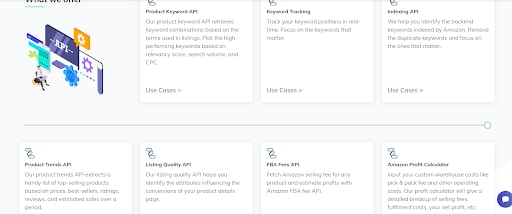 With our API service, you can import all the information you need in a matter of seconds, and assess the competition and new market-level opportunities.
This is what our customers say about the SellerApp API service –
"Using SellerApp's profit margin calculator, Quantum Networks was able to assess the pricing information of various brands. This increased the efficiency of onboarding and streamlining new products." Eytan Wiener, COO, and Co-Founder, Quantum Networks
5. Exclusive Amazon Seller Events
Amazon Q4 Mastery was a huge success for us. With the same zeal, SellerApp has engineered a 3-day event, GoSeller, to help you ace your e-commerce sales goals in 2021. Joined by the industry leaders and Amazon veterans, the event was a huge hit.
P.S – We have some exciting Amazon seller events lined up in 2021, so make sure you follow us on our social media channels.
6. A Special Surprise!!
We have a special offer for every Amazon seller who has stuck all the way till this point. Get 50% off on the SellerApp platform, click the link, and use code CNYSELLER50.
We're so excited to start the year on a great note with new features, seller events, and strategies to help you ace your selling journey on Amazon. Need support? Drop us a message at support@sellerapp.com.
Let's go and make it big in 2021!
Additional Read:
Why It's Important To Vet Your Customers
What can I do with SellerApp Freemium
Amazon Q4 Mastery is Back! Here are all the deets!
Was this post helpful?
Let us know if you liked the post. That's the only way we can improve.