Last year's Prime Day was different from the rest of them. Despite the logistical delays and postponements, the event saw a 45.2% increase in sales (source). How can brands and sellers benefit from Amazon Prime Day 2021? What are the key strategies to maximize returns? Let's dive into the details.
Amazon Prime Day 2021 will be held on June 21 and 22 in the US. The retail giant announced the Prime Day FBA inventory cut-off dates to late May. Usually, the inventory cut-off dates are set one month before the actual Prime Day event. So the likelihood of the event occurring in June is high.
At SellerApp, we provide consultation and management services to our clients. So we know how Prime Day's uncertainty affects the inventory and sales of our clients. We want our sellers to make the best use of the event and prepare ahead. Since it's a Q2 event, there could be significant changes for sellers and shoppers alike. Let's look at the details.
Quick Guide:
When is Amazon Prime Day 2021?
As you might be aware, Amazon Prime Day 2020 happened in Q4 owing to the supply chain issues related to the COVID-19 pandemic.
This year's Prime Day is a two-day event and is conducted on June 21 and 22. So it's time to prepare your Amazon Prime Day preparation.
Note: If you want to jump into the Prime Day preparation checklist, click here.
A Short Introduction About Amazon Prime Day
In 2015, Amazon launched Prime Day as a day filled with deals and sales to reward Prime members on its anniversary. The first Prime Day lasted for 24 hours. Since then, Amazon Prime Day has continued to expand in size and scope by including more items and expanding the event to two days. The sales event continues to be a massive success.
In 2020, Amazon Prime Day sales reached an estimated $10.4 billion worldwide. So far, it is the most successful shopping occasion in Amazon history. Compared to 2019, consumer spending grew by 45 percent, owing to changing consumer shopping behavior during the pandemic (source).
How should sellers prepare for Amazon Prime Day in 2021?
Countless brands are trying to leverage a massive customer base on Amazon Prime Day. Whether you are a novice seller or an experienced e-tailer, it's easy to miss out on a few things which can maximize your profits. Competing with millions of Amazon sellers can be harder than it looks. So we came up with a few Amazon Prime Day tips to boost your sales in 2021.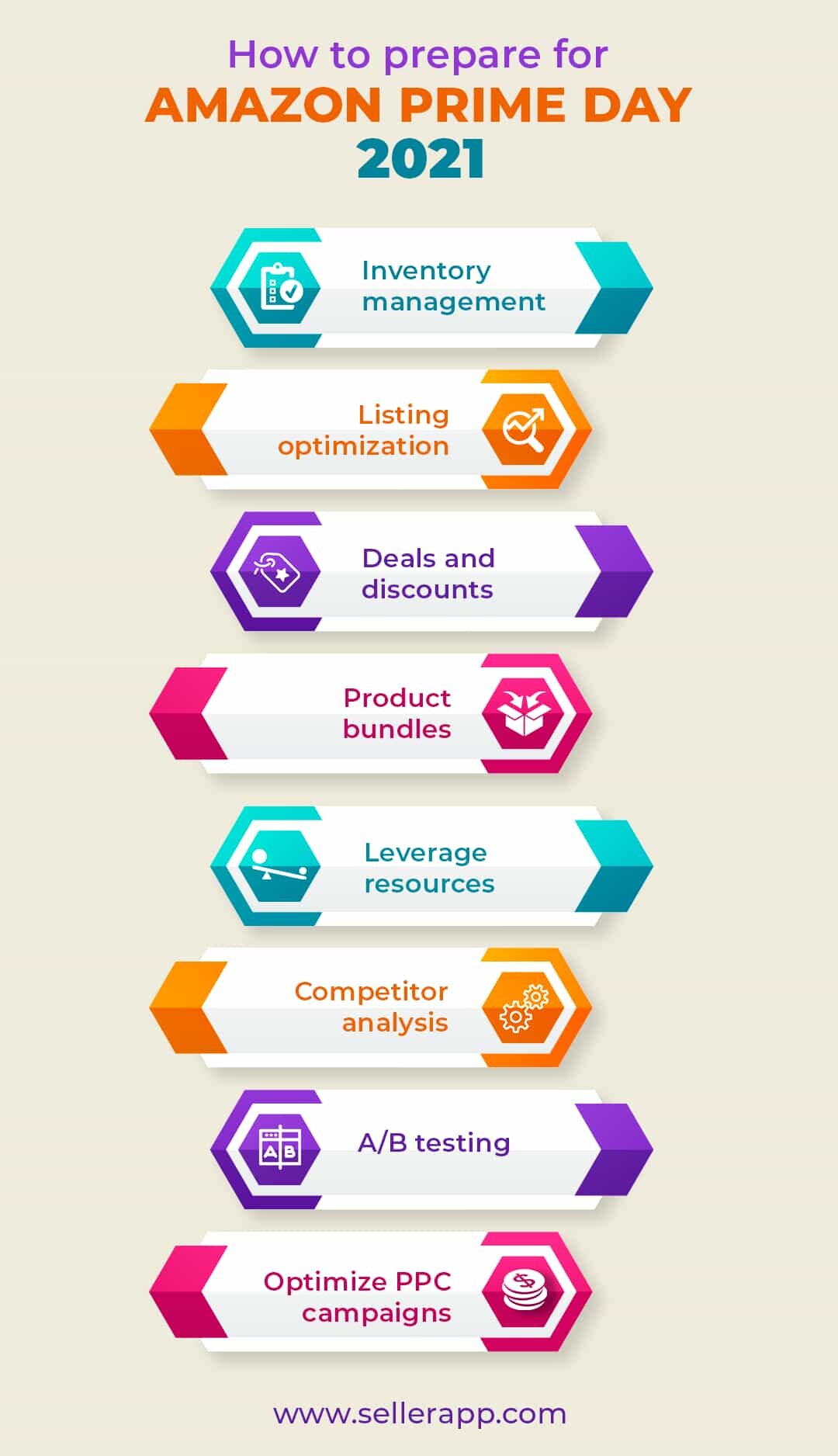 Inventory Management
Evaluate your Amazon FBA (Fulfillment by Amazon) inventory ahead of time. Running out of stock will affect your rankings and sales. So getting your inventory sorted will help you avoid unnecessary headaches related to inventory management. Besides, if you have a broad inventory, Amazon thinks you offer more value to your customers.
Categories such as electronics, apparel, appliances, and jewelry have seen a significant boost last year. If you are a brand or seller under these categories, ensure you have enough inventory to meet your customers' demands.
Product Listing Optimization
Optimizing product listings plays a huge role in maximizing sales and conversion rates for sellers. Here are the key tips to optimize your listings for this Prime Day.
Images: Use high-quality images that capture the attention of your shoppers. Adhere to Amazon's standards. Having stellar images would positively impact your CTR.
Optimize title and description: Write a clear and concise copy that is compelling. Optimize the descriptions for mobile visibility. Make the best use of the character count given by Amazon.
Keywords: Consider using keywords that are relevant to Prime Day. Do not forget to include similar search terms that your target audience will use to search for the specific product. You can also run additional PPC campaigns to identify new keywords.
Backend search terms: Add relevant search terms and do not repeat the keywords from your listings.
Deals and Discounts
Deals play a prominent role during Prime Day. Amazon Prime Day lightning deals Are an excellent way to boost your product sales quickly. Though they run for a limited time span, they are a powerful way to increase your sales momentum, and thereby, sales figures substantially.
Note: Lightning deals may not be helpful for new sellers. You need to build some reputation beforehand.
If you're serious about Amazon Prime Day sales, you should definitely consider submitting deals for multiple products with competitive prices. Amazon will be flooded with deals on Prime Day, and it might choose only a few of your submissions. So make sure you do enough research and give your best out there.
Create Product Bundles
Your primary goal on Prime Day must be to boost your sales by moving your inventory as much as possible. Besides, customers love bundles when they are effectively grouped, making it convenient for them to buy.
The best way is to create product bundles that complement each other. You can look at Amazon reports getting an idea of how to bundle your products effectively.
Read more about amazon virtual product bundles here.
Leverage Resources
Combine SEO with advertising strategies to achieve maximum sales. Use free resources to strengthen your Amazon Prime Day strategy.
Amazon Live: Run Amazon Live on products that you want to highlight for this Prime Day. This will boost the traffic on the event day.
Amazon Posts: Amazon Posts are a simple way to use repurposed social media content without additional costs. They appear in your feed, on product detail pages, and in the feed of related products.
Social Media: Leverage your social media channels such as Facebook, Instagram, and TikTok to build quality traffic to your listings. To make the most out of it, you need to start when you have at least two months before the event. Connect with influencers and take measures to build your brand presence on social media. If you have a solid social media presence, you can drive some of that traffic to your listings. You can also highlight any of the promotions you offer.
Competitor Analysis
While doing competitor analysis, you need to keep a few things in mind.
Identify the competitors that are selling alternate products to yours. Identify the major differences in product listings and bridge the gap in your listings to generate more sales.
Identify competitors' brands with high search volume that sell similar products like yours. Track their keywords and target their ASINs with Amazon sponsored ads.
These strategies would be beneficial for newly launched products in building decent traffic.
Pro-tip for saturated markets: Depending on your product portfolio, identify at least 5-6 ASINs and create product targeting & category targeting campaigns to drive new customers to your listings.
A/B Testing
When you have ample time for Prime Day, start doing A/B testing with listings and prices. Experiment with Amazon A+ content and description to capture buyers' interest. Perform A/B testing with higher and lower prices.
Optimize your PPC Campaigns
Optimizing Amazon PPC campaigns is a crucial step in your Prime Day preparation. Here is a list of PPC strategies you need to keep in mind:
Create manual campaigns to increase the search visibility of keywords that drive maximum ROI.
Set up automatic campaigns to find the latest keyword trends and negative keywords.
Group keywords based on their purpose and customers' choice. This makes it easy to understand your audience and track campaigns.
Download search terms report and track it regularly for better conversions.
Why Should You Prepare for Amazon Prime Day 2021?
With the growing number of opportunities to sell online, sellers may wonder if it's still relevant to prepare for the Prime Day event in 2021.
We say it's significant for all the e-commerce sellers who want to maximize their sales with minimal preparation.
We'll explain why –
Prime Day has become eminent for many reasons. The shopping event offers opportunities for retailers like Walmart, Target, eBay, and Google. This halo effect has boosted online sales of small-medium-sized entrepreneurs (SMEs) by a significant rate. Clearly, these retail giants took advantage of the halo effect of Amazon Prime Day and saw a surge in sales compared to a normal business day. It means businesses opting for multichannel selling can further accelerate their sales during this period. Furthermore, we can expect a lot of investments related to marketing, live events, and content curation this year, as well. So all these events collectively create a huge opportunity for e-commerce sellers on Amazon Prime Day.
Pro Tip: If you are selling in different Amazon marketplaces, make sure you check out our GoGlobal event. Industry veterans across multiple geographies explain what it takes to succeed your Amazon business internationally.
Amazon Prime Day – Popular Categories for Sellers
Though nothing is off the cards when it comes to Amazon Prime Day deals, we can expect one thing – Top brands as well as Amazon will focus on exclusive deals and product launches on the future Prime events.
Recommended Post: Amazon product launch checklist guide.
While Amazon will be the flagbearer for Prime Day 2021, we can see other retailers throwing their hats into the ring. Other retailers will also reduce prices to cash in on Prime Day demand. These deals will include electronic items like Apple iPads, Fire TV Sticks, MacBooks, 8K TVs, and 4K TVs. In these, Amazon owned-products like Amazon Echo, Amazon Kindle, Fire TV Stick, etc. will see a huge slash in prices. Along with these, kitchen appliances such as Instant pot, KitchenAid, and OXO could be a part of Amazon Prime Day deals.
Since COVID-19, we've seen some major shortages in a few product categories like fitness gear, kitchen gear, home-office equipment like laptops, and gaming consoles like the Nintendo Switch. This year, we can see some impact on these product categories as well.
Note: As Amazon started investing heavily in gaming, you can expect potential deals in a pre-order form on gaming.
Final Thoughts
With effective research and planning, you can win half the battle. The amount of smart work you put in will definitely pay off and create a huge impact on your product sales. With Prime Day right around the corner, our tips can help you scale your Amazon Prime Day sales.
If you're not sure about how to start preparing for Amazon Prime Day or if you need a growth partner to reap better profits, you can talk to our Amazon experts. Drop us an email at support@sellerapp.com.
SellerApp is happy to help!
Related Posts:
Amazon Attribution For Better Conversions.
What is Geo Ranking on Amazon – Tips to Rank Higher on Amazon
10 Power Seller Hacks To Crush It On Amazon
What is Amazon Prime Wardrobe?
Was this post helpful?
Let us know if you liked the post. That's the only way we can improve.