It's been a spooky year so far, and this autumn it just got a whole lot spookier. COVID-19 pandemic or not, families were more than just ready to celebrate Halloween. While the National Retail Federation (NRF) expects slightly deflated consumer spending in the US, Amazon's Q2 numbers indicate that more American consumers are now shopping online than ever before!
Well, SellerApp crunched some numbers and noticed some slight changes in shopping behavior this year. It's a little too early for a detailed analysis, but we noticed some trends using our powerful Chrome Extension – which you can use to plan your holiday season.
Everybody still loves to dress up
With social distancing becoming the norm, you'd expect people to buy fewer costumes. Well, our estimated sales figures for Halloween costumes this October tells a different story. We had a look at the top-selling organic listings, and it looks like everyone still loves to dress up. The estimated average revenue for the top-50 listings was up to $41,000 in October.
Even if people weren't stepping out this Halloween, they were definitely stepping up their costume game. Those who were stepping out usually added a mask to their costume. Not surprising considering the pandemic, but the numbers are crazy. Up to $30,000 in estimated average revenue for the top 50 listings. This includes bandanas, disposable masks, and plague doctor masks.
That's right. The humble plague doctor from the 17th century decided to pay 2020 a visit. They couldn't have come at a better time. Plague doctor masks and costumes were the surprise entry into this year's most popular costumes, and I wouldn't be surprised if COVID-19 had something to do with it.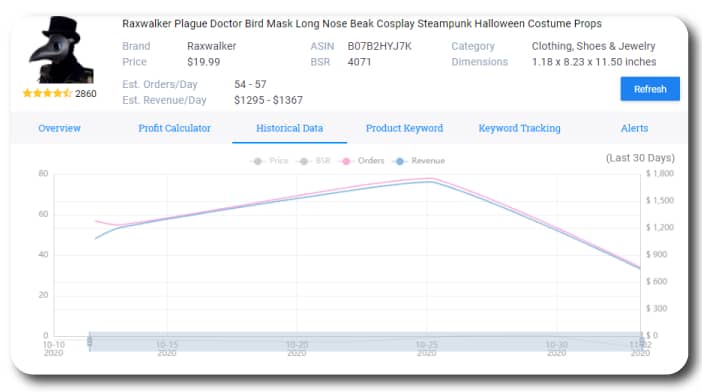 Sales of plague doctor costumes and masks were through the roof!
The most popular plague doctor mask recorded 54-57 estimated orders, clocking in $1295-$1367 in revenue. The trends indicate a clear peak in the number of orders placed on October 25th. That's just one mask though. Our Chrome Extension dug out a bit more data, and we estimate the top 50 plague doctor listings (including costumes and masks) had an average monthly revenue of up to $7,500 in October. All the blood, phlegm, and bile this Halloween clearly needed some medieval remedies, and many Amazon sellers were ready to provide – and make money doing it!
All the top 50 Halloween costumes together recorded a monthly estimated revenue of $12,84,621 – $21,41,046. Keep in mind, this trend might not continue till 2021, so keep an eye out on what's trending next year!
Pets join the Halloween festivities
More people are dressing up their pets – well, at least their dogs. Family pets were dressed up as sharks, spiders, pirates, and even minions. Did the dogs ever consent to this? We'll never know. But you can be sure they looked as cute as ever!
This UPS dog costume was one of the biggest hits this year. The listing had an estimated average of 33 to 39 orders every day with a daily revenue being anywhere between $658 and $778. That is one special delivery!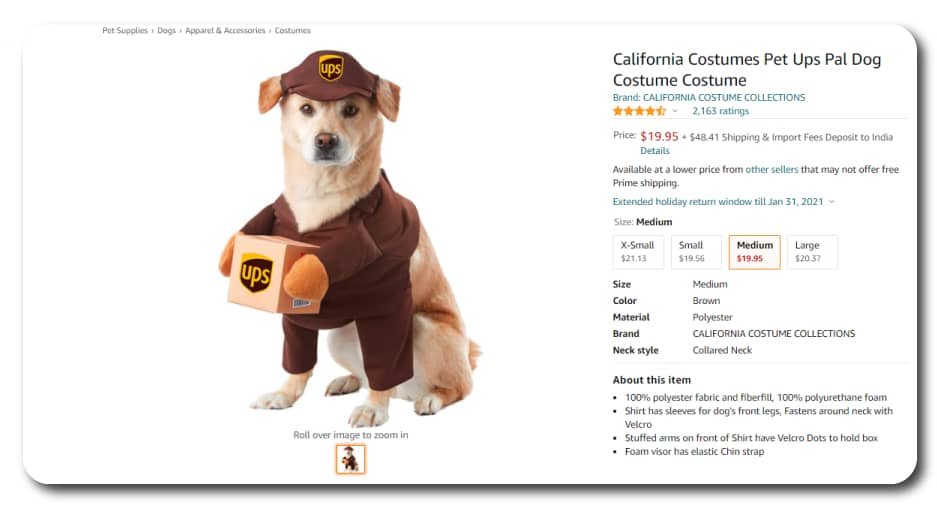 The dog costume was a massive hit with shoppers this Halloween.
Trick-or-treaters were in for a treat!
The NRF may have expected a 6 percentage point drop in the number of trick-or-treaters, but shoppers were still gearing up and buying a lot of candy. Halloween candies and sweet stuff, in general, were one of the highest-grossing Halloween related products this October. Average sales for the top 50 Halloween candy listings had an average monthly revenue of up to $96,000! The pandemic clearly hasn't slowed down the demand for Halloween candy in 2020.
The biggest winner this Halloween season are definitely those with a sweet tooth.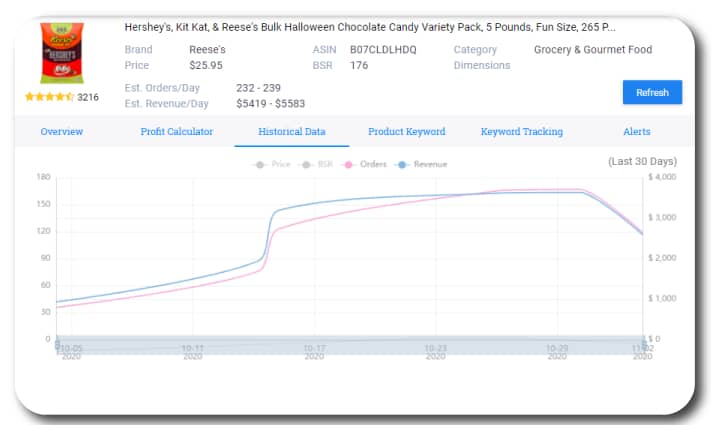 Customers preferred to buy candy in bulk, with sales picking up from mid to late October.
Halloween decorations on the upswing
The NRF study expected a 4 percentage point increase in the number of people decorating their homes. The data from SellerApp's Chrome extension indicated a healthy demand for Halloween decorations. Spider webs, LED lights, stickers, and skeletons were in demand. The top 50 organic listings had an average monthly revenue of up to $33,000, averaging 60 orders every day!
Customers bought decorations big and small. This massive ten-foot-long Halloween ghost is a great example. The listing's BSR improved from 3800 on October 2, to as little as 60 on October 27.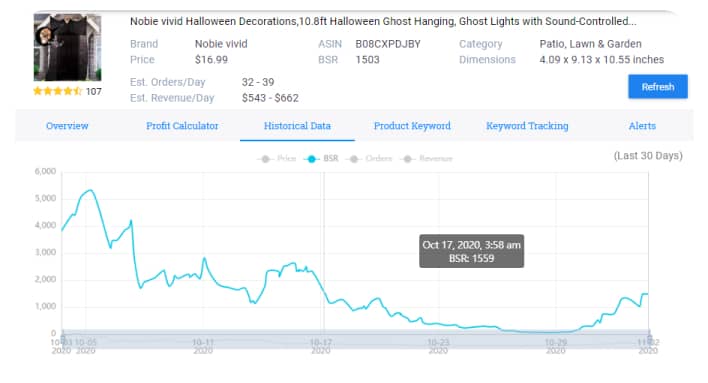 Customers left most Halloween shopping for the last week.
Other than the usual outdoor and lawn decorations, customers were also increasingly looking for Halloween table decorations – probably to spruce up their workstations with a dash of holiday spirit.
Halloween lights deserve a special mention. String LED lights, as usual, led the pack, and pumpkin-shaped lights were everywhere. The number we pulled up put the estimated monthly revenue for the most popular Halloween lights at up to $24,000.
Pumpkin carving is in vogue
The NRF 2020 Halloween spending survey highlighted an increase in the number of people who wanted to carve a pumpkin. Well, they turned to Amazon for help – and they turned up in numbers. There were an estimated 500 orders per day on Amazon for the humble pumpkin carver.
One tiny carving knife had around 89-93 orders every day – an estimated daily revenue of $1600 this October. Like most other products highlighted in this list, the demand for this carving knife skyrocketed in late October, just a few days before Halloween. Customers clearly do a lot of last-minute shopping!
Prepping for the upcoming holiday season? We brought together some of the biggest names in e-commerce to help sellers maximize their sales and profits. Watch this video to get crucial insights and tips to make this holiday season better than ever.
Final thoughts
Despite the COVID pandemic and a drop in the number of people celebrating Halloween, Amazon sellers can celebrate another eventful and profitable autumn. While people may not have been willing to go out as much, they were definitely ready to dress up and celebrate virtually.
I believe there were also a few missed opportunities. The 2018 video game, Among Us, dethroned Fortnite as the most popular video game in the world. Amazon sellers, however, were slightly unprepared for the game's massive rise in popularity. There were plenty of people looking for Among Us costumes (including me!) and there weren't any options to choose from.
With Black Friday and Cyber Monday around the corner, sellers can't afford to be caught flat-footed. Use SellerApp to get real-time data on listings and spy on your competition. Keep up with the latest trends with machine learning-powered product intelligence and make this holiday season your biggest ever! Book a demo, or get in touch with our representatives to learn more.
Additional Read:
11 Amazon Black Friday Selling Tips to Boost Sales in 2022
Was this post helpful?
Let us know if you liked the post. That's the only way we can improve.