Everybody needs an Amazon Action Plan! According to Amazon sellers survey 2016, 10,000+ sellers generate more than $1 million of annual sales from Amazon. You can be one among them if you have a solid Amazon Action Plan.
Recent data reveals that Amazon is not only the leading desktop retailer but also dominating mobile commerce. Amazon is leading the ranks with respect to mobile conversion rate* as high as 7%. Mobile visits are also culminating in a sale. This definitely makes Amazon one of the most lucrative selling spaces to watch out for. As a seller, your biggest concern might be what should be your Amazon Action Plan 2017. Every businessman will agree that planning ahead is one of the key ingredients of success. A great way to start would be to understand the Amazon selling cycle. Work on the right things at the right time and prepare for the most important Amazon Selling dates from today. The three most important days/events of Amazon selling are
Back to School Season
Black Friday & Cyber Monday
You can expect maximum sales during these phases of the year & it becomes very crucial to be prepared for door busters.
Amazon Action Plan 2017 will guide to plan your calendar for the entire year by giving you detailed information on the following
Amazon Selling Cycle – 2017
Most important events for Amazon Sellers
Amazon Selling Cycle 2017
It is not easy to be ready for the biggest sale events of the year especially when more than a million sellers are gearing up for the lion's share. Amazon action plan 2017 will guide you on how you can start working from day one and to prepare yourself to make maximum profits the entire year-round.
January & February
Amazon Action plan for January & February would include reassembling of goods as soon as holiday season ends. The holiday season leaves you with oodles of extra stock which you must sell quicker to get brand-new products for the new year.
Neutralize the plunge in sales by implementing some special discounts and reprice the products favorably.
Reduce inventory to manage the FBA fees. Every year on February 15 and August 15, FBA has inventory clean up. Amazon appraises the inventory stocks in FBA warehouses between these six and twelve months and charges a long-term storage fee for these stocks.
Amazon offers plenty of coupons, gift cards, and claim codes to their shoppers during the holiday season. Customers may redeem their coupons or gift cards and there would be a flow of buyers on the website. So, assure that you have your products lined up for the customers.
Rigorously check your Amazon Account and ensure that you check for the product returns. Manage the accounting for sales returns and sales tax for returned orders.
Amazon consolidates the FBA fees to changing costs of storage of inventories, fulfillment, transportation and customer service. In addition to this, FBA also has new additional charges which are as follows
Consolidation of Fulfillment Fees
The FBA fees sellers pay for order handling, pick and packing of goods and weight handling is unified into a single, per-unit fulfillment. This has been effective from February 22, 2017.
Alignment of Q4 Fulfillment Fees
Amazon cut the Fulfillment Fee for all products shipped in October. October Fulfillment Fees will be steady with Fulfillment Fees in November and December. An added advantage to this is that if you cut down the usage of storage space in October, you will have to pay curtailed FBA fees (Calculate Amazon FBA Fees With this User-Friendly Amazon FBA Calculator) in October. This is effective from October 1, 2017.
Alignment of Q4 Monthly Inventory Storage Fees
The monthly inventory storage fee for the month of October was hiked for standard size and oversized products. The monthly inventory storage fees for November and December will be steady, corresponding to October. This is effective from October 1, 2017.
Change to Seller Shipment Requirements
Amazon will boost the number of times you can dispatch products to multiple destinations when designing your shipping plan. E.g. For every shipping method, you can either choose to follow Amazon's guidance or use the Inventory Placement Service where you have the preference of shipping to fewer destinations. Definitely, a per-item service fee is applicable for the Inventory Placement Service, but the fee charges depend on the number of destinations you choose. This will be effective from July 19, 2017.
Higher Fees for Media Products – Fulfillment fees for media products were hiked to match the rise in Fulfillment fees for Non-Media products. Also, Media and Non-Media products will be consolidated into a single standard size tier. This will be effective from February 22, 2017.
Elimination of Zero Fee Fulfillment – The Zero Fulfillment Fee discount for standard size products that are sold for $300 or more will be suspended. The fees based on product size tier will be applicable. This will be effective from February 22, 2017.
March
Make the following changes to your Amazon Selling Plan
BMVD (Books, Music, Videos and DVDs) sellers should set their own shipping prices. This is the according to new rule set by Amazon.
You should compete for the Buy Box for suitable books in new conditions.
There will be certain fee changes for selling from 1st March 2017.
April
April has one major event and its festive season. It's Easter month!
April is the month of Easter! Amazon will soon have an Easter Shopping Section where Amazon will advertise the holiday special products it is offering.
Most of the products will have curtailed prices according to the holiday season but the sales would not be as momentous as the sales in winter holiday season. However, in comparison to a normal day, there will be an increase in sales.
Ensure you have the inventories in stock and reprice the products accordingly to boost the sales.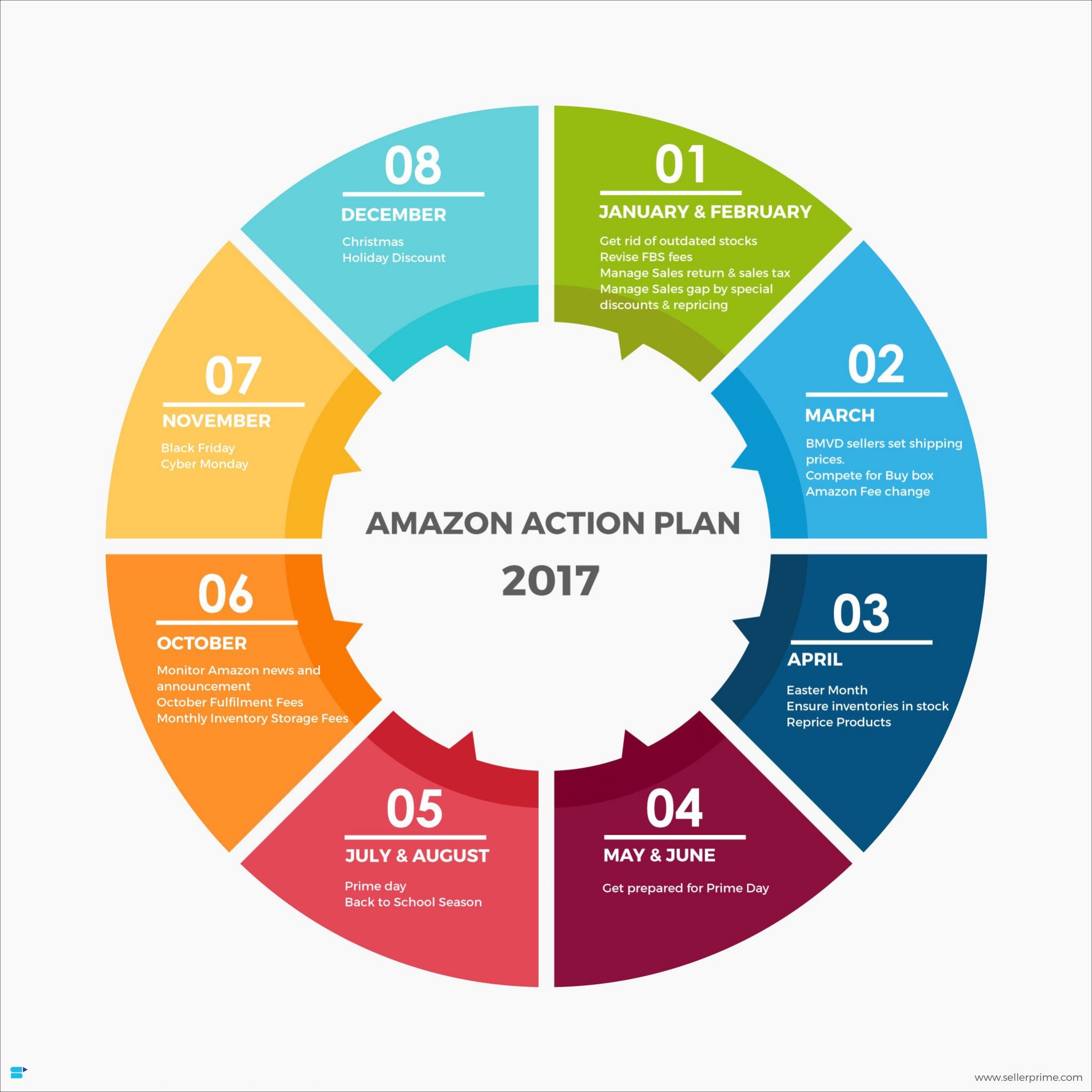 May, June & July
In July, there is much anticipated Prime Day. Dedicate May and June to prepare for Prime Day.
Prime Day
Amazon's Prime Day is massive, and it is the biggest day in Amazon sales globally.
In 2016, Amazon reported that they outperformed Prime Day 2015 by more than 60% worldwide and more than 50% in the United States.
Considering how good Amazon Prime Day was last year, we can only expect better sales than last year. Prepare well and keep your inventories in stock as it can only boost your mid-year sales.
There are possibilities of Amazon insisting you to change your shipping plan and choose multiple shipping destinations for free rather than charging a minimal fee for shipping. Be ready!
Make use of the Inventory Placement service for shipping to fewer locations which might incur smaller fees as explained above.
However, August is the month to go back to school.
August –Back to school season!
Back to school season is the second biggest money-making period for Amazon. Frankly, Amazon did not make great sales as it usually does because of Prime Day! Amazon Prime Day was a massive hit and shoppers have hit the shelves. This is the major reason for not so good sales in Back to School season. Your Amazon Action plan for August should include the following
This is the period when you have to finalize your order quantity for the holiday season. Holiday season sale can be four to five times the sales that you may get during an average month. To discuss and finalize the orders with factories in August
The retailers have to step up their game and make some fascinating product changes to keep the enthusiasm of shoppers and hike the sales.
Similarly, Amazon might most likely put together a zealous landing page on the site to help shoppers and vendors shop in a profitable way.
Every August, Amazon has a FBA Inventory Cleanup and there will be a change in FBA fees. Keep it in mind!
October
October is the month when you have to strictly monitor Amazon's news and announcements in order to adhere to changes in warehouse and shipping deadlines for the upcoming holiday season.
What you need to do now is keep a track record of all the news and announcements. Please remember that October Fulfillment Fees and Monthly Inventory Storage Fees will match that of November and December. The alignment of Q4 fees is explained above.
November
November is a critical month for Amazon's Action plan. It has two big days to celebrate, Black Friday and Cyber Monday.
Black Friday
If you are an online retailer, then you must know the difference between Black Friday and Amazon Black Friday. Amazon brings its own set of rules and regulations.
Amazon Black Friday starts early with huge promotions and attractive advertisements and captivates the shopper's attention as Amazon Black Friday is an exclusive event. Most of the vendors make up their annual revenue in this event.
Amazon Black Friday is not just about sales and shopping in the traditional brick and mortar shops! It's moved beyond the typical sales as the carts are filled up as quickly as possible on this enormous shopping day.
Amazon's Black Friday is typically on 24th November 2017, but it offers the Black Friday deals for an extended period during this month.
The vendors have to keep their inventories in stock weeks before Black Friday starts and keep them in stock even after Black Friday is over as it is the best time of the month and people are always looking out for appealing deals.
Fortunately, Amazon broke its single-day sales record on Prime Day in July that there are great expectations from Black Friday as well! All the online retailers must be ready to lift their Amazon sales because there will be the massive upturn in online shopping traffic during Black Friday.
Cyber Monday
Cyber Monday is going to be on 27th November 2017 and if you think Black Friday gets all the Amazon holiday shopping promotions, you are moderately right, but online vendors should be more concerned with Amazon Cyber Monday.
During Cyber Monday, products such as Kindle, Dash buttons, electronics, household appliances and various other products come with alluring discounts. Be ready to reprice your products and set enticing discounts on your products.
During Cyber Monday, usually, electronics are most in demand. So ensure you give amazing deals on them. There was an increase in shoppers during Cyber Monday in 2015 and 2016, so be ready to boost up your sales this year.
December
If you are in the FBA category, there are certain timelines you have to watch out for in the month of December as it is the month of Christmas.
Seller and Buyer cut-off dates are available only for the year 2016. Please check our blog for an updated version soon.
Since December is the holiday season, throw in a holiday discount whenever possible, offer free shipping and promote certain products that you think can boost up your sales in December.
Always keep your inventories in stock and if possible package the products at a reduced cost as these are few assured ways to expand your sales during the Christmas.
Important events for Sellers, 2017
There are quite a few events conducted in different cities for Seller. The main aim of these events is to better equip you for the ever-changing online market. As a part of Amazon action plan 2017, we would suggest you look into the key features of these events and choose the ones that complement you.
SCOE PHILLY 2017(7th to 10th March, Philadelphia)
Sellers Conference for Online Entrepreneurs [SCOE] was established in 2006, and it is the world's largest conference for online sellers.
The speakers at the conference tell us about the current trends, technologies and inside information which helps us stay ahead of the competition and assure a growing business accomplishment. The speakers share their observations, understanding of the business, private label, taxes, international expansion and much more at this conference. This conference has had a proven track record of increased sales for sellers. So, this conference is a must-visit for all the sellers.
This conference is happening from 7th to 10th March in Philadelphia, PA. The tickets prices are $699.99 if bought in advance. Else, it would be 23% more when you purchase the tickets at the door.
PROSPER SHOW (22nd and 23rd March)
Prosper show is a conference that will take place on 22nd and 23rd March 2017. It concentrates on educating and guiding the audience with the help of professional online sellers.
This conference features several bygone Amazon leaders and CEO from leading Amazon Marketplace solution providers that help sellers to build their online business.
This conference benefits online sellers to establish adequate and profitable business and provides a quick fix result to all the seller related problems. The speakers will discuss tax compliance, sourcing from Chinese vendors, SEO optimization, and various other issues with respect to online sellers seeking to enhance their business on Amazon.
This is a quintessential conference for all the Amazon sellers who are seeking on building their business with higher proceeds while meeting all the prominent solution and service providers that benefit all the sellers to boost their business more dynamically.
Further, there are extra workshops on 21st March 2017 on private label, sponsored products, accounting, taxes and more.
INTERNET RETAILING EXPO (5th – 6th April, Birmingham )
Internet Retailing Expo is where numerous divergent industries meet. This one event which you shouldn't miss at any cost.
This is a two-day event which has inspirational and fascinating content to grasp, network and determines the latest diverse and offbeat trends which can help you upgrade your business.
This conference is taking place on the 5th and 6th April 2017 in Birmingham, United Kingdom, and it has over a dozen of speakers from all over the United Kingdom retail terrain.
This conference has free registration and there are various free conferences on subjects such as mobile optimization, logistics, operational excellence, customer satisfaction and more.
All the workshops are seated on first come, first served basis or booked in advance. Also, you can pre-book consultations with experts at this expo.
The tickets for this conference are priced at $799. The Prosper Show attendees even have free passes to attend the ASD Market Week and the Source Direct at ASD Shows which are taking place on 19th-22nd March 2017 at the same venue.
INTERNET RETAIL CONFERENCE + EXHIBITION (6th -9th June, Chicago)
Internet Retailer Conference + Exhibition [IRCE] is the world's largest e-commerce trade event that is happening from 6th – 9th June 2017 in McCormick Place West, Chicago.
This event caters to evolving e-commerce with all the prominent industry experts who provide the latest and vast solutions to all your business related queries.
This show will have about 600 exhibitors, over 200 expert speakers and an average attendance of 10,000 people are expected. This show would be a ready-made community for networking with thousands of like-minded industry peers.
This conference focuses on all things e-commerce that includes online retail strategies, the latest online trends and interviews with top industry leaders. Each session focuses on new trends in retail marketing, SEO techniques and address on obstacles faced by real business.
With vendors almost available in all categories from marketing to fulfillment to retail technology and more, you definitely have your business sorted at this conference. Think twice before you give this a miss!
SCOE SEATTLE (5th to 8th September, Seattle)
Sellers Conference is the world's largest conference for online sellers happening from 5th to 8th September 2017 in Seattle, Washington.
This will be the second conference for the year 2017 after Philadelphia.
This conference is aimed at helping Business to Business companies networking and solutions. It also has a proven track record of increasing sales for all the sellers.
The speakers at the conference will give the audience an insight of online business dynamics, private label, taxes, international expansion and much more. This is a good opportunity to clear out all your confusions and apprehensions relating your business from the industry insiders.
Well, this brings us to the end of this article. I hope this helps you plan your year better. We're looking forward to your comments and questions. All the best and stay tuned to our site for interesting information on Amazon Selling.
If you have an event or activity that we missed out on, do share it with us in the comment box, and we will incorporate that into our list.

Free Amazon FBA tools
HTML Product Description Editor
Was this post helpful?
Let us know if you liked the post. That's the only way we can improve.