There might be a few reasons why you are not seeing enough traffic for all your products. One potential reason is – you are not properly using the resources to drive traffic. You need to showcase your products to your target audience. So it's important to optimize every part of your sales funnel to reach the customers and generate more sales.
As part of sales funnel optimization, having a landing page for your Amazon business is crucial to driving external traffic. If you are a brand-registered seller who wants to create the best Amazon landing page, we have got a few options for you.
Before we dive into the details, let's see why you need a landing page generator for your Amazon business in the first place.
A quick peek into the content
Why you need an Amazon landing page for your business
Top 6 Amazon landing page generators for your business

Discount Coupon Sender

Conclusion
Why you need an Amazon landing page for your business
A customized landing page with your product listings is extremely helpful for promotional activities such as social media ads. Along with that, you have a few notable benefits like:
Expanding customer base – If you are a seller with a huge assortment of products, using a custom landing page makes it easy for the audience to find similar products on your landing page. They will no more get lost on your store page, so this boosts your conversions.
Monitor your traffic – Since you have a specific landing page for three or more products, it will be easy to track the audience and their behavior within the landing page.
Ad performance – By viewing your ad metrics, you can ensure your ad campaigns are doing well.
Expand customer base – Capturing potential customers before they purchase your product will help you understand your customer's profile. This improves your ad targeting further.
Top 6 Amazon landing page generators for your business
Let's look at them one by one.
Amzpromoter is now a Landing page promoter. It can build a user-friendly Amazon landing page and automate the coupon delivery system for Amazon sellers. This software is appealing for moderate to advanced sellers, who want advanced features for a landing page. Advanced sellers who want to create PPC campaigns will get a good value out of the features for the price they offer.
With Landing page promoter, you can:
Drive external traffic from sources such as Google, Facebook, etc.
Build responsive and optimized Amazon landing pages that convert
Automate the coupon distribution process
Capture customer's email ID before they buy the product. You can do this by offering coupon codes in exchange for their email addresses. You don't need to worry as this is compliant with Amazon's terms of service
Pricing
You have three plans to choose from – Starter, Essential, and Professional.
These plans are for new sellers, early-stage sellers, and professional sellers with more than $30k+ monthly revenue.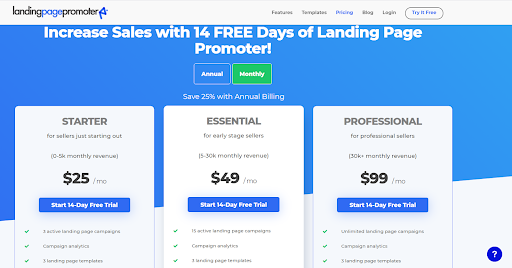 They offer a 14-day free trial, and you can save more if you take up an annual subscription.
This is one of the well-known Amazon landing page generators out there. This is built for e-commerce sellers, and clearly, they are trying to position themselves as a market leader in this field.
Landing cube is a simple yet affordable landing page builder for Amazon sellers who want to maximize their conversions from listings. Let's talk about the interesting features they offer.
Landing page builders are easy to use for even someone who has no experience in design. You can start with the landing page templates they offer.
Capturing emails for coupon codes is extremely easy. You can even integrate the software with other email marketing tools such as Mail Chimp.
They now offer a 2-step URL generator that you can use to replicate organic traffic to your Amazon product listings.
This software works well with international Amazon stores.
However, advanced sellers may find the templates limiting their options. Besides, these templates do limit your avenues to engage the audience. On the whole, Landing cube prices and features are great for a beginner as they get limited experience but are provided with enough educational content.
Pricing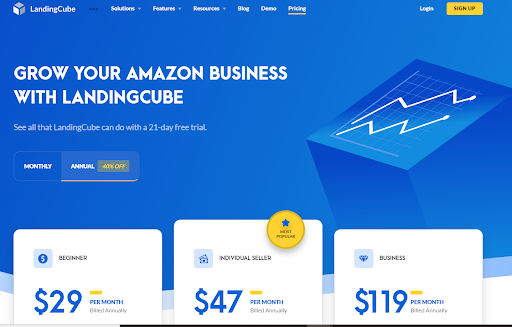 As a seller, if you are looking to build your first Amazon landing page, Landing cube can be a better option as they offer a generous 21-day trial.
ZonPages offers you a variety of Amazon tools including inventory protector, buyer-seller messaging, and landing page generator. However, their biggest strength is the ease and simplicity to create a landing page. They are relatively new to this field, yet they offer a lot of integrations with the software.
Pricing
While ZonPages offers similar pricing to Landing cube, they offer a great deal of value with their basic plan. Though it has a few restrictions, it offers a potential value that includes unlimited email campaigns, customers, and coupon distribution pages, unlike the other competitors in the marketplace. Their basic price is competitive with all the inclusions.
However, you cannot access the additional marketplaces with the default plan. You need to go for the Business or Enterprise plan and pay an additional amount to access the marketplaces. This could be a deal breaker for Amazon sellers who are selling on multiple marketplaces as the costs will add up.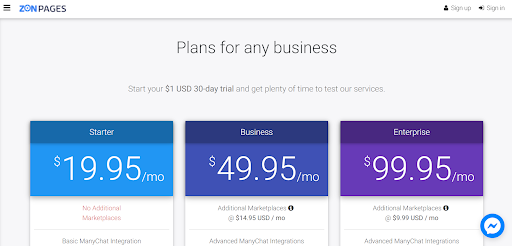 The creation of a landing page is easy with ZonPages. With the number of inclusions in the basic plan, this landing page generator is worth keeping a close eye on.
Discount Coupon Sender
Discount Coupon Sender is a software that helps Amazon sellers get more traffic and rank higher on the search results. It is a landing page generator that helps sellers drive external traffic by sending coupon codes to their customers. It supports 14 marketplaces all over the globe.
They have various features such as coupon code delivery and analytics, customizable templates, form builder, real-time editing, and much more. The software can be integrated with multiple third-party tools like Google Analytics, Mailchimp, Facebook ads, etc.
The tool pixelates the URL you send out to customers. This helps in keeping a track of where the traffic is coming from. It can target various campaigns with specific purposes and help in driving more traffic. It can also boost your product rank and reviews.
It has a free 28-day trial and does not require your credit card information. You can cancel anytime.
Apart from this, they have three pricing plans –
The Kickstarter plan – is $9.99 a month.
The Standard Plan – $18.99 a month.
The Premium Plan – $37.99 a month
Driving traffic isn't of much value unless it converts. This is where Amzlead comes into the picture. They offer excellent support on priority if you opt for their professional plan. Besides, creating landing pages with Amzlead is a piece of cake. The software allows seamless social media integrations, and you can customize without any HTML knowledge. Along with that, you can look at the detailed statistics of campaigns and advertising.
Pricing
Priced in Euros, this Amazon landing page generator may not be extremely helpful for Amazon US sellers. However, you can use the FREE plan indefinitely as long as you work with one campaign. If you want to manage more than one campaign, the price can be significant and most sellers may not find it competitive.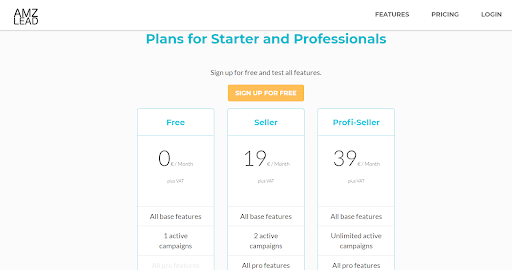 My Seller Pal helps you create mobile-optimized websites and customized landing pages. If you want a simple, quick yet responsive set up to generate an Amazon landing page, My Seller Pal is your go-to software. You will get some interesting integrations like 'PPC waste identification' and 'profitability tracker.'
Pricing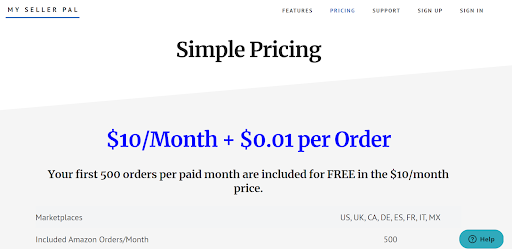 They offer an option to use their free features like access to beta tools and Amazon listing optimizer tools.
Conclusion
When used properly, having an Amazon landing page will be a game-changer to increase your traffic and promote your products to the customers. The landing page is exactly what you need to build a thriving business on Amazon. So go ahead and create one!
Additional Read:
How To Get The Amazon Best Seller Badge.
TikTok strategies to boost your Amazon business – Great Ways to Drive External Traffic
Was this post helpful?
Let us know if you liked the post. That's the only way we can improve.