If you are a seller on Walmart Marketplace, then you certainly want to read about the so-called Walmart Keyword Bidding.
Walmart introduced the concept of Keyword Bidding in mid-April for its WPA (Walmart Performance Ads) program and is definitely a substantial step to take the business to great heights, even though in its initial stages, this service is more restricted than Amazon.
Let's look into the details.
Quick Guide:
But before we get into the details, here are the latest things happening in Walmart.
According to CNN Business, Walmart is quite serious about giving good competition to Amazon. It is also determined that it has acquired a startup company recently to help them compete in an unanticipated business – which is online advertising.
One of the biggest retailers bought or acquired a Silicon Valley Startup – "Polymorph Labs," which specializes in handling digital advertisements for brands.
The terms & conditions of this deal were not disclosed. However, Walmart stated that adding this startup's technology will help them enable current and prospective advertisers to reach more customers effectively.
This acquisition will help Walmart to compete with Amazon (which is also the country's 3rd largest advertising platform whereas 2nd being Facebook and the first being Google).
Doug McMillon, Walmart's CEO says,
"Our data was never monetized, and we have
a small ad business but it could be bigger."
Walmart hopes that this pitch will make consumer brands stick. It is playing up with the fact that with its wide link of physical stores, it can recruit more brands.
The company also says 90% of Americans shop at Walmart each year and it has a wide range of shopper data too. Moreover, its stores and website attract about 160 million people every week.
Walmart is on great plans to squeeze out from digital advertising because it's lucrative.
Facts:
In 2018, Walmart sold 184 billion dollars' worth of groceries in the U.S.
Walmart has sacrificed profits recently by investing billions and billions in building its digital operations, adding online pickup from thousands of its physical stores, and lowering its prices.
Though profits have dropped 3 years in a row, Walmart still firmly believes that it is creating new and innovative revenue streams like advertising, financial, and healthcare services to boost profit.
New Hires in Walmart's Advertising Mix
In 2018, Walmart appointed Barbara Messing to be its CMO (Chief Marketing Officer), replacing Tony Rogers, who has now taken a new job role as Chief Member Officer, at its sibling firm – Sam's Club.
Barbara is working towards bringing innovative advertising ideas for Walmart. She leads the marketing for all Walmart stores as well as its e-commerce operations.
Fascinatingly, Barbara is Walmart's first-ever female CMO as well as the first person to be hired from outside for such a responsible position.
Besides this, the company also created a new position, which is CCO (Chief Customer Officer), who now happens to be Janey Whiteside. She is taking care of examining the brand's customer journey. She works towards acquiring new customers, their shopping experience, and resolving problems that they voice.
Walmart's Advertising Plans
Since 2018, Walmart has taken new curves on advertising and has made bigger commitments to digital advertising.
It has hired new people and this online effort has paved the way to a better revenue stream for Walmart. One of the biggest assets of Walmart is how it gathers and conglomerates its online shopping data & in-store data.
For advertisers, this data is considered as an authentic data goldmine, which makes an appealing proposition. This data helps in informing them how to generate general ads, use flash, text, videos, and images.
It can encourage potential shoppers to come to the website to make a specific purchase. This boosts its online revenue in return.
While Walmart's online advertisements were focused on its own product(s), it has now started highlighting more products (as banner ads) from third-party sellers on its website.
Walmart's Advertising Strategies
So, how does Walmart strategizes its ad program? This is something most people, especially sellers would want to know.
Well, the company utilizes search, banner ads, native ads, and product listings on its website. Native ads (paid media) turn out to be more useful.
According to a study conducted by Sharethrough in 2018, customers see native ads 53% more often when compared to display ads. This study also reported that these ad types "registered 18% incline in purchase intent."
A native ad is visually more engaging when compared to traditional ads. Talking about programmatic marketing in specific, when a seller wants a particular ad type to be directed towards a set of audiences, Walmart's ad platform is ideal because it has already utilized this strategy.
These types of ads provide banner ad creators an opportunity to customize them in real-time, which is great for all parties.
To know more about Walmart Selling Strategies Click here
What Are WPA (Walmart Performance Ads)?
Walmart's sponsored ads work based on the bidding system, much like how Amazon's work. A seller bids on a set of keywords that are assigned to their advertisements.
When a shopper searches for something and his or her "search term" matches the respective keyword(s), the seller wins the bid and this is when the ad populates.
WPA (Walmart Performance Ads) enables bidding of keywords based on these match types:
Exact match type: These are keywords in the exact order that you have specified. Example: "Women swimming dress"
Phrase match type: These are keywords that you have specified but have an additional word(s) before or after them. Example: "Best Women swimming dress"
Broad match type: These are relevant words other than what you have specified and in a different order. Example: "Swimming costume for women" or "Swimming costume"
The minimum bid for a keyword as of April 2019 is $0.30.
Note: Currently, Walmart.com doesn't allow negative keywords. However, the platform is expected to add the capabilities of a negative keyword by December 2019.
Keyword Bidding is Limited to "Campaign Level"
As of now, Walmart.com enables "keyword bidding" only at a campaign level. A seller can group as many products as he/she wants into a campaign, but Walmart recommends going only with 30-50 products maximum.
After the campaign is created, a seller creates a group of keywords for it. If he or she wins the bid, Walmart.com chooses it to be your campaign's most relevant product for that particular keyword, and simultaneously, an ad appears for that product.
Note: Walmart indicates that it takes the product's title, description, price, sales history, and backend keywords while coming up with the most relevant products.
A primary difference between Amazon Sponsored Products & Walmart Performance ads is that Walmart requires $1,000 as the minimum budget for every campaign with a minimum budget (daily) of $100 each day. However, if you associate with their partner "Deliverr," this isn't required.
On the other hand, Amazon requires just $1 per day.
Benefits of WPA (Walmart Performance Ads)
Walmart's advancements in keyword bidding are certainly a substantial step, but it still has a big journey to cover to become as robust & reliable as Amazon's.
However, Walmart Performance Ads has its own set of perks, which include:
Helps increase sales
Broadens product visibility
Enhances seasonal campaigns
Shows the product to its massive audience
Helps discover fresh audience
Improved organic search rankings by increasing traffic and conversion
Helps unveil different keywords for product listings
Automatic vs. Manual: How To Select Keywords?
Walmart offers 2 campaign types:
Manual campaign
Automatic campaign
These campaign types work much similarly to what Amazon does.
A. Manual campaign
Here, you can choose the keywords you wish to bid on but from a list that Walmart provides. It utilizes an automated tool for keyword suggestion and determines relevant or applicable keywords for a specific product in your Ad campaign. Once this is done, it offers 220 keywords (maximum) to a seller.
Then, the seller chooses and decides which ones to add to their manual campaign from these 220 suggestions. Currently, a seller cannot add any keyword outside the shown list. However, Walmart does have proper plans for adding this feature in a year.
Quick summary:
The minimum budget for ad campaign is $1000 (if you don't associate with Deliverr)
The minimum budget you have to spend each day is $100
The campaign offers 220 keywords to choose from
Keyword bids are set to their match type level (exact, phrase, broad)
B. Automatic Campaign
Here, Walmart decides what and when to show sponsored products, depending on the keywords recognized from the product's title, description, product category, etc. Walmart sends the seller a list of search queries that have made conversions with automatic campaigns.
Quick summary:
The minimum budget for ad campaign is $1000 (if you don't associate with Deliverr)
The minimum budget you have to spend each day is $100
These ads qualify for every WPA placement
Keyword bids are set to their match type at the product level
Recommended Guide: How to Get Reviews on Amazon.
How To Run Walmart Ad Campaigns Effectively?
It is important to structure your ad campaign based on your business goals.
Say, for instance, if you desire to build awareness for your newly launched products, go for broad match type, as this increases impressions and helps you to use multiple keywords, based on your budget.
But if you are looking for performance, in the long run, start by using "broad match" and after some weeks, check your reports, put your money on lucrative keywords, and eliminate non-converting keywords.
Analyze Your Actual Results & ROI (Return On Investment)
Walmart's Performance Ads come with a self-serve and distinctive dashboard containing reports. This helps sellers to inspect how each campaign is performing.
These are the metrics that you will see on the dashboard:
Daily performance: This is a metric that shows your day-to-day performance so that you can track your progress.
Keyword performance: This displays the keywords searched, match type, bids applied, clicks, number of units sold, impressions, CTR (Click-Through Rates), CR (Conversion Rates), ad spend, sales revenue, and returns on ad spend.
Page type performance: This highlights the pages you are showing the maximum advertisements on and how are each page is performing.
Item performance: These metrics are displayed based on the SKU.
Brand performance: These metrics are categorized based on the brand, which the SKU is associated with.
Platform performance: This is the data that highlights how different shoppers interact with the ads shown on mobile, app, and desktop.
Where to begin?
At times, these dashboards might get overwhelming. Therefore, if you are looking forward to an easy place to begin, go to the section – Keyword Performance – and analyze these:
Total Attributed Sales Revenue: Now, this number gives a proper insight of how effective your ad was. It displays how many consumers followed your ad and actually made purchases.
Return on Ad Spend (RoAS): This is the (total attributed sales revenue ÷ ad spend).
Attributed related sales revenue: This metric highlights the number of shoppers saw or clicked your ad, and purchased an item within your ad campaign (it doesn't have to be the same product which the ad showed).
How To Get WPA (Walmart Performance Ads)?
Currently, the WPA program is open only for selected sellers. However, Deliverr sellers have the perk to run unrestricted campaigns with a maximum of 300 SKUs.
You can even try requesting WPA access. But you will need approval from Walmart Media Group, depending on how you meet their eligibility criteria.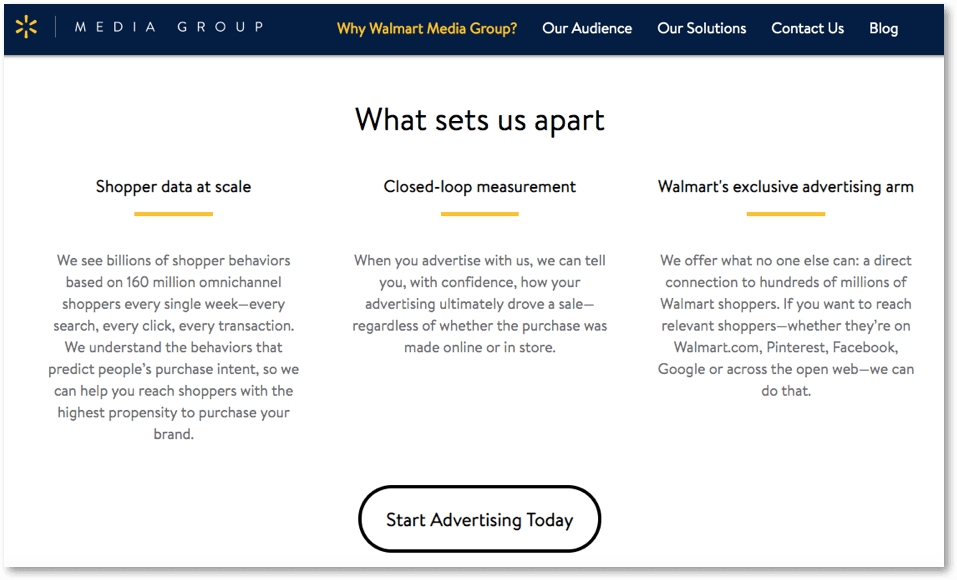 Credit: walamrtmedia.com
Basically, you can:
Meet their stringent eligibility criteria and request for WPA access.
Fulfill with Deliverr to get pre-approved access.
Benefits Of Selling On Walmart
As a retailer, you are in a business where you have to attract and sell to plenty of customers. However, selling on your own website can limit your reach and essentially, losing out on sales where people are literally searching for your products.
We are talking about huge marketplaces like Walmart and Amazon here.
There is still a huge audience who want your products but don't get to locate your website.
The reason?
You are not ranking for those products and instead, giants like Walmart and Amazon have occupied the space.
The ideal way?
A potential and great way to increase your reach and sales is to become a seller in these online marketplaces.
Besides Amazon and Walmart, other popular marketplaces include Shopify and eBay —you will be fascinated to read the fact that 65% of sellers use eBay & Amazon to sell their products.
Their products reach a wider range of audiences because they have a great customer base.
But a major drawback of these online marketplaces is that they are saturated or piled with so much competition that if you are just going to start as a new seller, the journey is going to be tough for sure. It becomes hard to stand out from other established sellers out there.
Happily, this is the right time to jump into the Walmart marketplace. It offers many perks similar to what these big giants do but with much less competition.
Comparatively, if you sell on Walmart, you have an incredible opportunity to be unique and yet meet your sales goals.
Here are 4 key reasons to sell on Walmart and why it is an ideal choice for your business in the current scenario:
1. There is free 2-day shipping
If you recall for a moment, Amazon launched its incredible "Prime" membership program back in the year 2005. One of the best advantages of this program was the free 2-day shipping feature.
You will be fascinated to read the fact that this feature turned out to be a key reason for Amazon's success and this was exactly the time when it started promoting itself more aggressively.
The customers received invitations to join this membership program, while they were at Amazon's homepage, browsing a few product categories, while they were checking out, or choosing shipping options.
After Amazon, Walmart happens to be the world's second-biggest online marketplace—whose response to Amazon's Prime is Walmart's Free 2-Day Shipping badge.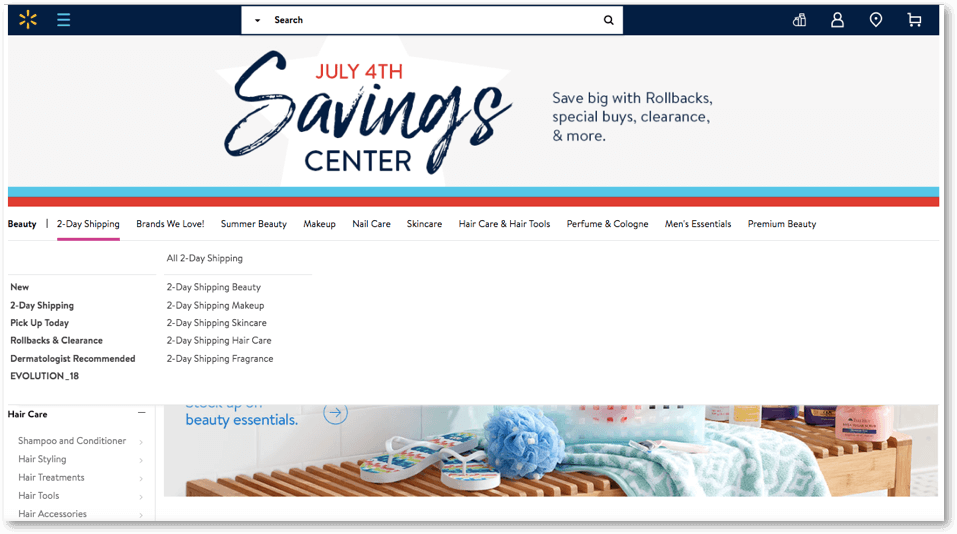 With Walmart's free 2-day shipping tag, a seller can guarantee potential buyers with fast shipping, reach out to more shoppers, and get greater visibility for their products.
They highlight the 2-Day Shipping as a menu or place it on the left sidebar under the section named "shipping & pickup."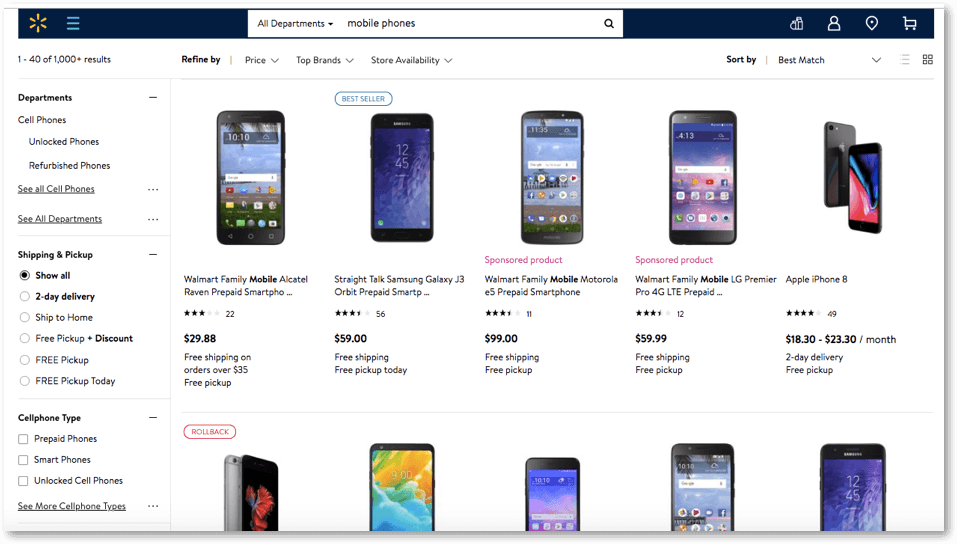 Product listings with free shipping tags are also highlighted in bold text, making it easier for shoppers to see what products qualify.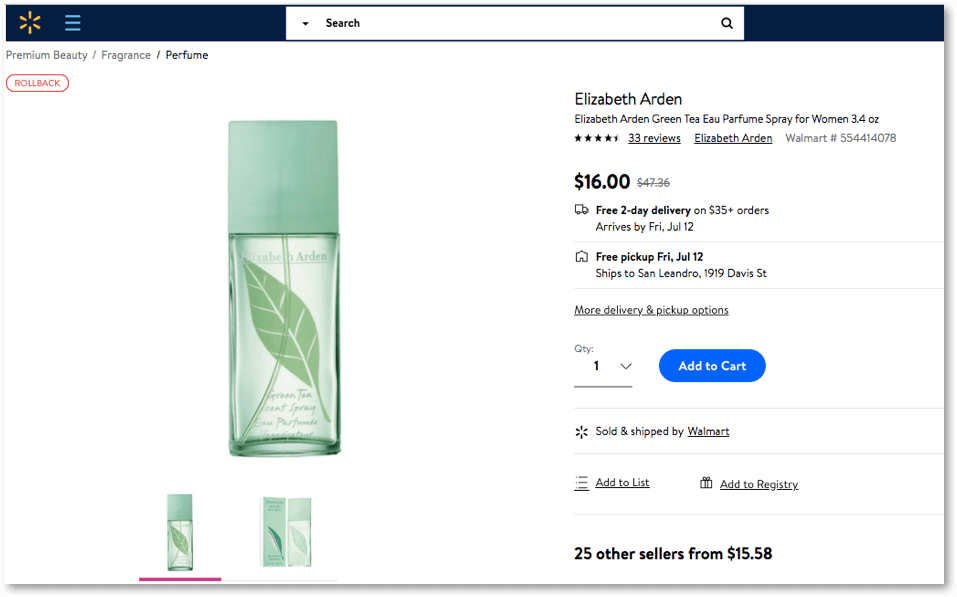 As a seller, if you offer free 2-day shipping, you get a few more advantages, which include:
Higher search rankings: We have found that items with Free 2-Day Shipping happen to rank higher on Walmart's SERPs (Search Engine Results Page). The higher your items are in the searches, the greater are the chances of acquiring sales.
Win Walmart's "Buy Box": When compared to other 3rd party sellers, if you are a seller selling the same products but who tends to offer free-day shipping, then your products sell much faster even if your prices are a bit higher than your competitors.
Filtered searches: Whenever customers buy those last minute deals or want a faster shipping, they usually filter it by 2-Day Shipping. Only if you offer this scheme, your items tend to appear first and the chances of acquiring more sales.
Speeds the buying process: Free 2-day shipping also helps customers sort and find through what they are searching for – much quickly. This helps them to buy sooner than later.
Incredible sales lift: The concept of free 2-Day Shipping is still an untapped space, which certainly gives sellers an opportunity to get more sales on a marketplace like Walmart. Moreover, with 110+ million visitors every month, your products are certainly going to be noticed and have the potential to reach a wider audience.
If you are planning to become a seller on Walmart, spend a little time working towards qualifying the criteria for free 2-Day Shipping. This factor will actually pay off in the end.
2. Outsource fulfillments to Walmart-approved partner
Another key reason for Amazon's success was these 2 options it offered to its sellers:
Accessibility to market the products on Amazon directly
Considering this, Walmart came up with a much similar option but rather in a different approach. It gave sellers the option to use Deliverr to support in managing fulfillment and give accessibility to Performance Ads for sellers to promote their products.
When it comes to WPA (Walmart Performance Ads), there is no requirement of "minimum spend," especially if you use Deliverr— if you don't use Delivery, the minimum turns out to be $1,000 for each campaign otherwise.

Sellers can boost their products' visibility at a minimum cost and increase their revenue.
As a seller, if you use sponsored ads & outsourced fulfillment, you get these benefits in return:
Hassle-free fulfillment & shipping: You no longer have to store your inventory or be worried about shipping your products because Walmart's partner (Deliverr) will take care of that. With Deliverr, your fulfillment will meet a great standard, and every package of yours will look professional.
Cost-Per-Click (CPC) model: You can set your advertising budget accordingly and test what types of items pull plenty of shoppers and see what sell the best. The best thing about this CPC model is that you don't pay until a shopper clicks on your ad.
Simplified management: Look for products that customers tend to purchase and see how they associate with each other. Determine the best keywords and start working on them so that they are quicker to locate and rank high than your competitors' products.
Better search: In order to cater to how shoppers search on Walmart.com, PA (Performance Ads) show up in various places.
Now, even if you sell on other online marketplaces, you don't have to worry. You can still sell on Walmart and leverage its fulfillment & marketing options to get your products to reach your target audience and sell them more quickly.
3. Leverage its brand name
If you had to set up your own e-commerce store, it certainly takes time, money, and lots of effort. Let's say you have done that already. Now, the next big question is – how many visitors are you getting every day? Or, how many sales do you make daily? Do your product pages rank on the top 10 results of Google?
If the answer to these questions is "no" or "less," how are you ever going to generate sales or build a big customer base?
It takes plenty of time to build a brand and have a trustworthy customer base.
On the other hand, Walmart is established, reputed, and holds more than 110 million visitors every month.
These factors make Walmart a perfect platform for you to sell your products. Although Walmart has been there around for a longer time than Amazon, note that it is the 2nd biggest e-commerce giant, considering its annual sales (online).
In 2016, Walmart launched its platform to enable 3rd party sellers to sell their products and acquire access to different loyal customers.
As a seller, if you partner with Walmart, you get these benefits in return:
Greater product visibility: Considering Walmart's huge customer base and reputed brand, your products have a great potential to reach your target audience.
Credibility: If you happen to be a new brand but still have managed to build a strong reputation, you have the advantage of leading the brand with better credibility among your shoppers.
Builds reputation: Having your items listed on a marketplace like Walmart speaks of the value and quality that you offer. You are partnered with a well-known and renowned retailer that utilizes a stern approval process.
The moment you are approved to be a seller on Walmart, it takes less time to develop your brand and generate more sales.
4. Access to special tools
Undeniably, "integrations" are one of the most powerful ways to automate recurring tasks and lessen the peril of input blunders.
After you are approved to sell on the Walmart marketplace, you have great flexibility to integrate the tools that you use already and look for fresh ones, which are even more efficient.
You can make use of automated tools to manage these easily:
Promotions
Product pricing
Inventory quantities
As a seller, integrations help you get these benefits in return:
Managing your online business becomes easy: Walmart offers reliable support to make sure that your automation is easier.
Diversity in integrations: With access to more than 30 integrations, you have the liberty to choose between specialty and full-service integrations, based on your business needs.
Conclusion
Though there are plenty of online marketplaces to sell your products at, Walmart has just started its big journey of becoming the world's best e-retailer. This is the right time to associate with them, as the competition is not as saturated as Amazon.
You can take this as an advantage and start selling to generate more sales. The idea is to pick a product that increases your possibilities of being exclusive and getting them noticed.
Selling on Walmart Marketplace opens the doors to an extensively bigger audience, which you might not have experienced before. Though there is competition in its marketplace, it is still considerably low when compared to Amazon & Shopify. So, use this opportunity to make money and stand out from your competitors.
Additional Read:
eCommerce Help Desk: What Is It and Do You Need One?
How To Get The Amazon Best Seller Badge.
What Is The Business Model Of Walmart?
Was this post helpful?
Let us know if you liked the post. That's the only way we can improve.