Like Amazon, Walmart marketplace offers several ad avenues for brands. Amazon has a large share in the online retail industry, but Walmart has started to grow its digital presence recently. Its strong physical footprint is one of the significant reasons for retailers to consider investing in Walmart advertising. Also, there is a strong correlation between Amazon.com and Walmart.com. A substantial fraction of the population purchasing on Amazon also shops on Walmart. Therefore, having a strong presence on both platforms is vital to thrive in the online marketplace. It gives an excellent opportunity for sellers to capture the buyers' interest.
Quick Guide:
Walmart Advertising – Latest Acquisitions
Walmart created an in-house digital platform called Walmart Media Group by taking up its ad sales and analytics. Recently, Walmart teamed up with Kenshoo, Pacvue, Flywheel Digital, and Teikametrics to expand its Sponsored search offerings. All these four organizations are leading companies with cutting-edge technology in advertising. This will enable Walmart Media Group to develop its advertising abilities.
Additional Guide: Amazon Flywheel: How to apply it to your business.
Walmart also made several acquisitions in 2019 to strengthen its supply-side advertising and enhance its technology. As part of these moves, Walmart acquired advertising startup Polymorph Labs.
Walmart E-commerce Growth
Walmart is experiencing incredible growth recently. And, its constant efforts to thrive are attracting brands and third-party sellers to its platform lately.
Walmart had healthy double-digit growth in e-commerce sales last year. Despite this growth, the company lagged behind Amazon in several areas. Besides, Amazon U.S. sells more products than Walmart. Now Walmart is looking to expand its third-party sellers on the platform – its new launch of WFS (Walmart Fulfillment Services), which is similar to Amazon's model is an example. WFS provides an opportunity for the sellers to store inventory at Walmart's fulfillment centers. This program ensures that Walmart takes care of customer support and returns, reaping more profits, and offering end-to-end transparency to the seller. As the traffic increases consistently, Walmart believes that WFS will be positioned for success.
Walmart is more lucrative for sellers because there's much less competition when compared to Amazon and fewer unauthorized sellers on Walmart. Therefore, brands are seriously considering selling on Walmart.
Recommended Guide: How to Get Reviews on Amazon.
What are brands expecting from Walmart?
Walmart has been working to strengthen its advertising business for years now. The company launched Walmart Exchange in 2014, and reshaped its advertising business in 2017, and taking measures to increase its footprint in the digital ad space. Along with these, the Walmart media group launched a self-serve advertising platform for advertisers recently. This is one of the significant steps to attract large brands.
There are substantial differences between Amazon advertising and Walmart advertising platforms. Though it is easy for the vendors and marketers to switch to Walmart advertising, they have a significant concern regarding the transparency and control over Return on Investment (ROI). A brand must spend a daily budget of $1000 minimum on Walmart. Also, without real-time data and reports, it is hard for advertisers to track their performance and take necessary actions to upgrade their marketing strategies.
On the other hand, advertisers want to create synergy across their platforms. They want to handle and see all their data in a single place. This is the reason Amazon's unified Advertising platform is quite attractive to the brands. Customized dashboards, campaign automation, advanced reports, and forecasting, along with real-time analytics, are growing in the advertising platforms. And, Walmart is yet to step up its game in the digital ad space.
Additional Read: Amazon Advertising Grading Checklist for 2023.
Walmart vs. Amazon – A Comparison of their Advertising Platforms
Walmart has started to boost its ability to measure and target advertising, both online and offline.
Let's take a look at their similarities first.
With all the technological advances happening lately, Walmart Advertising Partners are giving full control over the PPC campaigns. Walmart launched Performance ads similar to Amazon's Sponsored Product ads allowing the advertisers to target via keyword campaigns. Products need to rank within the top three pages and also should win the Buy Box to be eligible for Walmart Performance ads.
Walmart is now offering API to the sellers to track their campaign performance, identify the stock, and automate actions such as scheduling. Walmart API also allows sellers to leverage data from multiple retailers enabling them to make informed decisions.
These similarities apart, there are certain differences in their advertising approach.
| Walmart | Amazon |
| --- | --- |
| Walmart has a first-price PPC bidding model. | Amazon has a second-price PPC bidding model. |
| Directly impacts organic search results. Walmart states that the product's organic results are improved. | Amazon advertising impacts search results, but there's no direct way for it. |
| Currently, minimal information is available for advertisers. It includes visibility, reporting, performance by device, insights into search frequency. | Amazon is bringing unification in its ad features, which are favored by sellers and brands. Amazon efforts such as brand analytics and retail analytics, are making it a powerhouse of data. |
| Massive opportunity for sellers to understand online behavior with in-store purchasing. | Sellers and vendors have their advertising avenues limited to online sales. |
| The minimum budget can be $1000 in total and $100 daily. | The minimum budget is $1 daily. |
| Negative keywords are not a part of the campaigns. | Negative keywords are a part of the campaigns. |
| Walmart search results include organic or paid results for a product. A product doesn't appear twice in Walmart search results. | Amazon search results display both organic and paid results for a product. It means a product can appear twice in the search results. |
Conclusion:
Walmart started to speed up its efforts to dominate the online marketplace. As Walmart advertising isn't as mature as Amazon advertising, there is vast room for early adopters to succeed on this platform. Besides, advertisers can expect low CPC and less competition, which may result in high ROI. Sellers and brands who cash in on these early initiatives will have a tremendous opportunity to succeed.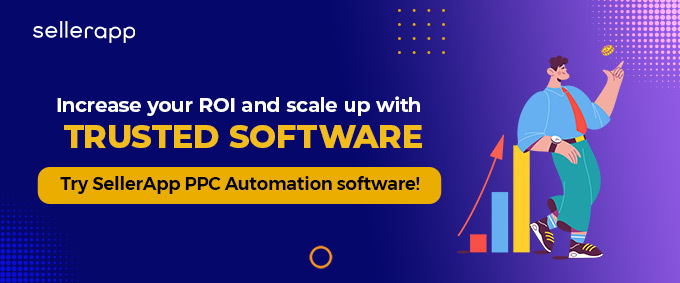 While Walmart may have a chance to grab other online sellers, most of these sellers may remain to sell on both the online behemoths Amazon and Walmart and try A/B tests with their advertising and selling. It may take a while for Walmart to cater to the demand from advertisers for data and achieve transparency like other digital platforms such as Facebook, Amazon, and Google. Currently, its advertising offerings may be slow, but it has a long way to go.
Additional Resource;
Was this post helpful?
Let us know if you liked the post. That's the only way we can improve.