The efficiency of your e-commerce business is determined by how well you manage your fulfillment process!
Let's face it! You're trying to run a business here, and fulfillment is not the exciting part of it.
However, without an accurate fulfillment process, you can lose out on potential sales and hamper customer experience.
Walmart's Fulfillment Service is a great option if you want to streamline your order fulfillment process and ensure efficient customer service.
This essential guide provides you with all the information you need to understand how the Walmart Fulfillment Service works, the benefits of using it, and tips to maximize its potential to gain visibility.
Quick Guide
What is Walmart's Fulfillment Service?
Walmart's Fulfillment Services (WFS) is an order fulfillment service that helps Walmart sellers store, manage, and ship their products, just like Fulfillment by Amazon (FBA).
With operational costs rising in current economic conditions, WFS is a cost-effective way to outsource its fulfillment operations, allowing sellers to focus on growing their business.
Besides, since it's an integrated part of the Walmart marketplace, it's easy for you to reach more customers and increase sales.
Often, small sellers handle their fulfillment process by themselves.
However, when they use WFS, Walmart will take care of everything. Their extensive fulfillment network will pick, pack, and ship the products to customers on your behalf.
This is a major benefit for a seller because it increases efficiency, reduces fulfillment costs, and improves customer service.
You can use Walmart's Seller Center platform to manage and track customer orders, view their profiles, and manage inventory with ease.
How Walmart's Fulfillment Service works
You must first be a Walmart marketplace seller to start selling through Walmart Fulfillment Services.
Unlike selling through Amazon FBA, you cannot simply create a shipment in Seller Central and send products to Walmart. Instead, you must apply to the WFS program to get started.
Here is a step-by-step process on how to use Walmart Fulfillment Services:
Create an account in Seller Center and add your WFS details
Create new listings or convert your products to Walmart-fulfilled listings
Send your inventory to your assigned Walmart fulfillment center
WFS will store your products and prepare them for shipping when an order is placed
WFS will deliver your items, support your customer inquiries, and will process returns

Walmart Fulfillment Services vs. Amazon FBA – What's the difference?
From rules to reporting, there are significant differences between Amazon FBA and WFS. Let's look into them.
| | WFS | FBA |
| --- | --- | --- |
| Monthly Fees | No | Yes, $39.99 for Professional Account |
| Product Restrictions | Yes, limited size and weight | No |
| Maximum Shipment Weight | 30 lbs | 150 lbs |
| Maximum Product Dimension | 25" x 20" x 14" | 108" longest side and 165" length + girth |
| Fulfillment Service Fees | Starts at $3.45 | Starts at $2.50 |
| Product Stored | Inventory organized by sellers | Commingling inventory |
| Product Labeling | No | Yes, provides sellers with shipping labels |
| Multi-channel Fulfillment | Only for walmart.com | Amazon fulfills orders both within the Amazon FBA platform and through other channels. |
| Different Fulfilment Service Options Available | No | Yes, Amazon Subscribe & Save, Amazon Small & Light |
| Is it necessary to have US tax ID to set up the fulfillment account | Yes | No |
| Is it necessary to have a W9/ W8 and ENI verification letter, which verifies your US address | Yes | No |
The benefits and drawbacks of Walmart's Fulfillment Service
WFS can help sellers on Walmart.com expand their business while ensuring quality, cost, and efficiency.
However, before deciding on WFS, you should be aware of the benefits and drawbacks of this system.
Let's take a look at the benefits first.
Enables fast shipping
With WFS, you can delight customers with fast delivery shipping options, such as two-day delivery. This allows customers to receive their orders on time while improving customer satisfaction.
Increase in search visibility
Through the Two Day Delivery tags assigned to WFS sellers, your products gain higher rankings and Buy Box share on Walmart Marketplace. This provides better visibility for your products.
Handles customer service
WFS handles customer service for sellers and manages all inquiries, refunds, and returns. Sellers also get assistance from WFS customer support.
Clear reporting
WFS provides sellers with clear reporting tools for tracking orders and inventory in their easy-to-read dashboards.
Simple pricing structure
WFS offers a simple and transparent pricing structure to sellers. Prices are based on the weight of the products, and sellers can calculate the exact cost of their order fulfillment with ease.
To know more about the pricing structure, keep reading,
Now let's take a look at the drawbacks.
Geographical limitations
WFS only operates within the United States and its territories, such as American Samoa, Guam, the Northern Mariana Islands, Puerto Rico, and the U.S. Virgin Islands. This makes it difficult for businesses to expand into new markets and new customer bases.
Strict rules
WFS has strict rules that prohibit sellers from selling some products through WFS as they do through other fulfillment services such as FBA. If any rule is broken, sellers may have to shut down their Walmart operations.
Product requirements
Walmart's product requirements are limited, which means some sellers may not be able to use the service due to the size, weight, and other restrictions of the items they wish to sell.
Despite the drawback, if the product is eligible, it's still beneficial for Walmart sellers to take part in the WFS program.
Walmart Fulfillment Services: Requirements
To be eligible for Walmart Fulfillment Services (WFS), you must be an existing Walmart Marketplace seller, and your products must meet the following requirements:
Products should be shipped from within the United States
Products should be non-perishable or non-regulated
Product weight should be within 30 pounds
Dimensions of no more than 25″ x 20″ x 14″.
Additionally, you should have a good history of on-time orders, excellent customer satisfaction, and quality service with the platform.
Although Walmart has been slow with approvals for the program, now, sellers have reported a quicker process with applications.
Walmart Fulfillment Service pricing
Walmart's Fulfillment Service pricing structure is straightforward and doesn't have any additional fees for sign-up or subscription. The fees that matters are: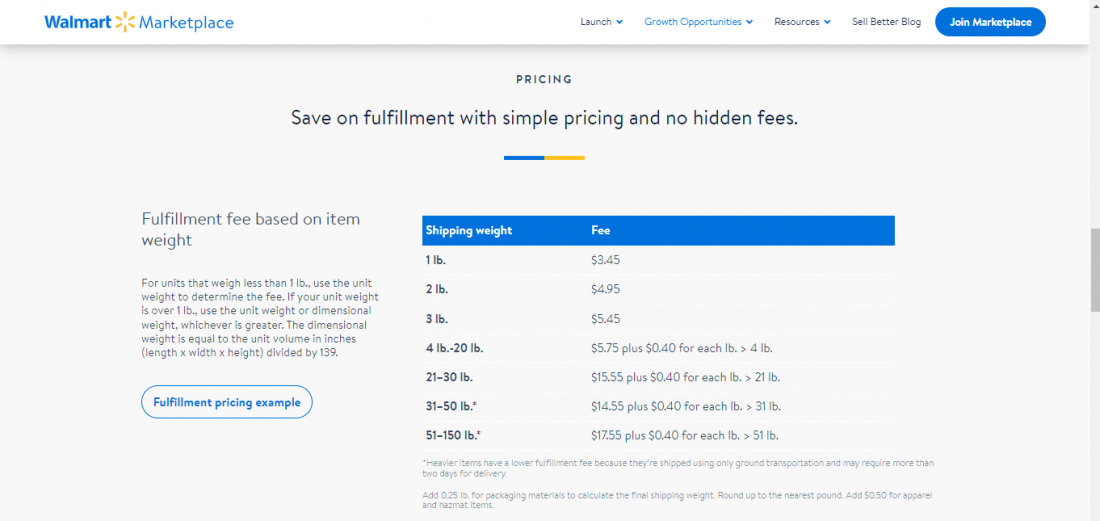 A monthly storage fee that is determined by the volume of the product and the time it is stored.

An extra fee for oversized items.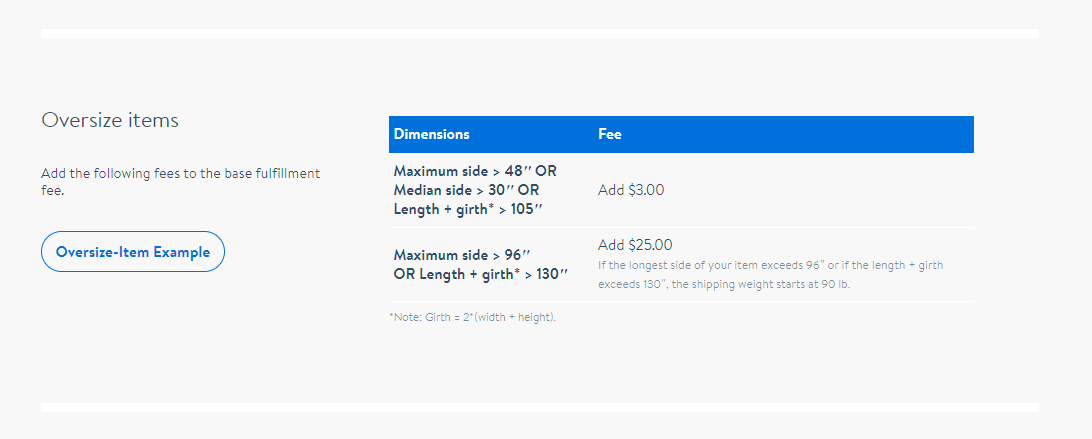 If you want to estimate your WFS fees, use the WFS Calculator to quickly calculate the fulfillment and storage fees for your product.
Enter the weight, dimensions, and any additional product information necessary, and calculate it.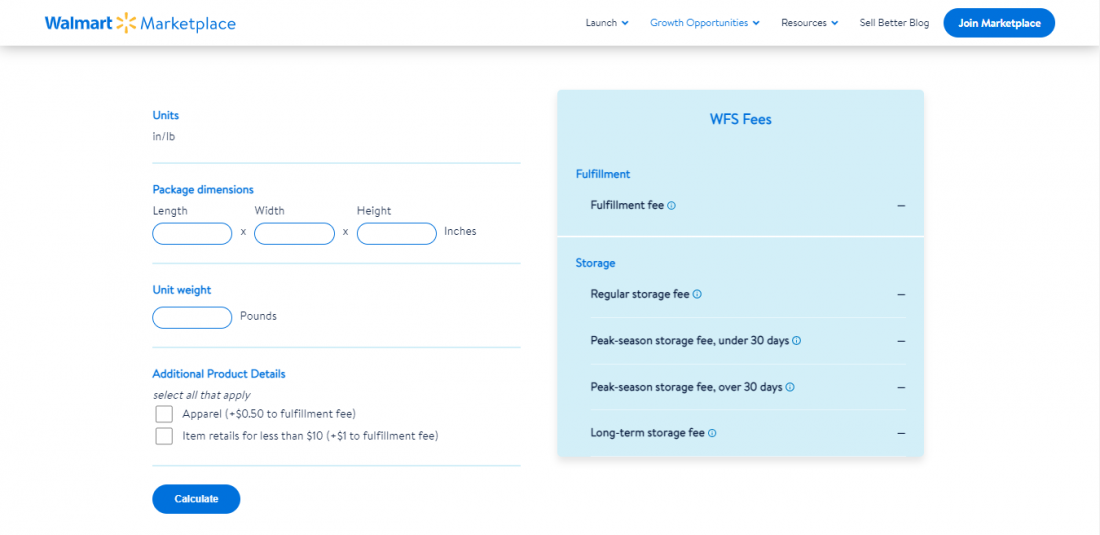 Is WFS the right fit for your business?
Well, it depends on your needs.
Let's say you are planning to expand your e-commerce business to new marketplaces without having to handle fulfillment; then WFS could be a perfect option.
You can also use WFS if you are planning to sell small and lightweight products or don't have the time or space for shipping.
Plus, if you want your products to become eligible for Walmart+ or want Walmart to handle your customer service and returns.
On the other hand, WFS may not be the right choice if you sell very large and/or heavy items.
Besides, if you already use a third-party fulfillment service or own storage and fulfillment capabilities and handle customer service, you wouldn't need WFS.
Ultimately, it is up to you to decide which one is cost-effective and what works best for your business.
We suggest that you should not put all your eggs in one basket. If you are considering WFS, it is a good idea to test it out with a few of your best-selling products.
Keep in mind: Even if you don't use WFS, you can still request access to Walmart's expedited shipping – two-day and three-day delivery options.
Key takeaways from Walmart Fulfillment Services Guide
In short, WFS help sellers maximize their business operations by taking away the burden of fulfillment.
You just need to meet Walmart's expectations, which are:
Sell new products on the marketplace
Offer competitive pricing
Update high-quality listings
Sufficient inventory to meet customer demand
With a compliant business model and WFS, your business can scale significantly on the platform.
Keeping it simple
Walmart Fulfillment Services is a great way to streamline your order fulfillment process. From free in-store pickup to two-day shipping and order fulfillment, Walmart has you covered. With a reliable and efficient system, you can ensure that customers receive their orders quickly and accurately.
Are you still confused if you can go with WFS? Don't worry!
SellerApp has helped 20,000+ brands like yours strategize and grow their e-commerce brands. And we can do the same for you.
Schedule a call with us now!
Was this post helpful?
Let us know if you liked the post. That's the only way we can improve.