If you have been into selling on the Walmart marketplace, you would have certainly heard about some important terms like SEO, Buy Box, Walmart product ads, or sponsored ads.
Walmart's SEO guidelines, tips to win the buy box, and Walmart seller's fees have already been explained here.
This blog will give you a detailed explanation of Walmart's advertising strategies and how you as a seller, can utilize this option to drive more sales for your business.
Before you get to know how Walmart PPC (Sponsored ads) work, it is important to understand its advertising strategies, policies, and guidelines.
Additional Read: 10 Incredible Ways To Get Reviews On Walmart
Quick Guide:
Walmart Product Ads

Since Walmart is expanding with more sellers signing up, their online advertising is also committed to better plans and fresh hires. Its online marketplace paves new ways to boost its revenue stream.
This is indeed considered as an authentic data goldmine, especially for advertisers, making an appealing proposition.
The main advantage of this data is that it guides them on how general ads can be created using text, video, images, and flash in a way that can encourage visitors and help generate sales. This, in turn, improves Walmart's e-commerce business too.
Besides Walmart targeting online advertisements for its own products, they give the opportunity to third-party sellers to display their banner ads on the website.

Walmart Advertising Strategies
Ever wondered how Walmart strategies its advertising programs? Well, they diversify it. Walmart uses the following ad formats on its website:
Product listing ads
Organic search
Native Ads
Banner Ads
On the other hand, paid media such as native ads, or advertisements that blend with forms and functions that appear on the website are highly useful.
A study performed by ShareThrough demonstrated the fact that customers see native advertisements 53% more often when compared to display ads. Also, it reported that such ads tend to register an 18% greater lift in terms of purchase intent. This makes it evident that native ads are visually more engaging when compared to traditional ads.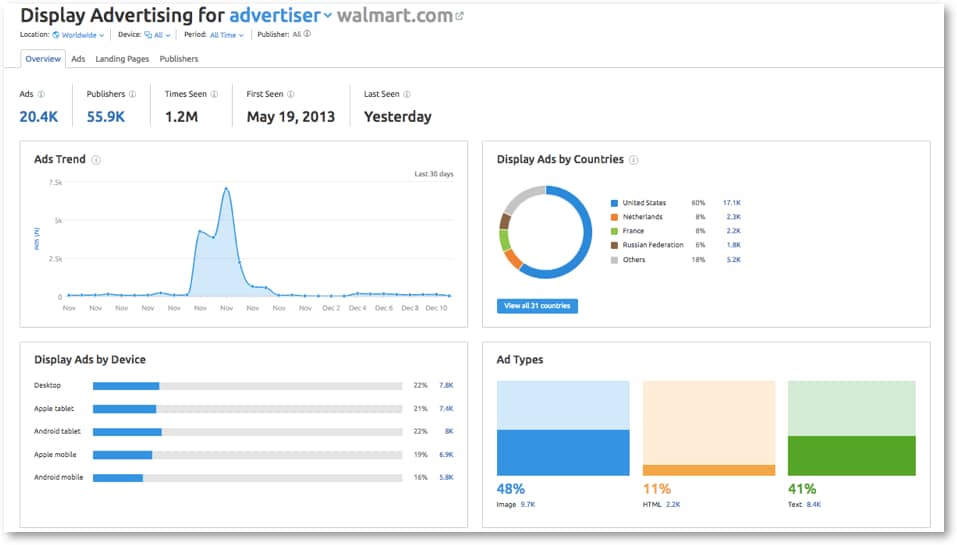 Talking about programmatic marketing, a great advantage is that sellers have the option to target a particular ad on a specific audience. This advertising type gives the owner the facility to customize the ad in real-time.
Overview: Walmart Media Group
Walmart Media Group is one of the best ways to connect with potential buyers in their digital journey. As one of the world's biggest omnichannel retailers, Walmart has created seamless experiences to enable buyers to shop anytime, anywhere, delivering what they are looking for exactly at their convenient time.
Did you know that over 95% of Americans visit either Walmart.com or Walmart stores every year? Yes, that's true. Moreover, with Walmart Media Group, sellers have exclusive access to influence and connect with real shoppers.
In short, WMC serves as an intersection for commerce and content, allowing brands (both small and big) to influence 140+ million customers every month – at each phase of their buying journey.
With the help of Walmart, sellers can link to diverse marketing tactics to make real-time purchases, both offline and online. The capability to fill the physical-digital gap is unique and offers Walmart's partners an unmatched understanding of actual marketing ROI.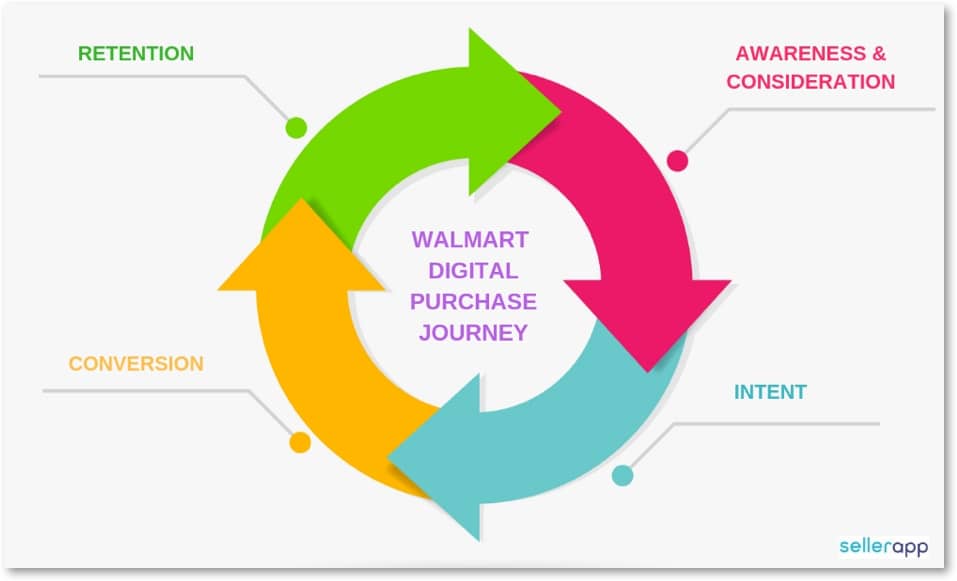 Key Benefits:
As a seller, the main advantages of using WMC (Walmart Media Group) include:
1. Reach Potential Shoppers
Boasting millions of visitors on a daily basis, Walmart is one of the most excellent platforms to help sellers connect to millions of potential shoppers both online and offline. The best thing is that they have billions of transactions with data on shopping behaviors. This behavioral data helps predict the intents to purchase be it online or in physical stores.
2. Omnichannel Buyers Spend Two Times More
Walmart has a direct association with the customers and their shopping behaviors. Both these are highly important for sellers and their business model to operate right. The reason behind this is straightforward: Walmart Store's shoppers who then become omnichannel shoppers tend to spend 2-times more with Walmart as time pass.
3. Comprehensive Marketing Solutions
Walmart is not a performance-based platform anymore. It focuses on market opportunities, closed-loop measurements, and full-journey solutions.
As one of the largest retailers and grocery stores in the U.S., they have customers at each shopping phase, which enables them to design the media measurements and messaging strategically in order to assist customers to make the best buying decisions via the advertisements they see.
4. Closed-loop Measurements
Walmart's algorithms are smart enough to track every customer's shopping pattern. They know their customers' shopping behavior well enough. They can provide all the metrics to show you if their shoppers who just saw your advertisement bought your product in-store or online, and then make a comparison with the shoppers who didn't see the ad. This can be a great advantage for all the sellers out there. Walmart provides successful and relevant metrics at every stage of its customers' purchase journey.
5. Branding, Growth, and Much Beyond
Whether you are new to the market or already an established brand, Walmart ads are one of the best ways to popularize your products. Be it brand life, product popularity, search lift, or the number of shoppers your products are exposed to – Walmart product ads are always ideal.
How Does Walmart Advertise?
Ever wondered what is Walmart's advertising strategy or how does it work? Well, it is making an excellent push frequently to scale its advertising campaigns by positioning itself as a media platform.
Walmart controls its customers' transactional data and helps brands retarget them towards Walmart.com. Nevertheless, the biggest distinguisher that is being pitched is its brick-and-mortar locations that fulfill a promise to connect customers online with offline.
Walmart is making this count by broadcasting its combination as a critical distinguisher from Amazon. It is accomplishing this through frequent meetings with potential buyers, summits with brands & agencies, and learning sessions.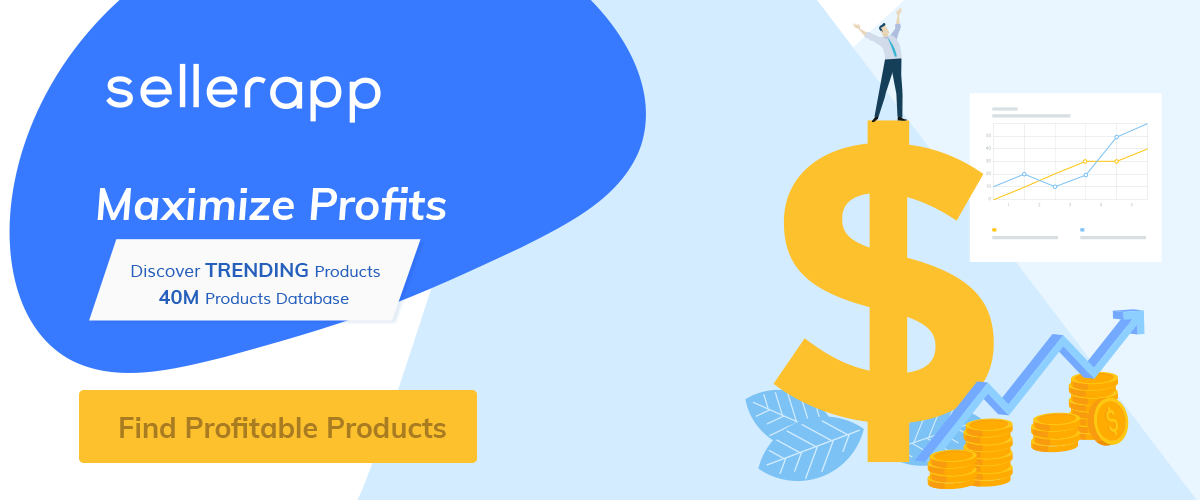 Walmart has more than 5000 locations worldwide, and its e-commerce business has inclined by 50% in the second quarter every year, according to the recent filings from the Securities and Exchange Commission.
While the digital sales are claimed to be only a small part of Walmart's $486 billion yearly revenue, ad buyers claim its achievements of e-commerce websites Jet.com, Moosejaw, ModCloth, and Bonobos.
They indicate that it will keep growing its ad system. Often, retail purchases initiate with online searches. If Walmart owns more searches, there are higher chances to acquire more valuable traffic than Amazon.
Walmart uses a programmatic structure merged with in-store sales information to target its ads, through advertisement exchanges and private marketplaces. It also provides display media on:
However, its native banner ads win and give users a wonderful shopping experience. It also has more options for product listing ads, paid search, and "audience extension" via Walmart's co-branded ads.
This means that the brands can aim at shoppers' behaviors through ads both on & off Walmart.com. (For your information, Amazon has also started offering a similar program like this in July with the name – audience match).
How Walmart's Audience Extension Feature Works?
A shopper visits Walmart.com.
Based on their shopping behaviors, Walmart categorizes them in a specific audience segment.
Keeping their interests in mind, Walmart shows them targeted banner ads.
Viewers find these ads attractive and compelling enough. Upon clicking, they are redirected to the product detail page where they're finally making a buying decision.
Now, the big question is how brands and buyers negotiate with Walmart in order to figure out what will be next? Well, that's actually a part of the deal. Everybody has their own way of learning and growing their categories to see what they are achieving from a partnership like this.
If you are planning to sell on Walmart's online marketplace, do you need to experiment and learn to unveil where your foot traffic actually is? Know if it is through physical or e-commerce? With this data, come up with smart ways to utilize their advertising platform.
Since brands are aware of what shoppers are looking for and purchasing, the advertising platform tends to provide them with more convenient and sophisticated targeting & analytics.
Every big retailer in the online world is offering an excellent vendor marketing platform, but the question is how different are they from others? What is so exclusive about them that can benefit both advertisers and shoppers?
How To Advertise On Walmart?
As said earlier, the internal ad offering on Walmart has certainly evolved in recent years and is growing consistently. Talking about its external advertisements, the greatest benefit Walmart Media Group has is the amalgamated data of online and in-store sales data of customers, via the WMX (Walmart Exchange). It is targeted for website advertising and operates much like Amazon's AAP network.
Undeniably, ads are one of the best ways to promote your items on Walmart.com. In fact, they are even above the organic search results, making them higher in sales conversions.
You can advertise on Walmart in two different ways:
One: Through Walmart.com's Media Group
Two: Through a third-party advertising platform
All the sponsored ads/featured product ads operate on the concept of the CPC (cost-per-click) pricing model, where an advertiser is charged only when the user clicks on the ad, followed by an action of the ad's landing page.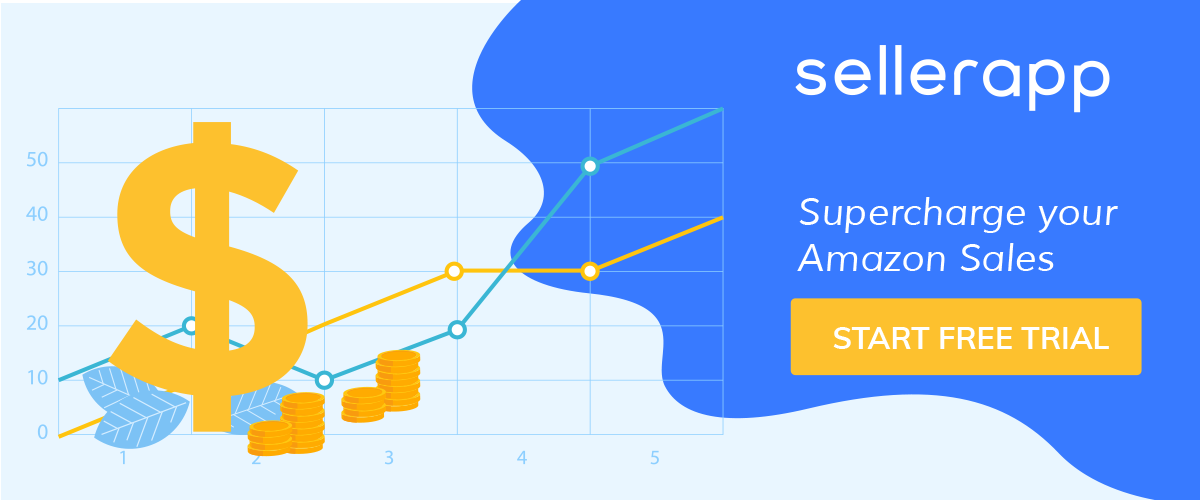 Displaying Ads Within Walmart Website
As mentioned above, the ad offerings of Walmart include Catapults, Site Search Features, and Native Ad Banners.
All these ads are much like Amazon's Headline ads. While "catapults" are advertised for particular products, the "Site Search Feature" on the other hand, targets mainly for brand promotion.
All these ads link to their respective product pages within Walmart's website. These advertisements are predicted to give higher conversion rates because buyers are more likely to click them, as they are familiar with using Walmart.com.
Examples of ads in Walmart.com:
1. Here is a "native banner ad" showing the product's category page: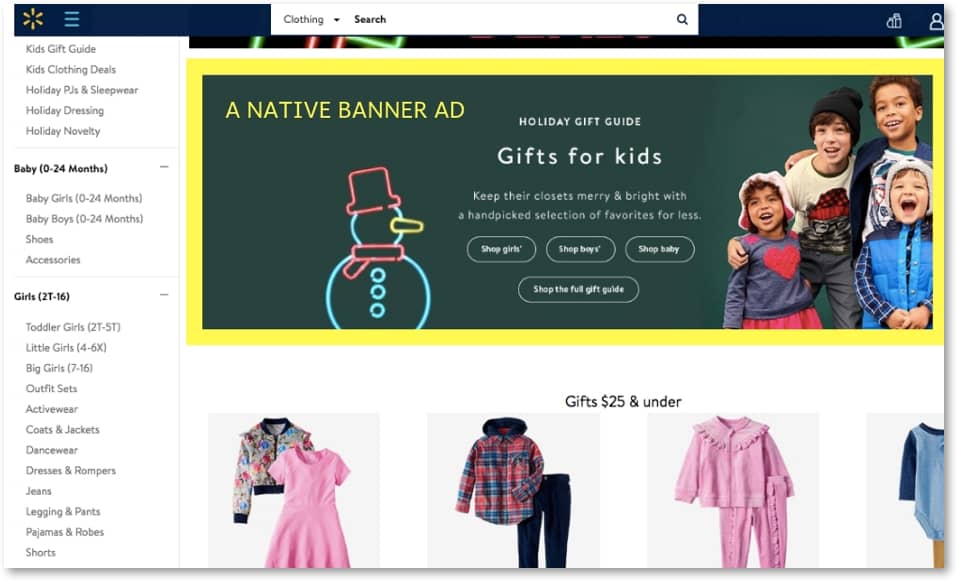 2. Here is a "site search feature" that leads to a specific destination.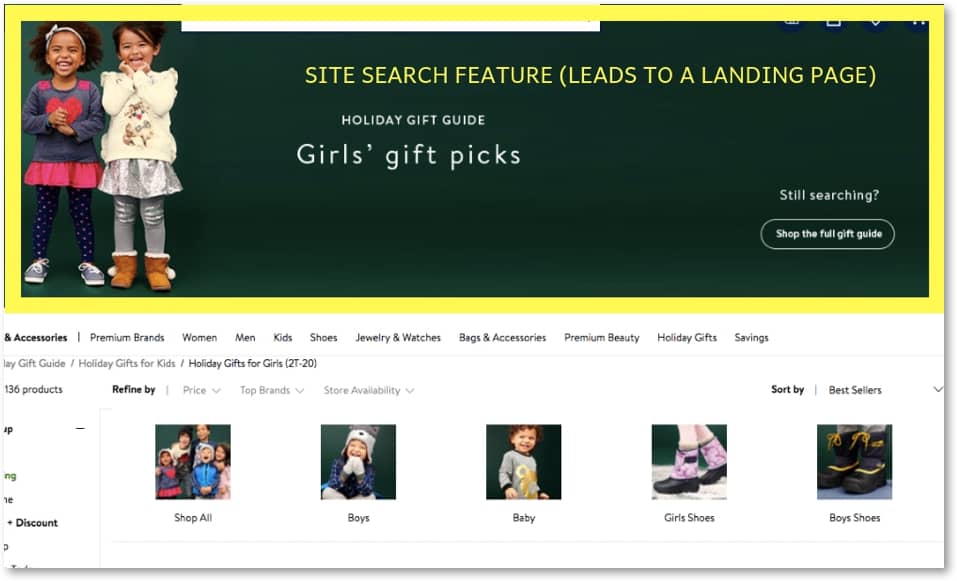 3. Here is a "catapult ad" that leads from a product's category page to its landing or detail page.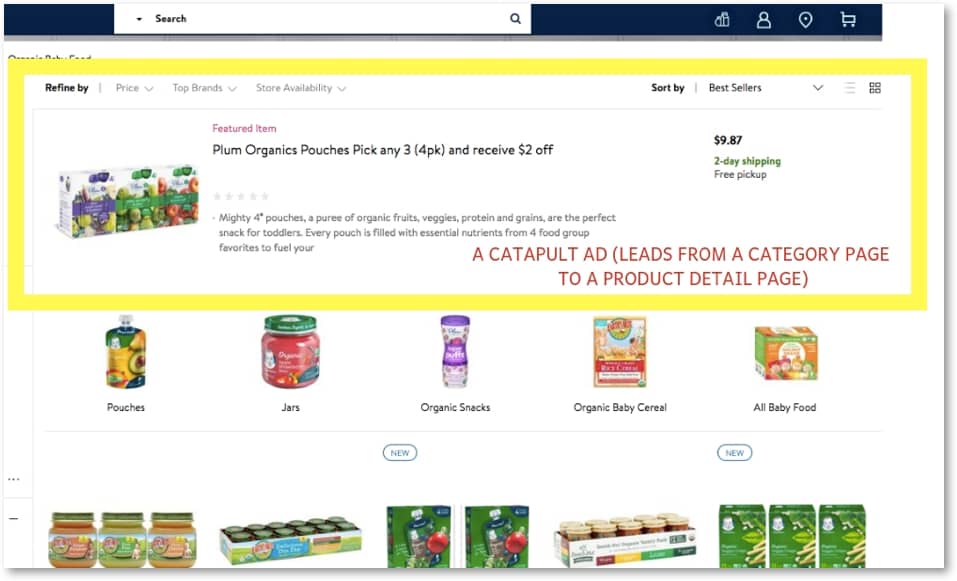 Third-Party Product Display Ads
Now, these are standard networks through which you can link to any external product's LP (Landing Page) to help redirect the users to Walmart.com.
Say, for instance, Google's Shopping Partner Network Ads. Since Walmart is already its partner, its ads are shown on its platform. If you are aware of Google Ads and the right way to use them, this is a great opportunity to have your items displayed on Walmart.com without even listing them on its online marketplace.
How to Set up Promotions & Special Offers On Walmart?
If you want to run any promotion or special offer for your products on Walmart, it is important to notify them about it by sending an email to marketplace_promotions@walmart.com.
What Are Sponsored Ads?
If you have been shopping online for quite some time now, then you would have seen lots of products to be "sponsored." Ever wondered what they are?
According to Wikipedia, a Sponsored Ad or a Promoted Ad is one of the best ways to help a brand to draw more customers or traffic to their products. To have an ad appear on top of the search results (in any digital platform) or show it to a specific audience, a brand or a seller pays a specific amount for it by entering into an auction, more commonly known as "bidding."
In simple words, sponsored listings are organic listings that are highlighted or promoted in some way, by listing them at the top of the search results.
Every "advertiser" is a brand/seller, who already works with the respective retailer but is paying extra to obtain more visibility or traffic for their services/ products.
These are also called sponsored products, promoted listings, or product listing ads.
Happily, more e-retailers are approving sponsored listings, where sellers/vendors pay to get their organic product listings promoted on the browsing results, e-mails, homepage, etc.
One of the best eCommerce-centric ad units – sponsored listing – is an advanced way to boost revenue for a business without having an unfavorable impact on user experience or sales.
Amazon pioneered sponsored listings and is estimated to make billions from its sponsored listings year after year. This revenue, in turn, enables them to reinvest in product enhancements and lower prices, cementing their position in the market.
Apart from Amazon, the other big brands that have implemented the concept of sponsored listings successfully include Walmart, Yelp, Etsy, and eBay.
Where Can Sponsored Listings Appear?
As an alternative, vendors can also pay for a sponsored ad to promote their products on:
1. Organic Search Results
When it comes to sponsored ads/sponsored listings, "search results" are one of the natural placements. Advertisers can pick particular keywords or search terms that customers search for and further bid for them.
Given that there is an "intent to purchase" when a potential buyer searches for a product on an eCommerce website, this ad placement holds a high value.
For example, if you type the keyword "women's running shoes," a brand like Adidas or Reebok would have bid higher to acquire the top positions. Any seller can bid for this place but whoever pays the highest, earns this place.
Now, there are higher chances that buyers will look at the sponsored product rather than the bottom ones. This was brands boost sales and generate more revenue. Without this paid placement, sellers are less likely to make sales.
2. Homepage – As Banners
One of the prominent placements for sponsored ads is on the homepage of a website. In fact, it is one of the best ways for brands to increase awareness and boost clicks for their products. However, e-retailers charge a very high amount for this spot.
3. Product Category Results Page
Sponsored ads are also placed in a specific product category section when a user browses through the website. Though it technically isn't a search, browsing the categories signify a "buy intent" and ensures relevant targeting.
4. Product Details Page
Most online marketplaces will have a section named "Other Related Products/Customers Also Viewed These Products" on every product page. Vendors also compete for these spots because these also trigger customers, making them make a purchase. So, there are valid reasons why sellers promote their products in these slots.
5. Emails
Sponsored ads or listings aren't limited to just websites. They can be incorporated into emails to boost revenue without interrupting the email-reading experience. Also, there is a considerable payoff for less work.
Walmart PPC & Sponsored Ads
Talking about an online marketplace like Walmart, it also gives the option of showing sponsored ads. For example, Walmart loads these ads in its product categories with 6 identical banners.
Walmart's sponsored ads are run by a third party named TRIAD RETAIL.
These are also called "performance ads," and they work on the PPC model where a seller doesn't have to pay unless a buyer clicks the ad.
Advantages Of Using Sponsored Ads On Walmart:
1. Increases visibility
Walmart boasts 100+ million potential shoppers every month, visiting the search results page, product detail page, and category pages. As said earlier, these are the primary spots where sponsored ads appear on Walmart. Since there is a substantial amount of traffic to each of these sections, the visibility is also high for your products.
2. Straightforward Target
It is not complicated because Walmart decides where your ads can be best located and what keyword combinations can best go with different listings.
3. Generates Sales
Target potential buyers directly to the product pages for purchase. Moreover, you get to pay only when a user clicks the ad. This means your products are being promoted for an affordable cost and yet on a popular platform.
Walmart Banner Ads: Size & Placement
Walmart defines its own ad guidelines, and only if your digital advertisement adheres to these rules, it goes live. Else, they are just rejected.
Guidelines For Walmart Banner Ads: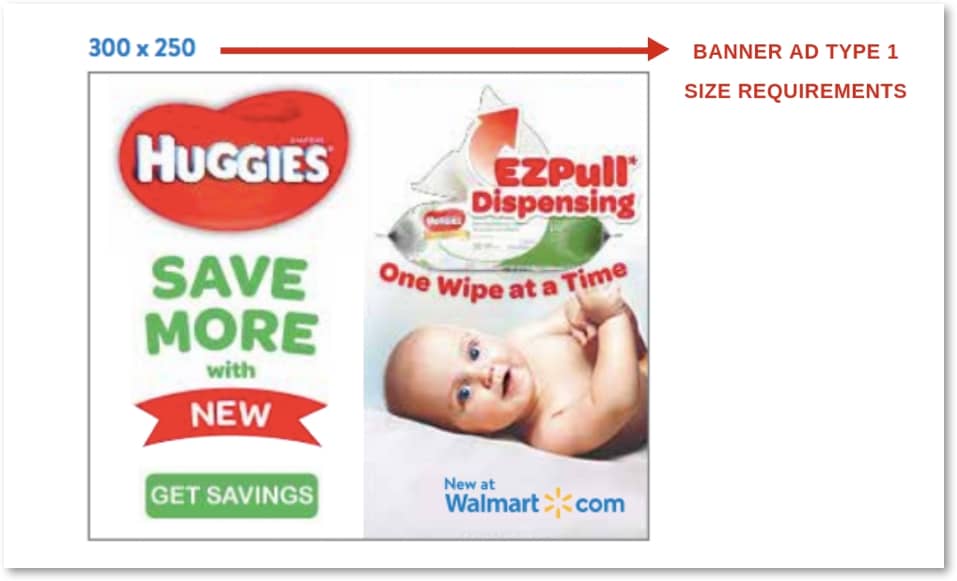 The brand logo and Walmart logo shouldn't be placed close together. They have to separate and clear.
In rich media or flash banners, the Walmart's logo should always be placed on the last frame.
The Walmart logo must be set up at a safety space of 12 pixels to right and the bottom with a safety space of 12 pixels from its edge.
The Walmart name in the ad copy should be linked to the respective product's page on Walmart.com
The vendor logo and Walmart logo should never overlap.
No other retailer's name other than Walmart should be placed in the ad image.
Walmart logo should never have a glow effect or any other filters.
Walmart logo should never dominate the ad, as it might create confusions over the ownership.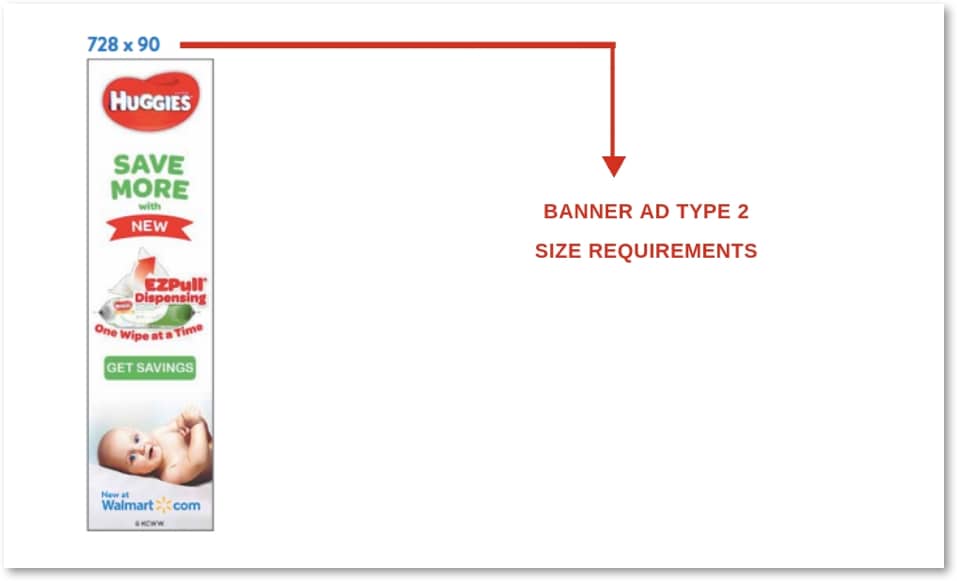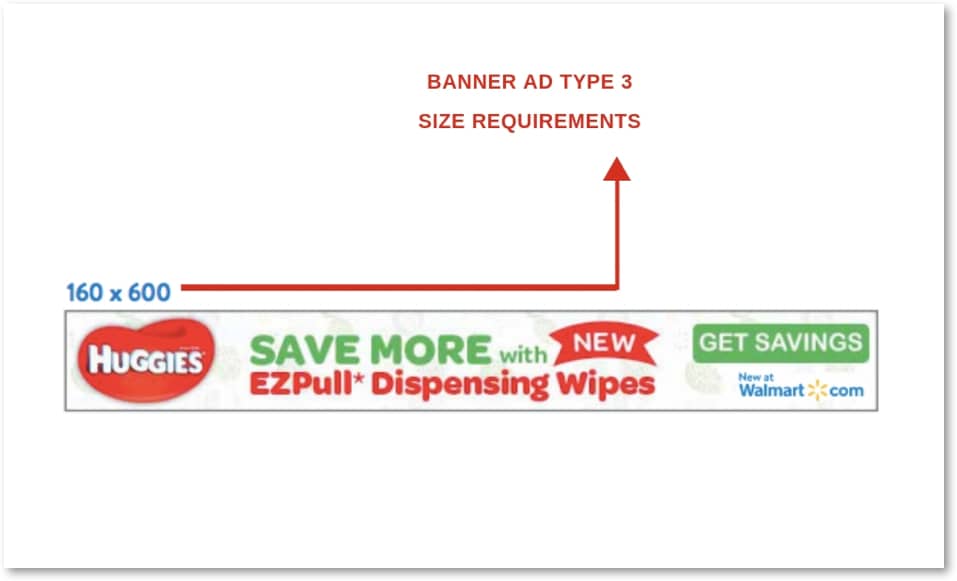 For the last two ad copies, the Walmart logo should have a safe space of 12 pixels to the right, but the bottom safety space should be 2 pixels from its edge.
Related Content: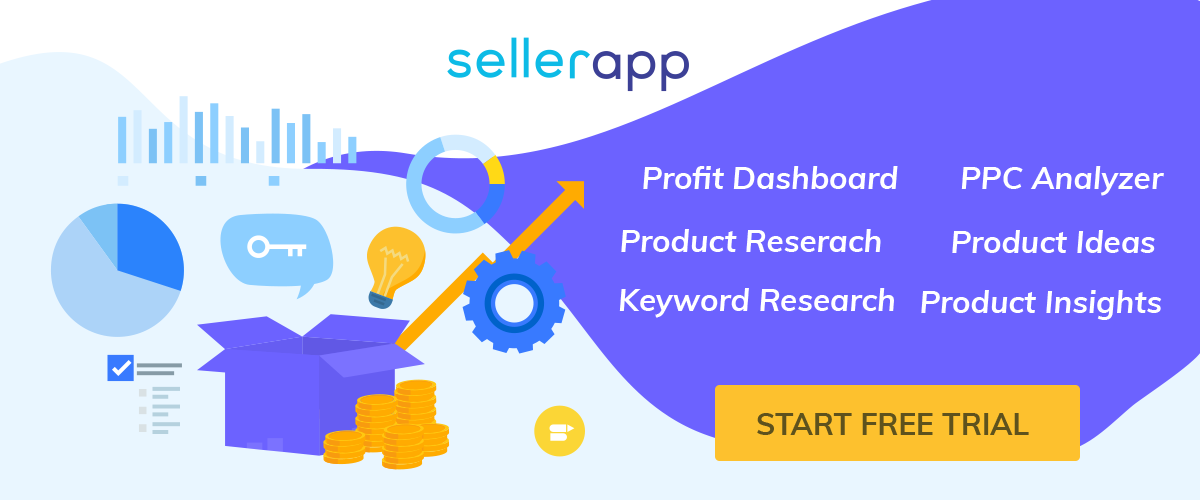 Was this post helpful?
Let us know if you liked the post. That's the only way we can improve.