Over the last few years, we have seen a paradigm shift from conventional shopping at brick-and-mortar stores to shopping in online stores. There's an overabundance of options to choose from while shopping online. Some of the most noteworthy platforms in e-commerce today are Amazon, eBay, Etsy, and Walmart. Everyone is familiar with these names because we've all engaged with them at some point owing to their prevalence.
Walmart marketplace is one of the predominant online shopping platforms.
So if you've been wanting to jump on the Walmart seller bandwagon but have many questions like – How to start selling on Walmart? Or How to get approved on Walmart Marketplace? Then you have come to the right place.
Quick guide
What is the Walmart Marketplace?
The name 'Walmart' is synonymous with hypermarkets and departmental stores. The Walmart marketplace is an online shopping platform where shoppers can buy products that are listed by third-party sellers. 
Sellers have to list their products on the website in a way that is similar to Amazon or eBay. As a seller, you will be charged according to the category that your product falls under. You will also be liable to pay a referral fee to Walmart for every product that you sell. 
Walmart criteria for inviting sellers
Walmart is supremely focused on customer satisfaction and top-notch customer service. So if you're thinking of applying to the Walmart Marketplace, remember this is the very first thing they look for while partnering with sellers. However, there's more to it than just that.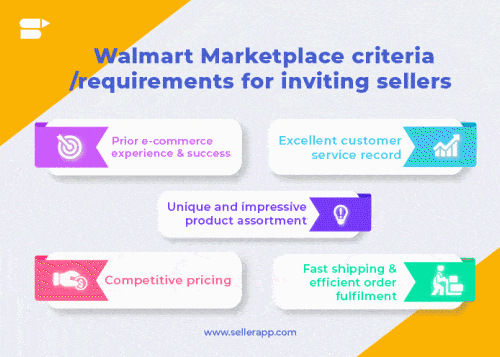 Sellers have to meet the Walmart marketplace requirements which are as follows
You have to be an experienced and successful e-commerce seller.
You must have a proven track record of having provided excellent customer service and satisfaction.
Your products have to be competitively priced and use efficient fulfillment methods with fast shipping.
Your company has to be registered in the US and your business along with its related warehouses have to possess US addresses.
You must have an impressive assemblage of products on offer.
How to get approved on Walmart?
Now that you have read the criteria and requirements you need to meet as a Walmart seller, it might seem a little overwhelming. Some of the most common questions that people have are: How do I get approved to sell at Walmart? Is it hard to get approved by the Walmart marketplace?
Well, the whole process takes only about 10-15 minutes as long as you have all the documents ready.
The documents required for the marketplace application are as follows (according to the Walmart marketplace website):-
US Business Tax ID
W8 or W9 tax forms
Addresses of your US business as well as your place of operations or your warehouse
EIN Verification Letter from the Department of Treasury for verification of your business and place of operations in the US
Product categories, catalog size, and other product-related information including the integration method for your product catalog. Ensure none of your products fall under the prohibited products category.
Let's take a look at the whole process step by step
The first part of the process involves the following steps:
Go to marketplace.walmart.com
Click on "Request to sell" in the top right corner.
You will now be redirected to a page with further instructions, requirements, and information on documents that you will need to join the Walmart marketplace community. Scroll down to the bottom and click on the "Start Application" button in the middle.
Now, you will find yourself on the "Company Registration" page. Fill in all the information and enter details from the required documents in their respective fields.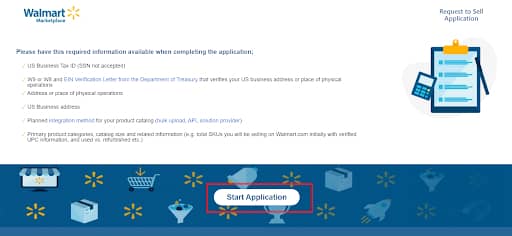 This page will have all the options whether you're a US-registered business or a seller from abroad. Provide your company's legal name and address, EIN, domain name, tax ID, and upload all the relevant forms as attachments. There is a mandatory question on your company having offices and warehouses outside of the US and you are required to answer this question honestly.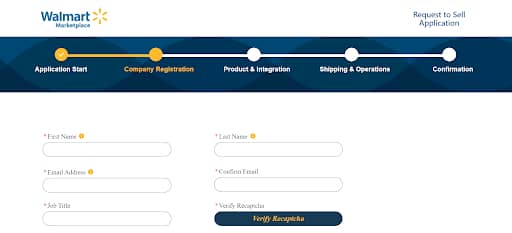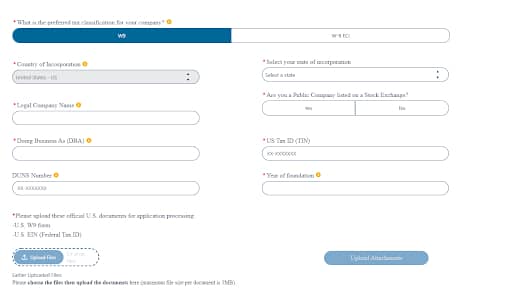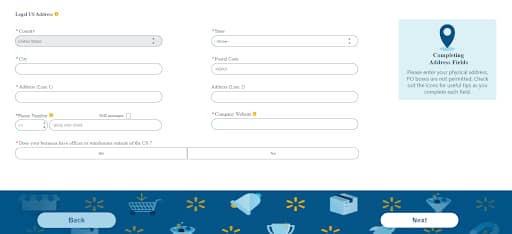 Once you've completed providing all the information on the page, click on "Next".
You will be redirected to the "Product and Integration" page. Here you will have to provide information on whether or not you're transporting goods from another foreign country and choose the product categories that you want to be selling in.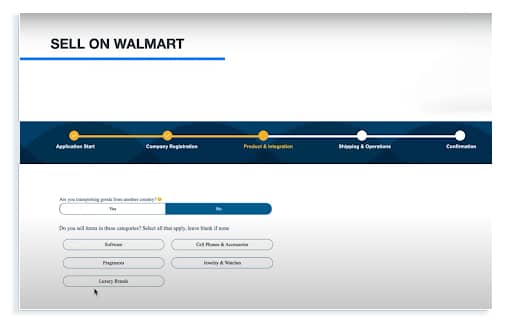 Scroll down and fill in the rest of the information on the next section of the page. It will be related to your average monthly online revenue, highest performing category, catalog size, and other information related to SKUs of your products.
Scroll down to the final section of this page and provide all the information on whether you sell on any other marketplaces online and select the integration method of your choice. Click "Next" when you're done.
You will now be redirected to the "Shipping and Operations" page. Choose the shipping method that you use and mention the address to the warehouse.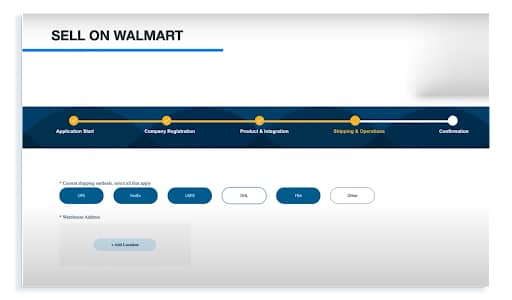 Scroll down to the last section on this page and answer the "Why would you be a good fit for the Walmart Marketplace?" question. Ensure that you mention how unique your products are and how you stand out from other sellers so that Walmart knows what you're offering.
Click on "Review" so that you can cross-check all the information that you have provided and make sure that everything is correct and nothing is amiss.
After reviewing, click on "Submit Form". You will see a message thanking you for your application and telling you that your application will be reviewed.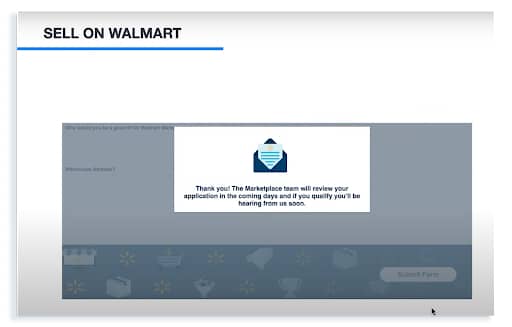 If your application qualifies then you will hear back from Walmart soon.
How long does Walmart take for the approval process?
Once you send in your application you have to wait for their team to review it and approve and only then will you hear back from Walmart. This could take anywhere between 2 to 4 weeks. During this time Walmart may also get in touch with you if they're seeking additional information with regard to your application.
Alternatively, if they're not seeking any more information, then the next time you hear from them might be to inform you that your Walmart seller application has been approved. You will then be qualified to have a Walmart seller account.
How to sell on Walmart marketplace?
Once approved, you will receive an email congratulating you for getting selected and you will be provided with further instructions on what to do next. The next step is to create a Seller Center account. So the question is, how to open a Walmart seller account?

The whole process consists of 6 steps in total
In the email, click on the link that says "Register as a seller". You will be redirected to the first page of Seller Center registration which is "Account Creation".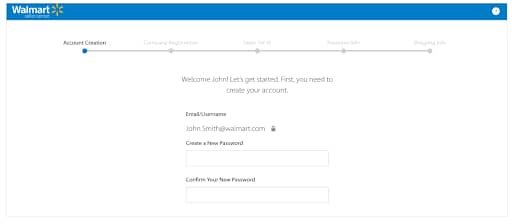 Enter the email address or username that you provided earlier in the application and create a password.
Scroll down and choose some security questions of your choice along with their answers. This is important to secure your account against hacking or any mishaps.
Click on "Create Account".
You will then be redirected to the "Agreement" page. You have to go through and agree to their terms and services and their Retailer Agreement.
The next step is again a "Company Registration" page where you will have to enter information about your business managers along with their email addresses. This pertains to those who manage the different departments and operations in your business like finance, customer service, and other things.
The next step is "Taxes (W-9)". This is where you will have to provide additional tax information.
Now, move to the "Payment Info" page and choose between the Payoneer and Hyperwallet payment options. Follow the instructions in the email they send you in order to register and click on "Activate". Now enter the activation code to verify your account and click on "Continue" and then click on "Continue to Next Step".
You will be taken to the final step which is the "Shipping Info" page. Here you will have to
set up your shipping template.
Enter all the information related to the shipping time, handling time, etc. Mention the exact duration it will take for an order that is placed to be successfully processed and delivered to the customer. You can choose between Value, Standard, and Two Day shipping options and decide the rates as well.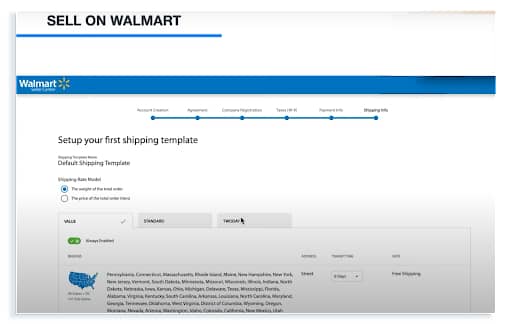 At this stage, the majority of the whole Walmart seller account approval process is complete.
Once your Seller Center account creation is also complete, the contiguous step is to set it up. Walmart will send you emails directing you what to do next which is usually to complete your partner profile.
Follow these steps to complete your partner profile and start selling:
Enter your company's display name, logo, and a short description under the "Company Info" tab and move to the next one.
Under the "Customer Service" tab, enter all the details of your company's customer service policy so that your customers are aware of it. Also, provide your contact details with which customers can reach your company and mention your working hours.
The next tab is the "Manage Contacts" tab which you can update by adding or removing the contact details of your business's department heads or managers.
Now fill in all the relevant details under the "Shipping" tab.
The "Returns" tab requires you to enter information regarding the methods, charges, and policies for returns and these have to be in accordance with Walmart's Returns Policy.
Fill in the next tabs with all the basic relevant information as well.
Conduct the necessary bank deposit verification
Now, you will need to upload your inventory to Walmart Seller Center
Make sure you test your items and orders by checking on order confirmations and cancellations, shipping and whether your refund system is working or not.
When it is evident that everything is running smoothly, there will be one last review conducted by Walmart.
Once you successfully clear the launch checklist by meeting all the Walmart seller account requirements, you can launch your account and start selling on walmart.
Recommended Guide: How to Get More Reviews on Walmart.
Benefits of selling on Walmart Marketplace
Now you know what the Walmart Marketplace is and the steps to follow in order to get approved to sell on Walmart. But why should you join Walmart Marketplace? Well, here are some stats to convince you. The number of sellers on the Walmart marketplace has been increasing steadily and it saw the most remarkable growth in the last year. Walmart's third-party sellers have grown by twice their size to 100,000 and continue to grow rapidly by the month (source). Still not convinced?
Here are some of the benefits/advantages of selling on Walmart Marketplace
With Walmart, you have access to a far wider range of customers. It has been receiving 400 million visits on a monthly basis so far in 2021 (source). These numbers are a testament to the platform's popularity and the fact that it is a great way to build awareness and visibility for your brand. This results in a significant increase in your sales. and is a great way to boost your brand image.
The name Walmart is synonymous with trust amongst shoppers. This is due to the fact that they offer hassle-free returns to their customers and are dedicated to providing high levels of customer satisfaction. This has contributed to Walmart being their first stop whenever they're deliberating over making any purchases. Thus, having an association with and selling on the Walmart Marketplace is automatically beneficial to you. Also, Walmart provides excellent customer support so as a seller you do not need to spend time and money on setting the same up.
Walmart does not have any unnecessarily difficult methods for anything. Managing product listings has been made very simple while also giving the seller more control over his pricing and fulfillment methods, customer service, inventory management, etc. Walmart's pricing model is also very easy to understand. They don't charge any monthly fees. They only charge a referral fee per order which varies according to the product category that you sell in.
Some other miscellaneous benefits they offer are in terms of the checkout process. It is not a slow, laborious one unlike some other platforms and this makes it even more appealing to customers. Walmart also does not set any limits for uploading inventory. You will also be given access to Walmart Analytics. With it, you can gauge what's been working for you and what has not and use those insights to improve.
Best practices for Walmart selling
While selling on Walmart, there are some important factors and practices to keep in mind. Having met all the requirements, you might think that you now know everything there is to know. However, Walmart's approval to sell on their marketplace is not the only thing that matters.
So how to sell on Walmart in such a way that you are guaranteed to be successful?
Firstly, you need to ensure that your product listings have been optimized well so that they rank high on Walmart searches and achieve good visibility. This way more and more customers will be able to easily find your product and sales will increase. That is why you must not forget the importance of Walmart SEO. You must keep this in mind, and ensure you use the right keywords and high-quality images so that your item pages look impressive and also rank well.
You must ask your customers to leave honest reviews on the products they have purchased. Reviews are instrumental in increasing the conversion rate and driving sales. Customers always look at reviews for products before making a purchase so if your product has a good number of reviews then it is guaranteed to bring in more customers.
Make use of Walmart advertising to promote your products. When you advertise on Walmart, you pay on a cost-per-click basis which means you only pay when your ad receives a click. With these ads, you can choose what keywords you want to target, what products you want to advertise in your campaigns, and set your budget accordingly. Thus, these advertisements are crucial to widening your reach and helps you grow amongst your target audience.
Do not try to sell anything that falls under the prohibited products category.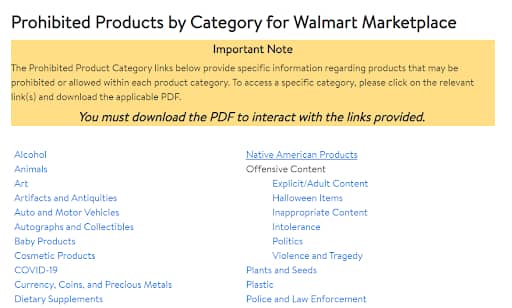 It is important to perform well on Walmart's seller assessments as it is crucial to sustaining your selling privileges with Walmart. If you're someone who has shipped almost all your orders on time then you will have an On-time Shipment rate of over 99%. This, along with a 99% Valid Tracking Rate and an Amazon Order Defect Rate of 2% or lesser are the ideal performance standards or requirements that need to be maintained.
Other important FAQs
Who can join Walmart?
On eBay and Amazon, anybody can register and start selling, which makes it perfect even for novices. However, Walmart is not the ideal place for new sellers. You have to show proof of having proven experience in the e-commerce industry preferably on platforms like Amazon and eBay. Prior experience is a very important prerequisite when it comes to getting approval to sell on Walmart.
What kind of items can you sell on the Walmart Marketplace?
Walmart allows you to sell over 35 categories of products. Go through the Prohibited Products Policy carefully to make sure you're not in violation of any of the policies. There are also some items for which you have to take permission or approval before you can sell them.
What is Walmart's commission structure?
As mentioned earlier, there is no monthly subscription fee. All you have to do is pay a referral fee for every item that you sell. It ranges from 6% to 20% of the selling price of the product and varies depending on the category.
How important are reviews on the Walmart Marketplace?
Reviews have a huge impact on the performance of the seller. There are two types of reviews and ratings on Walmart – one is for the items and they are displayed on the Item Page. The other is displayed on the Partner Profile Page and they influence the Seller Scorecard as well.
Does Walmart have a fulfillment option for sellers?
Yes. Sellers can make use of Walmart Fulfillment Services by sending their inventory to a Walmart warehouse or Fulfillment Center just as in Amazon FBA.
Final thoughts
If you're a seller who has been wanting to join the Walmart Marketplace but has your apprehensions about it, the above-mentioned points in this article will surely help you. You can navigate through the application process and set up an account with ease. Also, make sure to keep all best practices in mind so that you can continually reap the benefits of the Walmart Marketplace.
Was this post helpful?
Let us know if you liked the post. That's the only way we can improve.