How To Get Approved On Walmart Marketplace
Ever since Walmart launched its own marketplace back in 2016 for all the third-party sellers out there, they have truly shaken up the e-commerce world.
But with more and more sellers joining with Walmart's selling program, there's one common question people usually have – how to get approved on Walmart? Does the process take too long?
Walmart's SEO guidelines, tips to win the buy box, and Walmart Product Ads have already been explained here.
So now, let's understand Walmart's approval process in detail here.
Choosing to sell on Walmart's online marketplace is more like boarding on a new-fangled frontier.
Quick Guide:
What Is Walmart Marketplace?
Why Should You Join Walmart Marketplace?
Criteria Walmart Looks For While inviting A Seller
How To Get Approved On Walmart?
How Long Does Walmart Take For Approval Process?
Once Approved, How To Start Selling On Walmart?
Best Practices For Walmart Selling
Other Important FAQs
What Is Walmart Marketplace?
Walmart Marketplace is an online platform, which enables a third-party seller to list his or her products and help sell on Walmart.com, similar to what you do on eBay or Amazon.
Selling on Walmart's marketplace is one of the ideal ways to get your items in front of a huge audience. The items in the marketplace appear along with other products on Walmart SERPs (Search Engine Results Page).
Why Should You Join Walmart Marketplace?
Now, more and more sellers are excited to join this huge platform, and why they shouldn't be? By associating with Walmart Marketplace, sellers have incredible opportunities to grow their business.
This data is compiled by ComScore.
Besides this being the reason, as a Walmart seller, you will also have complete control of your business – even including retail pricing, inventory, customer care, and fulfillment.
Criteria Walmart Looks For While Inviting A Seller
Walmart looks for four important qualities in a seller while sending an invitation to join its marketplace. These include:
Competitive pricing for the products
Excellent customer support
Better product assortment
Reliable and fast fulfillment
How To Get Approved On Walmart?
Whether your business will be approved or not, all starts when you apply in its marketplace. Here's what you need to do:
Step 1: Go to the official website of Walmart marketplace.
Step 2: Click on the apply button that you see on the top right corner.
Step 3: You will automatically be redirected to this page, where you will see the form shown below.
Step 4: Fill in the necessary details that each of the tabs prompt.
Step 5: The application takes about 10-15 minutes to complete. Once done, click on the Apply Now button.
Step 6: If you are approved to sell on Walmart, you will have to acknowledge their Retailer Agreement.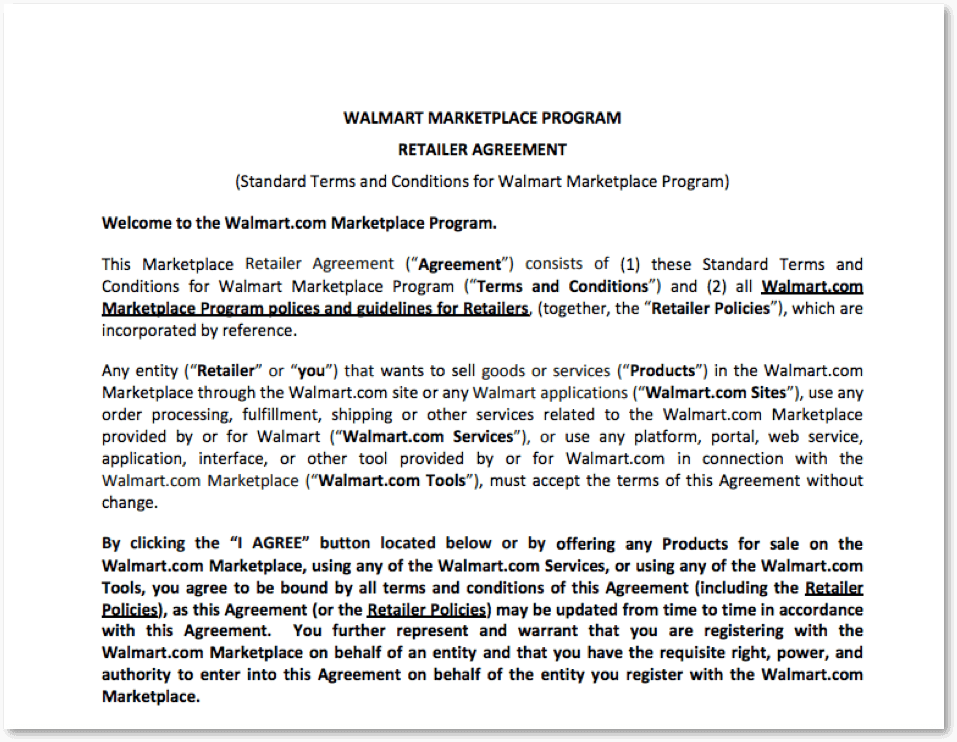 Step 7: Once the Walmart Retailer Agreement is signed, the onboarding process for getting your items on Walmart.com begins.
How Long Does Walmart Take For Approval Process?
After you submit your application, the Walmart team reviews the application thoroughly, which usually takes about 2 weeks. Then one of their Business Development Manager connects with you to help you with their verification process.
If you are approved, you will sign their Retailer Agreement and begin your onboarding. The entire process takes up to 4 weeks.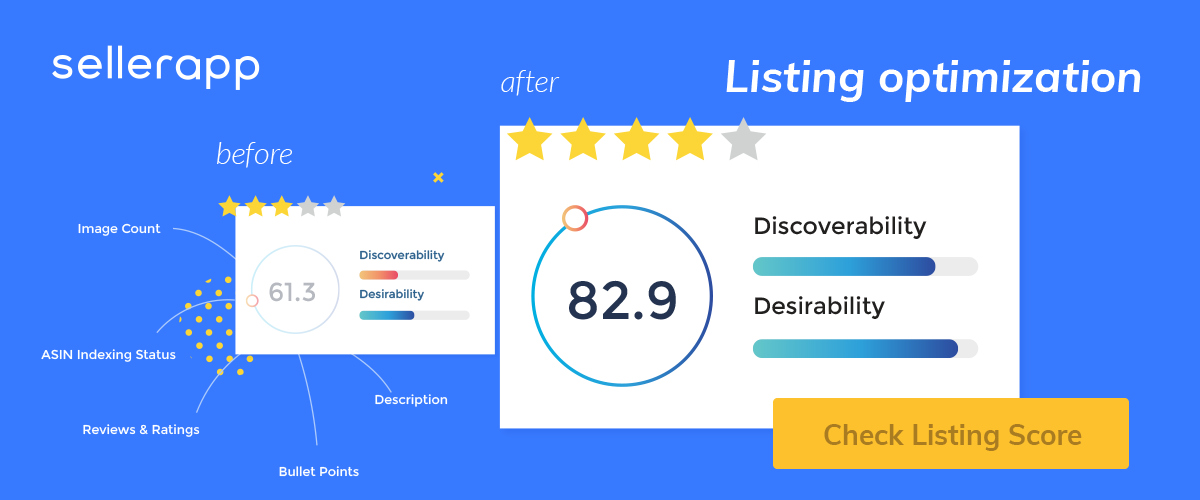 Once Approved, How To Start Selling On Walmart?
As soon as Walmart approves you as a seller, you will have to sign the Retailer Agreement. Once this is done, you will get an email that contains the "Invitation to Sign-Up" along with further steps to follow.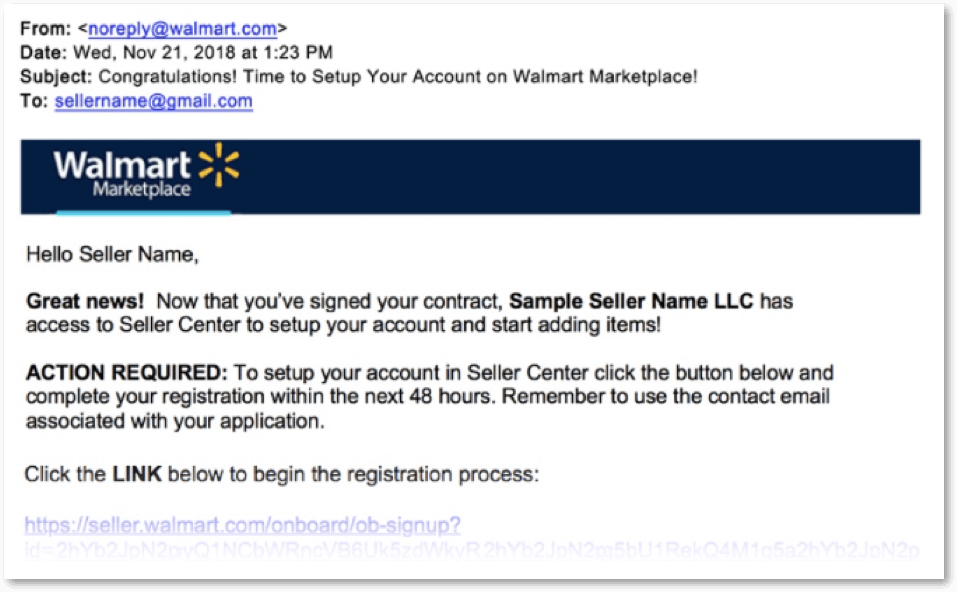 Next, you will have to register on the Seller Center, add your products, and proceed with fulfillment details. Once the items are live, the shoppers will be able to see them.
The entire registration process is categorized into five steps:
1. Account Creation
Keep the following details handy before beginning the registration process.
Company address
Bank account details
Business information to complete the Form W-9
Create an account by signing up with Walmart. Enter your email address and password to gain complete access to its Seller Center.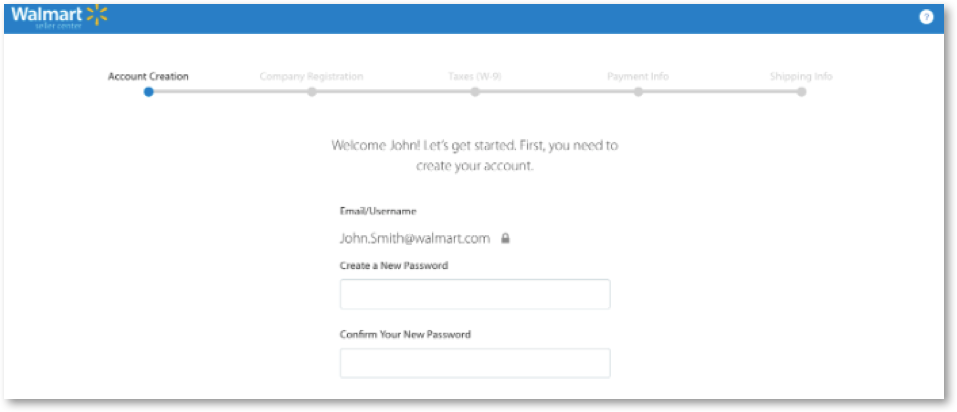 2. Company Registration
The next step is to register your company information, which includes:
Display name: This is the name that customers see on Walmart.com.
Corporate address: This is the address that Walmart uses for internal purposes.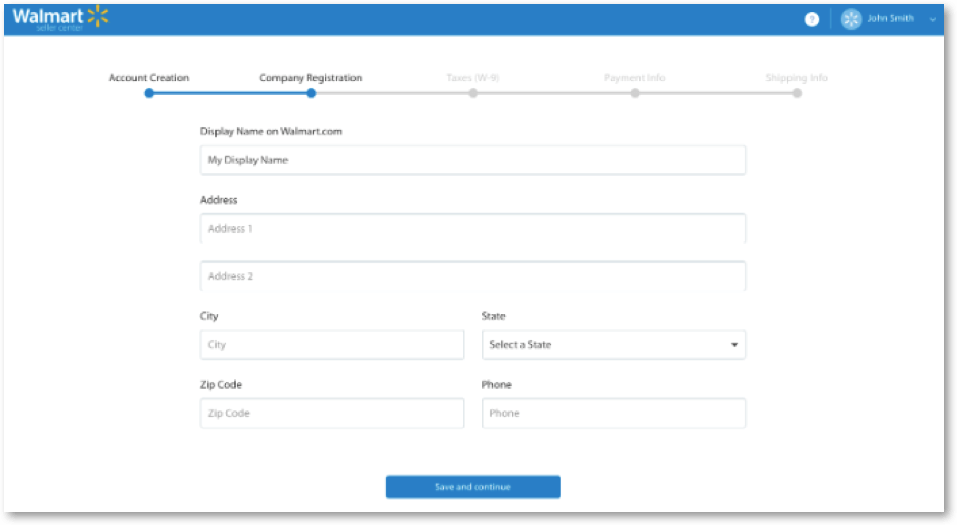 Once these details are filled in, click on the "save and continue" button. Now, your official "Partner Account" is created.
3. Taxes (W-9)
Once your company is registered, Walmart then asks you to provide Form W-9 to issue the 1099s at the year-end for tax purposes. Fill in the required details – your name, address, and TIN (Taxpayer Identification Number).
Click on the Save and Continue button to proceed with further steps.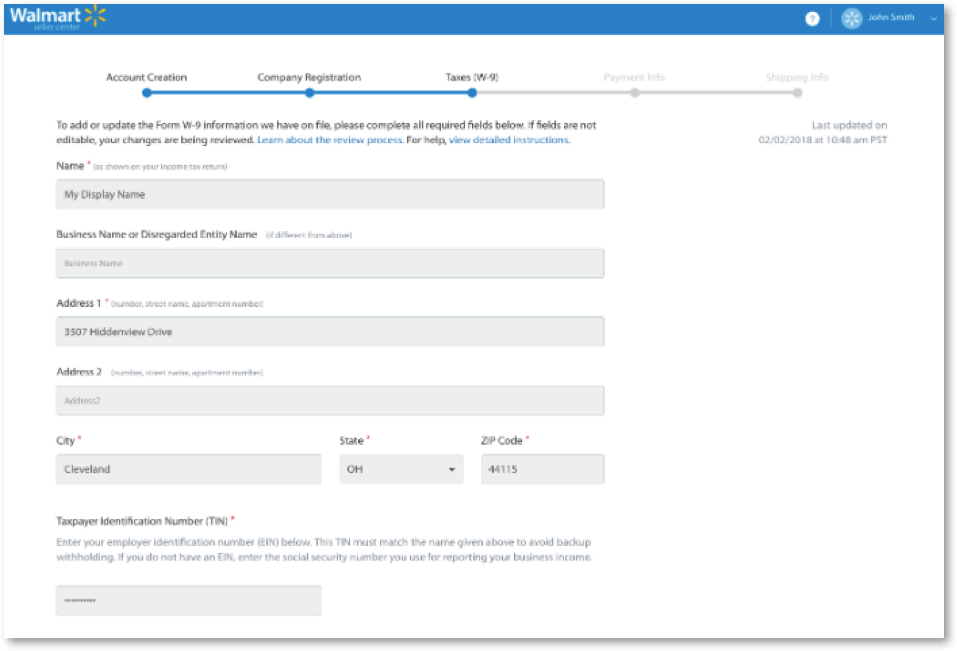 Once the data is entered, changes can only be made via the Partner Profile.
Note: Any change made to your TIN, address, or name will require a proper inspection from Walmart's Trust & Safety team.
4. Payment Info
Walmart has partnered with Payoneer for processing all its Marketplace payments. Therefore, you should be registered with Payoneer.com to receive your payments from Walmart.
But make a note of these before you register:
The registration process for a new Payoneer account and any update to an active account will start at the Seller Center but completes on the official Payoneer website.
Once you finish this setup procedure, only the users with "Admin role" will be able to see as well as manage the company's financial settings.
There will be cases when a company might have more than 1 administrator. At such times, all administrators will log-in with the same credentials that were created during registration.
Clicking the Payoneer Bank Transfer service from Walmart's Seller Center will help you receive your Walmart payments directly to your associated bank account. The good news is that neither there isn't any Payoneer fee for these transfers nor there is a limit on the amount that is being transferred.
However, if you sign up via Payoneer directly (and not through Walmart Seller Center), there will be a fee of $1.50 incurred whenever you withdraw funds from the Payoneer MyAccount. You can avoid this and ask for a refund by contacting the Payoneer Customer Support team. But every time you try to withdraw funds this way, you will have to contact the Payoneer support team to request for a refund.
You can set up a Payoneer account with the help of these steps: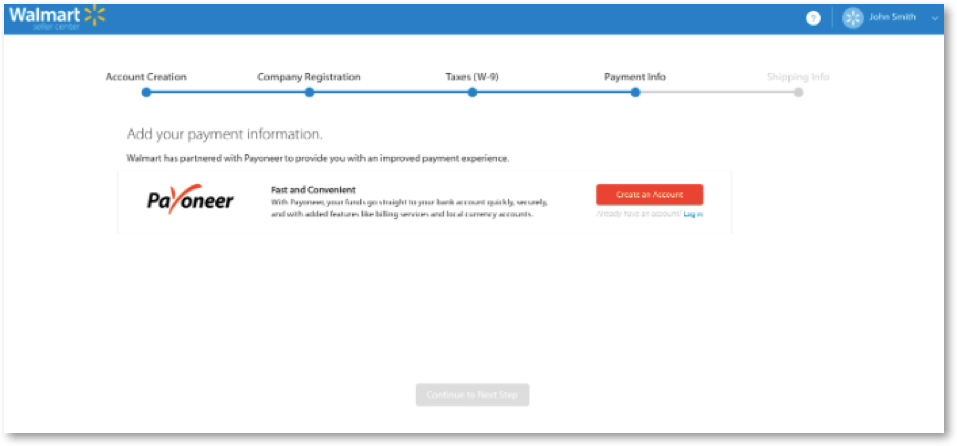 To sign-up for a new account, click Create an Account on the Payoneer's official website.
If you have a Payoneer account already, just link it to Walmart by clicking on the Log In link. But remember to begin this process from Walmart Seller Center in order to avoid Payoneer's withdrawal fees and then asking them for a refund each time.
Complete the steps and when done, you will be taken back to the Seller Center page.
Since your registration or approval will be still in pending, the status will be "INACTIVE" in the Seller Center. However, after a few minutes of completing the Payoneer's registration procedure, you will receive an email to inform you that your Payoneer account has been successfully registered and it is ready to receive/withdraw payments.
Click on the Continue button to proceed to the next steps.
5. Shipping Details
Once you set up the items, Walmart wants to know how much to charge for the shipping. Now, whatever you configure at this stage signifies your default price model for shipping all the items that you sell on Walmart.com.
However, if there is an exception, you will have to create a new shipping exception at the time of Item Setup.
Choose the pricing model
Select your pricing model depending on the criteria mentioned below:

The price of the total order (tiers) – Select this option if your shipping amount is determined by the order's total price (often when you provide free shipping).
Item Weight or Number of Items per Order – Select this option if your shipping charges depend on either the total items that you ship or their weight.
Choose the shipping method & region
Once you choose the pricing model for shipping, you will have to choose the shipping methods & regions you will support shipping for all your items. The shipping methods (default) include:
Standard
Value
Expedited
Next Day
Within every shipping method, you will have to choose the regions you will be shipping to. This can be set by clicking on the toggle button (under the column "Enable") – either to red or green.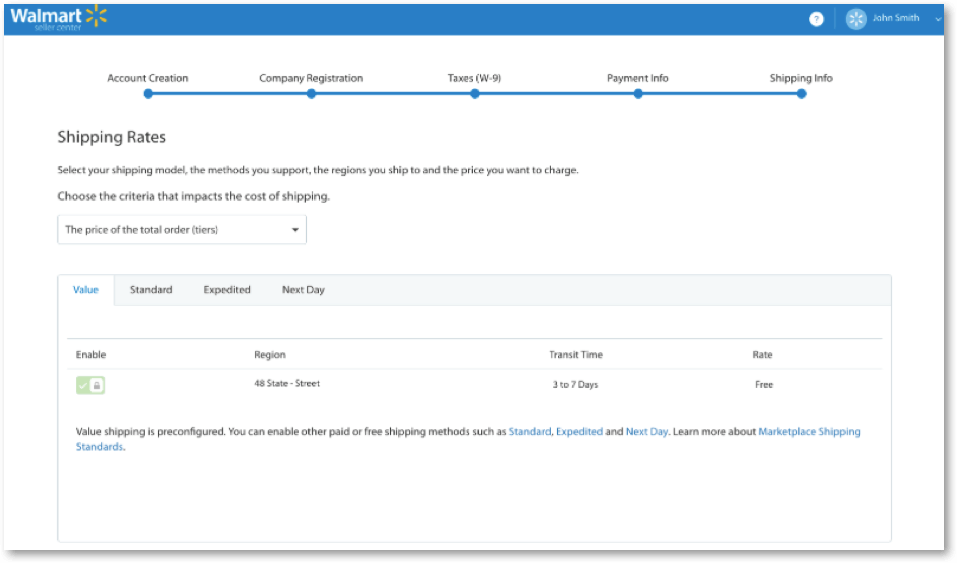 For all the region combinations and supported methods, you can set the transit time (in terms of day) to minimums and maximums or the price that you charge. For more details on shipping, refer to the Seller center's Partner Profile Settings.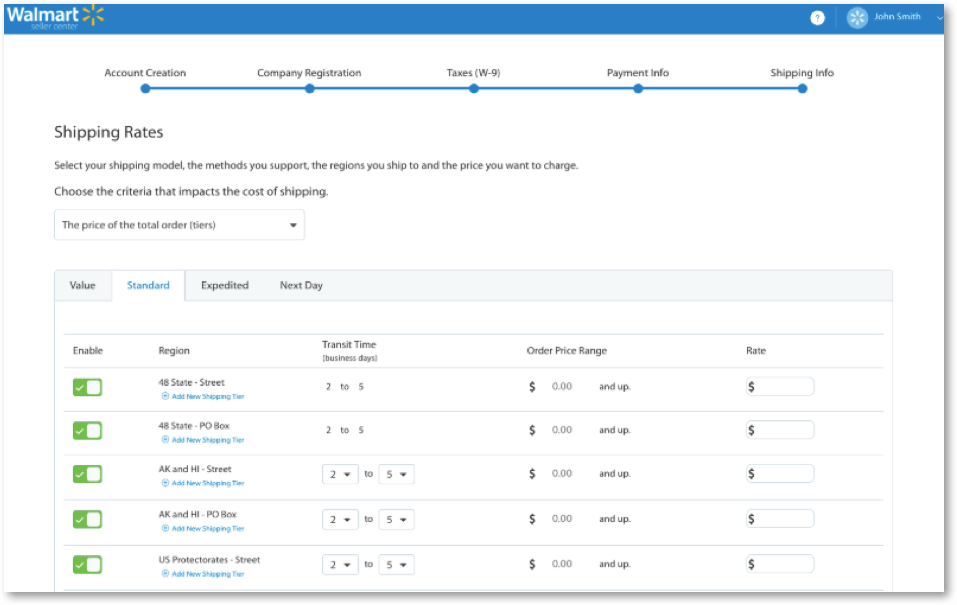 Once you set the shipping settings, take some time to review what you have selected. Then, click on the submit button.
However, the selected settings can also be modified if required. Since this is the final step of your Registration Process, you will then be logged in to your Seller Center automatically where you will have to complete your Launch Checklist.
Best Practices For Walmart Selling
Getting Walmart's approval and setting up your selling account is an easy part. The actual work begins when you start connecting with a new customer base and making sales.
To be a successful Walmart seller, there are three important aspects you need to keep in mind:
1. Lowest price possible
Now, this doesn't mean you have to cut off or ignore your profit margins. Walmart's business model works on "lowest prices." That's exactly what it advertises to its customers all the time too.
Selling on a big marketplace like Walmart does bring huge advantages to your online business. But to win and generate good revenue here, you have to set competitive and yet lowest price possible. You will have to do a quick analysis of your customers and your competition.
2. Win the Walmart Buy Box
It doesn't matter if you are a supplier at Walmart.com or a Seller at Walmart Marketplace, the "Buy Box" plays a crucial role. Since the buy box influences the shoppers' behaviors heavily, to win it, you have to put your best presentation (or listing) forward.
3. Product uniqueness will help you win it
Every online shopper is different and so is his or her choice. The needs are different and so are the preferences. You will be surprised to know the fact that Walmart.com is visited by a major number of millennial audiences that come from a bigger income bracket. Therefore, listing unique items or things that are difficult to find in any other store can have a sell-through benefit.
4. Add your items to the correct shelves
It is not always straightforward to choose the right attributes and product categories for the items that you sell. When it comes Walmart, it is vital to ensure that your items are displayed on its digital shelf (Walmart marketplace divides items onto shelves – much like their brick & mortar store's shelves are organized).
If you happen to miss any essential attribute for your product, it might look as if it's life but will not be visible to the customers. Before you list your items, refer to Walmart's Knowledge Base.
5. Streamline your selling operations
Sustaining a proper standing with Walmart is as important as passing the hard procedures of becoming its approved seller. To maintain your selling account, it is important to streamline all your operations to avoid inventory and stock unavailability issues. Use a tool, which can help you manage all the backend operations with seamless integration.
Other Important FAQs
1. Can you sell despite being a DSV (Drop Ship Vendor)?
Yes, you can sell both as a Marketplace seller and as a DSV (Drop Ship Vendor). However, the item that you sell should be either sold as a seller or as a DSV. You cannot sell an item under both terms.
2. What kinds of items can you sell on the Walmart Marketplace?
Walmart allows a wide range of items to be sold on its website. However, certain policies include certain limitations. Therefore, it is vital to first crosscheck with their Prohibited Products Policy for detailed information.
3. How will your products look like after they are launched on the site?
They will look the same way as other products appear on the website. However, it will include your company details, return policy, contact details, and shipping information.
4. If you are approved, do you have to pay a fee?
No. Walmart doesn't have any setup fee, monthly fee, or subscription fee. They just deduct a referral fee for every sale that you make through their website.
5. What is Walmart's commission structure?
The referral fee for different products varies from one product category to the other. Therefore, it is important to check the percentage that they deduct.
6. What are the payment methods and schedules of the Walmart marketplace?
Payments will be deposited automatically into your bank account once every 2 weeks.
7. How are the refunds handled on Walmart Marketplace?
You will be managing your refunds completely via the API (Application Programming Interface) or Seller Center.
8. Who pays the credit card fee?
The credit card fee is already computed into Walmart's competitive referral fee.
9. How are products priced in the Walmart marketplace?
You (seller) sets the price of every item in your whole catalog.
10. Does Walmart offer a fulfillment option for its sellers?
No, it doesn't. However, they have a solution partner who takes care of this. Contact Deliver to know more about the fulfillment services. They also have pre-approved access to Walmart's Free 2-Day Shipping program.
Related Content:

10 Walmart Selling Strategies That Can Help Drive More Sales

Customer Success Head at SellerApp
Customer success leader with expertise in coordinating between cross-functional teams in product development and strategy, professional services, sales, marketing and content to deliver excellent customer experience and accelerate growth within the company by ensuring clients' success.
Subscribe to SellerApp Newsletter