Getting an Amazon bestseller badge is easy! All you need is the highest sales velocity in the category you sell. That's not the entire story!
Amazon puts customers first, and won't recommend products that customers may have an unsatisfactory experience with. If appropriately listed, some products have the ability to become the bestsellers quickly and increase sales to their full potential. What are the factors that affect your chances of winning the Amazon bestseller badge? How to get it?
Read on to find all the answers to your questions.
A quick peek into the content:
What is an Amazon bestseller badge?
A few years ago, Amazon introduced the #1 bestseller badge. It is awarded to top sellers, and it is the orange ribbon icon that you can find in the top-left corner of a product page. This badge indicates which products have a higher product ranking in terms of sales, allowing customers to make a well-informed purchasing decision.
Initially, Amazon showed the badge only for one seller in a category. Now, we have 100 best sellers in every category. In some sub-categories, you may not be able to see all the bestsellers as the category may have very little competition.
If you have the bestseller badge, Amazon shows your listings on top of the customer search results. Sometimes, they may show up even if a customer searches using an unrelated search term within your category.
What metrics you should optimize to win the best seller badge
Amazon's A9 algorithm determines the search ranking of a product. The #1 Amazon best seller badge is awarded to the product that has the highest number of sales in a specific category. Besides, Amazon's A9 algorithm updates the best sellers rank (BSR) every hour. 
Though Amazon did not specify the exact metrics influencing the bestseller rank, it is clear that sales velocity and sales history play an influential role in determining the BSR of a product. So, total sales history is taken into consideration when ranking products within a category or subcategory. Categories such as 'Clothing,' 'Electronics,' and 'toys and games' are highly competitive. It is extremely hard for sellers to get the bestsellers badge in these categories.
Let's look at a few ways to maintain consistent sales and get the bestsellers badge.
1. Create an optimized product listing
In order to build an optimized product listing, you need to conduct keyword research. This helps you understand your shopper's behavior well.
How to do keyword research?
The simplest way is to go to Amazon.com and type in the first few keywords of your product. Amazon will offer a few suggestions from which you can pick the ones that are relevant to your listing. Alternatively, you can also use free keyword tools like Google keyword planner. However, the results wouldn't be Amazon-specific.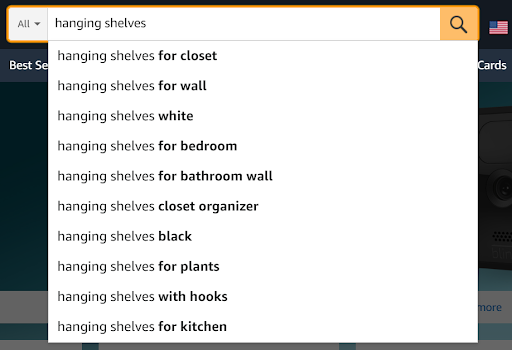 If you want to get accurate results tailored to your Amazon listing, then you should use SellerApp's keyword research tool. With this free tool, you can find long-tail keywords that are highly relevant to your listings and have higher conversion rates. You can also use this tool to do a competitor keyword analysis.

Pick the keywords with high search volume, and target them in your product's title, description, and bullet points.
Remember, the goal is to find highly relevant keywords with good search volume and optimize the listing with these keywords.
The second part is to optimize your backend keywords. All the keywords with average relevance, misspellings, and brand-related keywords go straight into this section. You don't need to repeat the keywords or use spaces or commas to separate the keywords.
Tip: Here, one thing I want to mention is that you should use keywords in the order of their relevance and search volume. This makes it easier to cover all the keywords, and it reads well for a human audience.
For instance, if you are adding keywords for hanging shelves, you can add them in the order as follows:
Hanging shelves
Wooden hanging shelves
Wooden hanging shelves for storage
2. Target the right category
As I said, not all categories are similar on Amazon. Certain niches are highly competitive than others. That being said, it is easier to achieve the bestseller badge in a small niche or subcategory.
For example, if you are selling a hanging wooden shelf, it can be easier to become a bestseller in the 'Floating shelves' subcategory than in the 'Home decor' category.
Don't list your products in an irrelevant category
In order to get listed as a bestseller, you may be tempted to list your products in the categories that have low competition and vaguely connected to your product.
Few seasonal products (like face masks, holiday gift items, or school supplies) record higher sales irrespective of the category they are in. In such cases, the seller might attain the bestsellers badge not by selling to the shoppers who are searching in a relevant category, but by selling their products in an irrelevant category where the overall demand might be considerably low.
If a seller lists the product in the wrong category, chances are high that it affects the ranking and conversions of that product. Shoppers may tend to leave the product listing page sooner without making a purchase. Eventually, this affects your conversion rate and hampers your search rankings on Amazon.
So ask yourself, 'is it worth manipulating the categories to receive the bestseller badge for just an hour?'
3. Maintain competitive pricing
You might be aware that competitive pricing wins more sales. This further leads to better product ranking. You don't have to sell your products at the lowest price, but you need to offer a decent price within an acceptable range for shoppers. So track your competition and come up with a competitive pricing strategy. This will ultimately boost your chances to win the Amazon bestseller badge.
Make sure to check your profit margins while lowering your prices, so you stay profitable. This means you should stay profitable after you pay for the item cost, shipping charges, Amazon fees, etc.
You should also keep in mind that lowering product prices may help you boost your sales thereby, search rankings, but it's one of the many factors influencing Amazon's A9 algorithm.
4. Concrete advertising strategy
Amazon pay-per-click (PPC) advertising campaigns are a great way to boost your sales and organic ranking. If you are selling in highly competitive niches and saturated categories, running PPC campaigns would be of great use.
Have you ever observed top brands run PPC campaigns to safeguard their rankings and positions within their category?
Though your product rankings are high, and you have decent sales, they can be easily outranked by a competitor running PPC campaigns. Therefore, if increasing your sales and becoming the bestseller within your niche is your goal, you should incorporate PPC campaigns as part of your strategy.
Other Amazon badges you should know
Amazon introduced a few badges to improve shoppers' buying experience. Given the wide range of products available on Amazon, having a badge gives an edge on the marketplace. Here are a few of them:
Amazon's choice badge
In addition to the bestsellers badge, Amazon has introduced Amazon's choice badge around 2015. The main purpose was to simplify the shopping experience on Alexa.
Unlike searching via browser, a voice search on Alexa returns only certain product results. This language assistant is used to access customers' previous orders and recommend products. If the customer's orders aren't available, Amazon's choices within a category are used to suggest the results.
Now, Amazon's choice badge is also available on the search results page of the web browser and mobile app. Similar to the bestsellers, Amazon's choice serves as a direct recommendation to buy a product. Therefore, it creates a positive impact on sales as it draws consumer attention and trust. So, obtaining this badge is also worthwhile for sellers.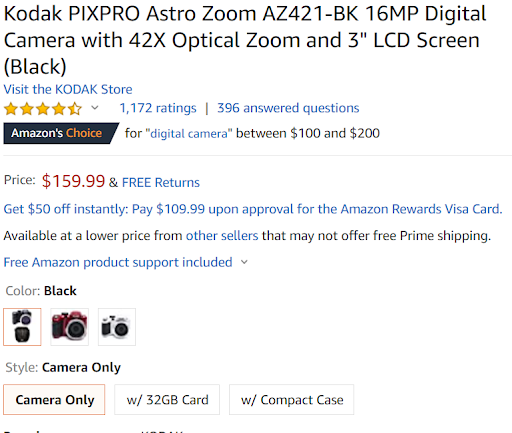 New Release badge
We have the 'New Release' badge for new sellers on Amazon. The main purpose of this is to draw the attention of buyers. Though Amazon did not give any specific criteria on how to get #1 New release badge, we have observed a few things that are in common:
You should be ranking on page 1 for your primary keyword. Your product must be unique and stand out from the competition.
You must optimize your product listing well, especially the title and the description. Don't be afraid to play around.
You will need to sell more units than the bestseller in that category.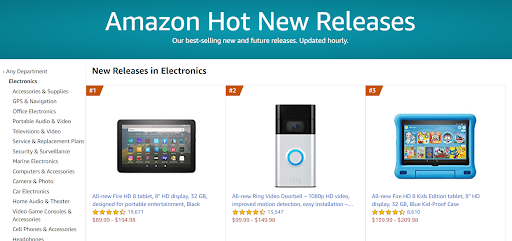 'New' badge
Last year, Amazon introduced the 'New' badge to highlight newly launched products. This red ribbon-like icon is still in the testing period. This is one of the newest attempts to help its customers make shopping decisions. However, the criteria used to award this badge are still unclear.
Additional read: All You Need to Know About Different Types of Amazon Seller Badges.
The bottom line
Having an Amazon bestseller badge can be a good idea, but is the badge worth it? You need to think from a broader perspective to answer this question. The bestseller badge gives confidence to the buyers, which accelerates your success. Ultimately, you should try to increase your sales by targeting the right customers, the rest would be a byproduct of achieving your goals.
There are certain tips to boost your chances to win sales, but you shouldn't hamper your reputation during the process. Choose the right strategies and deliver top-notch customer service all the time.
If you are willing to accelerate your sales, you should get all the tools you need to supercharge your Amazon sales. Start your 7-day free trial with SellerApp.
Recommended Guide:
Amazon Holiday Selling Strategy 2021
Amazon Mobile Conversion Rates
Was this post helpful?
Let us know if you liked the post. That's the only way we can improve.