Do your Walmart listings stand out against the competition? Read on to get started.
With over 389 million monthly visitors, Walmart is the second-largest eCommerce marketplace. However, with so many shoppers looking for the perfect product, it can be difficult to ensure that your product listings are seen.
So how can you ensure your products stand out and maximize conversions?
The answer is to optimize your Walmart Listing!
Whether you are a novice or a veteran, the strategies below will guide you to enhance your listings and increase sales on the Walmart marketplace.
So, let's get started!
Quick Guide
Why is it important to optimize your Walmart listing
Similar to Amazon and other e-commerce marketplaces, Walmart has its own algorithm to rank products in the results.
Suppose you are selling a "Stainless steel water bottle." When your customer searches for a similar product, they will end up looking at thousands of results. From these results, how would you make your products higher on the results and let the customers choose your product?
This is when the importance of optimizing your listing comes into the picture!
Optimization for Walmart SEO and customer searches not only helps in increasing the visibility of your product but can also help increase your sales. It helps customers find the right product they are looking for, by making sure all relevant information and product details are included in the listing.
Also, you should enhance your listing quality to gain an edge over the competition. Besides, as a seller, you should accurately update your listings periodically.
Four signs that you should optimize your Walmart listings
If you're selling on the Walmart marketplace for quite some time and are not getting desired results, you should consider optimizing listings for better reach and sales. Here are four tell-tale signs that it's time to optimize your listings.
Your sales are stagnant or extremely low
Consider this example, Joey is selling a "Wine glass." He checks his orders and finds he only gets a maximum of 5 orders in a month. This can be because his product is not being seen on the Walmart product listing page.
This problem occurs either in listing impressions or visibility issues. You can fix them by optimizing your listing.
You're not eligible for Walmart Sponsored ads
Like Amazon ads, Walmart ads will help you increase your product visibility. But you may not be eligible to create ads on Walmart at times. This is because you don't meet the criteria to participate in the program. For instance, your listings should be within the 128 organic results in the same category search results. Also, remember that products with a listing quality score (> 60%) greater than 60% have higher chances of serving ads on Walmart.
To know more about Walmart advertising, click here.
Listing issues and inconsistencies
Errors such as incorrect titles, inaccurate product descriptions, incorrect pricing, or inappropriate images can make your products lost in the results. Then customers would not be able to find or purchase your products, resulting in lost sales. So frequently monitor and correct your listing errors to ensure that customers can find and purchase your products.
Similar items are visible but not yours
If you observe that a competitor's product is receiving more attention than your product, then it could be time to revisit your current Walmart Listings and adjust them to highlight the features of your product.
When it comes to creating quality listings on Walmart, your customer experience should be top of mind. You should strive to provide clarity, accuracy, and convenience to the customer by giving accurate product descriptions, providing detailed product images, and offering helpful customer service. Your goal should be to make the customer's experience as seamless and enjoyable as possible.
Walmart Optimization Triangle – Why is it important?
The Walmart Optimization Triangle is an effective way to make a great listing. It's all about understanding the three key components of your product's success:
Content
Offer
Performance
Content refers to the way you present your product in a way that grabs customers' attention like product title, description, images, etc.
Offer is what you're giving customers in terms of price, discounts, or other promotional opportunities.
Performance is about how well you monitor and optimize your listing so it stays ahead of the competition.
By focusing on these three areas, you can create the perfect formula for a top-performing listing. We'll explore strategies to improve these areas in the next section.
Four important strategies to boost your listing quality on Walmart
To stay competitive and profitable on the Walmart Marketplace, it is essential to create and maintain high-quality, optimized listings for success. Here are four important strategies to get your optimization started:
Make sure you have a complaint listing
You must stay compliant with all of the rules, regulations, standards, and laws when selling on the Walmart marketplace. Every marketplace has its rules and regulations.
It is your responsibility, however, to make sure that you follow all the necessary product standards and regulations, such as:
Necessary permits,
Approvals,
Product labeling,
Mandatory and voluntary standards,
Substance restrictions,
Product and packaging labeling, and more.
The Walmart marketplace team will monitor for any non-compliant behavior, and they will issue warnings and suspensions to any sellers who are not following the guidelines. Make sure you are up to date with your compliant listings and make any necessary changes.
Optimize your listing data, content, and discoverability
By optimizing your listing data, you are not only enhancing your search visibility but also letting your customers know more about what you're offering with your product. These are the ingredients that will get you more sales.
Product Title
The product title is the product's name that appears on the Walmart listing page. It should be crafted to describe the product and to attract potential buyers. Having an effective title for your listing can help customers find your product more easily when they are searching with specific keywords. To increase the visibility of your listing don't stuff keywords.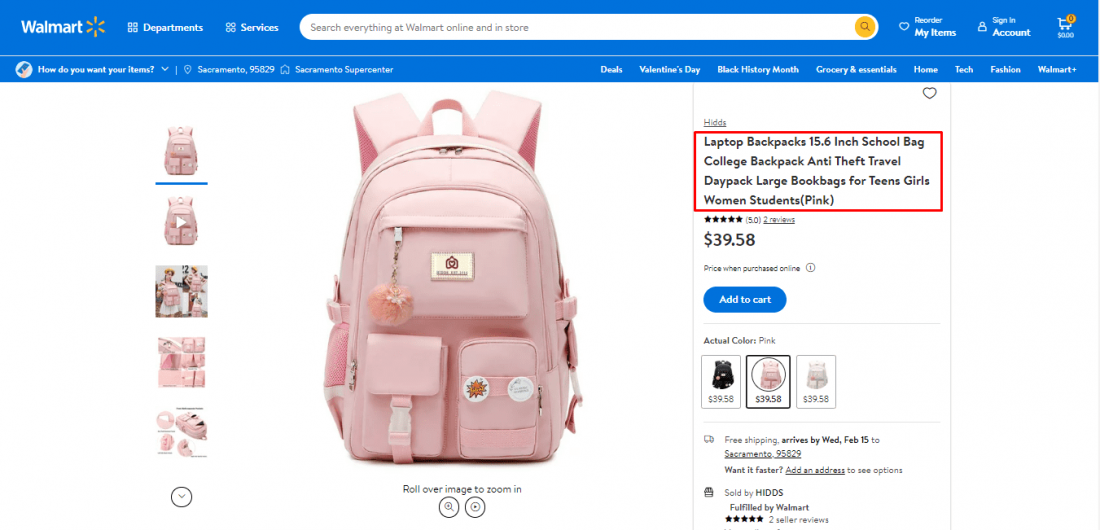 Here are some tips to keep in mind before creating your product title
Keep your product name brief yet distinct. Make it between 50 and 75 characters long.
Include color, brand, and model as keywords in the title.
Don't use special characters like @, ! #, etc.
If you are selling a fashion product, then the suggested formula for creating a title for a fashion listing is:
Brand + Style name (if applicable) + Descriptive feature (if applicable), material, clothing size + Pack count
Look at the below image for reference.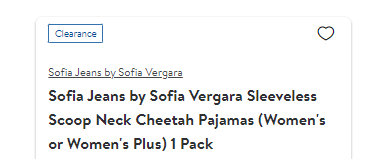 Description
In today's competitive market, a "short description" is essential to stand out from the crowd.
When customers search for products, they will be more likely to choose products with more detailed descriptions and relevant keywords.
If you haven't already included relevant keywords in the title, here you get a chance to do so, but make sure to be precise and not to use too many. It is also essential to keep the text natural and easy to read for customers.
Consider these points before you optimize your product description:
Describe your product using the product name, brand, benefits, and relevant keywords.
Keep in mind how shoppers might search for your product.
The more detailed your descriptions, the more impactful they are likely to be. But avoid being repetitive.
Provide clear, precise details about the product
Detailed description paragraph – minimum 150 words, although the word count requirement may vary by product category.
Key features or highlights
This is a major area to showcase the key benefits of the product that Walmart allows sellers to highlight.
Ensure you keep these points in mind:
Format your listings to include 3-10 key features
Make the best use of keywords to optimize SEO results.
Avoid generic phrases.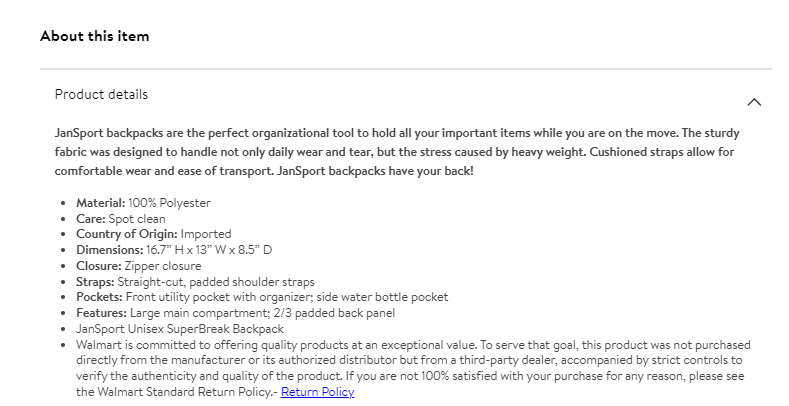 Note: The key features and description are under one heading as Product Description
Images
Let's make your product stand out! For that, you need to showcase visuals that capture your audience's attention.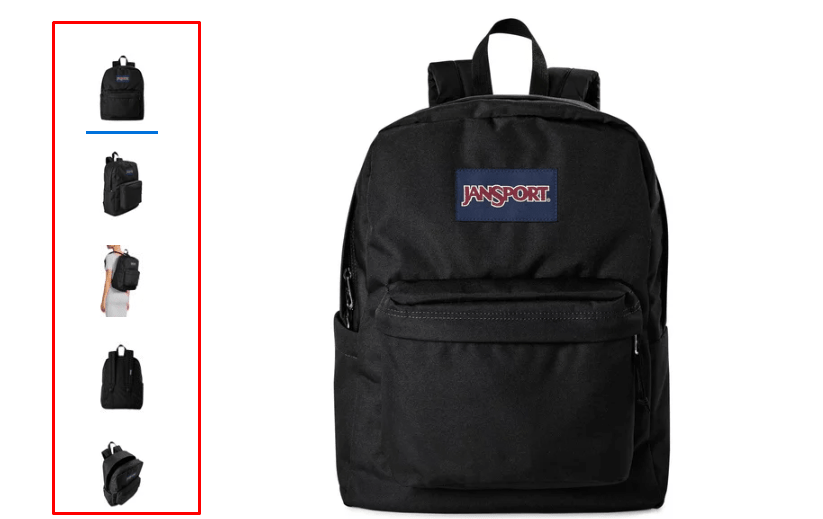 Provide four professional, high-resolution product images
Images should be at least 1000×1000 pixels
Background color should be white (RGB values of 255, 255, 255)
Make sure you follow Walmart's Image Policy guidelines.
Rich Media
Rich Media is a key factor for creating an engaging and effective listing on Walmart. It can help you stand out from the competition and attract more customers.
It includes images, videos, and other interactive content such as 360-degree product views, product demonstrations, or customer reviews.
For example, a product listing on Walmart that includes a 360-degree product view will enable customers to get a better understanding of the item and will help them make an informed purchase decision.
Category
It's so much easier to find what you're looking for when you use appropriate category fields to structure your product information. You need to ensure that your product is categorized in the most accurate and relevant way.
An example of this would be a listing for a t-shirt. If a t-shirt is categorized in the "Women's Clothing" section, it might be difficult for potential customers to find the product. Instead, it should be listed in the "Clothing & Accessories" section and further categorized as "Women's T-shirts" to make it easier for customers to find.
Always consider these points when listing your products:

Ensure your items are correctly categorized
Choose the right category for your item
Assign your items to the correct product shelf on Walmart.com
Improve your item's performance in search and browse results
Attributes
Attributes are the building blocks of product listing! They help customers easily find what they are looking for by making listings more visible in site navigation and search results.
For example, if you are selling a laptop, you should include attributes such as processor type, RAM, storage capacity, display size, etc. to ensure that customers have all the information they need to make an informed purchase decision.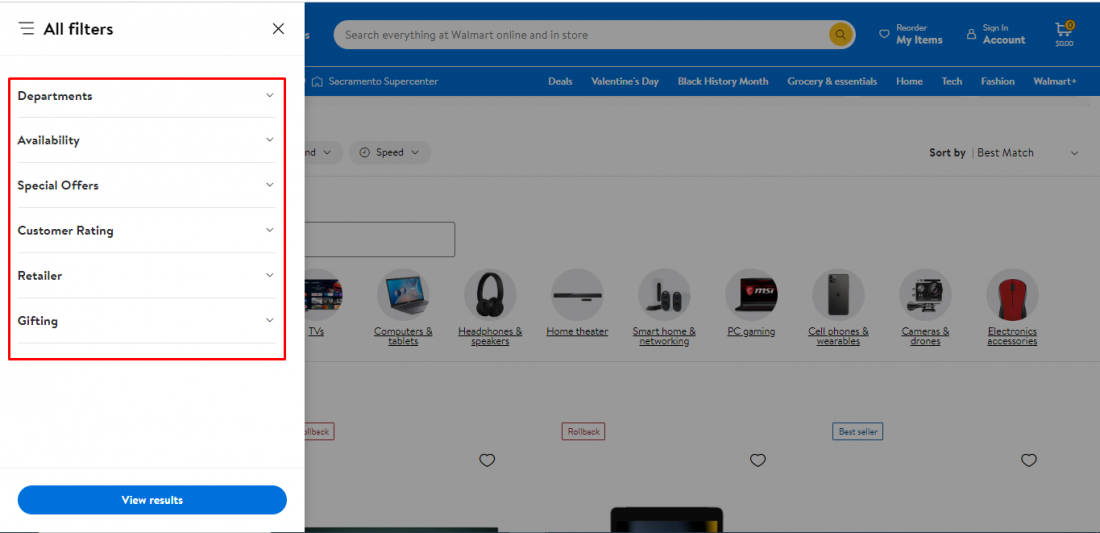 Identify the most relevant attributes used in the left-hand navigation
Leverage the attributes to ensure your products will show up when customers search and browse using the filters on the left-hand navigation
Select relevant and important attributes for your product to improve its ranking
Avoid selecting the category "other" as it reduces the visibility of your product
Additional read: Ways to rank your product listing easily
Walmart's Listing Quality Score plays a significant part in the visibility of your listings.
If you want to increase your sales and discoverability both on and off of the Walmart marketplace by making changes to your product listings and content, then, looking at the Listing Quality Score would be a perfect choice. It has metrics like Content Quality Scores, Reviews & Ratings, and Offers, as well as other algorithmic signals. These changes can make a big difference, so don't miss out on the opportunity to improve your listings and reach more customers!
Optimize your offer
Customers always look out for items with great pricing and fast delivery options, so it's important to make sure your offers are competitive. An optimized offer is an essential part of your product listing, so stay ahead of the game and offer your customers the best value possible!
Item price
Item price is a major factor in garnering attention from customers at Walmart.
Setting a competitive price for your item can draw in more shoppers and help you stand out from the competition.
For example, if a customer is looking for a particular item and sees that your price is lower than your competitors, they are likely to purchase your product. Additionally, setting the right price can help you earn a better profit margin.
Keeping your item prices competitive with other listings is essential to creating a positive customer experience and helping you win the Buy Box. Make sure your prices are competitive to maximize your success. Also, consider the cost of production and shipping, as well as the value of your product compared to those of your competitors.
Shipping speed
Offering faster shipping is always the way to go if you want to increase conversion. Shipping speed is a vital factor to consider when creating a quality listing on Walmart. By offering fast shipping, customers can get their items delivered quickly and efficiently.
For example, if you offer two-day shipping on an item, customers will be more likely to purchase it from your listing compared to a competitor who may only offer standard shipping. This can help boost your sales and ensure customer satisfaction.
Keep in mind, your customers will always want to receive their orders quickly and reliably, so it's essential to offer fast and reliable shipping options. With speedy delivery, you'll be sure to keep your customers satisfied and coming back for more!
In-stock rate/ Inventory
To maximize the visibility and sales of your product listing on Walmart, it is important to maintain a high in-stock rate. This means you need to have enough inventory to meet customer demand. You should ensure that your products are always in stock and available for purchase.
Let's take an example, if you are selling a product with high demand, it is important to make sure you have enough stock to meet customer needs. If the in-stock rate is low, customers would not be able to purchase your item and may look at your competitor's product.
Thus, keep your customers happy by always having their favorite products in stock. This will help keep your listings competitive and attractive to customers.
Shipping price
An important factor that affects the customer's buying decision when shopping online is the shipping price.
For example, free shipping on an item that costs $15 can attract customers who otherwise wouldn't be interested in the item.
Therefore, offering your customers free or low-cost shipping can help increase your sales.
For this, you have to put your products in the fast lane with free shipping options!
Focus on customer experience
Do you want to build trust with your customers?
Customer experience is the key.
Your listings should be of the highest quality so that customers can have a positive experience when shopping. To ensure that your listings are of the highest quality, you should focus on providing clear and accurate descriptions, high-quality images, and helpful reviews. Additionally, make sure to keep your listings up-to-date and relevant so that customers can find the information they need quickly and easily.
By focusing on your reviews and ratings, you can ensure that your listings meet the highest quality standards.
Customer reviews and ratings are powerful for building trust with potential customers. Encourage customers to leave reviews and ratings on your listings, and make sure to respond to customer feedback in a timely and professional manner.
Conclusion
Optimizing your product listing can be a daunting task, but with the right approach, you can ensure your products are featured prominently on the Walmart platform. Utilizing the tips mentioned in this article – such as utilizing the right keywords, leveraging visuals, and optimizing your product titles – will help you to create an effective product listing to win more customers and drive more sales.
With the right approach, you can ensure that your Walmart product listing stands out from the competition, helping you to reach a larger number of potential customers.
If you are also selling on Amazon, do check out SellerApp's listing quality tool to ensure your product listings are retail-ready.
Happy selling!
Was this post helpful?
Let us know if you liked the post. That's the only way we can improve.