If you are a new seller or looking to expand your retail business, now is the best time. According to Business Insider reports, e-Commerce sales in 2022 are predicted to cross $150 billion, with D2C brands taking center stage in the revolution.
Online sellers are already known to increase retail sales by as much as 1,250% — simply by listing their products on channels like Amazon, Shopify, and eBay.
To reach this level of success, there's one thing you'll have to get right: a premium strategy to make your way through the cut-throat rivalry in the highly competitive marketplaces. Setting up an eCommerce business shouldn't be too hard, so if you are an aspiring eCommerce seller, you should definitely read this.
First, let's identify the best online marketplaces that are suited for your brand to build an online presence.
Each online marketplace has its own unique criteria, product categories, enrolment fees, and audiences. So if you want to be sure you're making the right decision, some in-depth research is necessary.
You'll want to find out the different strategies for selling on marketplaces, which ones hold the most relevance for your items, and what you need to do to ensure a streamlined business.
Does that sound overwhelming? Don't worry as we have simplified the entire process for you.
Ready to get started? Let's dive right in. These are the topics we will be covering in the blog:
1.What Is an Online Marketplace?
An online marketplace is an eCommerce site that allows both buyers and sellers to buy and sell products on a single interface digitally without direct contact. Some of the most well-known marketplaces include:
Amazon,
Shopify,
eBay,
Walmart,
Etsy,
Alibaba.com, and
Google Express.
In fact, there are now over 100 online marketplaces you could potentially list your products on to reach customers doing their online shopping — both within the United States and beyond, with trillions of dollars in revenue potential just waiting in the pipeline.
But before jumping right in, let's back up and discuss why you should consider becoming a third-party seller in the first place.
The Biggest Benefits of Selling on Online Marketplaces
With the ever-increasing benefit list of eCommerce marketplaces and online sales, these channels are becoming more famous than ever.
That's great news for third-party sellers.
Why? Because the better the experience will be for shoppers, the more sales you can make as a third-party seller.
So, let's look at the most attractive advantages of selling online:
Fast launch times.
If you're new to selling online, eCommerce marketplaces can be the most sought-after way to generate revenue and build your brand as you work to drive traffic to your products. Once approved as a third-party seller on marketplaces, you simply list your products and start selling.
Not only that, these eCommerce marketplaces make sure that shoppers have the best experience on their websites, therefore, they optimize their sites from time to time, improve their algorithms and add new features to their platforms. This is why, as a seller, you never have to focus on anything else except making your business stand out from the crowd.
Additional Read: How fashion eCommerce Retailers can Reduce Online Returns.
Established programs.
The biggest and most established online marketplaces have programs in place to help you tap the strategies of marketing, selling, and fulfillment, without any hassle.
For example, sellers on Amazon can access Amazon advertising, opt for FBA for letting Amazon fulfill their orders and so much more. Each of these programs is packed with tools to help you get products in front of all the right audiences, at just the right times. But sometimes, that's not enough.
These marketplaces are highly competitive and therefore, you need to know the best industry practices to sell online. Now, this isn't possible without leveraging your data. That's why you need the most powerful solution in the market to power your Amazon sales and maximize ad ROI, optimize product sourcing and listing, and everything else.
Large customer bases.
The biggest of marketplaces are not just famous for their excellent UX, they also have enormous built-in audiences of consumers who regularly shop at these sites. So, if you are selling on Amazon, you can reach out to 200 million Amazon shoppers.
Did you know that 56% of all product searches now begin (and often end) on Amazon? This means that these customers don't even look at other retail sites. Hence, being a third-party seller will bring you enormous profits. However, just like billions of potential revenue ready to be tapped, Amazon has a huge competition that's very difficult to seep through.
It may happen that your products won't show up in the search results, instead, your competitor products will rank high on the search results. This happens because they have very strong selling strategies in their buckets and they are already using their data and third-party ML-powered solutions to power their brand.
Hence, in order to beat your competitors, you need the help of industry experts to assist you with the best listing practices, advertising strategies, and premium product niche identification that are bound to boost your sales to the optimum level.
Important factors to research before you sell online
Whether you're a small start-up looking to build your business, or you're an established seller looking to expand, online marketplaces are great platforms to sell on. However, you must consider a few things before you jump right into the online retail business. Here are five factors you should research before you start to sell online
Marketplace traffic.
As one of the greatest benefits of selling on a marketplace is the in-built customer base, before anything else we would recommend that you analyze the site's traffic.
While the quality of visitors is inherently more important, understanding the quantity of website traffic is still worthwhile, particularly if you're looking at the less-established, niche marketplaces.
For example, if you wish to sell home décor items, it's best to suggest choosing Amazon as your marketplace than eBay as Amazon witnesses 30% more sales on home and outdoor products, as compared to eBay.
Fee structure.
When selling on a marketplace, there are fees and other marketing costs that you need to consider. Start by researching the site's fee structure and figure out whether they only charge on selling commission, or they also charge listing fees, as well.
You will also need to consider any potential additional fees including inventory costs, shipping fees, marketing fees, and any other costs that could be incurred through the use of complementary support, for example, FBA sellers on Amazon have to pay extra if Amazon fulfills their shipping requirements.
Support from the marketplace.
It's important to know that the majority of marketplaces offer support to help sellers get the most from their site, whether this is in the form of tools for marketing and sales, or having access to a dedicated advertising console.
While this may or may not be an important factor to you, we would recommend that you research what support is provided and whether or not it comes at extra cost, because you never know, ten years down the lane, when you choose to modify your business model, you may want to opt for additional support from your marketplace.
Rules and regulations.
In spite of the benefits of selling on a marketplace, it should come as no surprise that as a third-party seller, you will have far less flexibility and control over your business than you'd have if you had your own website.
For instance, it might be difficult to create brand awareness on some marketplaces, although some sites will enable you to create your own store within the marketplace.
Geographic Popularity
Another important factor to consider is how prominent and popular the marketplace is in your region or your target selling location. For example, if you are selling in the US, you wouldn't choose Jet.com over Amazon to sell your products online as over 96% of online U.S. shoppers prefer to shop from Amazon, as compared to any other online marketplace.
Best Strategies to sell online
While you could test myriads of unique strategies on each marketplace, a handful of them is applicable for almost all marketplaces. So, what are they? Let's check the top five strategies that can ensure long-term success on online marketplaces.
Optimize product content.
There are listings that customers view, and product listings they buy.
The difference?
Your product content. Product titles, descriptions, and categories are often what motivate customers to finally reach the end-funnel of sales, i.e. go beyond the consideration phase and make a purchase.
The more effort you put into these, the more likely you are to see your products rank to the top of marketplace search results.
So, how can you optimize your listing quality? The good news is that if you are an Amazon seller, then you don't have to look back and forth as SellerApp is already there for you to add millions to your bottom line like it's doing for hundreds of growth-obsessed Amazon sellers.
Remember, optimizing your listings is the first step towards a successful business.
Take time to find the right keywords, create compelling product descriptions, find the best product niches and optimize your images.
To know more about listing optimization, read our in-depth blog here.
Prepare to advertise.
The vast majority of search engine results pages are populated with Sponsored ads. These are not pop-ups or banner ads, these are the ads that get clicked and bring about conversions.
If you want to be truly successful on marketplaces, you'll need to invest in at least advertising to help put your products before the right audience. (Case in point: Amazon sellers who advertise on Amazon using SellerApp's strategies grow 97% faster than those who don't.)
To know how Amazon advertising works, go through our in-depth courses here
Calculate profits.
Each online marketplace has its own set of seller transaction fees, commissions, and additional business running costs. This is why you need to do a competitive analysis of the cost of setting up your businesses in each of the marketplaces and calculate your profits, after analyzing the traffic, the niche, and the seller costs that you have to bear.
Automate your pricing.
The biggest marketplaces have very high competition, and setting the right price could be one of the most difficult tasks as different products have different price ranges, and if you keep your price too low, your products will be assumed to be of cheap quality, and if your product prices are too high, you'll lose out on sales to your affordable competitor products.
Test multiple price points using the same pattern. Run one price for two weeks and a second price for another two weeks. Now analyze which price point has the highest sales and continue that price for your listing.
Remember, there's also a lot of psychology present here. Several subtle factors affect the price processing of your audience. What would you go for—$43.00, $42.97, or $42.99?
Don't jump to conclusions too early. Remember—it's not all about maths. Studies show that even the syllabic length of the numbers in your price can affect the customer purchasing decision. The longer it takes to say a number, the bigger it looks. 
Additional Read: Turbocharge Your Business with Amazon FBA Automation.
Diversify your shipping strategy.
Marketplace shoppers don't just want swift and free shipping. They expect it. A whopping 96% of customers now expect free shipping, and 26% will leave a shopping cart behind if the shipping time span is too long.
This is why you need to sell on marketplaces that take care of your shipping process too.
Some sellers leverage programs like Amazon FBA, while others rely on third-party logistics providers. Amazon is like Frodo, it has all the good qualities sufficient to make its sellers happy, but sometimes it's a little selfish too!
For instance, selecting Amazon's shipping program has its own benefits. They'll favor your products over FBM sellers and since it's fulfilled by Amazon, it will have the tag of "Fulfilled by Amazon", thereby, adding credibility and instilling trust among your customers.
Many use a mix of different methods to ensure the fastest, most affordable option for each order. In this scenario, you might use private carriers such as UPS and FedEx for some orders, and USPS for others.
Top 8 Marketplaces to Sell Online
To help you with your research, here are eight of the best eCommerce marketplaces available. They're each unique in their own way, so based on your brand requirements, your budget, and your overall eCommerce goals, use this guide to choose which marketplace will help you stand out and earn like a pro
Amazon
Amazon is undoubted, the largest eCommerce marketplace in the United States. After all, who can beat Bezos Supremacy?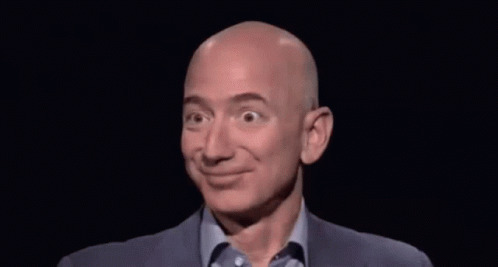 With 5 million sellers and 197 million U.S. unique shoppers browsing the site annually, Amazon is one of the most sought-after online marketplaces available. It's best suited for small to enterprise-grade sellers that want exposure to millions of customers and are equipped to handle the influx of traffic on the platform.
To start selling on Amazon, simply register yourself on Seller Central with your name, address, phone number, Tax ID, and other important details, and finally choose the marketplace(s) you want to sell on. It takes 7 business days to get approved and once approved, you can start your seller journey.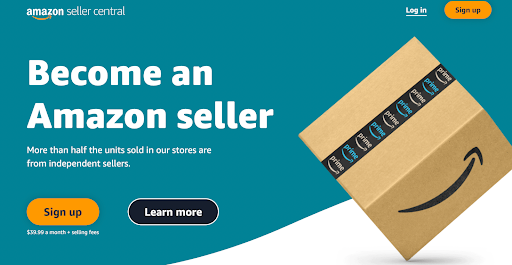 The marketplace also allows integration with various service providers to ensure complete automation of the selling process. For example, you can integrate with SellerApp to enable high-performing Sponsored ads with low ACoS.
One of the two major drawbacks of the Amazon marketplace is its strict product listing guidelines and tricky advertising bidding. Amazon standardizes product listings, so whether customers view your products or an Amazon listing, they all look the same.
This is helpful because your listings will automatically earn the same level of attention as Amazon products, which brings up sales. However, the main trick is to craft the most powerful Product listing strategy and use Amazon A+ Content to make your listings stand out in the huge competition. There are several ways to do so.
Wondering how we have simplified the process for you? With SellerApp's next-gen platform, you can check your listing score(how desirable and discoverable your items are), find out the best keywords, the best product niche, and many more.
Additional Read: Amazon Advertising Grading Checklist for 2023.
How to optimize your listings using SellerApp's FREE tool?
Follow the simple steps and optimize your listings like no other:
Step 2: Navigate to the Product Intelligence
Step 3: Click on "Add Products" and track your Amazon listings to analyze several KPIs such as-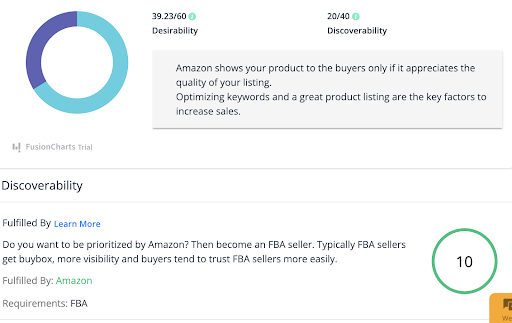 Estimated Orders/day
BSR(Best Seller rank)
Keywords Tracked
Relevance Score of keywords
Search Volume of Keywords
CPC
Listing Quality
Desirability of your products
Discoverability of your products
Index keywords
Not only that, but you can also get data-driven recommendations on how to optimize your listings, as per the industry best practices.
The Amazon marketplace also helps by offering Sponsored Ads as a built-in feature. Depending on your advertising goals and the customers you want to acquire, you have the option to choose to share Sponsored Product ads, Sponsored Brand ads, and Sponsored Display ads to redirect traffic to an Amazon page to showcase more of your listings or bring back already lost customers(who viewed your product but didn't purchase).
When it comes to advertising on Amazon, most newbie sellers make the mistake of bidding too low, just to maintain a low ACoS, while some bid too high and expect more profits. But that's not how Amazon bidding works!
This is why our proficient team of PPC experts is here to help. Our dedicated team and self-help solution suite have been able to help sellers increase their sales by 10x times within months.
Marketing Cost: $39/month
Walmart
Walmart is one of the biggest retailers in the world, and in 2000, they made an entry into the world of eCommerce when they launched Walmart.com. In the year 2018, eCommerce sales grew by an astounding 43%, and since then, there has been no looking back.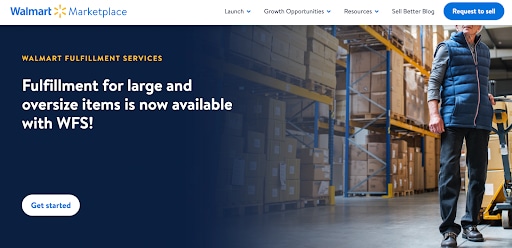 Like Amazon, the Walmart marketplace is best for both small and enterprise-grade business owners who want to leverage the massive traffic of these eCommerce giants and showcase their products in front of the right audience.
There's an application process to become a seller on Walmart, and once you get the approval, you can show your items to over 110 million shoppers who shop online every month.
In order to get approved, you have to have fast fulfillment functionalities, a wide array of high-quality products, and competitive pricing. Remember, you can either sell as a drop-ship vendor or a seller, not both. Also, Walmart has its own policy to cater to drop shippers.
As a seller, you can leverage this marketplace for the huge traffic it generates. Other benefits to using Walmart's marketplace involve dedicated customer support and safety features, with respect to shipping and refund policies.
Additionally, the marketplace also integrates with various service providers, so you can ensure end-to-end automation of your seller requirements.
Marketplace cost: There isn't a monthly fee, but a referral fee is charged on sales.
eBay
eBay first launched in 1995, and since then, it has evolved from a site that only sold second-hand goods to one of the largest eCommerce retailers globally. This marketplace is best for sellers who sell both new and refurbished products and are willing to auction them at higher prices.

With eBay, you don't have to apply anywhere to be a part of the marketplace. Just sign up for an account and craft your first listing. At present, there are about 180 million active monthly users globally, and a huge pool of relevant traffic who are ready to purchase your products.
What's best about eBay is even if you're a new seller with no website or set up, the eBay Seller Hub will help you streamline your business as smoothly as ever. For example, you can run ads on eBay and print your own shipping labels.
Marketplace cost: $13.50/month.
Etsy
Etsy is perfect for sellers who sell unique products like handmade items, gift items, and other quirky products that will grab the attention of aesthetic shoppers out there.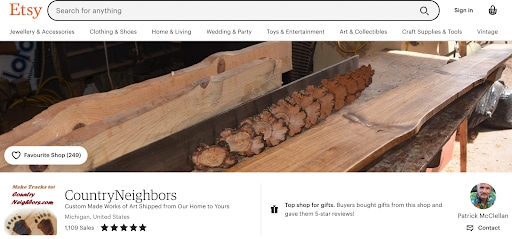 Unlike other marketplaces, Etsy sellers sell items independent of the Etsy brand. This means that shoppers will know that they are buying your products, and not something that Etsy is selling.
When shoppers click on your brand name within product pages, they're redirected to your custom Etsy storefront. In fact, when customers click on your brand's name, they will be redirected to your custom storefront.
This establishes your brand identity, even when you don't have your own website. If you're new to this business and want to create awareness about your products and brand, Etsy gives you the advantage to build and nurture a loyal customer base gradually.
With 33 million shoppers shopping for products like vintage clothing, jewelry, and handmade products, you're bound to get there the segment of ideal customers who will resonate with your niche.
Marketplace cost: $0.20 listing fee for each product + Commissions for every sale made
Additional Read: How to Hypercharge Your E-commerce Brand.
Shopify
When it comes to building your own website to sell your products, Shopify is one of the most preferred eCommerce giants, trusted globally. Shopify has nearly 11% of the total market share and over 50% of Shopify store owners get repeat purchases annually.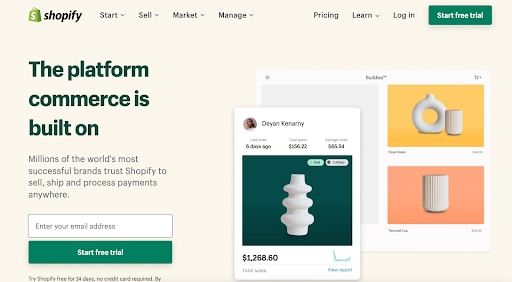 The basic Shopify fee that you have to pay includes setting up your own website, blog, SSL certificates, abandoned shopping cart recovery, and many other advantages. There is no initial setup fee or other hidden fees present within Shopify. Shopify also allows you to leverage its 14-days free trial under which you can sell, ship, and process payments globally.
Shopify is known for its beginner-friendly and easy-to-use features that allow sellers to customize their own storefront in a way that it's their own website. Not only that, but it also has various Shopify apps that you can use to customize your store.
Marketplace Cost: $29 per month
Facebook Marketplace
Introduced in October 2016, Facebook crafted the Facebook Marketplace to lure people into its communities to buy and sell products. What's amazing about Facebook Marketplace is that the company extends its support to small business owners without charging any listing fee from them. Anybody can set up their Facebook Marketplace business without prior knowledge of eCommerce.
Facebook has also collaborated with online selling platforms, such as Shopify, to enable online seller presence on Marketplace.
There are no listing fees, but there are particular criteria and guidelines that you must follow as a seller on Marketplace.
Marketplace cost: 5% per shipment
Nextdoor
Nextdoor is about sharing with your community and friends, and selling products, as well. It is a platform where neighbors can share information about what's going on in their communities – from announcing a community party to complaining about garbage management in their localities.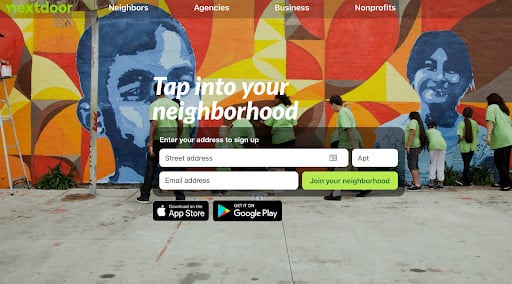 Beyond being just a neighborhood forum, Nextdoor also provides a free platform for sellers to sell online. Like Facebook Marketplace, there is no listing fee you have to pay, but you do have to meet your buyer and make the sale in person.
Marketplace cost: Free
Newegg
The Newegg online marketplace is unique in its own way as it specializes in one listing category. If you're an established retailer selling technical gadgets, then Newegg is the best platform for you. Since tech products tend to be in demand during the holiday season like Christmas and Black Fridays, Newegg is also a great fit for seasonal sellers.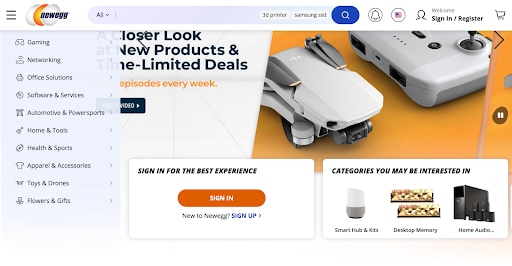 Newegg helps you get the most relevant traffic on its platform by offering sellers access to marketing and merchandising programs. With banner ads, and email marketing campaigns to Newegg subscribers, you can showcase your products to over 20 million shoppers on Newegg. This, in turn, boosts your chances of increasing your sales.
To simplify your shipping process, like Amazon FBA, Newegg also introduced its own fulfillment option called Shipped by Newegg (SBN). Newegg will store your inventory, then pack and ship, when there are orders. It's one of the best platforms for sellers who are ready to grow but don't have enough resources to take care of drop-shipping right away.
Marketplace cost: Commission based on product categories
Final Thoughts
There are plenty of online marketplaces to opt for, therefore, in order to find the best match, you have to be clear on your goals and requirements. Each platform has a unique feature suite and is geared towards different types of sellers and their product niches.
If it is more than one marketplace that meets your needs, then feel free to register yourself on more than one.
Additional Read:
New Product Launch Pro Tips For Amazon Sellers
Going crazy over your Amazon product research? Let SellerApp do that for you!
A complete guide to finding Best Selling Amazon Products
11 Amazon Black Friday Selling Tips to Boost Sales in 2022
Was this post helpful?
Let us know if you liked the post. That's the only way we can improve.