If you are an Amazon seller, you will likely consider liquidating your excess inventory at some point in time. Clearing stock is a common practice in running retail businesses, however, it can sometimes get very complicated and time-consuming.
Whether you are an FBM or FBA seller, excess stock stored in your Amazon inventory will impede cash flow, eat up your resources and disrupt your bottom line growth immensely. It also hinders business investments and overall profits. The longer your redundant stocks are stored, the higher your storage costs get.
Excess inventory liquidation requires a lot of effort and innovation as there is no one-size-fits-all solution for Amazon sellers.
If you are looking to clear excess stocks in your Amazon business, or you ever have a slow-selling item that you need to get rid of, you should be aware of the multiple options available to liquidate your inventory.
In this article, I am going to answer all your questions regarding excess inventory liquidation. Before we begin, let me give you a walkthrough of all the topics that will be covered –
When do you need to liquidate your inventory?
Liquidating your inventory can fetch you a myriad of benefits, but when should you sell it? Is there a right time to sell excess stocks? The best-case scenario is to decide to clear the excess stock at a time that works the best for you.
Let's look at the two major factors that bring about the dire need to liquidate excess inventory.
1. Dead inventory: you've got redundant items that don't sell anymore
Dead inventory comprises those items that do not make a sale anymore. Excess inventory can result from various factors such as issues with the product itself, poor product research, inaccurate demand forecasts, and other inventory management failures.
The truth is most items have a limited lifecycle, therefore, more or less, half of your inventory is bound to meet the same fate. Either way, dead inventory can drain your resources like anything. The longer you hoard them, the greater the loss. In such cases, you must resort to clearance strategies as soon as possible.
2. Costly inventory: long-term storage fees
If your unsold products are stored in one of Amazon's warehouses for too long, it's time you think about liquidating those stocks. FBA is great when sales are skyrocketing exponentially but, if your profits slow down, the Amazon warehouse will simply eat up your investments and create cash flow issues in the long run.
Remember, Amazon is a fantastic storage facilitator only for items that sell well. And if your items are not selling up fast, the eCommerce giant will charge you a hefty amount of additional storage costs.
If this happens, you should fetch back your inventory to avoid excessive storage costs. Once you have the stock in your own hands, find the most profitable ways to liquidate them. How? Read on to find out.
Are there any better alternatives to liquidating excess inventory?
So, you have excess Amazon inventory, and it's never a good idea to watch your stocks get covered in dust in the warehouse. But does this mean that you must clear your stocks immediately? Well, not necessarily!
Liquidating your stock should really be the final way out only after you have deployed other tactics to sell your slow-moving products. For example, you should consider these points:
Is your product not selling fast because of the item itself, or is it because of external factors like unfavorable timing? If your product is seasonal, like woolen clothes or Christmas bells, and if winters have already passed, then of course you'll view a drop in sales! Then, you have to decide whether to recall your inventory until the next season or liquidate it through other channels.
Is your Amazon selling account in good health? If you do not have enough social proof, i.e. less positive reviews, it is likely for your sales volume to drop because of diminished customer trust. Therefore, you must take steps in fixing your Amazon business and better your social proof to boost your sales.
Are your listings SEO optimized? If your products do not include the right keywords, they will not be visible when customers search for that item. It's vital you choose the most profitable keywords and leverage the parent-child ASIN feature of Amazon to increase your revenue margins.
Is your product pricing up to the mark? If your product prices are not competitive enough and do not resonate with the market standards, then buyers will choose your competitor items instead of yours.
If you've analyzed all the aforementioned scenarios, and you still can't acquire enough sales and have decided to get rid of your inventory, then there are plenty of ways you can liquidate.
Related: Soar Your Amazon Sales with Liquidation Inventory.
Benefits of Liquidating Inventory
If you are an FBA seller, the first obvious benefit you can reap from liquidating your excess inventory is eliminating unnecessary and exorbitant storage fees charged by Amazon. There are other benefits too.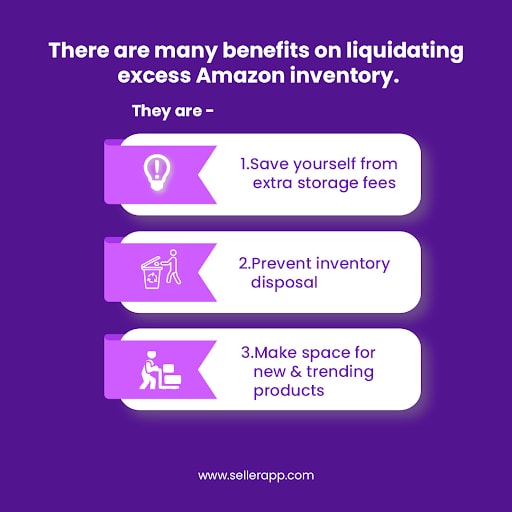 Clearing your stocks relieves you from the stress and panic you might feel about having stock that is bringing you no sale, in fact, incurring extra costs.
When you liquidate your excess inventory, it saves your warehouse space to allocate newer and trending products, thereby, preventing resource wastage.
What is Amazon FBA liquidation?
FBA Liquidations is a program crafted by Amazon to help FBA sellers in regaining value from customer-returned products and excess stocks. This initiative taken by Amazon has proved to be immensely useful for sellers as they no longer have to pay storage fees for obsolete inventory products left in the Amazon warehouse.
The FBA Liquidations program is a profitable way of eliminating unsold items from your Amazon warehouse.
It is an invite-only program open to US sellers and non-US sellers running their Amazon business in the US marketplace.
How does the FBA Liquidation Program work?
Instead of paying a fee to remove or dispose of FBA inventory, you can simply get your excess inventory liquidated through a wholesale liquidation company. This means that Amazon will arrange a buyer for your excess stocks that need liquidation.
Amazon sellers who are part of this program and have liquidated their excess stocks can acquire a portion of their inventory cost. The net recovery value will be displayed on the seller central account within 60-90 days after placing the liquidation order.
The net recovery value of items to be liquidated is estimated based on multiple factors. These determinants are:
The wholesale liquidators will buy the stocks for a gross value based on the constricted rates for 5-10% Average Selling Price.
Later, Amazon will subtract its fees and pay you the net recovery value of the liquidated stocks.
How much will I receive for the items that I liquidate?
The maximum recovered value is 5% to 20%* of the average selling price of your product. There is no standard recovery amount set for FBA Liquidations.
Is FBA Liquidations Open for Non-US Sellers?
The FBA Liquidation Program is available for US and non-US sellers selling at the US Marketplace of Amazon.
Who are These FBA Liquidators?
The FBA liquidators are verified wholesale liquidators who sell Amazon-owned and FBA products to downstream consumers. Since Amazon enforces them contractually, these liquidators cannot resell those liquidated items on Amazon.
Can I cancel my liquidation order?
Yes, you can cancel your liquidation order if you do not wish to eliminate your stocks so soon. If canceled, the liquidated items will be shipped back to the seller's inventory.
Fees charged by Amazon FBA Liquidation Program
Amazon began to charge FBA Liquidation from June 1, 2021. Sellers are charged with these fees once their excess stocks have left the Amazon fulfillment center.
If you are an Amazon seller who has placed the liquidation order before June 1, you will still incur the Liquidation fees.
Amazon charges a processing fee per product and referral fee depending on the item category. To help you understand better, the processing fee and referral fee charts are listed below –
Processing Fee –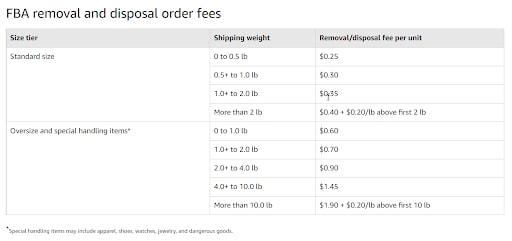 Referral Fee –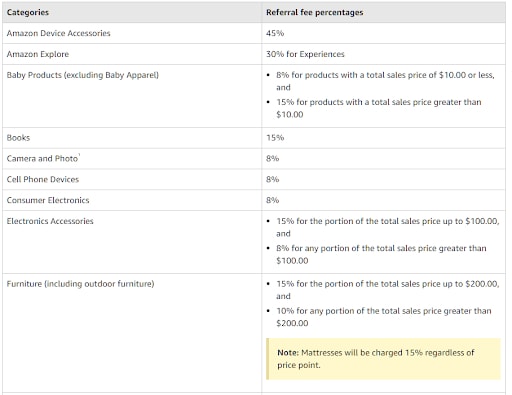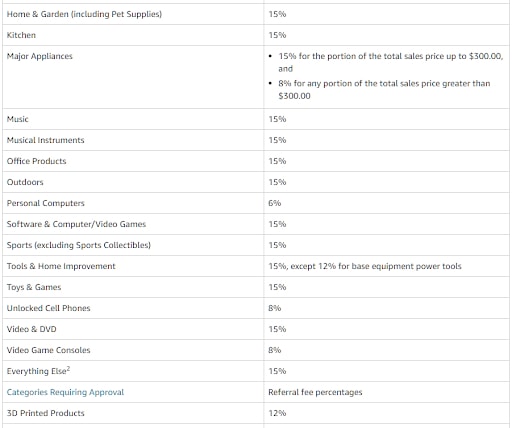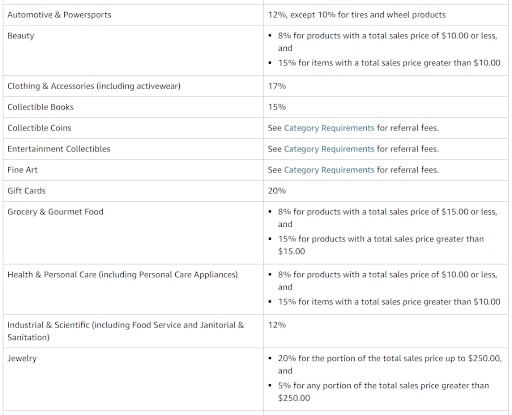 Source: FBA Liquidations Page
Program eligibility
Amazon sets certain standards for becoming eligible for the FBA Liquidation Program:
Product eligibility
Amazon does not allow the following type of products to qualify for the FBA Liquidation program-
Note: For an unfulfillable inventory, only products with a valid reason of Customer damage, Carrier damage or Distributor damage qualify for liquidation. Products that are Expired, Defective, or subjected to Warehouse damage are not eligible for liquidation.
How to Create an FBA Liquidation Order
You can create a removal order to liquidate excess stocks by navigating to the inventory planning page in Seller Central or from the Recommended Removal report.
1. Place a liquidation order
Inventory planning page: Select one or more ASINs. Click Action on the selected item and a drop-down menu appears. Now, choose Create removal order.
Recommended Removal report: Click on Begin removal process.
2. Click Liquidations
Now, add the number of stocks you wish to liquidate.
3. Review and Confirm the Liquidation Order
You can also create a bulk liquidation order here if needed.
Other Liquidation Options
Other than turning to the FBA Liquidation Program, we have curated some better alternatives for you so that you can get rid of excess inventory without much hassle. Some of them are –
Run a Giveaway offer
Before you liquidate your stocks, why not try a final giveaway campaign? You never know it can do wonders, and you can actually have all your products sold once it catches the attention of relevant customers.
And even if your goal is to eliminate the excess items instead of improving your product ranking, this technique could bring awareness to your brand name.
Not to mention, if you plan on allocating some new stocks to sell, this solution will get you immediate visibility.
Sell on Deal Sites
If you are not able to gain some revenue on Amazon, it doesn't mean that they are redundant and cannot generate some sales on other platforms!
If you shift your inventory to platforms like eBay, Shopify, or Walmart, there's a chance you could still acquire some profit.
Recommended to read: Amazon Profit Margin: All that Finally Matters.
If you wish to sell your product on some other site, you'll have to create a removal order from your Seller Central account. This way, Amazon will help you shift your inventory from its warehouse to the next destination.
However, this may cost you additional charges.

Depending on your business's social media presence, you can also choose to sell your products on Facebook Marketplace and Instagram Shopping.
Sell your products to your competitors
This may not be the most probable option but with this, you can save grace and walk away with profits, instead of having to liquidate your stocks at low prices!
Based on the credibility of your product, its unique features, and your brand reputation –you can actually sell your stock to a competitive brand that deals in the same product.
The more common and unmarked your product is, the likelier it is to find a new seller.
However, it's important to have good negotiation skills so that you do not miss out on profits.
You must sell your stock as close to its cost price as possible to reduce your loss percentage, as you have to incur the removal order fees associated with the relocation of stocks from the warehouse.
Donate to Charity
This may not bring you any monetary benefit, but the essence of the "feel-good" aspect is really worth it. Because why not? It will benefit those who are in need.
There are various methods to go about donating excess inventory, depending on the type of products you sell.
FBA Donation – This new Amazon-sponsored program prevents millions of products from getting destroyed every year and utilizes them for charitable and philanthropic purposes.
Note: You have to pay for Removal requests and Disposal fees here too.
However, it is a way better idea to donate your excess stocks to charities rather than dumping them into landfills to be destroyed while paying disposal fees.
FBA Liquidations and Amazon IPI
Your Amazon IPI score plays an important role in increasing your inventory sell-through rate. Excess items stored in your inventory will bring down your score.
Therefore, when you submit a removal order with FBA Liquidations, your IPI score may lead to an improved IPI Score.
You can accelerate your product sell-through rate and clear excess inventory with inventory management tool like Skubana designed for sellers. This robust solution helps you keep your IPI score above the minimum threshold by providing data-driven recommendations and alerts for improved inventory health.
Final Thoughts
Remember, it's very much likely for any business to run into a situation where their products eat up their resources while sitting on excess stocks.
And when such situations arise, liquidating your inventory is a beneficial tactic.
Therefore, if you're facing this for the first time, there is nothing to worry about! It doesn't mean that your business is about to fail, rather it's indicative of acquiring a newer venture.
Hopefully, this article covers all the information you are looking for. But in case you need more, please check out the following resources:
Was this post helpful?
Let us know if you liked the post. That's the only way we can improve.