As the year begins, SellerApp started to explore Amazon's advertising trends in 2022. The global pandemic drove the e-commerce sales growth by 30% in 2020. Consumers across the globe were forced to adapt to online shopping which fueled the growth of the entire e-commerce industry.
When it comes to Amazon, 2021 was an incredible year for the online behemoth. In the US, Amazon has solidified its place as the third-largest digital advertising company.
The recent pandemic has further accelerated Amazon's ad revenue growth in addition to the online retail sales.
Let's look at a few of Amazon's advertising statistics.
Though the pandemic slashed the advertising budgets, Amazon's advertising revenue grew by 23.5 percent year-over-year in 2020.
It is projected that the company will earn more than 10 percent of US digital ad spending in 2020 (Source).
Amazon sponsored brand videos were the highlight of Q3 2020 and attracted about one-fourth of advertisers using sponsored brands.
Among the top online retailers in the US, Amazon ranked #1 in terms of online revenue generated in 2020.
Related Post: Amazon Statistics (Seller, FBA, and Product) That'll Surprise You
Amazon trends and predictions 2022
Now that we've seen the figures, here are our top Amazon advertising trends and predictions for 2022.
#1 Programmatic advertising
Our advertising experts foresee that programmatic advertising will be on the rise in 2022. As Google continues to limit third-party cookies and search query data, advertisers need to rely on first-party data to ensure successful advertising strategies. As a company that holds data about shoppers' buying habits, Amazon's advertising will evolve to be more powerful. Advertisers will be encouraged to use Amazon's programmatic platform to target and automate their ad placements and campaign performance. 
Along with that, Amazon's DSP will also gain popularity in near future.
#2 More personalized advertising
Another advertising trend you can expect in 2022 is the increase of personalized advertising across the entire marketing funnel. Gone are the days when sellers target keywords and expect success. Now, advertising is increasingly becoming data-driven. Meaning, consumers tend to see ads that are relevant to their search and shopping behavior. Therefore, we can expect increased engagement among the shoppers. And, this brings us to our third point, adopting sophisticated targeting options.
#3 Sophisticated ad targeting
With the amount of data available on Amazon, the e-commerce giant would come up with more personalized ad types (like OTT, video ads, etc.) and targeting options that are customized as per consumers' interests. If utilized properly, these will ensure you grow as a brand.
Furthermore, Sponsored brands and Sponsored display ads are likely to be refined further. So brands that gain early access to the new beta options should stay proactive and make the best use of them to get ahead of the competition.
Brands need creative ways to attract and retain customers."As an Amazon seller, you need to ensure that your products get as much visibility as possible. Amazon in 2022 is only going to get more competitive and exciting. Brands need to be more creative in terms of the listing, ad targeting, and social media marketing to remain competitive on Amazon."Ram Menon, Director of Sales, SellerApp.
#4 Video ads will prevail
Video ads – The key to Gen Z.
Yes. Amazon video ads are quite popular among Gen Z. A recent study by Google showed that 7 in 10 Gen Zers said that watching videos will help them feel connected.
On the other hand, Amazon will likely improve options for advertisers to use video ads as part of the funnel.
Images are great, but videos are far better, especially when you want to engage and create brand awareness among your target audience. If your brand or products are popular among the Gen Z audience, you should definitely consider trying video ads, not right away but at some point.
#5 Better Reporting insights
Along with the advertising options, Amazon will continue to refine metrics and insights into customer engagement and traffic. So brands can expect options that will help them capitalize on their store's traffic.
Additional Read: TACoS Amazon Advertising – Decoded for You
How sellers should take advantage
Marketing 101 – Drive views to drive sales
While Amazon's advertising landscape is changing constantly, most of the merchants largely rely on in-house PPC solutions to drive traffic. There are multiple ways like Google SEO, social media traffic, etc to achieve organic ranking. However, Amazon SEO is a clear winner. Extensive Amazon keyword research, setting target keywords, optimizing product listing based on your goals is a must.
Micro-influencer marketing
This is a rapidly growing industry. Here, you essentially leverage smaller influencers on popular channels like Instagram, YouTube, TikTok, and others to promote products to their loyal audience. For one, they're cheaper when compared to macro-influencers. Second, there's a potential to build a brand ambassador relationship that can turn out to be profitable in a long run.
Increase operational efficiency with Automation
Automation and AI are the buzzwords in e-commerce. There's a lot of hype around Amazon automation. To stay relevant, you need to have strong automation and AI tools to boost your performance, increase efficiency, and gather data-driven insights.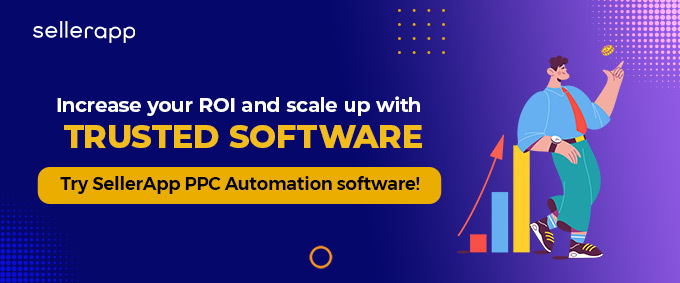 Now, Amazon FBA sellers might be under the impression that the FBA model already automates customer service, picking, packing, and fulfillment, and there could be nothing else to automate. However, there is a lot of scope in this arena.
Advertising is a vast area that you can automate. You can automate your bids, campaigns, and budget to improve your operational efficiency, save time and effort. Learn more about automation here. To learn more about SellerApp's automation rules, check this link.
Willing to automate your PPC campaigns? Check out our automation features, or drop us an email at sales@sellerapp.com. Our experts will help you in automating mundane PPC tasks.
Additional Read :
Got more trends and predictions to add? Let us know in the comment section below.
Was this post helpful?
Let us know if you liked the post. That's the only way we can improve.