Understanding what search terms your customers are using is extremely important to optimize product listings and Sponsored ads. Therefore, sellers need to monitor Amazon search terms report regularly.
One of the best advantages of Amazon Advertising reports is that you can leverage the data to tailor your campaigns according to your business goals. Within these reports, Amazon search terms report is your best option to find the exact terms that your buyers use to search for products. Using this report, you can optimize your keyword targeting and product targeting based on your PPC goals.
How frequently do you need to analyze the report? How do you use the keywords that are driving clicks and conversions? Let's discuss all of them in this article.
Amazon Sponsored Products Search Terms PPC Report
Amazon search terms report gives you insights into the search terms' visibility that are driven by shoppers' clicks. You can find out if you are able to generate impressions for the right set of keywords relevant to your product. Also, you can identify negative keywords for search terms that aren't driving traffic. 
How to download the Search Terms Report on Amazon?
Step 1 – Log in to your Amazon seller central account, click on Reports.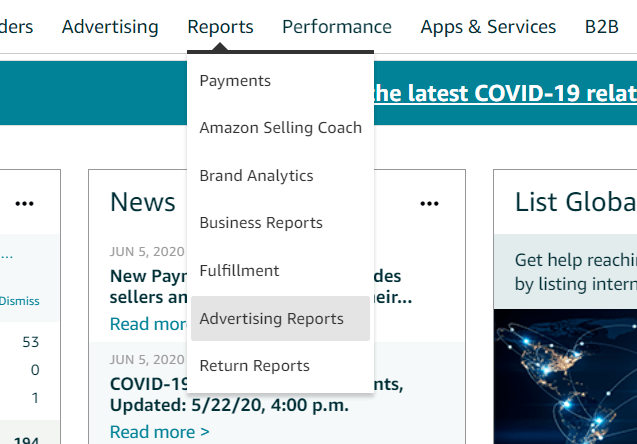 Step 2 – Select Advertising Reports, and Create Report.

Step 3 – Under All Campaigns, select Sponsored Products.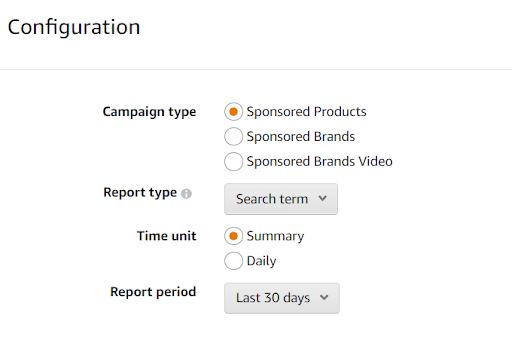 Step 4 – Select report type as Search Term. Give the timeline of the report. And, click Run Report.
How to analyze the Amazon Search Terms Report?
As we mentioned, the number one goal of this search terms report is to find the most relevant and highest searched terms by the users that resulted in a click. And, use these search terms to increase relevance and reduce ad spend of your Sponsored ad campaigns.
Here are a few things that you can find in the Search terms report:

Campaign Name
Ad Group Name
Portfolio Name
Keyword Match Type
Customer Search Terms
Impressions
Clicks
CTR (Click-through-rate)
CPC (Cost-per-click)
Amount Spent
Total ACoS (Advertising Cost of Sale)
Total Return on Advertising Spend (RoAS)
Total Sales
Conversion Rate
Pro Tip: Using the portfolio to create segments in your ad campaigns is highly recommended for better campaign management. Also, you can segment your campaigns and ad groups according to your product types, features, etc.
If you want to learn more about the other Advertising reports, and how to use them for your goals, watch this video. In this video, Ankitha Nagraj, from our Customer Success Team, helps you understand how to interpret different advertising reports available on Amazon Seller Central.
How to use these search terms?
Optimize Existing PPC Campaigns
To gather enough data for keyword selection, you need the search terms report for a minimum of 7 days.
Identify the relevant keywords that generate sales, and result in a higher conversion rate. Add these keywords to your existing campaigns. Also, try to find irrelevant keywords that are not giving enough conversions and clicks. Add these keywords to your 'negative keyword' to eliminate wasteful ad spend.
Note: Here, the key metrics to monitor are product sales, clicks, CTR, and order numbers.
With the help of the right segmentation and the search terms data, you can turn off the ad groups generating clicks and impressions but are not resulting in conversions.
Pro Tip: It's good to audit your PPC campaigns for better optimization. Check out this free Amazon PPC Audit Tool to get a fresh perspective on your Sponsored Product campaigns.
Create Manual Campaigns
Harvest the search term data generated from the 'Automatic campaigns' and use these keywords/search terms to your advantage. You should consider at least a month's data preferably. From the search terms report, you can identify and harvest the keywords that are converting into sales with the help of the 'Total Sales' metric. Target these keywords and create manual campaigns.
Earlier, the Amazon search terms report gave the exact SKU details associated with the search term. However, this information is no longer available. So, if you build your campaign structure with 1 SKU per ad group, you would be able to attribute the success of the search term to the specific SKU clicked.
On the contrary, having multiple SKUs in one ad group will leave you in the dark as you can never find out which converted keyword is associated with the product.
Observe Consumer Trends and Behavior
You want to run the search terms report regularly to gather insights into on-going customer trends and purchase behavior. Filter the search terms report with the highest Total Ad Spend. You can find the non-converting keywords, and reduce the CPC for these keywords or pause the keyword for a specific period.
Keep the report filtered by ad spend to look at the search terms that drive conversions. This helps you reduce your ACoS and increase your profitability. Thereby, you can prioritize time and resources to concentrate on high-converting keywords.
Optimize your listings for relevant search terms
Amazon matches search terms to determine the relevancy of your product listings. If your bid is significantly high and you are not driving any impressions for the keyword, you may need to optimize your product listings. Use these search terms to change your product description, title, and bullet points. Don't forget to include the key points describing your product, like product features, uses, etc.
Optimize Backend Search Terms
Amazon backend keywords are crucial to gain more relevant traffic. Use the search terms to target in your backend keywords. This boosts your product relevance.
Conclusion
Amazon Sponsored Products search terms report will give you enough information into the historical data about what your consumers are looking for to find a product. Utilize this opportunity to test and optimize your listings as well as PPC campaigns for better relevance and discoverability.
Related Posts:
Amazon Attribution For Better Conversions.
How Much Does Amazon Advertising Cost
Was this post helpful?
Let us know if you liked the post. That's the only way we can improve.