The way you see and perceive your PPC campaigns plays an influential role in determining the success of your sponsored product ad campaigns.
Often, few Amazon experts tell you that the most important PPC metric to focus on is lowering your ACoS down to a single digit. Well, that's not always the case. All businesses are different, and they have different advertising goals. In the same way, every campaign is different and we'll need to track different variables for each campaign.
One strategy doesn't fit all. We get it. To determine what strategy works well for you, you need to define your niche, competition, and where your product is in its lifecycle. All these aspects will determine your Amazon sponsored products ads strategy.
We have come up with 5 core sponsored product ad strategies that will help you at different stages of your product lifecycle.
Here's a quick view for you.
Strategy #1: The launch strategy
Strategy #2: Customize your sponsored products strategy based on Amazon page rankings
Strategy #3: Not all revenue is created equal
Strategy #4: The audit dilemma – Don't miss out on the potential opportunities
Strategy #5: Automate your bids – The SellerApp way
Strategy #1: The launch strategy
Suitable for: Sellers launching new products
The first stage of your e-commerce business is the pre-launch phase. Typically, you want to kick off your product sales and launch the product successfully. Doing your initial product research and market research are the core steps to nail your amazon product launch though. As a next step, your goal would be to gain traction and build initial sales momentum so you can continue to run your business in profits. When it comes to PPC, ACoS shouldn't be your concern in the launch stage. In fact, ACoS could be high, as your main goal is to increase visibility.
During the launch phase, you need to focus on your organic ranking. So align your Amazon-sponsored products strategy to rank high on Amazon SERP. This brings us to the next strategy – ranking high using PPC.
Strategy #2: Customize your sponsored products strategy based on Amazon page rankings
Suitable for: Amazon sellers who want to scale (and improve organic ranking using Amazon PPC)
This one is straightforward! It depends on your product rankings and you need to take a look at your campaign reports and Amazon SERP (search engine ranking page) results to make this strategy work for you.
Let's look into the details.
Your product is on page 1 or 2: Bid aggressively when your product is close to the top of the results page. Bid higher on your top-tier keywords and have some long-tail keywords that align accordingly.
Product is one page 2-5: Bid constantly on the top-performing keywords. Concentrate on the long-tail keywords and alternative keywords that are suitable for your product. This allows you to rank higher on amazon based on your conversion rates.
Product is on page 5 and beyond: Find the top-converting keywords in your campaigns. If you don't want to allot more funds to all the keywords, pick the keywords that are converting well under your target ACoS. Bid higher on these keywords.
Related Post : Amazon Sponsored Products vs. Amazon Sponsored Brands
Strategy #3: Not all revenue is created equal
Suitable for: Sellers who want to increase their market share
Sellers often make the mistake of basing their ad strategy on keywords that are doing well in the auto campaigns. Once this happens, they revert to manual campaigns to have better control over their ad spend. In the end, they hold on to the same strategy.
Well, this is a great technique when you want to rank high on Amazon, but it gets challenging when you want to control your overall ACoS. This is because certain products in your portfolio need more clicks to make a sale than the others. Therefore, it's better to consider your ad strategies based on product performance.
Let's say you have five products in campaign A, two of which have an ACoS of 60%, while the other three have an average of 20%. These two products will be responsible for increasing the overall ACoS of campaign A. So the best thing to do is to put those two products in a different campaign (say B).
The result? You can lower the cost of your initial campaign A making it easier to control your ad spend. You can also stop the second campaign (B) if you think it's not worth your money without losing sales from the first one.
Strategy #4: The audit dilemma – Don't miss out on the potential opportunities
Suitable for: Sellers running PPC campaigns
We cannot stop emphasizing the importance of auditing your PPC campaigns. Spending in the wrong places and neglecting the sales opportunities are never commendable. Taking time to audit your keywords, campaigns, and metrics even when they are performing well is a necessity. A thorough PPC audit will typically reveal something useful to improve the efficiency of your campaigns. Even doing a quick check can be helpful to identify minor PPC mistakes.
Free automated tools like SellerApp PPC audit can help you audit your sponsored campaigns.
Here are a few things to consider while auditing your PPC campaigns.
Campaign structure
Ad groups
Keywords
Conversion rates
Let's break them down further.
Campaign structure
While auditing the campaign structure you should be able to find: What types of campaigns are you running? What targeting type are you using? Do naming conventions make sense?
Note: Considering a valid timeframe is of utmost importance while auditing your campaigns. You want to consider at least 15 days to three months of data to audit your campaigns. Also, keep seasonality in mind to avoid skewed results.
Ad Groups
Ad groups play a significant role in your PPC campaigns. However, the best practices depend on how you want to group your products. Few sellers may use variations within a single ad group while the others set up separate ad groups for different product lines or keyword types. For optimal results, categorize using a logical structure.
Keyword match types
When auditing keywords, you will need to review the match types. Are you using mostly a broad match? If so, you may want to include phrase and exact match types to increase your ROI. Do you have a negative keyword strategy to weed out irrelevant traffic? Are bids set optimally to achieve the results you desire?
These are a few things to consider while auditing your keywords.
Conversion rate
Amazon is concerned about sales, so it should be your priority as well. Conversion rate is the key metric to determine your listing's success (or failure). When auditing your campaigns, you need to understand which keywords potentially convert, and highlight the areas of improvement.
Note: If you want to learn more about Amazon sponsored ad strategies, check out this detailed guide.
Strategy #5: Automate your bids – The SellerApp way
Suitable for: Everyone (new sellers to established brands)
Optimizing PPC bids is the most essential yet time-consuming part of Amazon PPC optimization. If bids are not properly optimized, your ACoS will increase and you will miss out on potential sales.
Use SellerApp's Automation feature to put your PPC campaigns into auto-pilot. As an advertiser, all you need to do is input the key metrics such as ACoS, orders, clicks, etc. and let our machine learning algorithms take over. Our rule-based automation feature will analyze your campaign data, keywords, bids, and Amazon CPC, and automates your bid optimization.
Related Post : Run Effective PPC Campaigns with Amazon Product Targeting and Category Targeting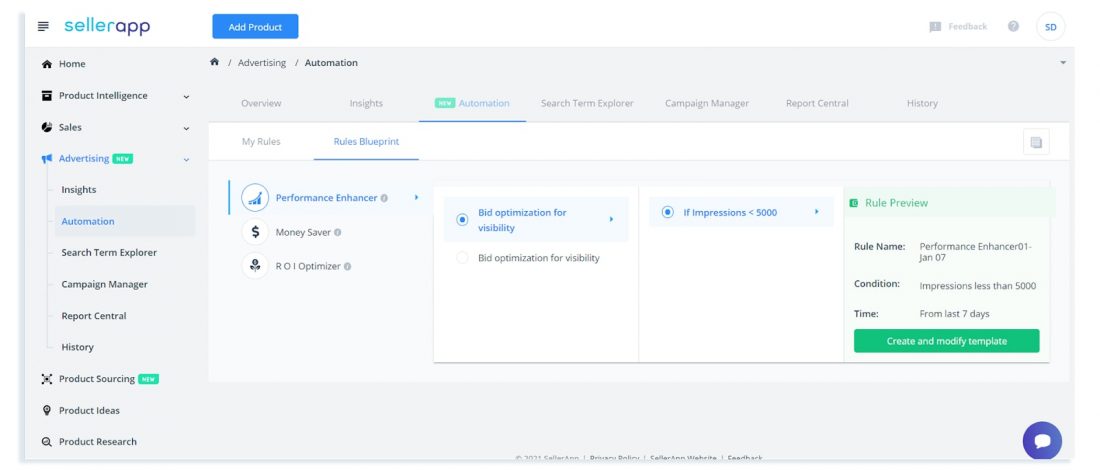 Within our automation feature, you will find a handful of templates from which you can choose one based on your campaign goal.
Final thoughts
Don't expect your Amazon PPC campaigns to succeed overnight. That's unrealistic! Not all strategies work for all types of products. It's important to learn from the mistakes and improvise the ad strategies that work for you.
With the amount of work that goes into your Amazon account, running a PPC ad campaign isn't easy. There are a lot of things that you need to consider. Plus, you shouldn't forget to balance your ad spend against your ROI. If you need an Amazon PPC agency that can help formulate new strategies for your ad campaigns, drop us an email at support@sellerapp.com. We can always help you with effective PPC strategies that you can use to your advantage.
Related Post :
How to Beat Your Competition on Amazon – Strategies Revealed
Grow Your Business with Amazon PPC Automation
Was this post helpful?
Let us know if you liked the post. That's the only way we can improve.