At SellerApp, we've been managing thousands of accounts for the past few years. And, there's one thing we can say positively is that Sponsored Product Ads are one of the most effective ways to dominate on Amazon. When optimized the right way, you can definitely drive more conversions and increase your product discoverability. As more sellers enter the Amazon marketplace, it's time to step-up your strategies and utilizes Amazon Ads solutions effectively.
Amazon offers a variety of advertising solutions to marketers allowing them to have granular control over their ad placement.
But there's a new kid on the block – Sponsored Display ads. What makes it different?
Unlike all other Amazon Seller Central offerings that came earlier, this new advertising type enables sellers to reach their customers on Amazon and off Amazon too!
In this article, let's compare Amazon Sponsored Display ads and Amazon Sponsored Products and understand how to make the best use of both to fit your business needs.
If you want to learn about Amazon Sponsored Brands and Sponsored Products, check out this detailed guide on how they work and all other information you need to get started.
Quick Guide: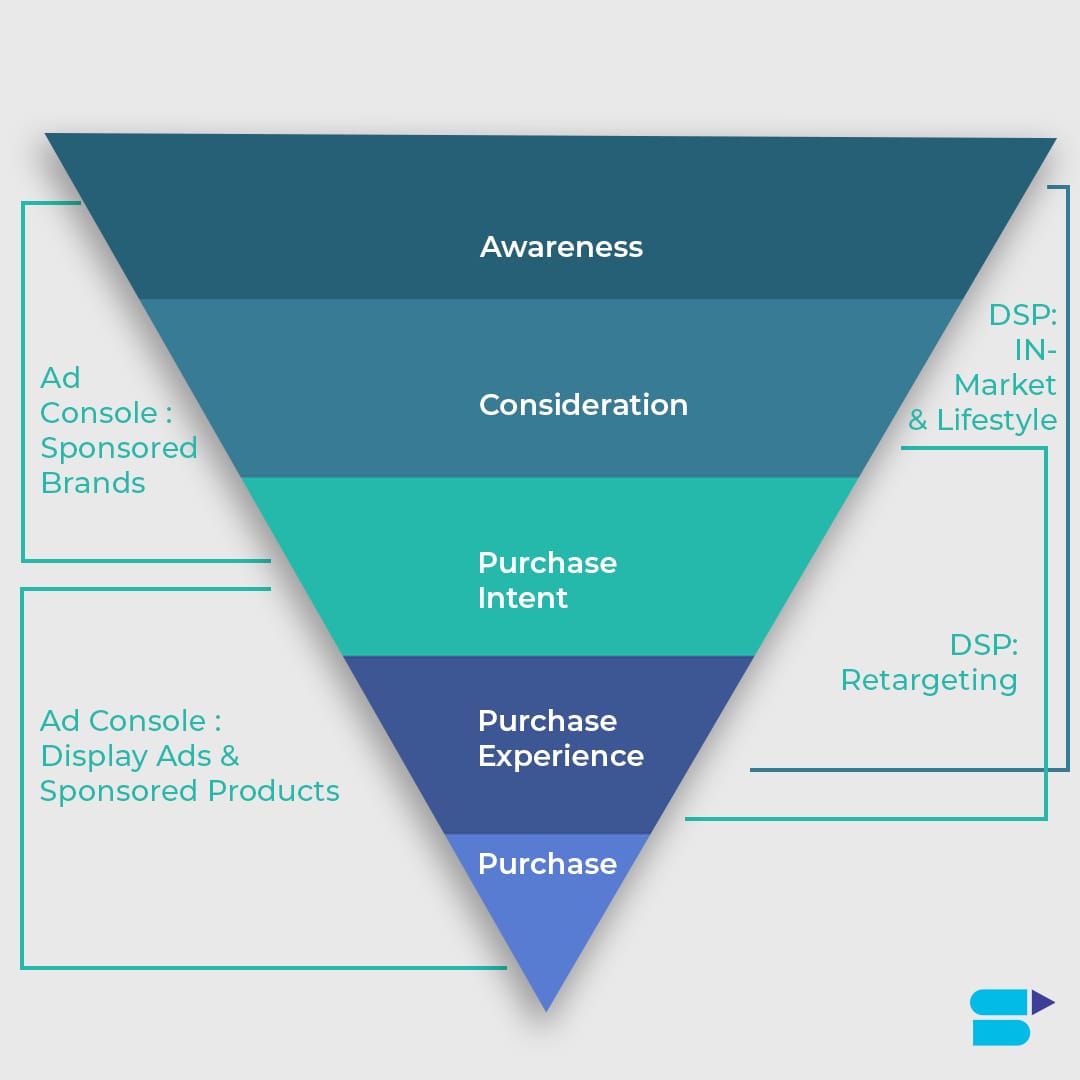 Amazon Sponsored Products
The best part about Sponsored Products is that they blend well with the listings and search results. Customers can hardly differentiate and there's high chance that they feel the product is displayed on the top of search results because of its popularity. And, you can advertise with a budget of as low as $1 per day.
How to create Amazon Sponsored Product Ads?
Log in to your Amazon Seller Central account.
Go to 'Campaign Manager,' and click on 'Create campaign.' Choose 'Sponsored Products.'
Create a campaign. Give the campaign name, choose start date and end date.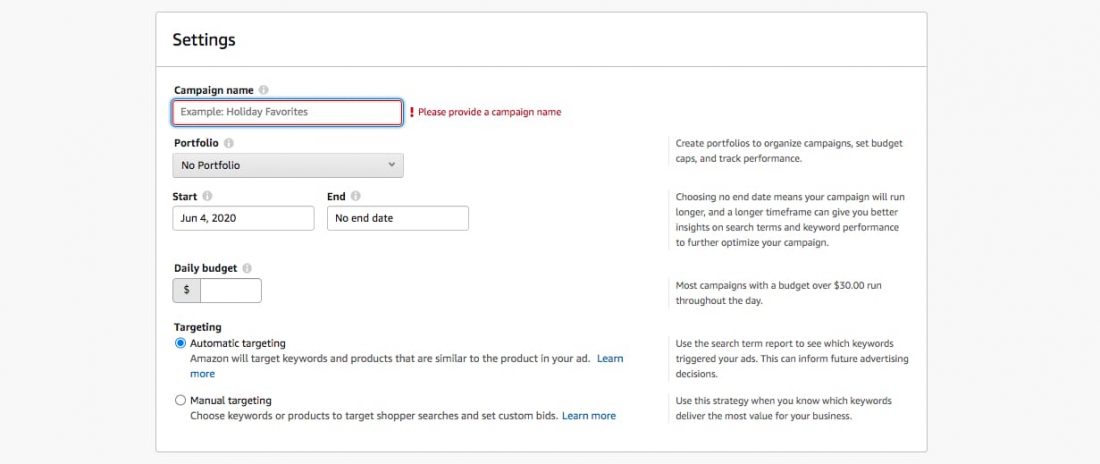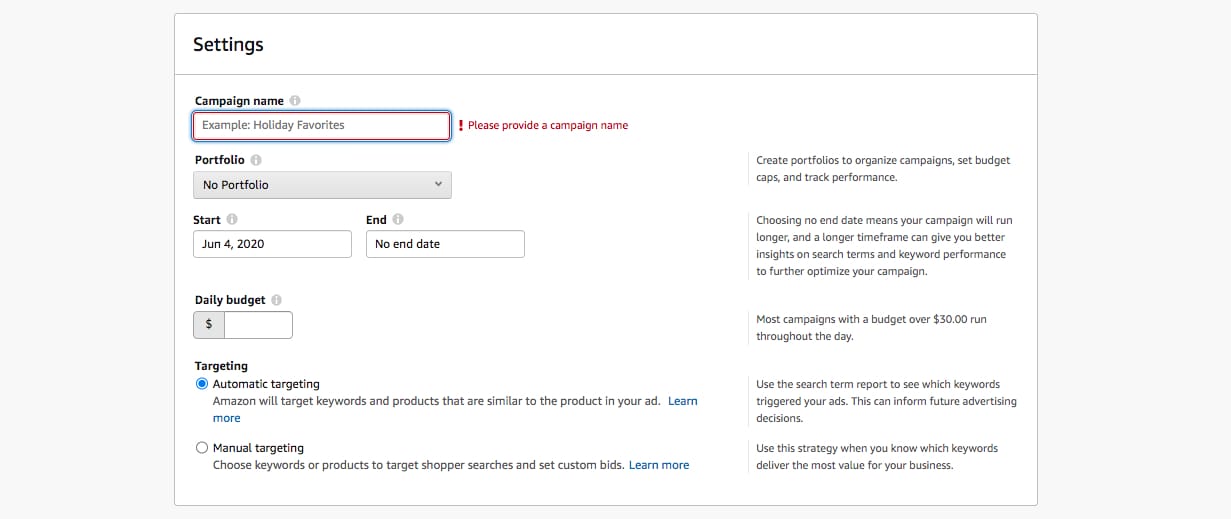 Enter a daily budget and select the targeting strategy. Select targeting type by choosing one of the manual and automatic targeting. However, we suggest you start with automatic targeting. In automatic targeting, Amazon makes your ads relevant to the customer searches, therefore you can find out relevant keywords for your listings. With manual targeting, you need to add the keywords yourself.


Create an ad group. Consider grouping the products that come under the same category (like price, feature, etc).
Now, choose the products that you want to display ads.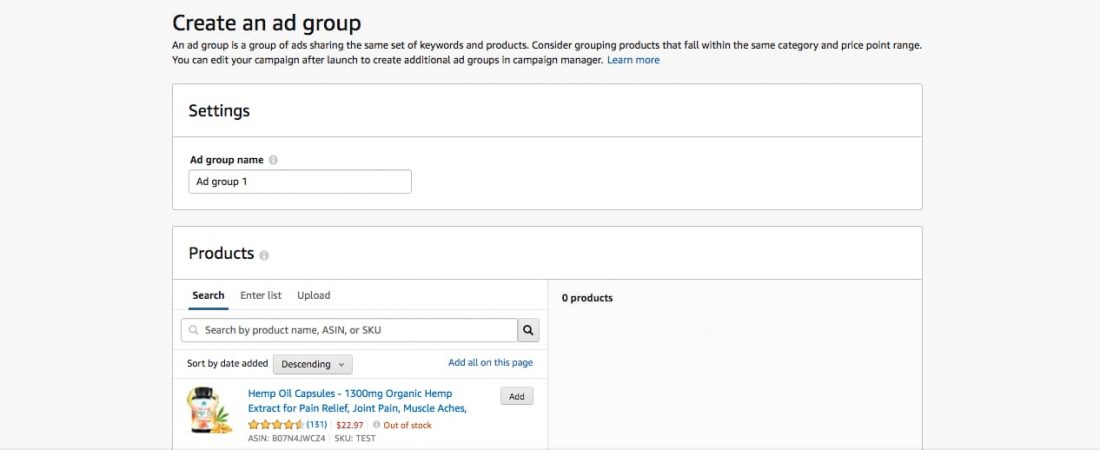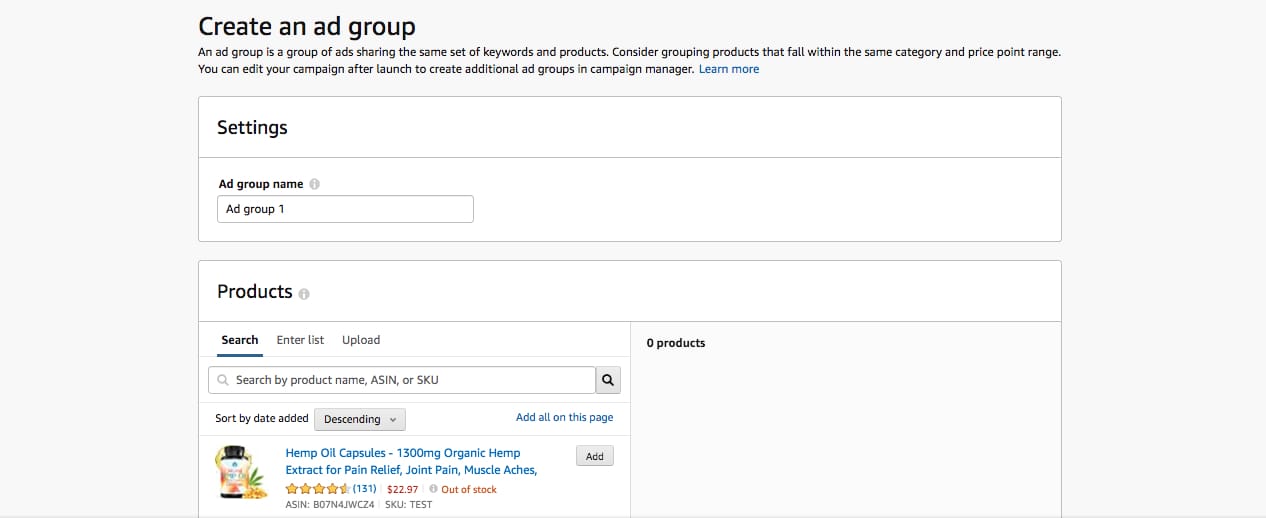 Each advertising campaign has its own advantages. To get the best results, you need to combine all of them in your campaigns and optimize them periodically to stay competitive.
The biggest problem in running your sponsored ad campaigns is it takes too much time and effort to run the campaigns, and you need to run them efficiently to achieve maximum ROI. So you can consider automating your campaign management with SellerApp's automation templates. Customize the rule templates by setting key PPC metrics like ACoS, budget, and bid amount, improving efficiency, and reducing your campaigns' ad spend.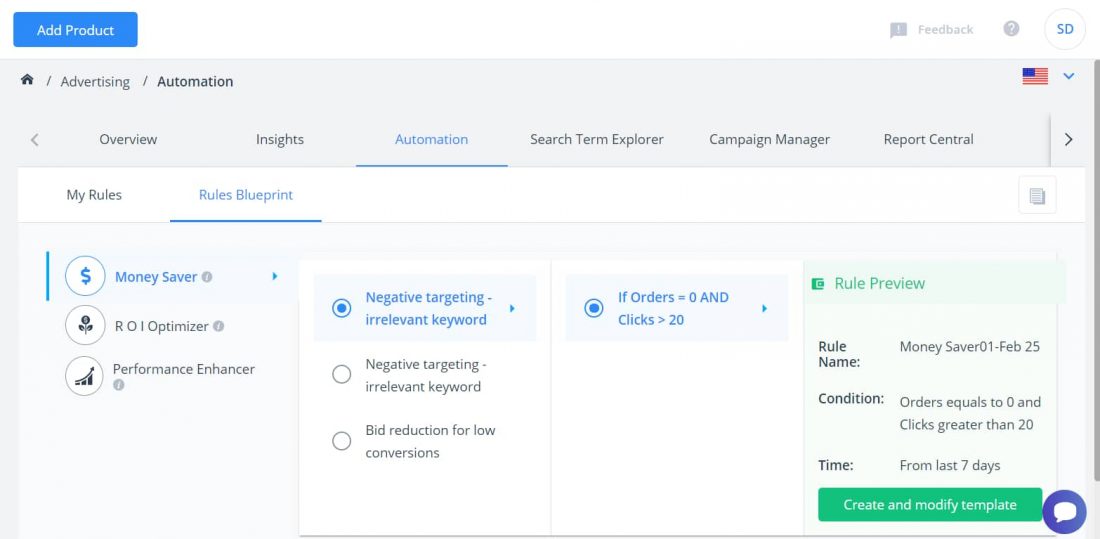 What is Amazon Sponsored Display?
Amazon has launched self-service advertising solutions for advertisers called Sponsored Display Ads replacing its product display ads. Now, marketers can take their business to the next level by increasing their discoverability and customer reach beyond Amazon.
With Amazon Sponsored Display, you can successfully target a larger proportion of the Amazon customer base which constitutes up to more than 200 million unique visitors per month (Statista)
If you want to learn more about the benefits of Amazon Sponsored Display and how retargeting works with it, then read this article.
Now that I've conveyed the biggest use of Amazon Sponsored Display already, let's talk about the major difference between Sponsored Display and Sponsored Products.
Amazon Sponsored Display Ads – How is it different from the other offerings?
One huge difference between Amazon Sponsored Display ads when compared to both Amazon Sponsored Brands and Sponsored Products is that they don't appear to the customers based on the keyword searches. It means when a customer goes to Amazon.com and types for what they're looking in the search bar and hits enter, Sponsored Products and Sponsored Brand ads are displayed in the search results based on what the customer has searched for, while Sponsored Display ads don't work in the same way.
Sponsored Display ads work in a slightly different manner. These ads are mainly based on customer behavior. Sponsored display targets the customers if:
They've bought a product in the same category as yours or a category related to your product.
They are looking at the product listings similar to yours.
They previously viewed your product.
They previously bought your product.
They are looking at the product categories in which your product falls.
Based on the product and customer behavior, your ad appears on a wide range of places off Amazon.
How to create Sponsored Display Ads?
Go to advertising.amazon.com and click on Products.


Or
You can log in to your Amazon seller central account and go to the 'Advertising' section > campaign manager.
Once you are in the Campaign Manager, click 'Create Campaign.'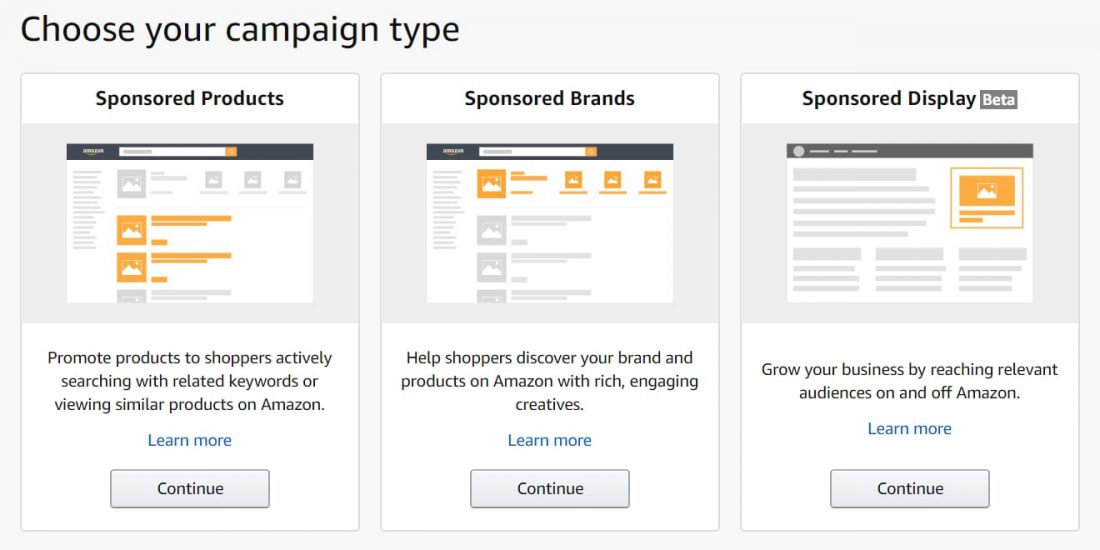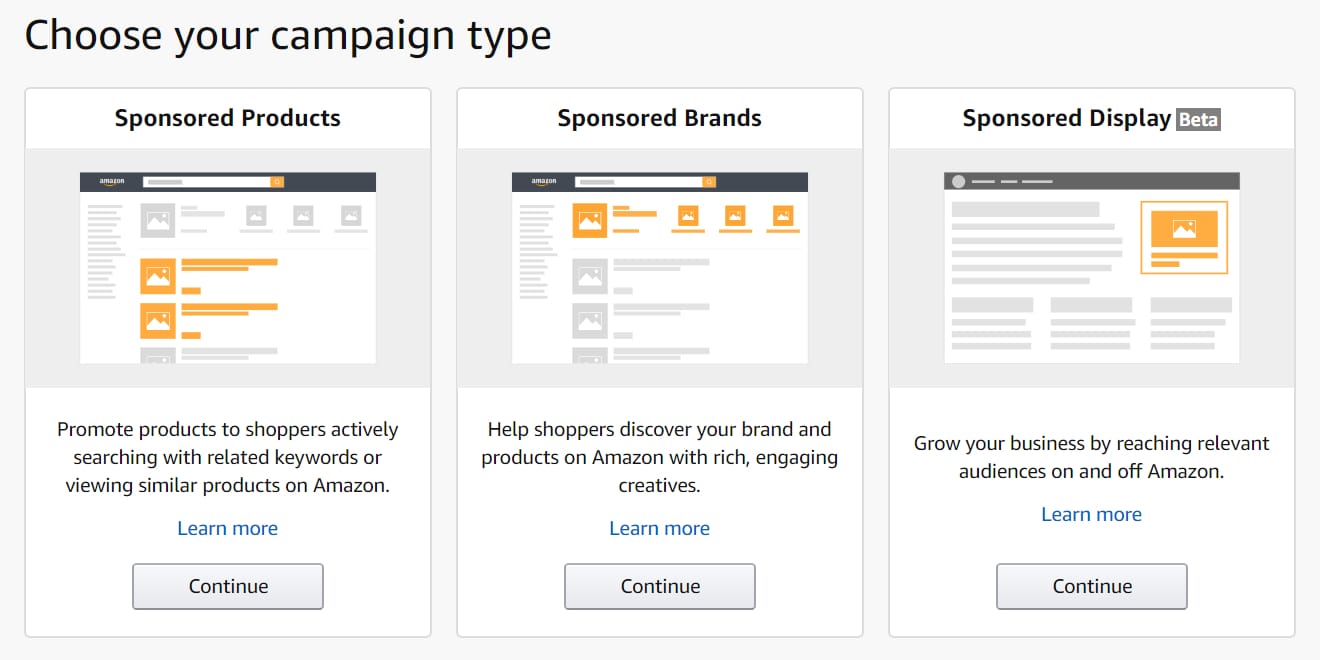 You can see the Sponsored Display ads as one of the three available options.
Hit 'Continue' to start creating the campaign. You'll be presented with a few sections that you need to fill.
Now, this is similar to Amazon Sponsored Brands and Sponsored Products.
Create Campaign – Enter a campaign name. Pick one that is relevant to your goal or product.
Choose start date and end date.
Give a Daily budget. Maintain a daily budget that you are comfortable with. Track your campaign performance and increase or decrease your budget accordingly.
Additional read: Spend the right amount at the right time with Amazon Budget Rules.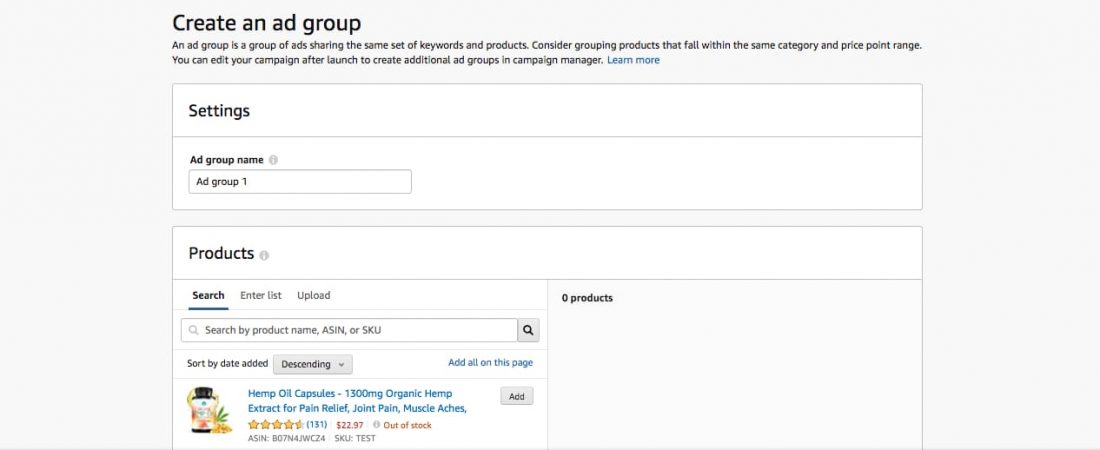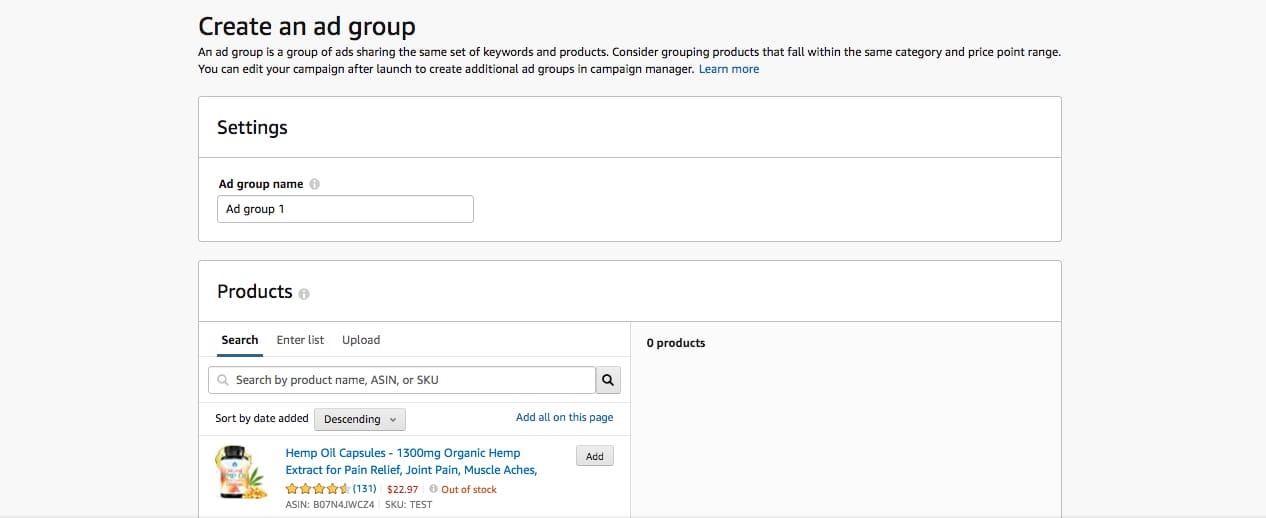 Sponsored Display Ads gives a great opportunity to reach your target audience who have interest in your products or similar ones.
Tip: If you want to understand how to align your bidding strategies with your goals and objectives, watch this video. In this video, Ankitha explains how to use Sponsored Ads effectively.
Targeting Options
Automatic Targeting
Amazon Sponsored Products Automatic Targeting uses keywords and products to display your ads on search results and product pages. Amazon displays ads based on keywords and the products which are similar to yours. Amazon automatically decides these strategies based on shopper behavior. Currently, Automatic targeting is available for Sponsored Product Campaigns only.
How to use Automatic Targeting?
Once you start running the campaign, you can identify substitutes, complements, close match, loose match, targeting strategies, and make necessary adjustments to align them with your PPC goals.
Keyword Targeting
Keyword targeting allows you to select keywords in PPC campaigns to target product details pages and search results. Currently, Keyword targeting is available for Amazon Sponsored Products and Amazon Sponsored Brands only.
Product Targeting
Amazon Product Targeting option is available for both Sponsored Display and Sponsored Products. Within Product Targeting, you can choose a category, brand, and other particular ASINs to target your PPC campaigns.
Refine your targeting based on a price range, Review star ratings, and shipping eligibility.
Differences between Sponsored Products and Sponsored Display within Product Targeting
Product targeting works the same way for Sponsored Products and Sponsored Display. However, in the Sponsored Display, you can allow Amazon to automatically extend product targeting for an item.
Where will my ads appear?
Amazon Sponsored Display Ads appear both on and beyond the marketplace. These ads are displayed on both desktop and mobile devices.
Amazon does not allow ads for refurbished, used, adult, and other closed categories.
Amazon Sponsored Display New Changes
Initially, Sponsored display ads were created as a beta in the US. Now, they are expanded to the UK, France, Italy, Germany, Canada, and Spain. This is big news for advertisers who want to increase their product awareness and demand across multiple markets.
SellerApp's advertising suite supports different Amazon geographies. Now you can manage your display ads effortlessly with our platform.
Differences between Amazon Sponsored Products, Sponsored Brands, and Sponsored Display
Feature
Sponsored Products
Sponsored
Brands
Sponsored
Display
Automatic Targeting
Available
Not
available
Not
available
Keyword Targeting (Manual)
Available
Available
Not
available
Product Targeting (Manual)
Target specific products
Not
available
Target related categories
Manual + Audience
Not
available
Not
available
Target shoppers based on their shopping interest
Benefits
Cost-effectiveness
Increase brand awareness by engaging
potential customers.
Access to new-to brand metrics
Re-engage and retarget customers. Create product awareness
Ad Placement
Top of search, middle of search, and bottom of search results, product details pages
Top of search, alongside the search results, and below the search results
Product pages and search results within Amazon and beyond Amazon
Eligibility and Availability
You need to ensure that your product is eligible for Sponsored ads and you have Buy Box
Active professional seller account, and enroll under Amazon Brand Registry. Book vendors, agencies, and vendors
Active professional seller account, and enroll under Amazon Brand Registry. Vendors and agencies with clients in the US
Up Next: Amazon Sponsored Products vs. Amazon Sponsored Brands – Getting Started
Final Thoughts
Amazon is reinforcing its advertising options to draw in more marketers and capture more brands. So, Sponsored ads will continue to increase in competition. It's time to advance your PPC strategies.
And, SellerApp can help you to stay on top of the game.
Additional Resource:
Amazon Vendor Central Advertising.
Grow Your Business with Amazon PPC Automation
Was this post helpful?
Let us know if you liked the post. That's the only way we can improve.