Haven't we all come across this scenario where we browse a product on Amazon and after some time, we find that item or similar items all over the internet? Well, it's Amazon's Retargeting Ads that are responsible for this mysterious occurrence.
Retargeting is the most robust form of Amazon PPC advertising on the internet which is said to have 5x more conversion rates than any other type of ad.
Well, guess what? Retargeting ads are the future.
Sounds intriguing, isn't it? Let's deep dive a little more into Amazon Retargeting Ads and explore the following topics:
What is Amazon Retargeting?
Amazon retargeting (or remarketing) is an online advertising model engineered to target and convert shoppers who have already interacted with your brand /listing in the past. Retargeting allows sellers to promote their products on off-Amazon – third-party apps and sites. In layman's terms, it is a powerful way of bringing back potential customers and finally converting them.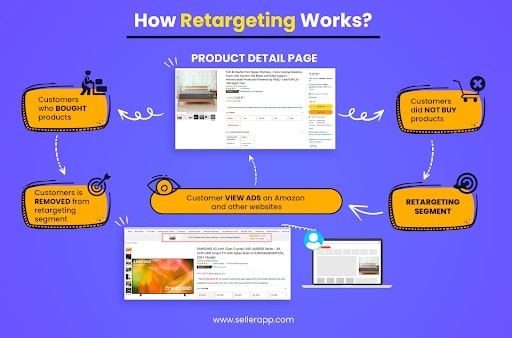 Amazon has already introduced a retargeting option for Sponsored Products in Seller Central that you can optimize yourself. At present, the eCommerce giant is testing off-Amazon ad retargeting as part of their Sponsored Products product expansion. Currently limited to automatic campaigns in Sponsored Products, this new feature can target customers to off-Amazon websites and apps and convert them into shoppers.
Moving from DSP to Seller Central
The feature of retargeting via ads was already available on Amazon previously, but it was only confined to the Amazon Demand-Side Platform (DSP). Here, advertisers could only retarget via Amazon-affiliated third-party sites like Netflix, Instagram, Facebook, Washington Post, etc.
With the introduction of Retargeting Ads for sponsored products, sellers can now craft these ads within Seller Central and retarget them to any third-party website.
What is Amazon DSP?
The Amazon DSP is a demand-side platform that allows sellers to programmatically buy display and video ads both on and off of Amazon. DSPs enable advertisers to compete in online auctions and bid on ad impressions in real-time. One of the biggest advantages of programmatic buying is the power of layering data onto media buys to target relevant buyers by leveraging Amazon's first-party data.
By utilizing Amazon's data and the Amazon DSP, advertisers can reach potential shoppers, improve brand awareness, drive consideration, improve sales, and foster brand loyalty.
How does Amazon DSP differ from Sponsored Ads?
While Sponsored Ads fulfill the short-term goals of sellers, such as increasing consideration and driving sales, the Amazon DSP can be leveraged to meet longer-term goals including building brand awareness and customer loyalty throughout the customer decision journey.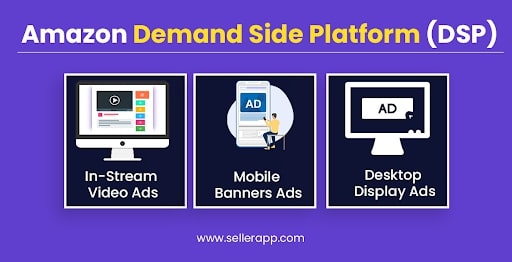 Sponsored Ads are useful and implemented only when a buyer is researching a product on Amazon or planning to purchase a product, but DSP functions way beyond that. It targets people at any stage of their buying journey, no matter which platform they are on, without depending on mere keyword research or ASIN targeting. This also means that DSP is not just confined to product pages and Amazon search engine results.
Advertisers can use the Amazon DSP's audience targeting and negation settings to target all potential and current customers — from those shopping on other platforms, and have not yet viewed your product, to those who have viewed your products but not yet purchased, and to re-engage with your brand's past purchasers to foster brand loyalty. It is basically an amalgamation of Display ads and retargeting ads that function in the most unique manner.
How can Amazon DSP advertisers identify the right audience?
Amazon DSP offers thousands of audience segments as well as insight into customer purchase history and intent.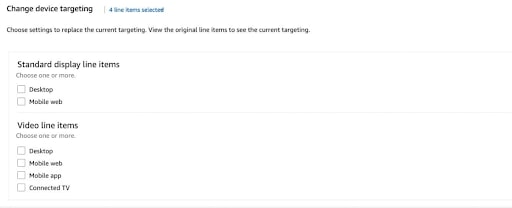 Brands leveraging the platform of Amazon DSP can gain exclusive access to the Audience Insights tool. This provides brand-specific insights about your view/purchase audience that can be leveraged across the Amazon DSP and Sponsored Ads to improvise and refine targeting strategies. Some of the audience insights that you must consider to segment your audience are –
Demographics – Age, Gender, Residential Status, Household Income, and Relationship Status
View/ Purchase Timing – Hour of the day, Day of the Week, Week/Month of the Year purchasing/browsing products.
Purchase Frequency – Repeat Purchases, Number of Repeat Purchases, and Time between Repeat Purchases.
Consideration – Brands and Subcategory mostly browsed.
You can utilize these insights to analyze what Amazon DSP strategies will be most useful for your brand. For example, if you observe a high repeat purchase rate, we would recommend running a loyalty or cross-selling strategy. Additionally, these insights help determine custom ASIN audience lookback windows to enhance ad effectiveness and avoid sales cannibalization.
What are the different types of Amazon DSP Targeting options?
You can use Amazon DSP to fulfill different types of advertising goals. For audiences who have already visited your product page, you can remarket to them — like Retargeting ads. If you want people to be aware of your brand, you could reach new customers beyond Amazon, perhaps with a video to introduce your brand or new product.
Understanding the different targeting options and then associating them with your advertising goals is the key to successful advertising with DSP. Let's deep dive into different targeting options-
Behavioral targeting
Behavioral Targeting targets shoppers who have carried out specific activities, such as browsing around your category over the past 30 days, or clicking on a particular product listing from your niche. You can set these triggers using broader information about your shopper base and products using AND/OR/NOT logic.
What it's best for Top-of-Funnel/Awareness
Lifestyle targeting
Lifestyle targeting shows ads relevant to customers who habitually buy from a specific niche. This means you can target customers that share characteristics with your existing shoppers or are interested in brand-relevant niches. For example, targeting hyaluronic serum at people who buy other luxury skincare products.
What it's best for Top-of-Funnel/Awareness
Demographic targeting
If your shoppers are in a particular demographic, you can target ads based on their age, gender, income, relationship status, and location.
What it's best for Top-of-Funnel/Awareness
Device targeting
You can target your ads at particular end-user devices — for example, if your target shoppers mostly use mobile phones for browsing your products or niche, you can mark desktop and tablet users as negative and target only mobile users.
What it's best for Top-of-Funnel/Awareness
In-Market targeting
This type of DSP targets people who are already there in the market shopping for products of your categories for a long time. For example, if you are a cat owner, you'd be purchasing cat food frequently. Therefore, sellers can use this data to target customers like you. Realistically, this is a more refined version of lifestyle targeting.
What it's best for Middle-Funnel/Consideration
Contextual targeting
You can display ads to audiences based on their real-time browsing data. With Amazon DSP, you can serve ads exclusively on articles and pages that mention a particular topic and target people who haven't purchased yet.
What it's best for Middle-Funnel/Consideration
Remarketing
Remarketing targets consumers who were almost about to purchase a product of your niche or your competitor's products. For example, customers that have abandoned their cart, or added a product to their cart.
There are many types of Remarketing targets available:
Pixel-Based Remarketing: Re-target shoppers on Amazon who have visited your website.
ASIN Remarketing: Re-target shoppers who viewed your product on Amazon but didn't buy anything.
Purchased ASIN Remarketing: Re-target shoppers who have purchased one of your products. This is a great way to ensure customer loyalty and reduce churn rates.
Brand Halo Remarketing: Re-target shoppers who viewed other products from your brand.
Similar Product Remarketing (Conquesting): Re-target shoppers browsing your competitor items.
What it's best for Bottom-of-Funnel/Sales
Audience lookalike
Audience lookalike targets customers who share similarities with your current shoppers. With the volume of data at its disposal, Amazon creates detailed consumer profiles by combining these data with essential filters.
What it's best for Top-of-Funnel/Awareness-Consideration.
What is Twitch and how to target their audience?
Twitch (owned by Amazon) is the world's leading live streaming platform that showcases everything we love to watch, thereby, offering the ability to watch and chat with millions of other fans from around the world. Twitch's primary focus is gaming, but non-gaming content such as art, beauty, food & drink, and music has also seen record growth over recent years.
Twitch is one of the most appropriate channels to engage with the Millennial generation. The fundamental of Twitch's platform is the content viewership of new viewers. Twitch's audience is usually young, affluent, ad-blocking cord-cutters that are hard to be targeted through traditional advertising channels but very desirable for brands.
You can target Twitch users using Premium Video ads – unskippable ads that run during the live streams; and Display Media – homepage headliner boxes with your brand information.
KPIs to Measure – Impressions, Click-Through-Rate, Detail Page View Rate
What is OTT video and how to target their audience?
Over-The-Top (OTT) video ads – or Streaming TV ads – through the Amazon DSP are a great way to showcase your brand in front of the right audiences.
OTT ads appear on streaming platforms like Fire TV, Roku, Apple TV, and more with ads shown at the beginning, middle, or end of shows, taking over the full screen of your screen, and are non-skippable.
How does the targeting work?
In-Market and Lifestyle audiences available through Amazon's 1st-party data are generated based on customers' browsing and buying behavior in the past 30 days. Once a customer has been identified to belong to a specific segment, then the DSPs will locate the customer's IP address and serve Streaming TV ads on a TV that uses the same IP address.
A wide range of third-party data providers includes audience targeting based on credit card purchases, brick-and-mortar store visits, show subscriptions, and demographic groups. This level of granularity with audience targeting helps you identify the right audiences who are new to your brands, yet have high potential to convert.
Lastly, on the audience targeting, Amazon DSP's Audience Builder lets you craft custom audience segments to retarget shoppers who were exposed to your OTT campaigns with Display ads. This provides you with additional touchpoints to engage with these shoppers and improve brand awareness.
KPIs to measure – Video Completion Rate, Brand Searches, Downstream Conversions.
How to incorporate funnel strategies for Amazon DSP?
When crafting your Amazon DSP strategy, you must focus on the different levels of the advertising funnel – Top Funnel, Middle Funnel, and Bottom Funnel, and the Amazon DSP targeting tactics within these levels to enhance customer experience.
In order to see the most effective long-term ROI on your DSP Campaigns, we recommend using a full-funnel targeting and creative strategy, implementing Amazon's brand-building capabilities. This combination of tactics ensures you're continuously reaching new-to-brand (NTB) customers and converting them to loyal shoppers.
Additional Read: A Step-by-Step Guide to Full Funnel Amazon Advertising.
Top-of-Funnel
Top-of-funnel ads can be very effective when increasing brand awareness and growing Amazon's business and consumer pipeline. To reach users "in the aisle" – shoppers who are broadly shopping in the same space or category as your items.
Targeting – We recommend targeting in-market shoppers who haven't purchased your products but who frequently look for products of your niche.
KPIs to focus on – Impressions, Click-Through-Rate, and Detailed Page View Rate.
Middle-of-funnel
Middle funnel ads are where you can target at the most granular level through competitor conquesting, contextual targeting, and cross-selling strategies.
Targeting- We suggest leveraging Amazon's custom audience-building tool to a target audience who has recently engaged with a competitor or complementary items.
KPIs to focus on: CPM (impressions), eCPDPV (effective cost per detail page view), DPVR (detail page view rate), CTR (click-through-rate)
Bottom-of-funnel
The purpose of this targeting strategy shouldn't be to maximize your ROAS – instead, your goal here is to continue reaching consumers who are about to lose. For example, customers who abandoned their carts after adding your products.
Targeting- To produce incremental sales, make sure that retargeting and remarketing
audiences are exclusive from users who are on track to make an organic purchase. This is also where you can encourage repeated repurchase behavior to increase the average lifetime value of customers.
KPIs to focus on- ROAS (return on ad spend), CPP (cost per purchase),
CTR (click-through-rate), Percent of Purchases
What sets the Amazon DSP apart is its innovative and granular campaign structure and audience insights. You can use the Amazon DSP to easily execute strategies to showcase your brand to the world in the most effective manner, refine and optimize targeting with Audience Insights, and craft effective competitor conquesting strategies.
How do Amazon Retargeting Ads work for Sponsored Products?
This feature may look complicated to a lot of sellers but it isn't that technical. It is as simple as it could be. Let's understand the entire process chronologically-
Once you activate retargeting ads, your automatic Sponsored Products campaigns will be ready to be implemented for Amazon retargeting, and your ads will appear on both Amazon and third-party apps and sites.
The ad format will not get modified and your ads will continue to redirect to the amazon product listing page when clicked.
The auction system of Pay-per-click, sales attribution, and bids will also not change. This means that Amazon will charge the same CPC bid even when your ads are clicked on third-party apps and sites, as well.
Campaign optimization and reporting systems are still limited and it is not yet applicable for manual campaigns.
You won't have any control over which sites or apps your ads will be visible on.
What is the connection between Amazon Retargeting and Advertising Platform (AAP)?
Sellers can also run ads on third-party sites through the Amazon Advertising Platform.
AAP ensures wider control over their campaigns such as audience segmentation, device and browser targeting, etc.
AAP can be utilized to create your ads, and the payment model here is cost-per-mile (impression-based), instead of cost-per-click (CPC).
AAP may not be the most feasible alternative for retargeting ads as it has a higher limit for minimum budgets, and may not be pocket-friendly for sellers who want to explore this retargeting opportunity on third-party apps.
Why is Remarketing Important?
Retargeting Ads have huge benefits in the Amazon ad industry. It helps you reach customers off of Amazon and build brand awareness faster and more efficiently.
So does it work?
The answer is Yes! Sellers have already seen an increase in conversion rates and ad impressions with this ad model. Although generally greater impressions sometimes reduce conversion rates, because ad retargeting shows ads to people who already know about your product, it ensures higher quality impressions that have the power to yield sales.
Best of all, Amazon ad retargeting is cost-effective, which means higher RoAS and lower ACoS. It's a great option for any seller trying to achieve the maximum ROI from their PPC campaigns.
If you want to know how Amazon PPC and ACoS work, read our in-depth guides here –
What are Good RoAS and ACoS? How to calculate them?
How to Set up your own Amazon Retargeting Ads?
To get started, you have to create a generic Sponsored ad campaign.
Step 1: Click on the Sponsored Products option in Amazon Seller Central.
Step 2: Select "Create campaign" and add your campaign name, budget, and duration.
Step 3: Since, you can only access Ad Retargeting through automatic campaigns, so choose Manual Campaign as the campaign type.
Step 4: If you are selling in the US marketplace, your account will be eligible for Retargeting Ads. So, tick the box that says "Remarketing" under the "Automatic Targeting" radio button.
Note: You may not be able to view this feature every time, as it's in beta.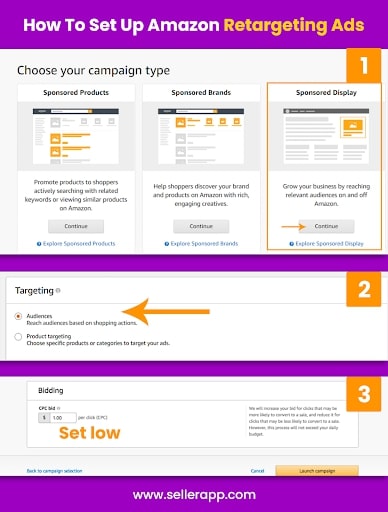 Guess what? You're done! From now on, Amazon will take care of the retargeting for you.
Every time a customer clicks on your ad, they will be redirected to your product detail page.
No doubt, it's simple to set up this ad, however, it lacks several essential features and doesn't ensure much granular control over your campaigns.
How to Manage Amazon Retargeting Ads?
Amazon Retargeting Ads only have one element that can be modified, it's the bid. Since these campaigns don't perform well at higher bids, you must set up bids of the lower end until you land on a reasonable ACoS.
In case, you reach a point where the bid is too low for yielding any clicks or profits, then you need to close the campaign for retargeting.
It is this simple! Maybe in the future, Amazon will innovate their retargeting ads and some interesting elements into it, but for now, the fundamental is easy-peasy – it either works or it doesn't!
What does the future for Amazon Retargeting Ads hold?
Amazon's retargeting feature is not as powerful as Facebook and Google's. Since, Amazon had traditionally imbibed a few of its features from Google and Facebook, in the future, we are hoping to witness some of these features in Retargeting Ads:
Remarketing-only campaigns
New-traffic-only campaigns
Audience management
Tiered remarketing – people who viewed your product more than once should be targeted more and have different bids
Segmented Remarketing
Control of remarketing placements: turning off remarketing on certain apps or websites that are ineffective
How can we help?
SellerApp manages Amazon ads of all kinds for businesses of all scales and sizes. We allocate your ad spend to acquire new customers, ensure intraday automation and place the most effective bids by combining human intelligence with our AI-led ad engine. Our Amazon PPC Experts Optimize Campaigns and identify the best practices for your business.
Here's what we do –
Algorithmic Bidding – Our intuitive software and PPC experts always ensure that the most effective bids are on the highest-converting keywords and match types, as per your business requirements.
Advanced Brand, Competitor, and Category Targeting – We strategically allocate your ad spend to drive new business and acquire new traffic. Our team will do the right segment targeting that has the power to bring the best return on your ad spend.
Campaign Automation – We map your business' holistic performance and its incremental profit acquired and further improve and optimize your ACoS, RoAS, TACoS, and overall revenue, using Amazon best practices.
Benchmark your ad performance and overall business performance using our free Chrome Extension.
Final Thoughts
Amazon's myriad advertising features create a lot of buzz because of its different capabilities for each platform.
Now that ad retargeting is available on Seller Central, Amazon has taken the first crucial step to provide the solution of ad retargeting for all Amazon sellers and brands.
How do you feel about Amazon ad retargeting? Tell us in the comments.
Additional Guide:
What is the Relationship Between Amazon Search Terms and Keywords?
10 CPG Trends to Watch in 2023.
Was this post helpful?
Let us know if you liked the post. That's the only way we can improve.