"It is much easier to double your business by doubling your conversion rate than by doubling your traffic." – Jeff Eisenberg
If you are a customer and when you see these two products in the search result. Which product are you likely to click on? The first product – NINE WEST or the second product – Realer?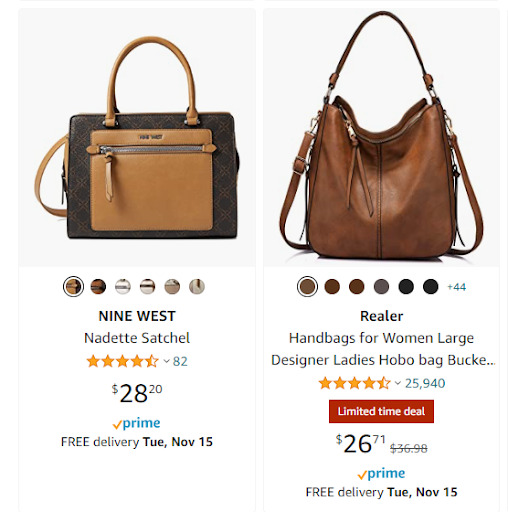 Here you can see that NINE WESTl has only 82 ratings and no other attributes, whereas Realer has a Limited Time Deal badge and 25,940 ratings.
So here's a question, how can you earn these Amazon badges? The answer is, there are a variety of independent factors working together to earn a badge. It can be optimized content, an effective Amazon advertising strategy, and a high sales volume.
Through this blog, you will get to know all about Amazon badges and how to earn them.
Quick Guide:
List of Amazon badges available for sellers
There are several criteria for sellers to earn Amazon badges. There are different types of Amazon badges available. Those are:
Amazon Best-Seller Badge
Amazon Choice Badge
Amazon New Release Badge
Amazon Climate Pledge Friendly Badge
Amazon Prime Badge
Limited-Time Deal or Deal of the Day Badge
Extra Savings, Coupons, and Discounts

Let's have a look at them now.
Amazon Best-Seller Badge
This well-known orange badge is given to the top 100 best sellers in any particular category and subcategory. It serves as a strong visual indicator that supports a customer's trust in your product, on the category pages and amazon product detail pages.
The badge is different for each of Amazon's marketplaces. The best-selling toys on Amazon US may not be the same as the best-selling toys on Amazon UK.
The best-sellers are updated hourly solely based on sales data. Therefore, it is crucial to consistently sell more products, it also means that you have 24 opportunities each day to both earn and lose the badge. Your eligibility for the badge is unaffected by product and seller reviews, and it's quite feasible to obtain the badge without being aware of it.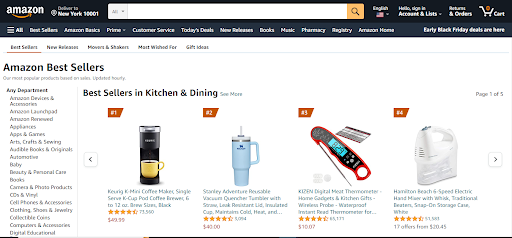 How to earn the Amazon Best Seller Badge
To earn the amazon best-seller badge, you will need to improve your organic sales and review your pricing strategy. Also, you need to create a perfect product listing (SEO, Product Category Relevancy, Product Details, Images, and Video Quality) To make your product listing easier, you can try using SellerApp's Amazon Listing Quality tool for better optimization. This tool will help you with the quality of your listing.
On the other hand, you should also calculate the effectiveness of your marketing efforts like PPC campaigns, and you will need to boost your conversion rate while maintaining a strong sales history. Besides, there are a few other ways to maintain consistent sales and get the bestsellers badge on Amazon.
Amazon Choice Badge
The Amazon Choice Badge is a badge that is given to Amazon products that shows the best match for the keywords that the customers are using. The badge has prominent recognition on category pages and product detail pages. This badge is keyword-specific, thus your listing can display the Amazon's Choice badge simultaneously for several keywords.
For instance, if you search for a "wine glass" and for an "all-purpose wine glass." The Amazon Choice badge is given to these two keywords because those are the keywords that customers frequently use. This product also needs to have a strong BSR and include relevant yet popular keywords in the listing.
When the company released Alexa in 2015, more customers began using the voice shopping capability to look for product recommendations on Amazon's platform. Though, the problem was that voice search made it difficult to scan through the product lists and discover the best option.
Later that year, Choice Badge was made available to customers as a means to simplify voice search and assist them in finding what they're looking for. It's a much quicker and more practical method to shop, improving the user experience and increasing profitability for Amazon.
This Amazon Choice Badge can be seen in the upper left corner of the product's feature image and is also visible just below the product's title, on the listing page.

How to earn the Amazon Choice Badge
It can be a dream of every Amazon seller to get the Amazon Choice badge on the front page of Amazon so that they can get more credibility and hence they can make more sales and better profit. The products that need to earn the Amazon's Choice badge should excel in these.
First, the product must have a high customer rating. To qualify for an Amazon's Choice badge, the product must also be optimized for frequently searched keywords. Finally, it's crucial to have a high conversion rate for your product and confirm that it qualifies for Prime so that it can be delivered right away.
Amazon Best Seller Badge vs Amazon Choice Badge
Both badges are given for products that have high quality. However, the Amazon Best-Seller badge is given to products that have high-sales velocity whereas, the Amazon Choice badge is given to products that have the best match of a specific keyword. The Amazon Choice badge is determined by Amazon's algorithm.
If a product sells best in its category it will get the Amazon Best Seller badge. For the Amazon Choice badge, your product must have relevant search terms.
Sometimes the product can get both badges.
Amazon New Release Badge
This badge is granted to newly released products that generate a high sales velocity during the first few days of being listed. The Amazon New Release Badge is accessible for the first 90 days after you start selling your product.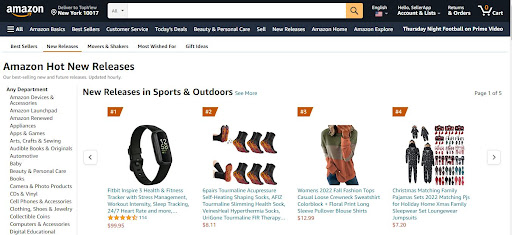 How to earn the New Release Badge on Amazon
The trick in this situation is to stand out and catch a lot of attention. You should be ranking on the first page for your primary keyword. If you have already achieved Best Seller status for a product then look at that listing, and provide the same level of detail in your product listing.
For example, let's say you have product A with the Best Seller badge, and product B has the New Release badge. Ensure that the listing of product B has all the relevant sections that are present in the listing of product A. Keep optimizing your product listing page and try to increase your organic sales.
Your objective is to outsell your competitors by increasing sales. Build momentum via PPC advertisements, social media, email, and other marketing techniques. After launching, ensure your listing comes up on the first page to keep generating visitors.
Amazon Climate Pledge Friendly Badge
The Amazon Climate Pledge initiative led to the creation of this badge, the Climate Pledge Friendly badge. The badge, as its name implies, indicates when a product satisfies specific environmental or sustainability standards.
It serves as a symbol of Amazon's values and as a means of matching firms that share those values with customers who care about the environment.
Customers can view the certificates and find out how they can contribute to environmental preservation by clicking on the Climate Pledge Friendly badge. On Amazon, these products are shown in a different list if you filter for the Climate Pledge Friendly Product. Additionally, buyers can filter the products that have this Climate Friendly badge.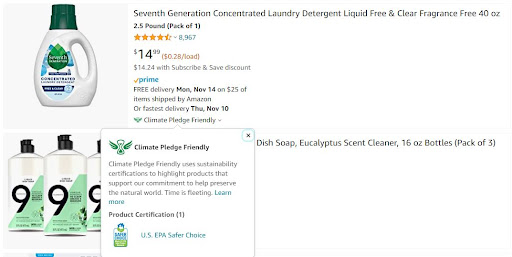 How to earn the Amazon Climate Pledge Friendly Badge
Products must be certified by one or more of Amazon's 18 sustainability certification partners, which can be accessed to receive this badge. Amazon will automatically show the badge on the associated product and mention the necessary certifications once this requirement has been satisfied.
If the badge is missing, you can ask for its addition by starting a case in Seller Central or Vendor Central. Products can also receive Amazon's own "Compact by Design" certification, which assesses "unit efficiency" and promotes more ecologically friendly and compact packaging. This certification is available in addition to partner certifications.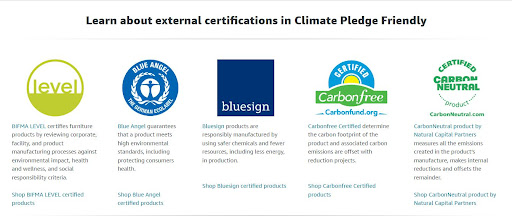 Amazon Prime Badge
The Prime badge has notable benefits. The products with the Amazon Prime badge receive high-ranking in the search results rather than the Non-Prime products. If you have a Prime badge the probability of winning a Buy Box increases.
The Prime badge offers two-day delivery with no additional charge for Prime customers, because of this the customer might make multiple purchases.

How to earn the Amazon Prime Badge
To earn the Amazon Prime Badge, you will need to qualify for the Seller Fulfilled Prime and complete a trial period. By completing the trial period, you show Amazon that you can meet the requirements for Prime fulfillment excellence and customer satisfaction.
Once it's done, you will automatically be registered in Seller Fulfilled Prime and your registered ASINs will show the Prime badge to the customers.
Limited-Time Deal or Deal of the Day Badge
Limited-Time Deal or Deal of the Day badges signify special offers that are only available for a limited time. These deals will be displayed on Amazon's highly visited Today's Deal page. The Deal of the Day badge appears as an orange badge above the item's price.
You can see this badge in between the star rating and the price, there will be a red banner that says "Limited Time Deal." It is created for basically limited-stock deals which run for 7 days.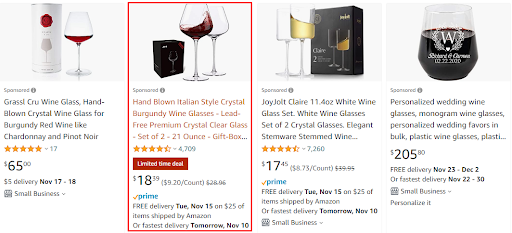 How to earn a Limited-Time Deal or Deal of the Day Badge
Log in to Amazon Seller Central, and under the advertising section, you will find them.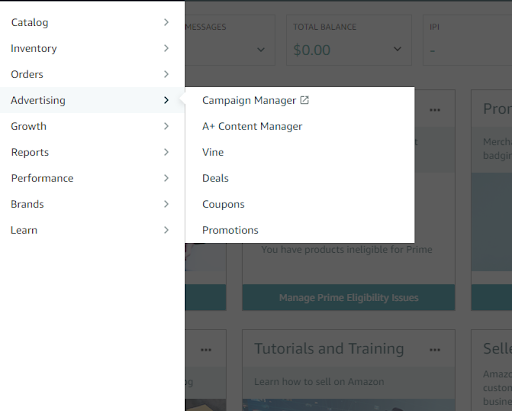 Verify that your products meet the requirements for a Deals campaign, which include being Prime eligible, having at least three-star ratings, and is in brand-new condition.
You can create a "7-day deal," which activates the Limited-Time Deal ribbon, or an "Amazon Lightning Deal," which is a limited-time offer that typically lasts for four to six hours on the Amazon Deals page. As long as they are planned for different days, you can create both sorts of deals for the same product.
Whatever offer Amazon considers to be the best offer for its customers is given the title of Deal of the Day.
Extra Savings, Coupons, and Discounts
All of Amazon's discounted products come with unique badges. When you give a discount, your items will display with an orange ribbon that reads "discount" or, if you're a Prime member, a green ribbon.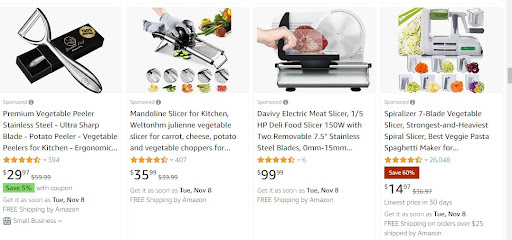 How to earn Extra Savings, Coupons, and Discounts
Coupons and discounts are controlled through Amazon Seller Central similar to Deals. They are paid advertising units, and each time a customer redeems your coupon, Amazon will collect a fee.
You can provide a percentage-off or money-off discount when creating a coupon. At first appearance, money-off coupons appear to be significantly simpler for customers to understand, yet percentage-off coupons occasionally feel like they provide a better value.
You can add a Coupon, Extra Savings, and Deals badge to your listing at the same time to encourage customers to combine savings.
Conclusion
Overall, the requirements for the Amazon badges would be pretty enigmatic at times. It is uncertain exactly what factors Amazon considers when awarding a badge, although it is apparent that for the majority of them, the product must be healthy all-around and interest the customer. Many of the badges we discussed are more of a sign of success on Amazon than a goal in themselves.
Nonetheless, these badges can help you to stand out from the competition and get attention from customers.
Additional Read;
Profit & Loss Statement for Amazon Sellers.
10 CPG Trends to Watch in 2023.
Was this post helpful?
Let us know if you liked the post. That's the only way we can improve.