Sometimes knowing your competitors' performance and strategies was hard. However, as technology has advanced, things have turned out to be more sophisticated. That's exactly what a tool like Amazon Brand Analytics does for sellers like you. You can know your competitors' Amazon conversion rates, performance, the way they have optimized their product listings, and much more.
So, let's quickly understand what you can do with an incredible tool.
Quick Guide:
What is Amazon Brand Analytics?
Brand Analytics is a tool or feature from Amazon, which contains important insights to help every Brand Owner to make a strategic and informed decision about their advertising/marketing activities and product portfolio.
Amazon launched Brand Analytics in early 2019 for its brand-registered sellers to see data, which were earlier accessible only to vendors.
Watch this video to learn more about New Brand Analytics Tool & Features:
What Insights does Brand Analytics Provide?
With Brand Analytics, you can get clear data about:
Competitors' insights
Amazon conversion rates
The keywords used
Conversions for every keyword used
Estimation of total clicks
ASINs that are highly clicked
Customer's shopping behavior
Where can you Find Brand Analytics?

You can access the Brand Analytics feature from your Seller Central, under the tab called Reports. However, keep in mind that this feature is available only for Brand Owners. Under the Reports section, click on the respective links to unveil more about the details provided there.
What can you do with Brand Analytics?
Brand analytics provides you access to 4 primary reports:
Amazon Search Terms
Market Basket Analysis
Item Comparison & Alternate Purchase Behavior
Demographics
Let's break down each of these reports a little further:
1. Amazon Search Terms
Amazon Search Terms Report helps you to see the overall ranking of keywords in terms of volume and the percentage of sales & clicks the top 3 search terms or keywords get.
Perhaps, it is one of the most valuable and interesting reports within Brand Analytics. It tells you the numerical ranking of the overall volume of any given keyword.
You can even type a specific keyword to see how it ranks. Also, you can generate some incredible keywords as well as product ideas. You can look for a specific ASIN and learn what the most important keywords for it are. This is a great way to find out what your competitors are doing and how you can utilize it your advantage and increase sales.
2. Market Basket Analysis
Amazon Market Basket Analysis Report lets you to check what other products are being bought by the customers besides your products.

The Basket Analysis feature won't be highly useful unless you're making huge sales.
Amazon relies a lot on the customers who have purchased the same product along with yours to compile accurate data. However, for most items, particularly for the ones with no natural compliment, there isn't much "similar purchasing behavior" for Amazon to give you meaningful data.
Only if you have high product volume with the good number of sales, it is good to generate corresponding product ideas.
3. Item Comparison & Alternate Purchase Behavior
This feature lets you to see top 5 other products, which customers have viewed with yours on the same day.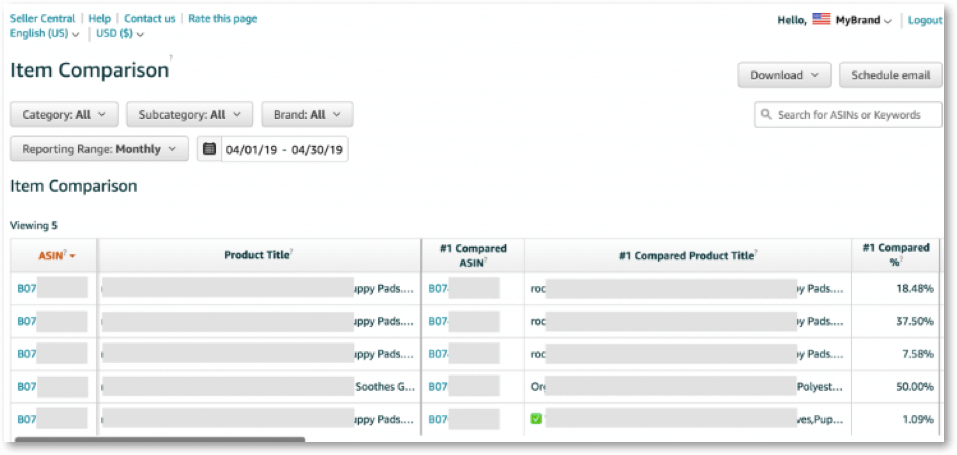 The feature also shows you the% of time, which each of the products have been viewed. These serve as important ASINs to map to your Amazon's product targeting campaign. However, you cannot see any other ASIN to check what other products have been viewed in it.
4. Demographics
The Demographics Report gives a complete overview of the key demographics of your target audience.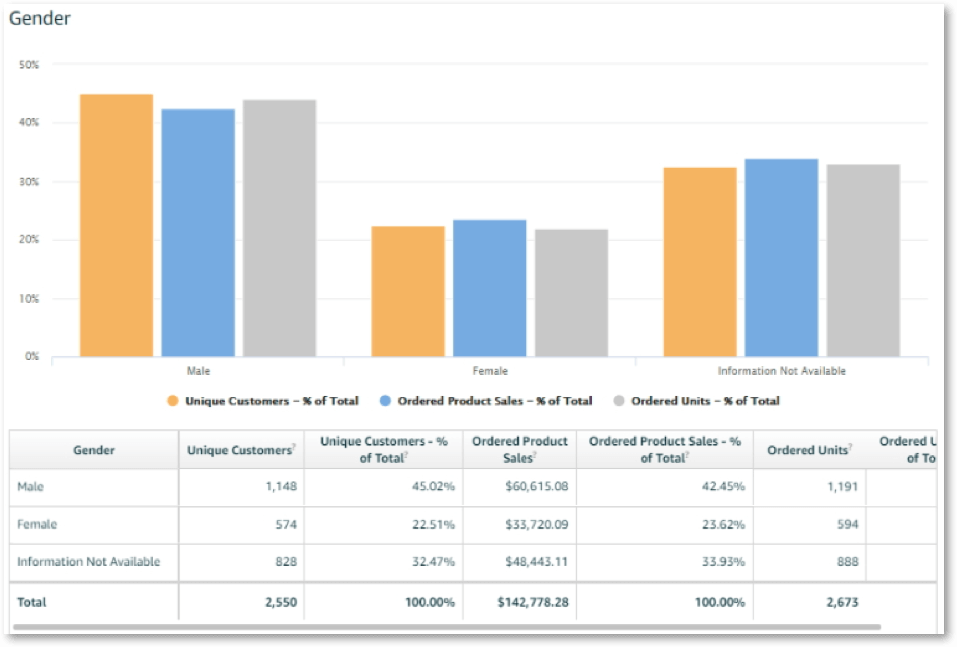 The demographics report includes data of your target audience including their household income, age, gender, marital status, and education. If you have used Facebook's Audience Insight tool, then you will understand Amazon's Demographics better because they are the same.
How to Find the Top Converting ASINs?
Note that the conversion rates of any competitor aren't a part of the Amazon Search Term Report — instead, you can use it to figure the data out. To comprehend how to derive one's conversion rates, you need to pay attention to two things from Amazon's Search Term Report:
Click Share
Conversion Share

Let's dive deeper into these two factors:
1. Click Share
Click share is the percentage of the total number of clicks a product has received for a specific keyword (or search term) in a given time frame.
The formula is:

2. Conversion Share
Conversion share is the percentage of conversions a product has accomplished when compared to the number of conversions received for a specific keyword (or search term) in a given time frame.
The formula is:

When you divide these two factors (click share & conversion share), followed by a few other steps, you get your competitor's conversion rates.
And here is how it's exactly done:

Next, do this step:
Execute this step next: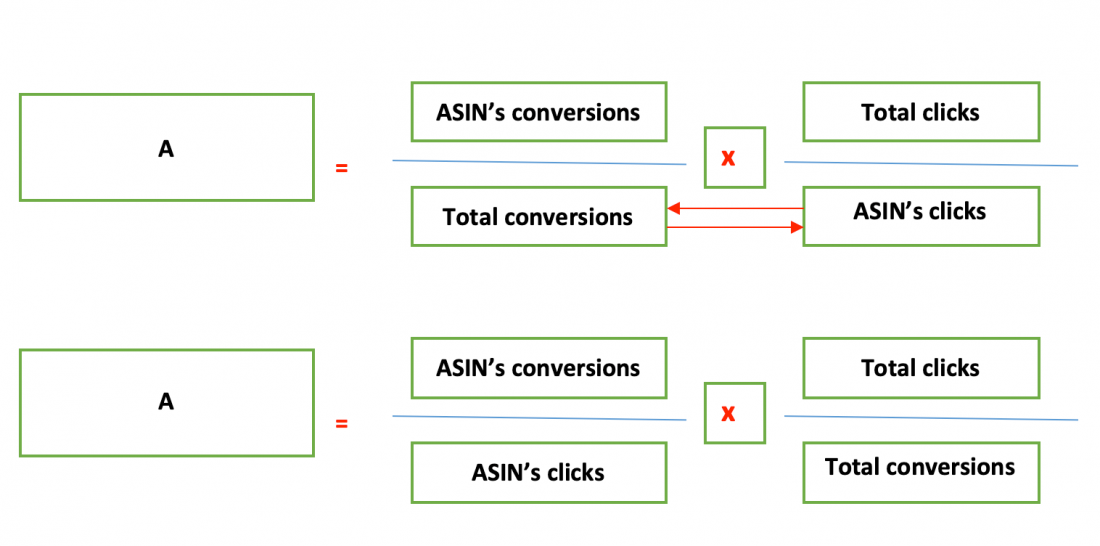 And finally:

This step shows that that the conversion rate of an ASIN is X times greater (or lower) when compared to the conversion rate for a given search term on average.
What does "A" mean here?
Let's understand this with a simple example. Assume that the click share of a particular ASIN is 15.55% and Conversion share is 17.55%.
Which gives you this:
17.55 (Conversion share) ÷ 15.55 (Click share) =
1.128
However, if the result happened to be 1 instead of 1.128, then the conversion rate of the ASIN would be as high as the average conversion rate for that particular keyword.
Assume that the keyword here is "shoes."
Therefore, the variable "A" tells you that the conversion rate of the clicked ASIN for the keyword "shoes" is 12.8% greater than the average conversion rate for every conversion resulting from the Amazon searches for the keyword "shoes."
So, the conversion rate for the keyword "shoes" will be:
Clicked ASIN + 12.8%
Now, this is just one scenario and there's more like this for you to unveil and figure out.
Understand which competitors of yours have higher conversion rates and why:
With Brand Analytics feature, you can easily pinpoint even the slightest variations in conversions and learn what product listings are converting the best.
So, look for ASINs that have the highest click shares. You notice that they are superior because they have:
Optimized and yet attractive product titles
Clear and high-quality product images shot in different angles and under good lighting
Better desirable price
Higher review count
Higher positive reviews than negatives
Whenever an ASIN has a similar click share and a high conversion rate, these could be the reasons:
More number of reviews
More number of positive reviews than negatives
Better pricing
Besides these, check if an ASIN has these:
EBC (Enhanced Brand Content)
Video in the listing
Better sales copy
So, there are lots of aspects that you can get to know just by observing your competitor's listings. All you need to do is to analyze, understand the insights, and implement them on your listings to generate more product sales.
Understand which keywords to use for higher organic rankings:
The day you launch your product on Amazon, you will want it to see it on top of the SERPs (Search Engine Results Page for the different set of keywords (with decent search volume).
But how?
This is where "optimization" takes its role. Optimizing your product listing based on Amazon's guidelines will ensure that people get to see your product and make a purchase with the help of the search terms they use.
In the journey of doing so, there are a few sellers who use giveaways to boost their brand awareness and sales. However, we do not recommend this step and neither does Amazon because this is something is against their policies.
Amazon's Terms & Conditions states that they blacklist every seller account if any such activity has been practiced. Another way is by bidding aggressively on keywords, which you desire to rank for.
Well, you might have observed that, even if you accomplish the sales velocity or rank for certain search terms, the organic ranking positions might not be consistent the moment you decline your PPC spend.
The reason?
Well, because Amazon doesn't consider your ASIN to be enough for a search term. Also, note that the key factor behind relevancy is "conversion rate."
An ideal trick is to stop the PPC spending once your conversion rates are lower when compared to your competitor's ASINs. But if the conversion rates are higher, double down on the PPC spending. You can save a lot of money on keywords that will not stick, and instead, focus on search terms that do.
Sounds confusing?
Don't worry. SellerApp PPC Analyzer is created to understand the ad spend in a simple way. The overview dashboard will give a summary of all the important metrics for your Amazon business such as ACoS, total PPC spend, total PPC revenue, and others.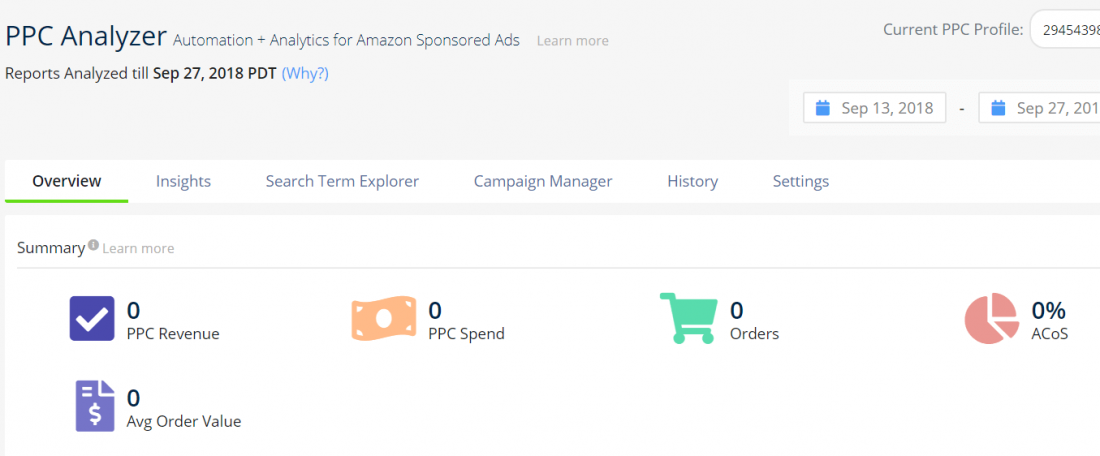 When you're trying to optimize an ad campaign, tracking these important metrics can become harder at times. So, our trends section allows you to compare among the past campaigns. With SellerApp's tool, you can decide on the clicks, impressions, ACoS, and CTR for your future campaigns.
Conclusion
To get access to the Brand Analytics feature, the first thing to do is to get your brand registered. Amazon offers more perks for sellers that are brand-registered. Once you have access to this feature, you can easily try a few tricks to know how your competitors are performing and what strategies can you follow to improve yours.
Just knowing your competitor's relative conversion rates have huge implications and can be helpful in almost every aspect of your selling business.
Additional Read:
How to Skyrocket your e-commerce conversion rates
Was this post helpful?
Let us know if you liked the post. That's the only way we can improve.