If you are a brand-registered seller, then you can access the Amazon Brand Analytics tool from your seller central account.
It is one of the handiest and best features that Amazon has ever released. It has some amazing data hidden and is capable to give valuable insights.
By showing which keywords exactly are converting the best, the tool is exclusively designed to help any brand increase its advertising budgets and bids for those search terms/keywords.
By helping brands show as to what ASINs are acquiring the most number of clicks for a specific keyword, it encourages a brand to allocate extra budget to target specific ASINs.
Since advertising is one of the wildly profitable and fastest-growing segments of Amazon, it is worth giving advertisers the necessary data to justify allocating more budget and better advertising plan on Amazon.
Let's understand in detail what this feature does and how it can help you increase your sales.
Quick Guide:
What Is Amazon Brand Analytics Tool?
The big retail giant recently released a new "analytics" for its marketplace sellers, which is called ABA (Amazon Brand Analytics).
As said earlier, it contains some of the most valuable data that you definitely want to check. With this tool, you can look for the following:
Competitor insights
Keywords that potential Amazon customers search for
Identify you potential customers.
Customers shopping behavior and their purchasing patterns.
Most-clicked ASINs for a specific search term.
Estimation of total clicks as well as conversions for every keyword.
With these insights, you can make smart decisions and further, execute real improvements on a day-to-day basis.
Learn how to win your customers using Amazon Brand Analytics:
Eligibility Criteria For Amazon Brand Analytics
In order to access the Amazon Brand Analytics tool, you should meet these eligibility criteria:
Have access to Brand Analytics
Amazon Brand Analytics (ABA) is accessible to every 3P seller who is enrolled in its Brand Registry program.
Though it is being rolled out for all accounts, if you have access to its new report, you can see it in this link.
Note: If you do not have access to the Brand Analytics feature, it only means that you haven't been recognized as someone who has met the criteria defined by the Amazon Brand Registry.
Now, if you know that you don't fit into these criteria, you can contact the Seller Support team anytime.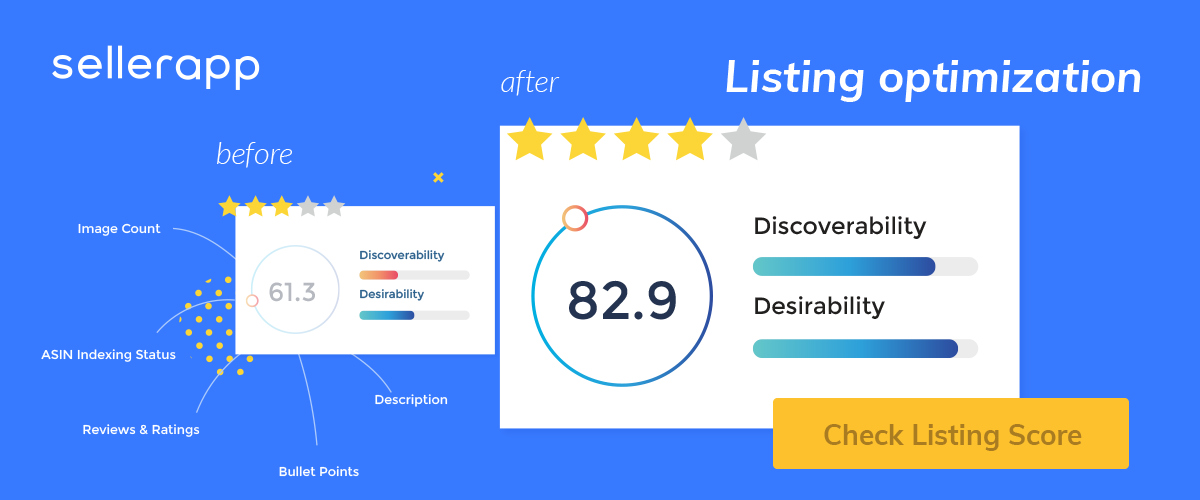 Where Can You Find The Brand Analytics Tool?
Sign-in to your Seller Central and navigate to the tab called Reports and click Brand Analytics to access it.

A. Amazon Search Terms Report
Quick Note: This feature is available only to a seller who owns a brand / who serves as a brand's representative, manufacturer, or agent. This user should be officially associated with the brand and should be responsible for promoting and selling the brand on Amazon.
Amazon's "Search Terms" report shows a Brand Owner how customers are searching their items and competitors' items on Amazon. The data includes every product's search popularity, conversion share, and click share.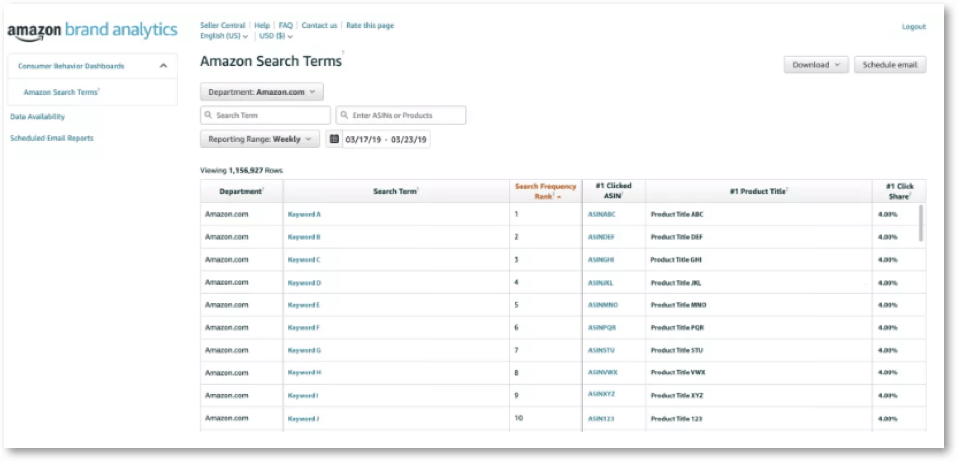 What details are included in Amazon's Search Terms report?
The Amazon Search Terms report includes the details of:
Most popularly searched keywords on Amazon during a time period
A search term/keyword's search frequency rank
Top 3 products, which customers clicked after searching for a term
The top 3 products' conversion rate and click-share
A Brand Owner can look for a specific term/keyword to check for products, which Amazon customers are clicking after searching for a specific key term. The Brand Owner can also find out what terms drive Amazon customers to click a particular product.
Here is a quick overview of some key elements that you will see in the Amazon Search Terms report.
1. Search Term
Search terms or keywords, however you call it, are a combination of words/set of words that Amazon shoppers use to search for a product.
Say, for instance, best perfumes for women, best running shoes for men, essential oils for repelling bugs, etc.
2. Search Frequency Rank (SFR)
The "search frequency rank" is the rank (numeric) of a particular search term based on its popularity for a particular time period.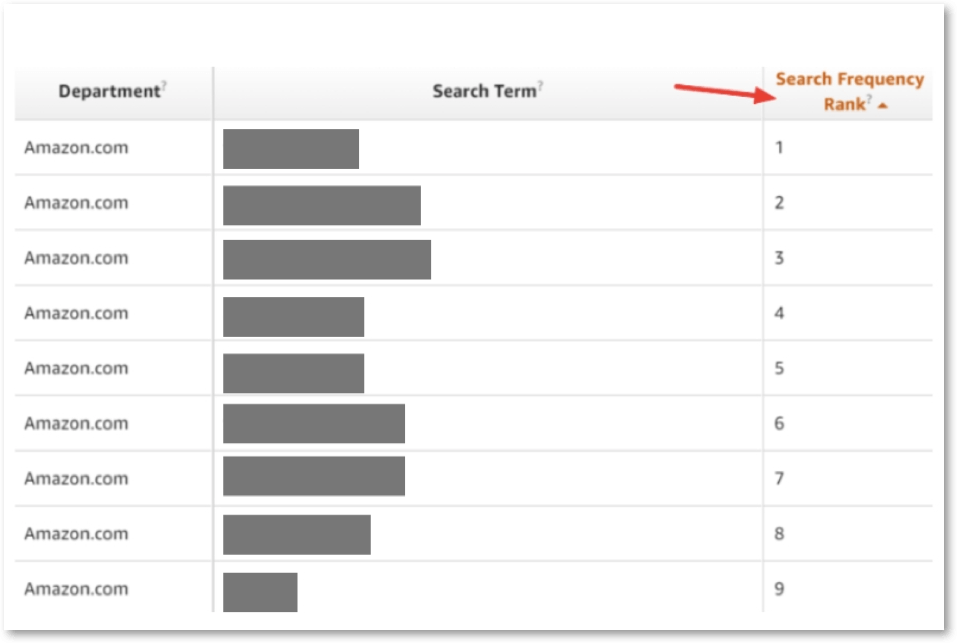 The "Search Frequency Rank" calculates a keyword's popularity based on the keywords/search terms around it. Though Amazon doesn't provide the search volume for a specific keyword, its relative rank is highly helpful.
3. Click Share & Conversion Share
Note: "Click share" is calculated in percentage.
Click share = No. of of times customers clicked on a specific product for a search term / No. of times customers clicked on any product for a search term
Similarly, "conversion share" is also calculated in percentage.
Conversion share = No. of times customers bought a specific product for a search term / No. of times customers bought any product for a search term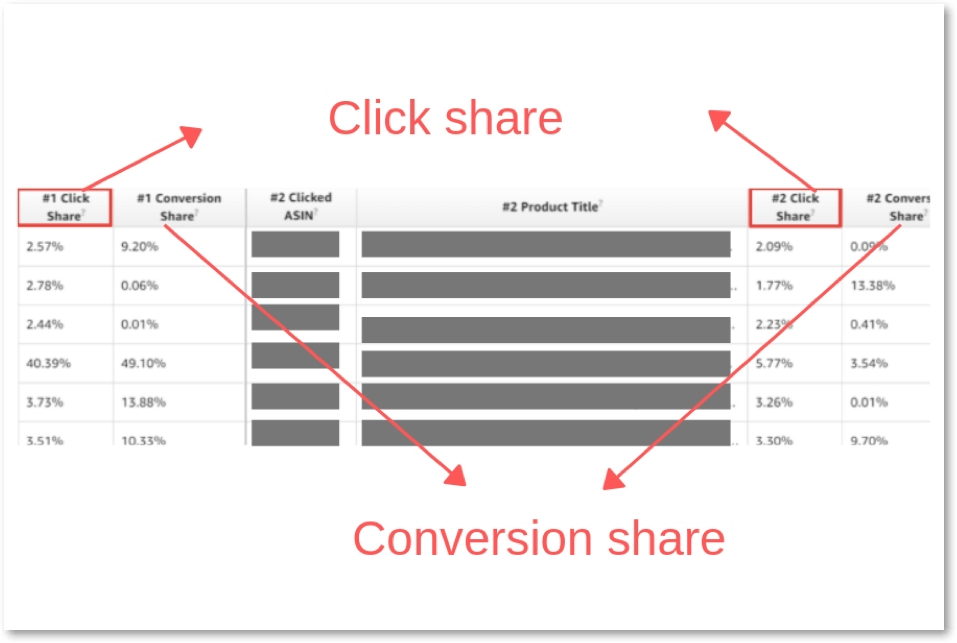 4. Clicked ASIN
Now, this field designates to the respective ASIN, which received the maximum clicks from Amazon shoppers after searching for a particular keyword. However, this field doesn't mean that the item was ranking organically in the Amazon SERPs. It might be paid advertising too.
5. Product Title
As the name implies, it is the title of the product with respect to the clicked ASIN.
B. Market Basket Analysis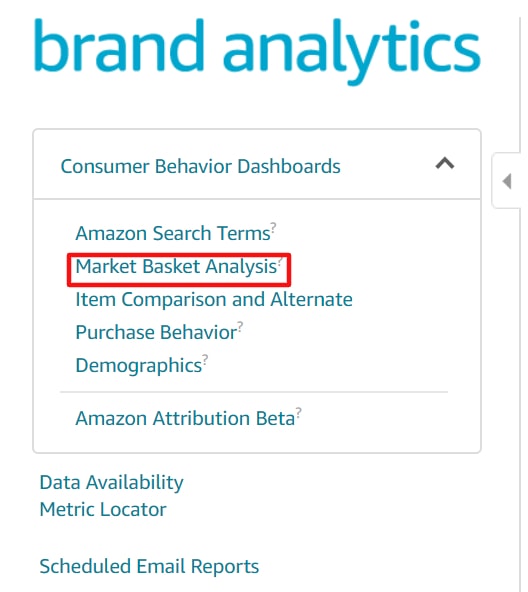 Market basket analysis will allow you to identify products that are brought by customers along with your product. This section is specific to the ASINs in your brand account. It will help you to find out potential products that can be bundled or up-sold with your product.
Along with ASIN and product title, this section contains purchased ASIN and purchased title and %combination. Let's look at them in detail.
1. Purchased ASIN
Purchased ASIN is the ASIN that is most-frequently bought along with your product.
2. Purchased Title
Name of the product purchased.
3. Combination %
It gives the percentage of orders having your product alongside the ASIN listed to the total number of orders having these two ASINs differently.
In the long run, market basket analysis will help in product expansion and identify advertising strategies.
C. Item Comparison and Alternate Purchase Behavior:
Item comparison:
This section will help you identify the top 5 products viewed by your customers alongside yours. It has the following metrics:
Compared ASIN:
It gives the ASIN with which your product is compared.
Compared %:
It gives the frequency of the product viewed by customers alongside yours within the same day.

Alternate Purchase Behavior:
Alternate purchase behavior report gives you insights into which products your customers bought after viewing your product listings. This section helps to analyze customer buying patterns and gives you a glimpse of the ASINs to which you are losing sales in a way.

Purchased ASIN:
This is the ASIN purchased frequently by the customers after looking at your products. In short, these are the ASINs to which you are losing your sales.
Purchased %:
Purchased % says the percentage of orders having that specific ASIN listed to the total number of orders with alternative products.
The biggest benefit of item comparison and alternate purchase behavior is that you can identify the right ASINs and use them in your product targeting campaigns.
D. Demographics:
The last one in the Amazon brand analytics is demographics. Demographics will help you provide valuable insights into your target audience. With the metrics available in the demographics section, you can customize your advertising outside Amazon or enhance product pages to align with your target audience.

The Demographics section gives detailed analysis of customers and sales statistics with respect to factors such as age, household income,gender, marital status, and education. Let's take a look at them in detail.
Unique customers – Number of customers placed an order in a specific time frame.
Unique customers % of total – It's self-explanatory.
Ordered product sales – Product sales with returns adjusted.
Ordered units – Number of units ordered by your customers on Amazon.

Amazon brand analytics is user-friendly and is quite insightful if you don't have a website already.
How Does Brand Analytics Work?
As said earlier, Brand Analytics helps you give you some valuable data that you are looking for.
Here's what you quickly need to do:
Step 1: Select a specific date range from the dropdown list for viewing the report.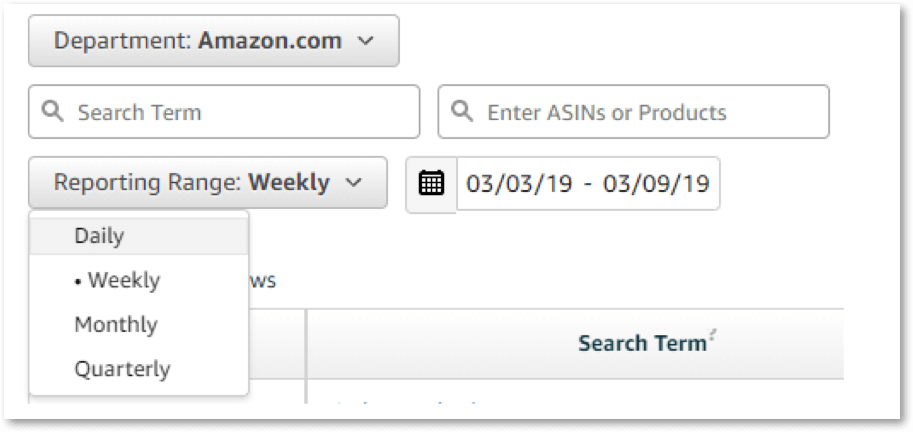 Step 2: Use related search terms/keywords, product names/Amazon ASINs in order to obtain relevant data.

Step 3: Or, you can even specify your search criteria by clicking through the product departments.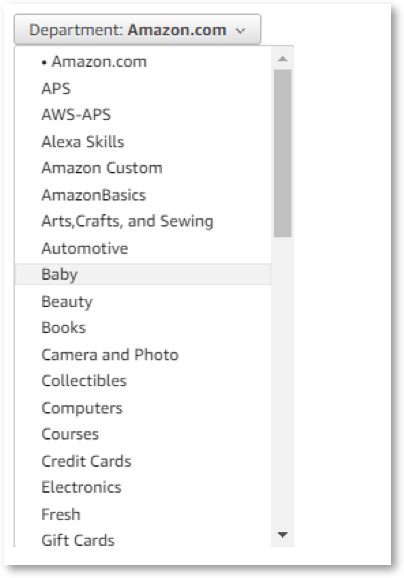 Benefits Of Amazon Brand Analytics Tool
Ever since Amazon has become one of the world's biggest earning retail giants, there are more sellers signing up. With this, the competition is becoming steeper in most domains and therefore, it has become crucial to have access to all your competitors' data. This data helps incline your market share and build your brand bigger.
Since ABA is more like an enriched data bank, which allows you to "spy" or "keep an eye" on your competitors, there are valid reasons to make use of it. It enables you to classify the key factors that help in driving your major competitors' sales.
There are various benefits of using this tool, and these include:
1. It is completely free
The dashboard of Brand Analytics contains some of the most valuable information, which if you want to access from any other tool, it will cost you a fortune. However, now that you are getting the data for free, why should you not utilize it? This feature is truly incredible because it contains all the essential information that you cannot find in any other data bank.
2. It helps you take potential keywords
Besides showing you some of the best data of your competitors and potential shoppers, this tool also helps you take good keywords. You can easily find this by having a look at the column named "search frequency rank." It ensures that you pick the right keywords so that you can target your listings towards better organic rankings while optimizing for Amazon's store.
3. It helps you with the right marketing strategies
When you have access to your competitor data and know exactly what they are doing, you will have a clear idea of where they are lagging and how you can bridge that gap to attract more customers to your product listings. This serves as an excellent marketing strategy to build your brand.
Consider that you own an eco-friendly infuser water bottle brand and you have come up with the keyword "1 Litre Infuser Water bottle" is your best-performing keyword in your domain and let's say that the top 3 highly clicked products are from the brand "XYZ."
Now, here is what you can do:
Try increasing your Amazon Ad bid for the keyword "1 Litre Infuser Water bottle."
Try developing a water bottle with features and print that other competitors don't have.
Place the keywords strategically in your product listings.
Analyze what XYZ brand is doing. Keep an eye of their design and the type of materials they use. See how they are performing so well in sales.
Copy the product development and marketing strategies of your industry leaders.
Look at the sales funnel of your market leaders. Click on their product display ads and if possible, purchase their products to know what and how they are doing it right.
4. It helps to identify the shopping behaviors of your target audience
Let's assume that you are selling organic moisturizers. When you researched for this search term on brand analytics, assume that you found a top-performing keyword like "organic moisturizers for teens."
When you look at this keyword, what is the first thing that hits your mind? Well, it clearly says that the people searching for this keyword are either teenagers or parents who are willing to make a purchase what they intend for.
You can put this information to use by increasing your ad bids for this keyword. You can even curate Amazon store so that it entices parents, especially moms. You can also market your items as "kid-friendly or eco-friendly."
5. It is absolutely user-friendly
Well, you don't have to be an analytics pro to use this tool. Amazon has designed "Brand Analytics" with a user-friendly interface. So, it is something that you can easily navigate and play with.
6. It gives deeper insights about your products
ABA helps you to recognize the search terms that drive sales. Therefore, you will exactly know your items more closely. Assume that own a sport shoe brand and people who purchase your product use the keyword "best sports shoes." If you rank for the search term, it only means that your item is perceived as the "best" in your industry.
Note: ABA isn't a sophisticated keyword tool yet. However, it contains some valuable data, which you can utilize to make good business decisions. It is an ideal tool to check and perhaps, match up to your competitors' strategies and best practices.
To have a better insight of keywords and to learn to pick the search terms with decent search volume and yet that are not highly competitive, here's what you can do:
Step 1: Navigate to Sellerapp's Free Tools called "Keyword Research."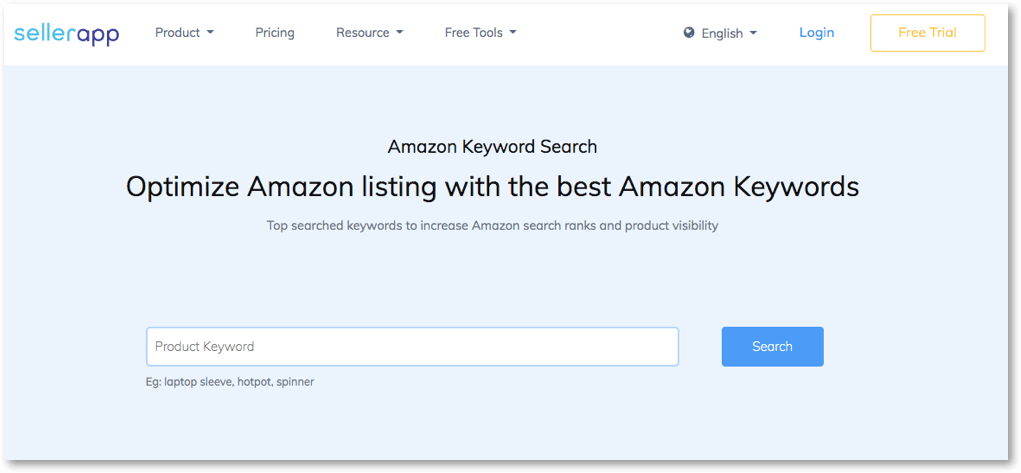 Step 2: Type the desired keyword you want to search and analyze. Click search.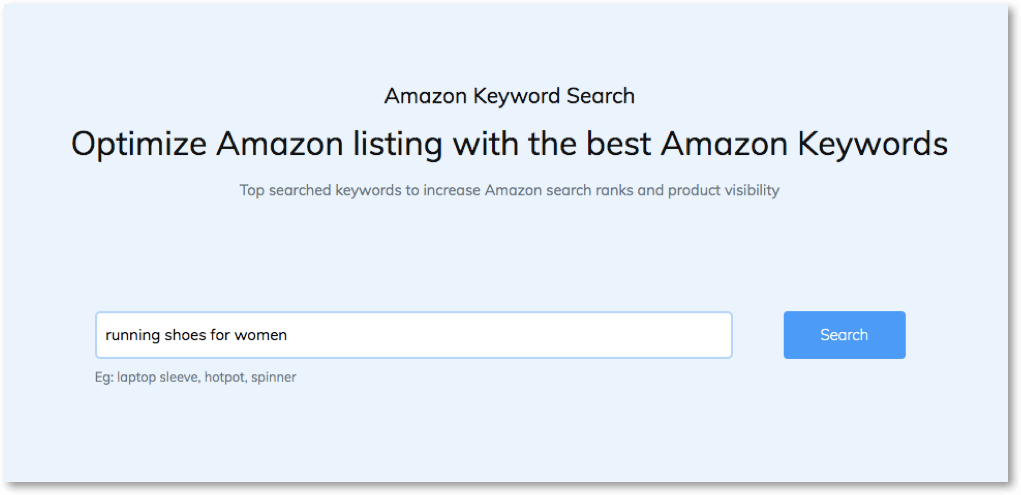 Step 3: It redirects to a detail page which shows a complete insight of the keyword you typed, its difficulty to rank, search volume, CPC, Relevance score, Related products, Unique Keywords, and list of related keywords that people search.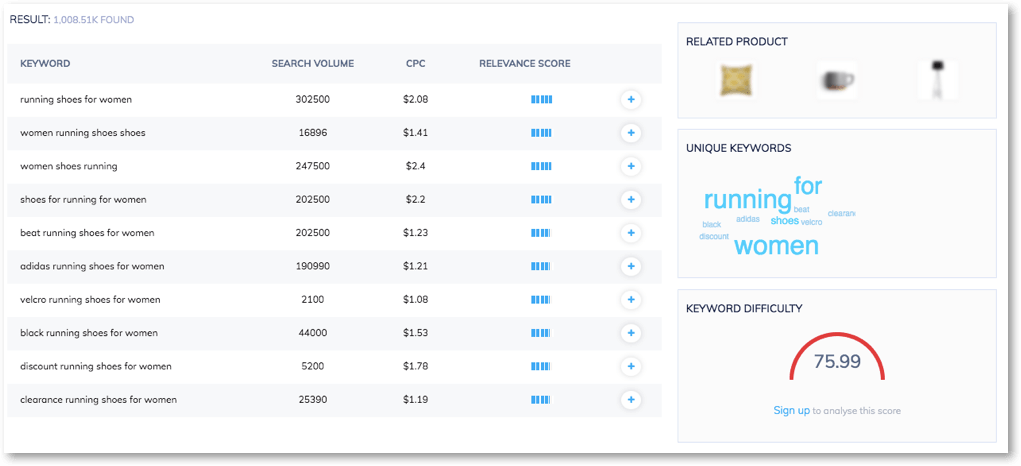 Ever wondered why Brand Analytics is still free even though it gives you some of the most valuable information?
ABA dashboard has valuable data only to brand owners or to Amazon sellers who tend to pay a heavy annual subscription for Amazon Retail Analytics. So, why does Amazon giving off this data suddenly for free?
Well, the answer is simple and straightforward. Amazon has made huge revenues through advertising in recent years. Now, they desire to make more profits so that they can expand in the coming years.
The analytics tool will encourage Amazon sellers to grow their advertising spending. Since it boasts the best-converting keywords and other important data, it pushes brands to increase their "Ad" budget for appropriate keywords.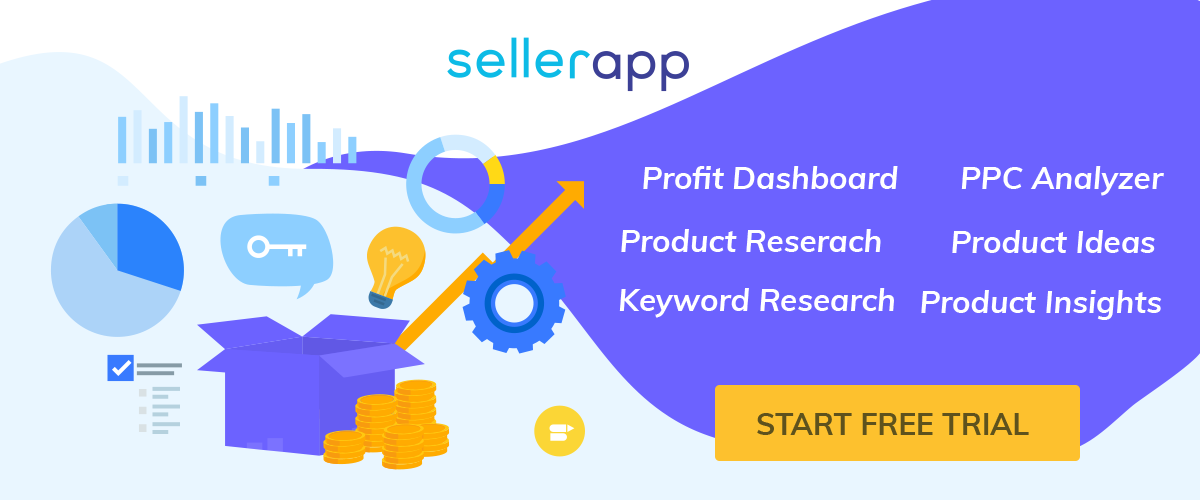 Amazon Brand Analytics Terms & Conditions
The ABA (Amazon Brand Analytics) Service is provided by the respective Amazon Contracting Party and its applicable Affiliate, as outlined in the Amazon Brand Registry's Terms of Use.
Any entity or person ("your" or "you") who uses this feature is subject to Amazon's terms given in the agreement. This usually includes:
1. How the Brand Analytics Service works
With the help of the ABA feature, you might have access to information relating to your sales and promotions of products via the Amazon website. The ABA data might be accessible through its website. Amazon has the right to change the format, content, or update the ABA information at any time.
2. Term
As per the policies, the party has complete rights to terminate/dismiss this agreement instantly by giving direct notice. Upon the agreement's termination, the party's license for utilizing the data from ABA or accessing the ABA website is canceled immediately.
3. Ownership, Usage Rights, and Obligations
Amazon owns all the information provided in ABA. They grant you a revocable, limited, non-exclusive, and non-transferable license to use ABA Information only for your internal business purpose.
Therefore, you will have to comply with every technical requirement and security measure that Amazon requires you to. If there is any improper use/security risk/breach, you (seller) will have to promptly notify them immediately.
4. Confidentiality
A. Restricted use & disclosure: Besides the confidentiality obligations, if you have your Selling Partner Agreement or an NDA (Nondisclosure Agreement) signed with Amazon, make sure to:
Keep the Information (of ABA) confidential.
Use the information (of ABA) only for Permitted Business Purposes.
Take reasonable measures in order to avoid unauthorized or disclosure use of ABA Information.
Keep in mind that use or disclosure of ABA details means that you are violating this agreement and doing this, can cause irreparable/irrevocable harm.
B. Personnel: A seller (you) will have to give restricted access to his or her Authorized Users while sharing the ABA Information. An "Authorized User" is your agent or employee who has access to the ABA website and other information but only for Business Purpose (Permitted) and agrees to adhere to the policies listed in the agreement.
An "Authorized User" cannot include any person which Amazon deems to be unsuitable for accessing the ABA website. You should make sure that an Authorized User complies with the agreement's requirements. You will terminate your Authorized User's access immediately from the ABA website and any of its information if he/she ceases.
C. Indemnity: You will indemnify, defend, and hold Amazon as well as its affiliates (directors, officers, agents, employees, and other executives of Amazon) harmless from and against every claim, damage, liability, loss, judgment, settlement, cost, and expense (including legal fee).
5. Disclaimer of Warranties
According to this policy, you acknowledge as well as agree that the information in the Amazon Brand Analytics site is provided on "as-is" basis. Hence, Amazon can disclaim any representation or warranty, expressed or implied.
6. Limitation of Liabilities
Except for the indemnity section 4(C), neither you nor Amazon will be liable to any other party for lost revenues, profits, business opportunities or any special, indirect, punitive, or consequential damage, regardless of if you or Amazon knew/had reasons to know about the likelihood of such damage. Also, your or Amazon's liability arising under this business agreement cannot exceed 1000 USD.
7. Miscellaneous
Assignment: As a seller, you cannot assign all or any part of the Agreement without a prior consent (written) of Amazon.
Survival: The agreement will continue to survive until its termination.
Governing Law & Venue: The Agreement is overseen by the laws of the Washington State. For any dispute on any subject matter, you irrevocably will submit it to the courts in King County.
Notices: Any communication or notice under this business agreement given to you is effective only if: (a) It is sent through email or (b) It is published on the ABA Website.
Entire Agreement: This business agreement, with the valid Selling Partner Agreement, comprises the whole agreement linking to its subject matter. It might be modified or amended only with a mutually written consent from both the parties.
Amendments to the Terms: Amazon might change any of its terms & conditions or policies included in the agreement at any given time. Any modification made will be effective after: (a) emailing about the modified terms & conditions to you, or emailing a notice of the revised policies or (b) publishing the modified terms & conditions on the official ABA website. You are accountable for reviewing the revised terms & conditions and further, revisions. If you continue to use the ABA service after the email sent to you or after the revised policies have been changed on their website, it means that you agree to it and accept the revisions. However, if you disagree with any of its revised terms & conditions, you should not use the ABA service further.
Validity: If a term is deemed void, unenforceable, or invalid, then the condition is also deemed severable. It will not affect its enforceability and validity of the remaining terms.
Conclusion
Amazon Brand Analytics is a tool that includes some of the most important insights to help Brand Owners make informed and strategic decisions regarding their product and other advertising activities.
Earlier, it was available or accessible only to Amazon Vendors whose pricing started at $30k. However, it is now available to every Brand Owner who has registered with its Brand Registry successfully.
In the coming years, the ABA tool will help this retail agent increase their ad revenue. As the platform is getting unified, we suggest you make the best use of the analytical tools on Amazon. Besides this, it will also help sellers reach new customers because they can target the audience with specific advertising strategies. So, this will create an incredible win-win situation.
Related Content:

Best Private Label Products to Sell on Amazon To Make Money
How to Manage the Supply Chain of Your Private Brand on Amazon
What's The Amazon Sales Strategy For Brand Owners?
AMAZON Ott
Everything You Need To Know About Amazon Restricted Categories
How to Get Approval to Sell Restricted Categories On Amazon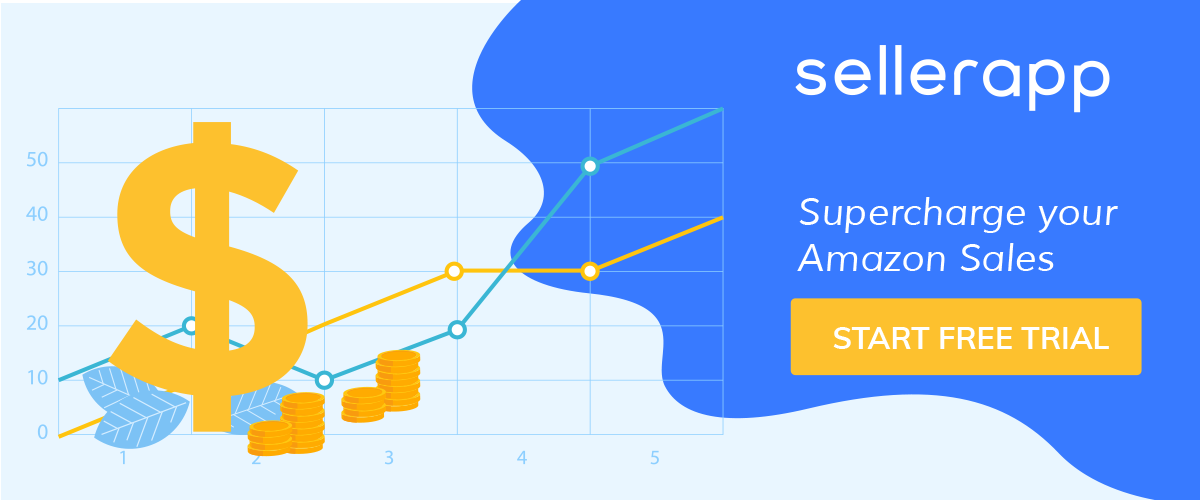 Was this post helpful?
Let us know if you liked the post. That's the only way we can improve.