The best way to increase conversions and boost sales on Amazon is by getting to know your customer. Understanding consumer behavior and patterns will let you tailor your product catalog, listings, and services to better fit their needs. A customer's purchasing patterns, behavior, and frequency are all valuable information for every Amazon seller.
Very few sellers know that there is a way to get this vital information. In the summer of 2018, Amazon introduced the Amazon Insights program. The program enables sellers to ask questions directly to buyers to gain critical consumer insights. Let's look at the in-and-out of this program, how you can utilize it, and why it hasn't caught on with Amazon sellers worldwide.
What is the Amazon insights program?
Amazon Insights is a global market research program that enables sellers to create custom surveys for customers. This will help you develop, launch, and sell products using inputs from actual Amazon users. The program analyzes and aggregates responses to the surveys to provide sellers with actionable insights. 
Amazon offers three premade questions to ask consumers, based on purchase behavior, product awareness, and product opinion. Alternatively, you can customize your questions to get exactly the information you want. All surveys include one question with multiple options for answers. A respondent can only choose one of the available options as their response.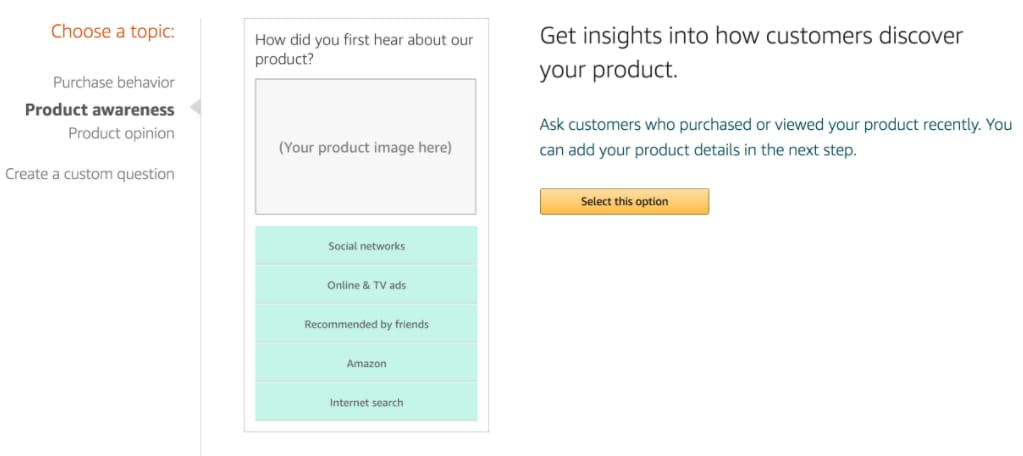 Keep in mind that you also have to provide possible answers to each question. Be careful while crafting the answers. Respondents should never be in a position where they are torn between one answer or the other. Clear choices will give you more accurate results and is a win-win for everyone involved.
Once you've decided on the question, you can pick any number of the following groups as your survey target:
Customers who have already bought your products on Amazon
Users who viewed your product listing on Amazon
Users who viewed your product listing, but did not make a purchase
Customers who bought a similar product in the same category as your product
Note: Amazon insights can be used to gather feedback about existing or unreleased products.
After you've submitted your request Amazon will get back to you in a few days with the details about pricing. The final price will depend on the number of people surveyed and the complexity of the data collection process. Once your campaign comes to an end, Amazon will send you a detailed report with the results. This includes the number and percentage of respondents who chose each answer.
Amazon insights program: Pricing
At this point, I usually go into why Amazon insights can help your business. However, in this case, I feel it is necessary to highlight the heavy price tag that comes along with this handy service. Amazon has not made the pricing publicly available. The fee depends on the number of responses as well as your target respondent. The response size can be anywhere between 100 and 2500. The price will also depend on the question being asked.
That is a lot of variables to consider. Many sellers have reported that each answer will set you back at least $5. If that is true, this data comes at a heavy cost. $5 for every response is a premium. For a minimum of 100 responses, you'll have to pay at least $500. This is likely one of the reasons that this program is not very popular with sellers.
Why you should use Amazon insights
Despite the hefty price tag, some sellers do use the service to get key feedback about their products. It is next to impossible for sellers to set up a targeted survey like Amazon. The retail giant's massive access to customer data ensures that your targeting parameters are always met. Such granular information is otherwise difficult to come by.
Since this information is product-specific, it can be used to design and develop rich detail pages that maximize conversion. It can also give you key information on how consumers discover your products in the first place. Since you can gather information about unreleased/unlisted products, it is also a great way to get direct feedback before you launch a product. You can also get critical information about what customers generally buy along with your product – this will help you create effective bundles targeted at your customer base.
The possibilities are endless, provided you're willing to pay for it.
Final thoughts
Amazon insights is a great way for sellers or brands to get data from their customers. You can figure out what your target customer is looking for in a product, or how they usually discover it in the first place. With the ability to create custom questions and answers, you can tailor surveys to gain critical information about anything you can think about – as long as it has to do with the product. Amazon's dominance in the e-commerce industry and its access to the online consumer base guarantees granular targeting as well.
If money isn't a concern, and if the fees won't hit your business, Amazon insights is a market research option worth considering.
Additional Read:
Was this post helpful?
Let us know if you liked the post. That's the only way we can improve.