Merch by Amazon is one of the lesser-known e-commerce business options available out there, but it is no less profitable.
If you are consistent, Merch by Amazon is a sustainable way to build a passive income stream. If you are looking for some quick money, this isn't the way. With the launch of sponsored ads, Amazon Merch is projected to grow further. So if you're not aware, it is time to use it to your advantage. Let's see how.
What is Merch by Amazon?
For those who haven't heard, Merch by Amazon is a print-on-demand service by Amazon to sell your branded merchandise. You create and upload a custom design to Amazon, choose a product to sell, and fix a price. 
When a customer buys the item with your design, you earn royalty money from Amazon. 
How it Works:
The process is simple. Merch by Amazon works something like this:
Create your art or design.
Upload your design idea to Merch by Amazon and pick the products that you want to create your design on.
Set the price and hit 'publish' to make it public.
Amazon produces, ships, and handles custom products as they are sold.
Collect your royalties after the sale.
Who Should Use Amazon Merch?
The advantage of Amazon Merch over other forms of selling is that currently, the barriers to entry are low.
The setup is easy without any upfront costs. If you are an artist or a graphic designer with unique ideas, you can make use of Merch by Amazon.
The major drawback is that the platform is invite-only. However, with unique content and a good social media presence, you can drive customers to your items.
This is a great option for sellers as Amazon takes care of production, shipping, and customer service. Therefore, you eliminate inventory risk. You also don't have to worry about running out-of-stock, customer service, or quality assurance. Amazon handles all these aspects from their end, so you face fewer hassles.
With Merch by Amazon, you set prices for your products, which in turn, reflects in your royalty earnings.
How Can I join Merch by Amazon?
To get invited, go to merch.amazon.com. Click the 'Request invitation' button on the page. First, fill out a form and wait for it to get approved. It may take a few weeks to get the approval. So you should do it at the earliest. Once it's done, you'll be on a waiting list. Sometimes, it may take as long as six months to get accepted. Once you're approved, you have to fill in some basic information to get started.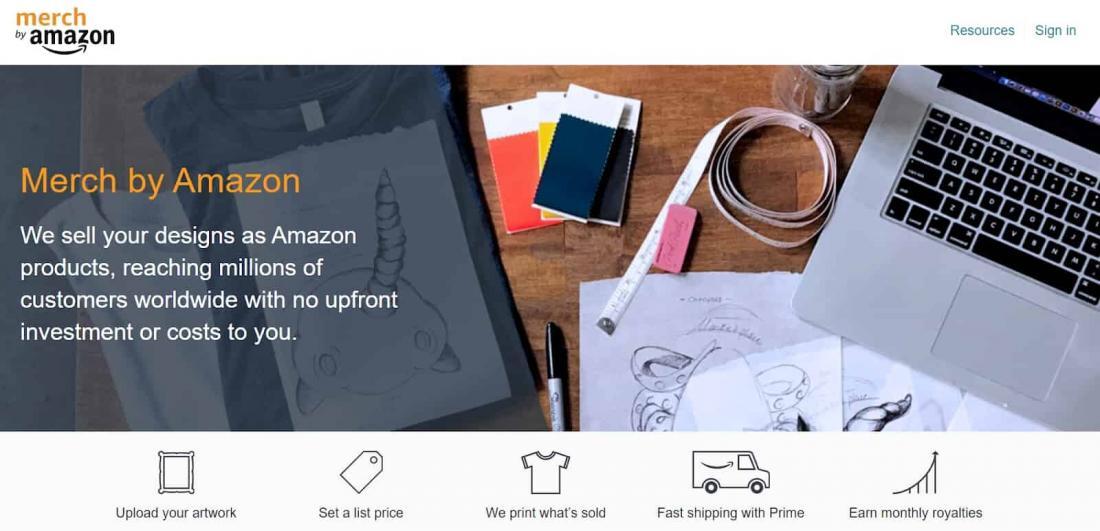 How are Royalties Paid?
Every time your product is sold, you get a part of that sale. You need to keep in mind that with this model, you can't obtain profits that are similar to a business since you're only uploading the design of the item.
The price of the product influences the royalty amount you get. Along with that, other factors such as Amazon costs – material and production costs, packaging and shipping costs, handling returns, and customer service influence your royalty amount.
For Amazon US, the purchase prices include taxes that are added during the checkout, but for Europe and Japan, the total prices are shown on the product details page.
For more information on royalty calculations, check out this link.
How to Create a Product with Amazon Merch
On the dashboard, click the 'Add Products' button. It shows different products to which you can add your designs.
Amazon Merch currently offers a variety of t-shirts and PopSockets. If you're unsure about the process, use Amazon's downloadable templates. They make it easier for you. These templates are organized by print dimensions.
Merch by Amazon: Guidelines
The designs submitted to Merch by Amazon must adhere to Amazon's policies and guidelines.
The products shouldn't violate existing copyrights and trademarks
No blank images
No inaccurate product description
You cannot solicit product reviews
Do not create items with objectionable content. This includes human tragedy, profanity, promotion of hate or intolerance, pornographic content, child exploitation, promotion of violence, etc. For UK sellers, mental illness shouldn't be included, either.
Also, you need to consider that your design meets the following:
No blank images
Good design quality
Does not include contact information
No content mismatch or misspelling
Accurate product metadata
Does not promote charity and donations
Does not promote political campaigns
No design content that talks about product quality, fulfillment, or shipping
Riya Mittal, SellerApp's Product Evangelist is here with another fantastic Amazon seller guide, and this time, she is going to tell you everything you need to know about Merch by Amazon. Amazon Merch Profits can be a great additional revenue stream, and you don't even have to worry about sourcing or inventory management! Since Amazon Merch Products are sourced by Amazon themselves, you don't have to worry about product quality either. This program allows you to sell Amazon print-on-demand shirts – in other words, you can sell shirts on Amazon with your own unique designs. Riya will also explain the different Merch by Amazon tiers and give you crucial tips on how to tier up on Merch by Amazon!
Amazon Merch Limitations and Tiers
The number of products you create and sell is limited by Amazon Merch. If you're starting out, you're allowed only 10 submissions.
As your sales and quality of designs and products grow, Amazon increases your tier (how many designs you can submit). Your tier decides the number of items you can sell at a time. Amazon expands your tier as follows:
In order to move from the first tier to the second, you have to make at least 10 sales.
Tips to Successfully Sell Using Amazon Merch
Here are a few tips to scale your Amazon Merch business.
1. What's Trending
Stay updated with current industry trends. Look for trends and hottest items on social media channels like Instagram, Facebook, and Pinterest. You can also use Google trends to see what's popular in the region you sell.
Keep in mind that you cannot infringe on trademarked or copyrighted property.
2. Slow Movers
When you're just starting out, you are limited to 10 submissions. Make sure you give a product two to three weeks to pick up sales. If the product isn't selling, make sure you find something trending to replace it with.
3. Pick Your Niche
If you are an existing seller, you might already know the importance of having a niche. For those of you who aren't aware, finding your amazon niche and narrowing it down to a sub-niche is extremely important in the online retail space. So figure out what kind of merchandise you want to sell that resonates with your target audience.
4. Build Your Presence
Once you have a target audience, you need to build a following for your brand. For this, you have to attract your target market by curating original and relevant content. You can choose social media, blogs, and newsletters to appeal to your type of audience.
This helps to boost repeat purchases and keeps your customer acquisition costs (CAC) low.
Recommended Guide: Amazon Posts.
5. Advertise
Advertising is a powerful tool to boost your product sales. You can choose to run ads on Facebook, Instagram, Google, or Amazon to get your products in front of your customers.
You can also add relevant content and promote your products on Tik Tok. Through these ways, you can make money even with a small audience.
Amazon offers two different advertising solutions. First, Merch by Amazon offers portal promotions, which will allow you to create Facebook and Twitter posts. You can share these with your family, friends, and followers. You can also create targeted in-app promotions for Android, iOS, and Fire OS. On the other hand, Amazon has launched advertisements for their Merch products. However, this program is in a nascent stage. You need to request access to the advertising program through the portal.
Note: Though Amazon doesn't provide updates on approvals, they say that they extend invitations to accounts on a rolling basis and will notify content creators via email when eligible.
Are you a seller on Amazon Merch? What strategies do you use to skyrocket your sales? Let us know in the comment section below. We'd love to hear from you!
Additional Read:
New Product Launch Pro Tips For Amazon Sellers
Was this post helpful?
Let us know if you liked the post. That's the only way we can improve.