Undisputedly, Amazon is reigning in the e-commerce world. As the number of buyers and sellers is rising, this e-commerce giant is clearly showing no signs of slowing down. Amazon Shopify integration is a new way to enhance your brand visibility and improve your sales. Many sellers are trying to expand their presence on Amazon.
Integrating Shopify with Amazon is a great way to get started.
Before going into the details of Amazon Shopify integration, let's start with the basics first.
Here's a Peek into the Content
What is Shopify and is it a good place to sell?
Shopify is a powerful online selling platform that comes with a variety of services including shipping, customer engagement tools, payments, promotions, and other marketing services. Shopify has everything to build and grow your online business. Last year, Shopify announced that it is expanding its business operations across 175 countries around the world.
What makes Amazon unique for sellers?
Amazon is renowned for its large customer base. With tons of traffic hitting Amazon every day, there is ample opportunity for the sellers to compete against big brands. As a leading e-commerce retailer, customers trust this platform making it easy for sellers to start from scratch.
Amazon offers a solid customer base which is hard to find on platforms such as Shopify. Also, Amazon helps your logistics which makes your life easier.
On the other hand, Shopify gives your brand a unique identity that is hard to find on Amazon. So make the best of both worlds by integrating Amazon with Shopify.
Why Shopify is the Best Option?
Now that you're here, you already know that Shopify is quite useful for sellers. It's one of the most user-friendly e-commerce platforms out there. As a seller, you need to offer a smooth and interactive experience to your buyers and Shopify helps you achieve it elegantly. Shopify allows seamless integration with your website or your online sales channels.
Here's a list of the benefits of Shopify –
Low-cost – Shopify has plans for everyone. It has affordable monthly fees when compared to its peers. The basic plan starts at around $29/month. Besides, you get to choose from its range of free and for-purchase design templates.
Reliable Hosting – Shopify subscription includes reliable and secure hosting services. This e-commerce platform claims to offer 99.9% uptime with a free SSL certificate, so you don't have to worry about the site crashing during peak hours. Also, customer support is available 24/7 via email, phone, or live chat. Literally, you have everything to quickly start selling on your website.
The Ultimate Choice for Dropshippers – Drop shipping is the best choice for novice e-commerce entrepreneurs. And, Shopify makes their life easier integrating with dropshipping apps such as Oberlo, Spocket, and Modalyst.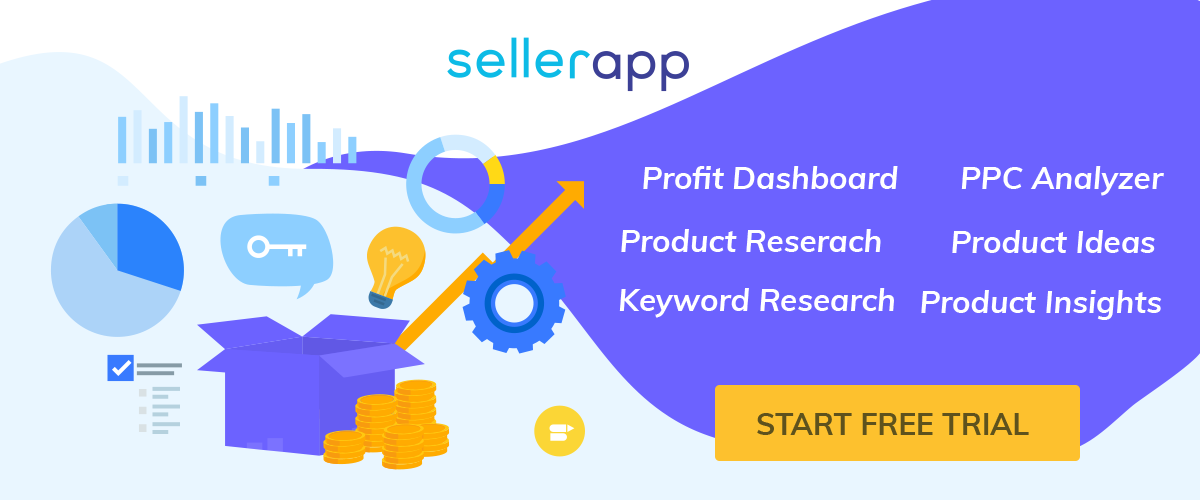 How Sellers Benefit From Shopify Amazon Integration?
Apart from Shopify's in-house uses, sellers have ample benefits from Amazon Shopify integration. A few of them include:
As we all know, Amazon has millions of visitors every day. Amazon algorithms help you build organic traffic with little marketing knowledge. The earlier you start, the more traffic you build. On the other hand, Shopify's user-friendly interface enables you to sell quickly. Thus, Amazon Shopify integration gives a large room for sellers to reap more profits.
Sellers are choosing multichannel selling over individual stores. What is multichannel selling – Selling your products online using multiple channels? This started to increase lately. It means if Shopify or Amazon ceases to exist, you can continue selling on another channel.
Sell where your customers shop. This multichannel selling enables you to understand what and where exactly your potential shoppers exist.
You can link your Shopify products with Amazon's listings for any category. And synchronize your Shopify product details, images, and other variants to your Amazon's seller central account.
Reserve your inventory and set unique prices for your Amazon product listings.
Make the best use of Shopify reports to reconcile Amazon sales.
Amazon offers affiliate marketing programs on its platform. It means affiliates market the retailers' products for a specific commission.
Related Post: Analysis of Amazon Affiliate Program and Amazon Selling
Requirements to Integrate Shopify with Amazon
Before you begin, let's take a look at the important things that need your attention –
First things first, you need to have a Shopify store. Visit the Shopify website and enter your email to get started with the process. Make your store unique and add your products to their respective categories.
As you know, there are two types of accounts personal seller account and professional seller account. Ensure you have a professional selling account on Amazon as it charges less when compared to a personal seller account.
To go ahead with Shopify Amazon integration, you need to ensure that you have not chosen FBA for shipping your products.
Your Shopify currency should align with your Amazon store. That means if you're selling on Amazon.com, you need to have a Shopify U.S store.
For a smooth Amazon Shopify integration, you need to have your UPCs handy for all the products that you're selling. Also, the stock levels on Shopify should depict the right values.
How to Sell on Amazon using Shopify?
Let's take a look at the steps on how to do Amazon Shopify integration and sell successfully. We'll walk you through the setup process, create your listings, and how to integrate Amazon with Shopify.
1. Create a Professional Seller Account on Amazon –
As mentioned, you need to have an active professional seller account on Amazon.com. If you don't have a professional seller account, go to Amazon services and start selling. Ensure you choose the appropriate region (the US or Canada) you want to sell. Fill in your details, name, email, and create your account.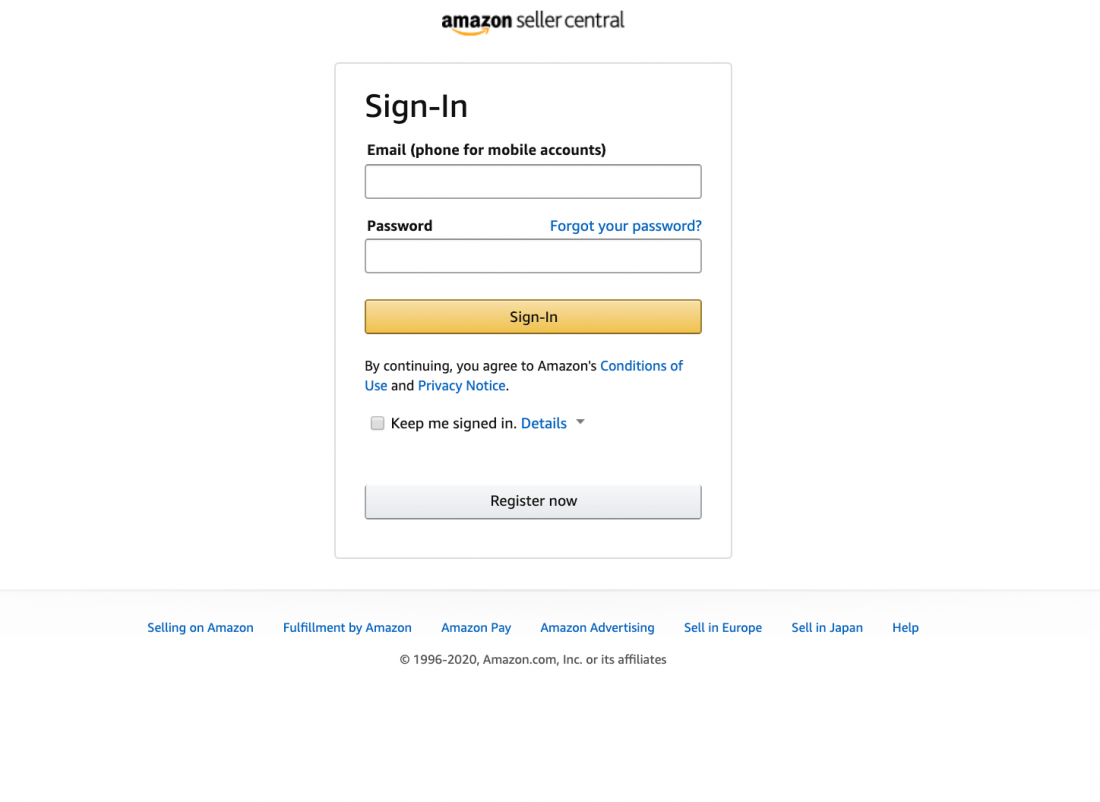 Ensure you have the following details with you while starting.
Your Business Name.
Phone number.
Business address.
Credit card details.
Valid Bank Account Information.
Taxpayer Identification Number (TIN) or EIN.
2. Check for Category Approval
Once the professional seller account is ready, you need to identify if the products you sell require approval or not. If required, you need to get approval from Amazon.

3. Integrate Your Shopify store with Amazon Sales Channel –
Once you set your Amazon account, log in to your Shopify account and add the Amazon sales channel to your Shopify store.
Go to Shopify, click on the + button in the Sales channel section. Go to Amazon by the Shopify section and click on 'Learn More.'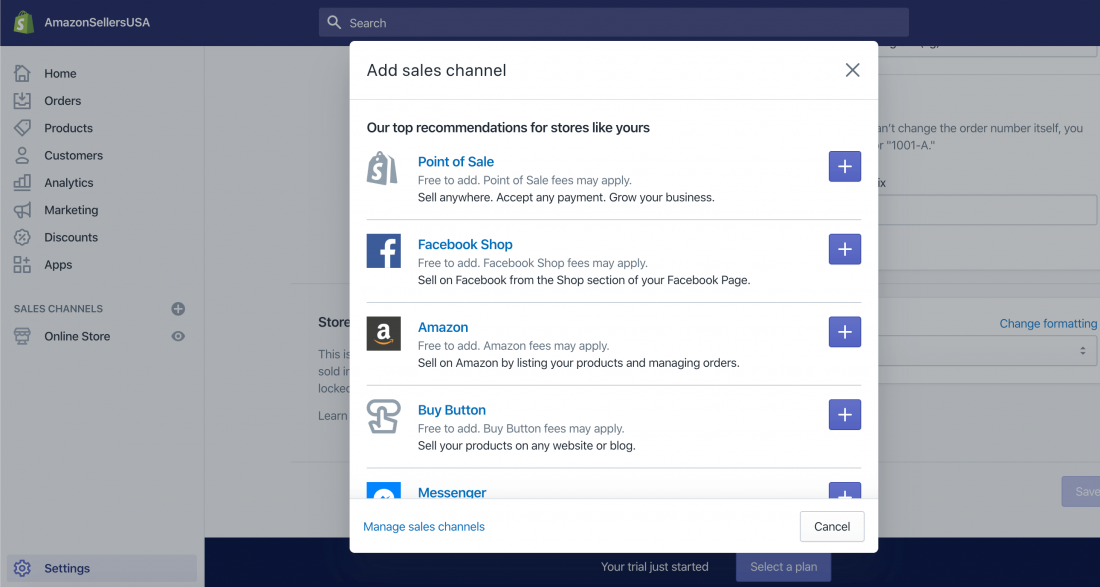 Click on 'Add Channel.'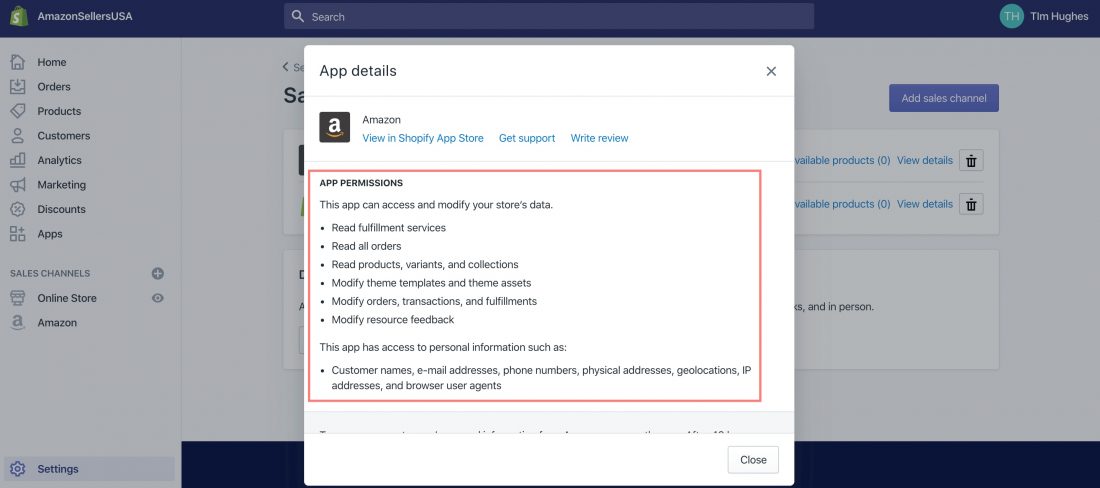 On the last page, select 'Connect to Amazon' to add your Amazon sales channel to the Shopify store.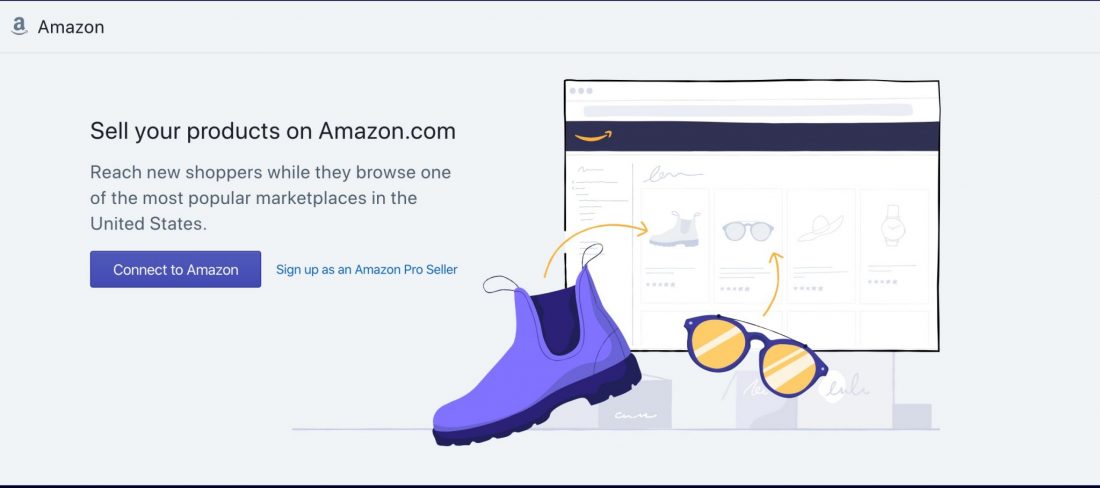 Now, continue with the steps to allow the integration of both channels. Once you are done, your Shopify and Amazon data is shared between the two platforms.
4. Keep Your UPCs Handy
If you're selling on Amazon, you need to keep you're UPCs handy. You need to fill 'UPC' or 'Barcode' or EAN's in the Product ID section of the Product listing page else it triggers an error message. Generally, countries such as the US and Canada use UPCs.
Tip: Resellers tend to choose cheap UPCs from devious sellers which are recycled UPCs. Amazon may think you are fraudulent and may suspend your account. So, ensure you're purchasing your UPCs from valid GS1 resellers.
You don't require a UPC if your company is listed under the Amazon brand registry.
Recommended guide: How to update UPC on Amazon.
5. Create Product Listings on Amazon
You can ignore this part if you are an existing Amazon seller. New sellers can use Shopify to create their product listings. The best thing about Shopify is that the platform is easy to work around and whatever you set up is mobile friendly too.
Select the Amazon sales channel that you have installed. Click on Amazon → Create Listing.
Now, browse through the Shopify catalog and select the product you want to list on Amazon.
Click 'Select Product.'
You need to choose whether your product is made by your brand or you're reselling a product made by another brand.


Choose 'Create listing' if the product is made by you.
(Or) Click on 'Find Product' if you are a reseller. Search for the product if it is already listed on Amazon. You'll get a list of similar products from Amazon. Once you select the product of your choice, select the product to create an offer. If you did not find any relevant product, you can still create a new listing.
Fill in the details with the product on the listings page. Go ahead and publish the details.

6. How to Link Your Existing Amazon Listings with Your Shopify Store?
If you're an existing seller, Shopify allows you to match your product listings on Amazon. Also, you can create new listings on Amazon and link them to your Shopify store too.

You can find your existing Amazon product listings associated with your professional seller account on the Amazon listings page in Shopify.

Note: If you're using Amazon FBA or SFP to fulfill the orders, those particular products are not displayed on the list.


Click on 'Link products.' Browse through the products and choose the ones you want to match to your Shopify account. Once you select the product, you have two options to manage your inventory settings.

You can allow Shopify to manage your inventory settings, or you can manually manage your inventory.
If you choose the first option, Shopify will sync your Amazon inventory details. Again, you have three options before you.
Shopify tracks the inventory.
Shopify doesn't track your inventory.
Shopify allows your customers to purchase a product even if it's out of stock.
In the last two scenarios, Shopify sets your inventory to a predefined number as Amazon doesn't support products that show an unlimited quantity. So Shopify sets your inventory number to 100. When the products are sold, the number reduces. Eventually, it is set to 100 on your Amazon seller central account.
7. Payment Settings
If you choose to use the Shopify payment method, you need to fill in a few details which contain the payment method and enter your bank details to receive payments for the products sold. Ensure you're well aware of the payment terms and conditions before you commit to this method.
8. Start Your Multi-Channel Selling
Once the orders are placed, they get synced with your Shopify account, and you can check the details on the orders page. Shopify syncs the orders from Amazon even if the products are not listed on the Shopify platform. You can find the orders placed from the Amazon store are marked as Amazon. If you choose to fulfill your order using Shopify, the details are updated automatically otherwise the order details are not updated on the platform.
Conclusion
Amazon is a dominant marketplace in the e-commerce world with vast traffic. The opportunities are myriad. With Amazon Shopify integration, you can take off your brand easily and successfully. As a seller, you can reap more profits if you feature your brand store and sell on Amazon simultaneously. As the two e-commerce platforms started to work together, there would be more updates and developments for the sellers in the future. Though it may not be an ideal one for all kinds of businesses, multichannel selling is a great way to increase your brand visibility and drive more sales. Therefore, with thorough research, you need to choose the right strategy that fits your business well.

Was this post helpful?
Let us know if you liked the post. That's the only way we can improve.