If there's one company that has definitely led the way when it comes to analytics and retail, it is Amazon.
The product recommendations and mailing list services by Amazon are some of the most impressive in the world.
They first started out with basic analytics like traffic counting and simple tracking that beginners use.
Now, what Amazon offers is much more advanced in the form of complex reporting.
In this article let's examine what Amazon Retail Analytics really is, understand ARA Basic and ARA Premium and check whether it is going to help you.
In the world of retail, knowing how many people are browsing your site is only half the battle.
Amazon likes to track orders, revenue, average order value, and even loss-leaders.
We recently had a chat with Myron on Amazon Data Analytics on SellerSPEAK. WATCH:
An interesting point was made during the podcast – There are many products on the Amazon store these days that would be cost-prohibitive for them to sell by themselves but that prove popular when offered with other items.
Amazon offers those products because they know that they bring back repeat customers and make them more money than they lose in terms of storage, shipping, and overheads.
With the right analytics tools, Amazon has managed to reduce cart abandonment rates, bring people back to complete purchases if they do leave the website, up-sell and cross-sell various products and bring shoppers back for new items when they are released.
And most importantly, you can improve their conversion rates.
The primary reporting tool that is available to Amazon Vendors is the Amazon Retail Analytics reports. Vendors who have access to these reports upon creating an Amazon Vendor Central account.
As a vendor, you can use Amazon Retail Analytics to track your sales and inventory data, operational issues, stock levels, catalog quality and more.
The access to the various reports depends on your permissions and the contract terms of your vendor agreement. In our opinion, the Amazon Retail Analytics reports are not as robust as the data you have access to as an Amazon third-party seller. There still is valuable data that can probably be extracted from the Amazon Retail Analytics reports.
Watch this video to know more about benefits of Amazon Retail Analytics:
Below you can see that Amazon Retail Analytics can be found within Vendor Central under Reports -> Amazon Retail Analytics where you can choose between two services either Basic or ARA Premium.

What is Amazon Retail Analytics Basic?
Amazon Retail Analytics Basic is the primary reporting tool available to Amazon Vendors. Vendors will have access to these reports upon creating an Amazon Vendor Central account.
Sales and Inventory Reports
Amazon Retail Analytics Basic provides access to 3 different kinds of sales and inventory reports for 4 different time periods. The first report is the Sales & Inventory Dashboard which provides an overview of your Shipped Cost of Goods Sold (COGS) and on-hand inventory at Amazon.
The four-time periods on the Sales & Inventory Dashboard are Year-to-date, quarter-to-date, month-to-date, and week-to-date. It also allows you to view your Shipped COGS, on hand inventory values and quantities, and your open purchase order quantities.
The last and most valuable report is the Sales and Inventory Product Details report. This allows you to view sales and inventory data on a product by product basis. In addition to this, the report also allows you to see your best-performing products and can provide valuable insight on how to grow your overall sales.
Demand Forecast
The Demand Forecast report is used for inventory planning purposes. The report estimates the purchase orders you will receive from Amazon based on a few factors. The main factor is the prior sales data weeks' sales data. This report only provides an educated guess from Amazon on what they may need. The quantities are by no means set in stone and subject to change.
Catalog Report
The Vendor Catalog Listing report shows every product you have sold to Amazon that has page views. It also sorts your listings by the page view rank. This report provides useful insight into inventory metrics. In addition, it allows you to update listings that are missing images.
Operations Reports
The Operations reports consist of 6 separate reports. These reports provide great insight into your purchase orders, operational metrics, and performance. Operational Metrics also allow you to filter your performance on purchasing, receiving, lead time, inbound defects and fast track in stock performance. Most of all, there are separate reports that break down each one of these areas further.
What is Amazon Retail Analytics Premium (ARA Premium)?
Vendors can access Amazon Retail Analytics Premium through Vendor Central. They are a supplementary set of additional reports for Vendors.
These reports provide information about:
How to get access to Amazon Retail Analytics Premium?
There are two pathways to acquiring access to Amazon Retail Analytics Premium. The first is through subscribing to Amazon's Vendor Premium Services package, which starts at approximately $30k/yr.
You can also subscribe to Amazon Retail Analytics Premium through a support case in Vendor Central, as seen in the example below: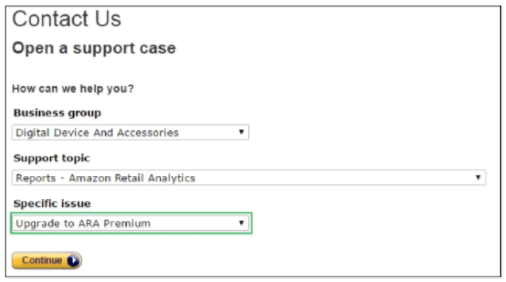 There are more than 20 pre-formatted reports for you based upon the product category including,
Amazon Top 100 Search Terms
Page Views and Conversion
Competitive Category Comparison
Top Amazon Items in Growth
The most useful Amazon Retail Analytics Premium Reports are the Amazon Top 100 Search Terms Report. It allows vendors to view the top 100 search terms by Amazon category worldwide. A rank assignment is on the basis of popularity. You can use Amazon FBA Calculator to understand more about the fees and revenue.
The Amazon Search Terms Report is very valuable for promoters. They can look up for search terms to determine the top 3 clicked ASINs for that term. You can also look up ASIN's to discover all of the search terms where that ASIN is one of the top 3 clicked products.
With Amazon Retail Analytics Premium, there are many ways sellers can use the available data to inform engagement.
In conclusion, Amazon Retail Analytics may not be a flawless tool for determining your Amazon business performance. But it can be an intense way of investigating Amazon itself. Services such as Amazon Retail Analytics Premium can give you an exclusive gaze at what Amazon expects and how you can make alterations in zones like operations and optimization to rank higher on the platform.
Amazon has its specific principle, after all, and learning all that you can about it is what will hex triumph for your trade.
Tip
You can also use SellerApp's tools for your Amazon Analytics to spike your Amazon business.
Additional Read:
Amazon Retail Readiness Checklist
How To Improve Amazon Sales Rank
Best Amazon Predictive Analytics Tips
Amazon Pay Per Click Complete Guide
Free Amazon PPC Management Software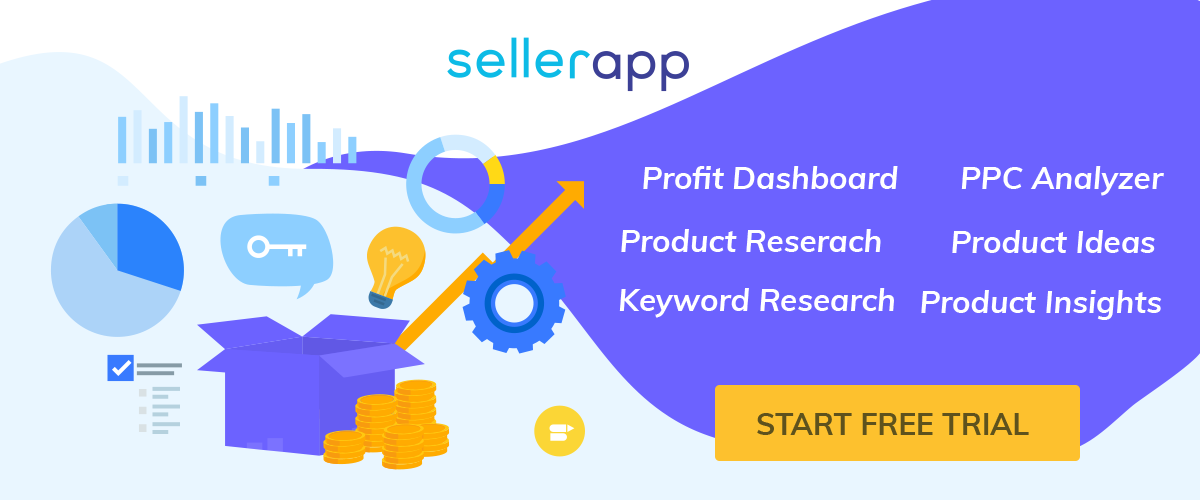 Was this post helpful?
Let us know if you liked the post. That's the only way we can improve.